FEATURES
Dreaming of You: Late Film Legend Karen Black's Musical Time Capsule
By Jim Allen · July 20, 2021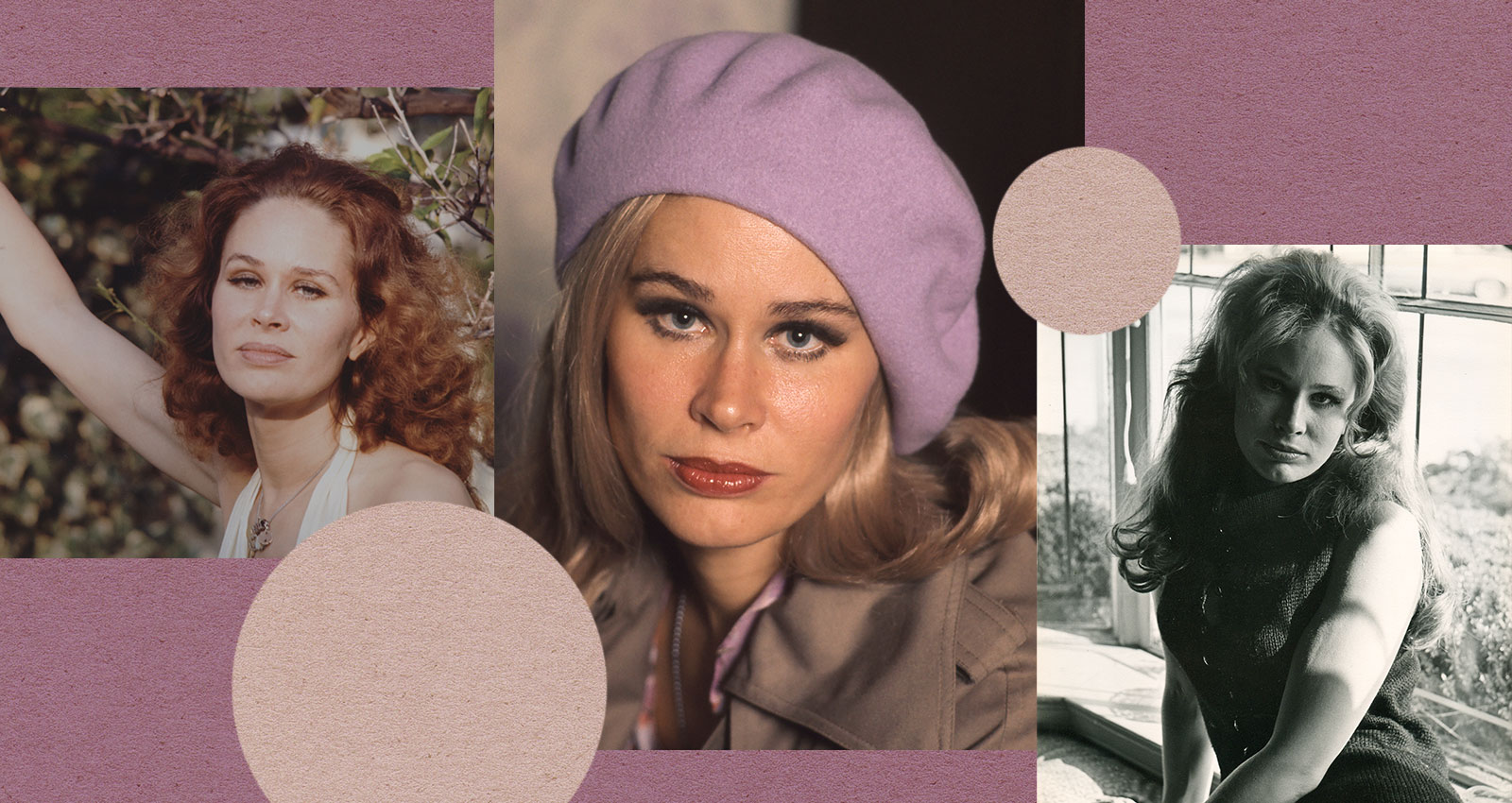 When the counterculture crashed Hollywood's party in the late '60s/early '70s, Karen Black was one of the rebellion's favorite faces. Easy Rider (1969), Five Easy Pieces (1970), Born to Win (1971), Cisco Pike (1971), Nashville (1975): All these canonic slices of outlaw American cinema were strengthened by Black's Oscar-nominated acting. But she had a secret identity as a singer and songwriter that's being more fully explored now, 50 years later, with the release of Dreaming of You, a new compilation of Black's music produced by Cass McCombs.
Black was trained in both acting and singing, and before her Hollywood breakthrough, she combined them both on and off Broadway. Poems were always part of her output too. "She would be working as a secretary in law offices," says Stephen Eckelberry, Black's widower. "And she would just daydream and not do the work and write poetry. She really started taking it a little more seriously in the late '60s."
Black began using her utilitarian guitar skills to turn her poetry into song. Though she was blessed with a singing voice as poetic as her lyrics, she wasn't as forthcoming about her songs as she was about her dramatic talents. "To her, acting was like falling off a log," says Eckelberry. "She was not as confident as a singer as she was as an actress."
Later, inspired by colleagues like her Cisco Pike co-star Kris Kristofferson and friends like Leonard Cohen, Black became willing to let a little light shine on her songs. In 1971, hotshot record producer Elliot Mazer, best known for his work with Neil Young and Linda Ronstadt, offered to oversee a demo session in Nashville for a batch of Black's tunes. 
Black being a hot property at the time, music trade papers excitedly touted the sessions as the start of an album project. "Elliot Mazer really wanted to work with her, and he was promoting that they were gonna make an LP, and it just never happened," explains Eckelberry.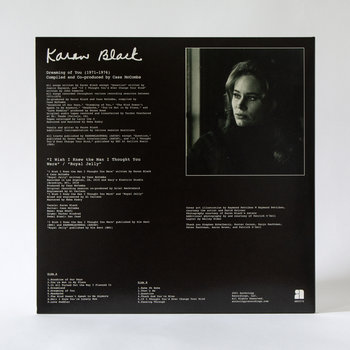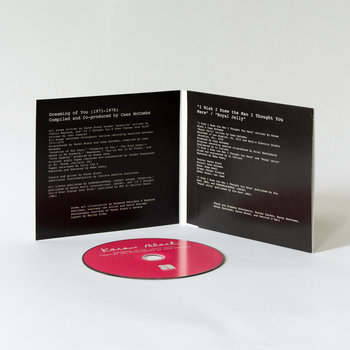 .
00:10 / 00:58
Merch for this release:
2 x Vinyl LP, Compact Disc (CD)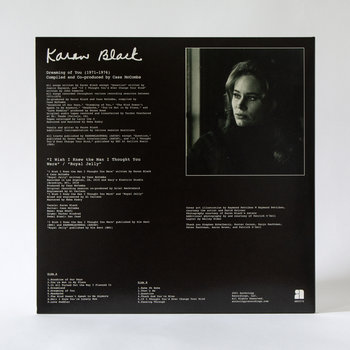 It was mostly the quirky, disarming appeal of Black's acting that kept her musical side in shadow. "She was famous in the '70s and she'd get job offers for good films," says Eckelberry. "And her agents would tell her, 'You're not recording an album, are you crazy?' She was just super hot right then and she was not gonna come back and do a record, it was not gonna happen."
In 1976, when things were beginning to cool down a bit (though she'd maintain a busy film schedule her entire life), Black took another crack at recording. Financing the sessions herself, she enlisted another legendary producer, Bones Howe, famed for helming hits by The 5th Dimension, The Association, and many more. 
Unfortunately, these demos didn't lead to an album either, but for opposite reasons to the ones that doomed the '71 sessions. "When she wasn't as famous, it was harder," says Eckelberry. "When she wanted to do something, she couldn't get arrested. Music changed—it was the beginning of the disco era. Had she done something in '71, it would have paid off, I think."
The door didn't close on Black's singing and songwriting forever, though. Years later, she mounted a long-running, rapturously reviewed one-woman stage show in which, among other things, she sang her own songs and some penned by others. 
But when Black died of cancer in 2013, it seemed like her abortive recording career was bound to remain a secret, with the tapes from her '70s sessions hidden away forever. When Eckelberry was sorting through Black's effects for the archives of her alma mater, Northwestern University, he came across the dusty, decades-old master tapes—all that remained of her recording ambitions. "She was kind of shy about it," says Eckelberry. "Forgot about it. Thank God she was a bit of a pack rat, because I would never have found out about it."
He sent them to Cass McCombs, with whom Black had become a collaborator and unlikely artistic kin towards the end of her life. The tapes were restored and shepherded to Brooklyn-based label Mexican Summer. Dreaming of You is the result.
Other than two tracks she cut with McCombs in 2012, all the tunes on Dreaming of You come from the rescued '71 and '76 sessions. Aside from John Cameron's "If I Thought You'd Ever Change Your Mind" and The Moody Blues' "Question," everything was written by Black. 
The easy-rolling folk-rocker "Babe Oh Babe," from the Mazer session, is the only full-band production from the '70s tracks. The rest are strictly bare-bones acoustic demos, with Black accompanied either by acoustic guitar, piano, or in the case of the Cameron tune, a harpsichord lending a baroque-pop touch.
But there's no shortage of complexity to be found in Black's writing. "You're Not in My Plans" is a surgically precise evisceration of an ex-lover, with an arch lyricism that seems to underline Black's Leonard Cohen influence. "Dreamland" is a minimalist, poetic journey with a metaphysical slant, its otherworldliness echoed in Black's gliding, ghostly vocals.
Gracefully hooky melodic turns and deftly droll lines like "You were wrong, but then again, I wasn't right" make it easy to imagine "Well I Know You're Lonely Now" as an early-'70s pop hit in an alternate universe. "Headache" is a harrowing tale of romantic obsession and desperation, with prosaic details contrasting the emotional intensity
AM radio ubiquity wouldn't have been unlikely for Black's cover of "Question" either, with her goosebump-inducing vocal bringing to mind contemporaneous folk-pop star Melanie. Black's vocal power and both her humility and insecurity about her musical gifts are underscored by "The Wind Doesn't Speak to Me Anymore," where she delivers a heart-melting falsetto performance quickly undercut by a self-effacing comment: "I'm gonna get that awful one out of the way."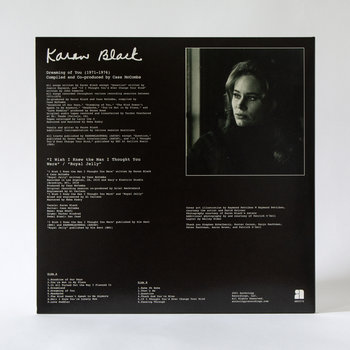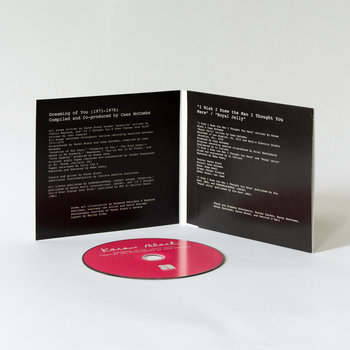 .
00:10 / 00:58
Merch for this release:
2 x Vinyl LP, Compact Disc (CD)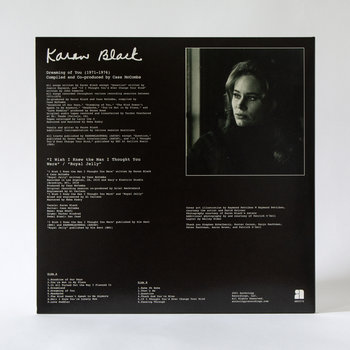 The pair of McCombs collaborations that close the album and occupy a bonus 7-inch on the vinyl version are the only finished productions. They show the growth of Black's gifts in her final years. On "I Wish I Knew the Man I Thought You Were," with music by McCombs, she finally comes to terms with an experience that had haunted her since college. "There was a literature professor," says Eckelberry, "And she was overwhelmed by this great, talented guy. He obviously thought she was a bright person, but he also ended up seducing her."
It was during Black's latter-day studies with hit songwriter Harriet Schock that the song was born. "Sometimes a truth is revealed that didn't happen recently, but is something that the writer still has a burning passion to say," explains Schock. "It was a lingering, undelivered communication to a former professor by whom she felt betrayed and disappointed."
Assessing her student's skills, Shock asserts, "Karen was a skilled and natural storyteller… she would come at a story from a unique angle. This made her a fascinating songwriter lyrically. Of course, as a singer she had a tremendous vocal range, so she could write for that."
Those who have seen Black harmonizing with Kris Kristofferson in Cisco Pike, serenading George Segal in Born to Win, making a convincing turn as a country music queen in Robert Altman's Nashville, or crooning her compositions "It All Turned Out the Way I Planned It" and "Passing Through" in The Pyx might not be shocked to learn how much more music she had hidden away. But Black aficionados and the uninitiated alike will be equally touched by the personal truths leaping out of her lyrics, and the unalloyed emotion that emerged when she opened her mouth to sing.
"There was no emotion too multidimensional, no idea too complex," says Schock. "She could find the truth of what she was going to communicate."
If it took half a century for these recordings to find their way to the world, maybe that's okay. "I can't help but think that, in the words of Karen, it all turned out the way she planned it," laughs Eckelberry. "That tiny thought that she had way back in 1971 has finally come to fruition."