FEATURES
Kaimbr is The Wu-Tang Disciple You Didn't Know You Needed
By D.L. Chandler · May 23, 2017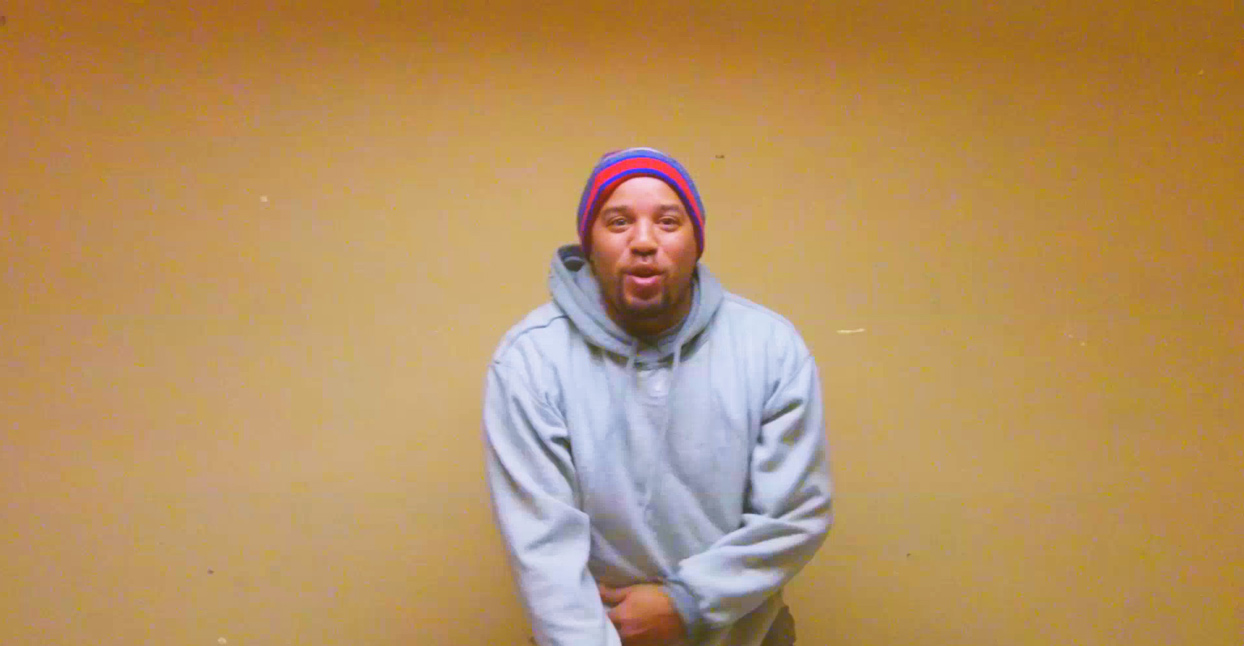 Hip-hop fans who are prone to nostalgia reserve a special reverence for the 1990s, a time when the beats were made of hard drums and dusty soul samples, and lyricists spit vivid street tales above them. The DMV rapper Kaimbr evokes that era in his music, which at times plays like a refreshing take on the Wu-Tang Clan's gritty sound. (Fittingly, on 2015's Bronze Horse, Kaimbr rhymed over restructured Wu samples.)
As part of the D.C. area's Low Budget Crew, Kaimbr has carved out a quieter career than his compatriots Oddisee and Kev Brown. The artist, born Alexander Green, is a remarkably skilled rapper and producer, and while he eschews the trap and bass-heavy tone of today's hip-hop, his brand of Golden Age boom-bap still feels vital and contemporary.
Kaimbr's new album, Share the Shelter, is a solo album in name alone. He may be the lead rapper, but with features from Brown, yU, Sean Born, Awthentik, Kenn Starr, RODDYROD, and others, Shelter feels like a group effort in the spirit of Ghostface Killah's Ironman and Raekwon's Only Built 4 Cuban Linx. We spoke with the DMV swordsman about his recent album, the legacy of Low Budget, and what's next for the crew.
.
00:10 / 00:58
Bronze Horse, was something of an homage to the classic Wu-Tang Clan sound. What does Share The Shelter bring to the table?
Share The Shelter is more like a production album for me, and I think Bronze Horse was kind of like the warm-up to this project. I always liked the way RZA flipped samples, and I just wanted to get into that style and get something out. Bronze Horse was my exercise to get ready for what I did on Share The Shelter. 

It was also important for people to know that I do make beats—that I produce as well as rhyme—and these records gave me a chance to show that. But not just beat-making: I'm talking the whole production of the song—the rhymes, drop-outs, mixing, every element. Also, I just wanted to do something with the Low Budget Crew. Because of them, I am who I am today. I was a fan first, so it's great to have them assist me the way they did. So basically, I'm sharing my shelter with the rest of the world by way of this music.
Speaking of Low Budget, in recent times, there's been a bit of turmoil. How are things with the crew right now?
Things are good when we're together. You have all these guys inspired to live the same dream with the same level of talent, but as individuals, we all want to succeed. Oddisee is succeeding, [Peter] Rosenberg is succeeding, Kev Brown is succeeding. So the plateau we all want to be on, some of us are, some of aren't. That causes tension, that causes the uncomfortable feelings, especially as an artist. I talked to Oddisee a few months ago, I talk to Kenn Starr daily, I talk to DJ RODDYROD, I talk to Kev Brown all the time. I think as a crew, we'll always be family, but as with any family, there's breakups, coming back together, tears and sweat. But as a crew, we're good. We always record a bunch of stuff when we get together. We are family, and nothing is going to break that.
So how do you come to join Low Budget?
I was writing songs for [singer] Tony Terry for Atlantic Records and bartending at the same time. He was supposed to do this gospel album, and I was working with this rapper, so we recorded some songs. At that time, I put some records out and rocked at a lot of the classic U Street [in Northwest D.C.] venues. One night I'm bartending, Kev Brown and Cy Young came through. We talked music and rhyming. Me and Cy really hit it off because of our mutual love for music and basketball.
They were making the kind of music I wanted to be a part of. Cy heard my stuff and put me in contact with Oddisee. I bought beats from him for about a year, then Cy started inviting me out to showcases and to rock on songs. Me and Eye Q were together all the time, then the others told us to get down with the crew. I went back to College Park [Maryland] and ran into Rosenberg spinning at a bar. He heard me and Eye Q joined up and started playing some of my new Oddisee-produced joints inside the bar. Me and Quartermaine put out a joint and we've been rocking ever since.
.
00:10 / 00:58
Talk to us about the development of The Alexander Green Project with Kev Brown, where Al Green samples were used for the backing tracks.
Kev showed up to my house one day with a CD full of beats and explained he flipped all these Al Green joints. What's really jacked up about that situation is that yU and Slimkat kind of had that same idea first. I remember they sent me a beat, and I just never got to it. Kev just returned from a trip to South Africa; the Motherland must have been good to him because he came back with all this Al Green heat. It was like Christmas! It was kind of intimidating, though, because it took me two years to record it. It's funny, I didn't like the beat for 'Army Fatigue Rap' at first. Then I hit that opening line and found the flow, and now it's one of my favorite songs.
Who are the features on Share The Shelter, and why was it important to include the full crew on it?
The track 'I Just Want to Know,' featuring Virginia vocalist Nathaniel Star, that's a fave joint of mine. We actually have a project we're working on now. He can rhyme, but I was really inspired by his vocals because they were so soulful. He also sang backup for the Dave Matthews Band. He's got an amazing voice. I have my man Awthentik on there. I think everyone is going to get to know his name real soon. He's an amazing all-around talent as an MC, producer, and engineer. There's a Low Budget posse cut called 'The Moment' I really love featuring Grap Luva. It was a great feeling to do that one. Eye Q, RODDYROD, Quartermaine, Sean Born, and Kenn Starr hopped on that one. We recorded it not too long after Heavy D passed, and that's Grap's family, so his verse was especially well-timed. But to see Grap freestyle the entire verse and pretty much do it on the spot was amazing.
My Uncle Jeff is on the record. He's a very spirited dude from Southeast D.C. who grew up in the church. He spit a rhyme on the outro, and even though he was joking around, I told him I was putting it on my album. He was so thankful for it. He's kicking a positive message, too. Shelter is mainly just crew, but I really wanted to give other artists the shine they deserve.
—D.L. Chandler