FEATURES
Ka5sh Makes Their Own Hip-Hop Mythos
By Lorena Cupcake · June 12, 2017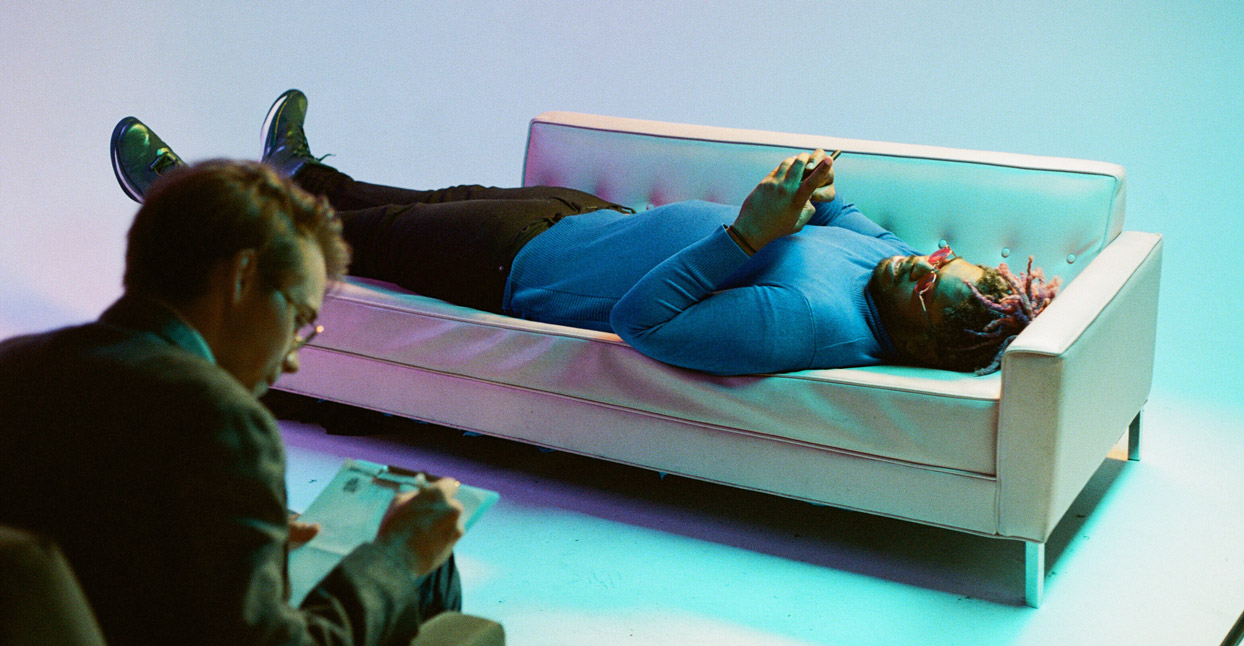 Barring extraordinary connections (and money), the rise to celebrity plays out more slowly in real life than in the rapid-cut montages of aspirational biopics. Whenever Ka5sh walks around downtown Los Angeles, pink-tinted sunglasses glinting in the coastal sun, they're half hoping a Hollywood power broker leaps out at them and says, "Hey, you wanna be in this movie we're filming right now? Here's a million dollars!"
It hasn't happened yet. Until it does, they're making due with a smaller level of renown. One night, a friend uploaded a video of Ka5sh dabbing to Papa Roach at Emo Nite, a nostalgic L.A. club night celebrating music the creators listened to in high school. Over the next month, 10,000 people found Ka5sh's Instagram through the video, and followed them for their bizarre visual jokes about pop culture they'd begun posting at friends' urging. (Our phone conversation had to be rescheduled from our original appointment when Ka5sh ended up hanging out with a llama at Eric Andre's birthday party). "You can just be extremely Internet-famous overnight because someone famous likes you," they say.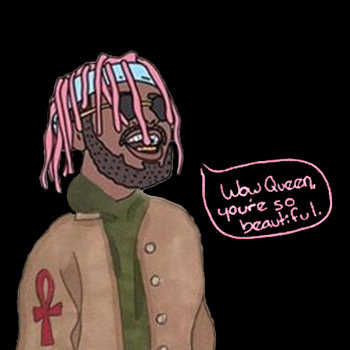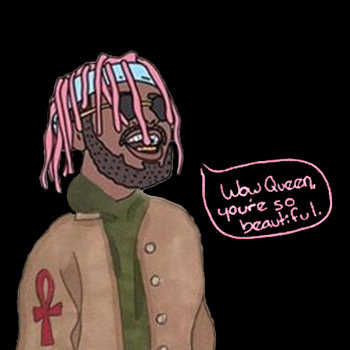 Whether you're familiar with them or not, Ka5sh is Internet-famous. They've used their ability to make hilarious and relatable images (often on serious topics like internalized racism, stress, and abandonment) as well as their first high-profile cosign to score gigs creating content for organizations like No Jumper, Pizza Slime, and Interscope. You've likely seen their "I fuck with the vision fam let's build" meme, which flamed, "white guys with cornrows and dreads wearing Supreme being lame as hell," and added a new catchphrase to the lexicon.
While Instagram popularity has opened up opportunities like curating an art show and meetings with record executives, Ka5sh is not content resting on a moderately successful meme. They're determined to go "the Donald Glover route" and become a triple threat—writing, acting in television and film, and having a successful music career.
Ka5sh grew up in Fayetteville, North Carolina, a "super country" military town dominated by Fort Bragg. "I'm still the exact same as I was like younger, but now it's cool," they say. "It's cool to be into bands and shit, and like cartoons, and just be weird and read. But back in [Fayetteville], no, that was not cool. You got called an Oreo."
The most exciting thing to do after dark was wander the aisles of the local Walmart, a cosmic injustice Ka5sh tried to correct by creating immersive performances for their early, Death Grips-inspired musical project, Weirdo. "I wanted to create an experience whenever you saw us live," they say. "It was completely unappreciated, because I was in North Carolina, and no one got what we were doing. We would get kicked out of venues and stuff because we were just so wild and weird."
Weirdo never caught on, a disappointment Ka5sh understands in retrospect. "It wasn't me," they say. "It was just me trying to create a version of me that's acceptable to everyone, and that's digestible for rap."
They continue: "I had a whole bunch of misogynistic things in my old music. Even when I was making that, I never called women 'bitches' or anything like that in real life, but in songs I was like, 'Bodyslam a bitch, give her plenty dick!' I don't know, that's not me."
After exhausting every possible option to make Fayetteville work, Ka5sh quit their job selling appliances and flew to Los Angeles with less than three hundred dollars in their pocket. "I'm already famous," Ka5sh declares confidently to me. "I decided I was famous last year. I'm now willing myself to make everyone know that I am also famous. That idea's propelled me into different situations in L.A. Fame is a way that you can move throughout situations without any kind of money, but it's like you are money. It's sick. A lot of things I've gotten or that have happened to me came strictly off of just Internet clout and not money, 'cause I don't have any."
Flush with cultural currency and secure in their identity, Ka5sh began making music that was more genuine and tied to real-life experiences; most notably, the eponymous single from their recent EP,  "I'm Depressed." "Even though the lyrics are sad, the beat's still pretty upbeat, which I did on purpose," Ka5sh says of the track, which juxtaposes a cheerful Yung Skrrt production (all bouncy, fuzzy bass, with synth blips floating by like emoji reactions on a livestreaming video) with lyrics about sleeping four days at a time, losing 20 pounds, and going weeks without drinking water. "It's [about] being depressed as hell at a party… You're just in the middle of the function, just distraught, and everyone's around just having fun and dancing," they say.
Whether it's rapping over a sample from Aladdin, reinterpreting classic memes, or dyeing their dreads in unicorn pinks and purples to deliberately fit in with rappers like Lil Uzi Vert and Yung Jake, Ka5sh loves playing with format, triggering nostalgia, and reinventing recognizable forms. "Wus Poppin" is the most aggressive turn-up song on the EP, recalling Ka5sh's punk-trap work with Weirdo, and appealing to the young fans of lo-fi underground hip-hop (or "alternative rock") like Wifisfuneral or Ski Mask the Slump God. Other songs lean on influences like Travis Scott (the pitched-up vocal samples on "HMU") or D.R.A.M (an auto-tuned riff on the hook of "Broccoli" on "I'm Depressed": "Ain't no tellin' what I'm finna blow off.")
For all their pop star ambition, Ka5sh is still a champion of the underdog: "I like making fun of things I went through in middle school and high school…I was a nerd. I didn't get to make fun of people. I was always the punchline." A refusal to tolerate jokes at the expense of marginalized groups and a firm grasp on the concept of "punching up" in comedy are hallmarks of their sense of humor. Ka5sh loves the idea of their predominantly white audience "laughing at white people doing white people stuff," reversing the power dynamics of many viral videos with black stars. "I'm super passionate about things that have to do with black people, and also queer black people and trans people," they say. "I'm really into social justice; not as a performative thing, but I really want to change the way that people think about things."
They're setting a powerful example, especially for young creatives of color, on the power of believing in yourself and the value of your work—and creating space for your work to be taken seriously. They admit to feeling like Peaches Monroee after having no idea how to monetize the success of the "fuck with the vision" meme, but they're currently working with a team to ensure that they're fairly paid for creating content.
As for the success they're chasing, they're not under the illusion that it's the magic key to escaping the mental health issues and societal pressures described so candidly in their body of work. "I wonder if I get money, will that be the thing that will make me feel better?" they wonder. "Probably not. I'll just have money and be sad as hell." But whether a gold-trimmed star on Hollywood Boulevard holds the key to Ka5sh's happiness or not, it's hard not to root for their rising fortune on the West Coast, a symbolic win for all self-determined weirdos turned creators of their own mythos.
—Lorena Cupcake