FEATURES
Juliana Hatfield Explores American Violence On "Blood"
By Zoe Camp · May 13, 2021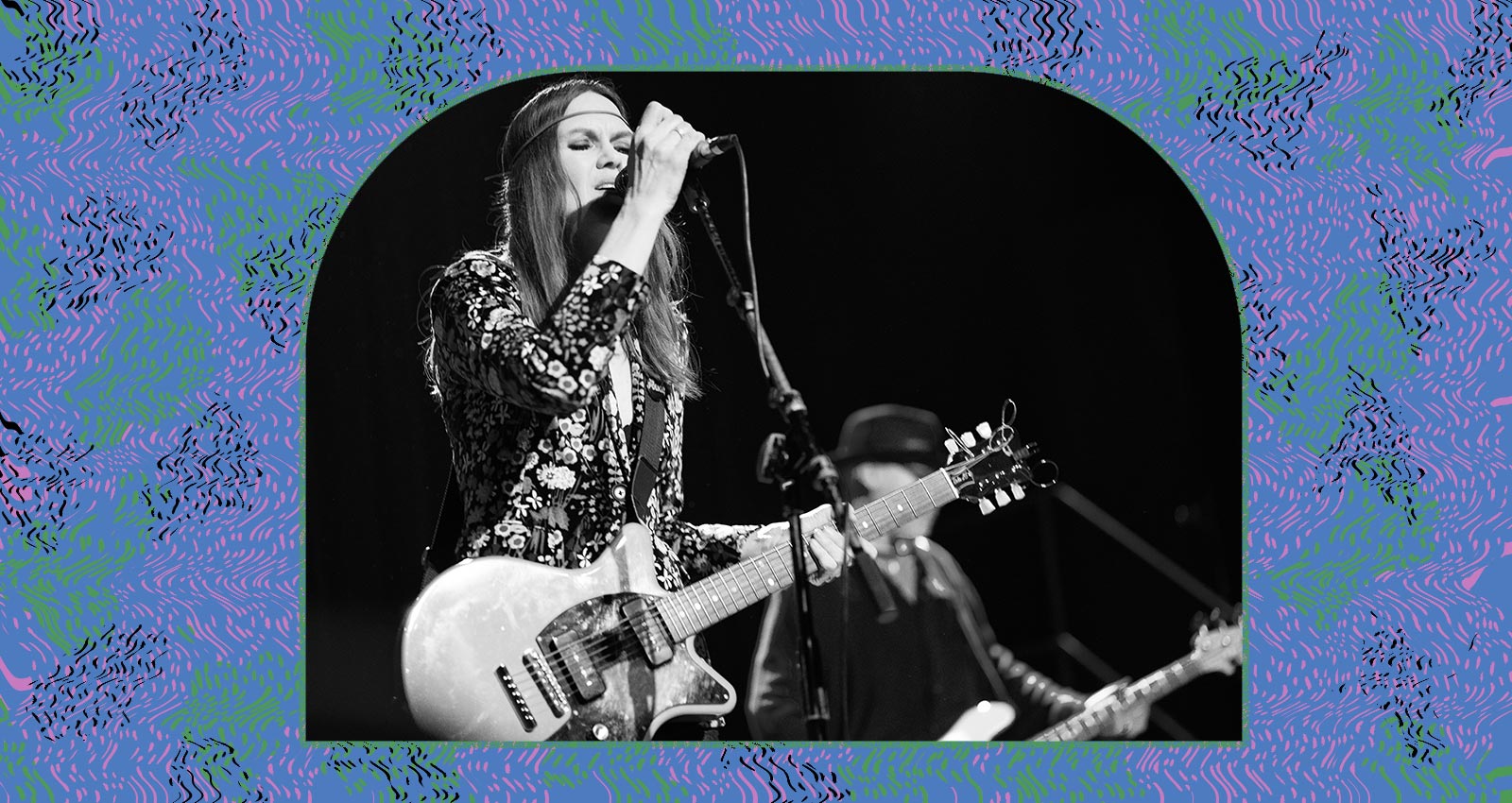 Like many introverts, Juliana Hatfield has had an easier time adapting to lockdown life than most. For the veteran singer-songwriter, Blake Babies bandleader, and former Lemonhead, the past 15+ months have not just been tolerable but downright "great": an extended vacation and creative retreat, doubling as universal vindication. She was born for solitude. "Generally, in my life, I've been inclined to separate myself from other people, and I feel like other people are judging me, or they don't understand why I want to go and be alone, why I don't want to take part in activities," Hatfield says. "Now I had a legitimate reason, and it kind of justified my whole existence, in a way."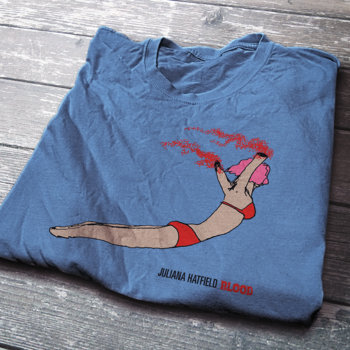 .
00:10 / 00:58
Merch for this release:
Cassette, Compact Disc (CD), Vinyl LP, T-Shirt/Apparel, Vinyl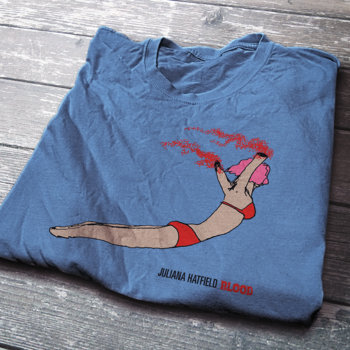 Hatfield recognized early on that her music had to acclimate to the times. She pivoted to livestream concerts early into the pandemic, offering everything from discography-spanning sets, to front-to-back run-throughs of past albums (both original material and covers), to fan meet-and-greets. It's not a perfect substitute—she still yearns for the energy and electricity of the before times, if not the scheduling and the schlepping—but it's encouraged her nonetheless. "It's really made me appreciate my body of work in a way that I maybe never did before," Hatfield says. "I have a bad habit of focusing on things that I wish I had done differently, or remembering the things I didn't do well enough, and I just beat myself up about it. But now I feel like I'm having an overall sense that I've made a ton of really good songs, and I'm really proud of it."
She's similarly proud of her other big quarantine project, her 19th solo album Blood. Arriving in the wake of 2019's Weird LP and two excellent covers albums (dedicated to Olivia Newton-John and the Police, respectively), it was self-recorded at her Boston home with minor assistance from collaborator Jed Davis (carried out remotely, for obvious reasons). If you'd told Hatfield a year ago she'd be making this record on her laptop, she'd have laughed; she hates all things engineering and technology, and her 8-track digital machine was more than enough to satisfy her at-home recording needs. "I would record at home and burn the mix onto the CD," she says. "I had eight-track faders, and I loved that I could move the faders and see the tracks in front of me, to touch and move them," she explains.
Unfortunately for Hatfield, the apparatus, a since-discontinued model, broke several years prior to the pandemic and she wasn't able to find a replacement by the time the shut-downs began: "I was like, 'Shit, I either go on eBay and try to find the same machine, or I just bite the bullet and learn the stupid GarageBand so I can at least have that ability.'" Hatfield decided to "bite the bullet," and with Davis' help, she began to master the machine. "It was like pulling teeth," she says. "There were those moments where the system of GarageBand was assuming I understood certain things, and I didn't, so I'd write to Jed like, 'WHAT DO I DO?! WHY IS IT DOING THIS?!,'  and he would calmly explain things to me—he's a great teacher—and he'd send screenshots and places to find help. So I basically figured out what to do with GarageBand, kicking and screaming every step of the way."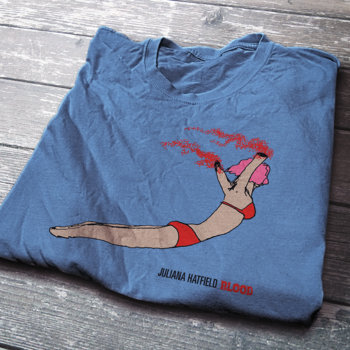 .
00:10 / 00:58
Merch for this release:
Cassette, Compact Disc (CD), Vinyl LP, T-Shirt/Apparel, Vinyl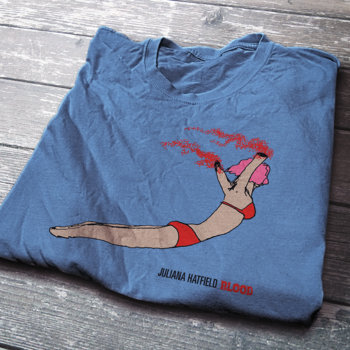 That Hatfield's run-down of Blood's creation is peppered with aggressive turns of phrase (biting the bullet, pulling teeth, kicking and screaming) is only appropriate, given the album's nature: an effigy of the Trump era and its aftermath wrapped up in a Giallo-inspired revenge fantasy. While it's not the first Hatfield has explored bodily violence—you can easily trace the blood trail back to the Blake Babies days, she notes—its presence has never felt stronger than on Blood and the contrast between sanguine power-pop and venomous rage never more palpable. In between bright, peppy power chords on "Chunks," Hatfield giddily taunts abusers with promises of well-deserved comeuppances ("Someone's gonna choke you out/ Someone's gonna smash your teeth/ Someone's gonna burn down your house/ Why can't you be nice?"). "Mouthful of Blood" reflects on social media groupthink and the paranoid climate it produces with a sticky, sweetly-sung chorus befitting of the title (see also: "Dead Weight" and "Torture"). Then there's the physical presentation: Hatfield's hand-drawn artwork depicts a high-diver with bloody stumps for arms and is accompanied by photos that nod to her lifelong love of horror and crime movies.
The Splatterhouse aesthetic and outsized narratives, Hatfield concludes, are the natural end products of the righteous fury that's been powering her all along, especially over these past four years. "Dishonesty, corruption…it's all out in the open now, and it's become so maddening and you just want to punch back," she says, acknowledging the album's timeliness. "But there's no way to really fight it or fix it, because it's so pervasive. The album's kind of about that frustration, and taking these cartoonish dreams of fighting back to the extreme."
The post-mortem is cathartic, but Hatfield is quick to point out a long battle lays ahead. "It's just a reflection of this violent society we live in," she says. "There are more guns than people, it's violence all around us. Why would I not make an album about violence?" To that end, it's only right that she returns the first punch, with the hope that we'll be inspired to do the same. "I'm always fighting against things; I never give in, right?," says Hatfield. "I guess I don't accept reality, or the way things are. I never accept the way things are, and I don't think people need to accept the way things are—and I think they can keep fighting against the norms."