FEATURES
Julia Holter's "Aviary" Is an Experimental Opus Inspired By a Dystopian Film
By Eric R. Danton · October 25, 2018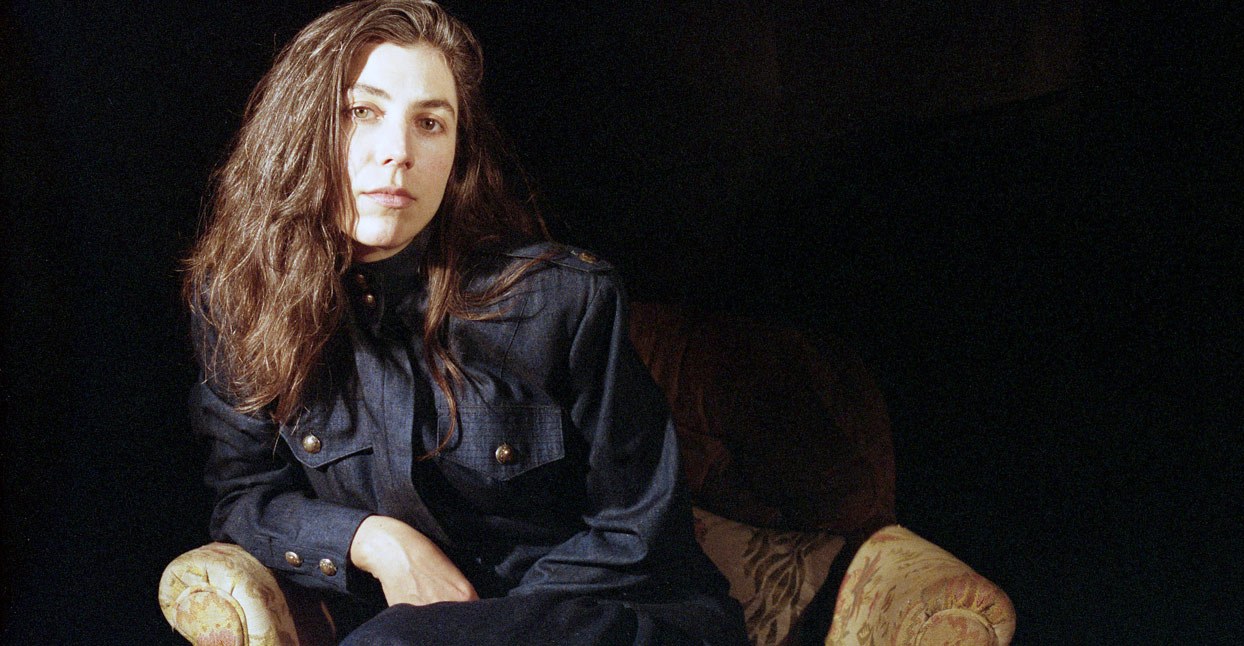 Like many people, Julia Holter felt adrift after the 2016 U.S. presidential election. Her response was to ground herself in music.
"I really felt like I needed to immerse myself in cathartic sounds," says the experimental singer and composer. "That was really what I did. I just started playing synths and improvising and getting into the sounds of that."
What emerged is Aviary, Holter's fifth studio album and perhaps her most far-reaching. Influenced in part by Vangelis's score for the 1982 movie Blade Runner, the 15 tracks on Aviary are immersive explorations of sound and texture, built around layers of synthesizers, strings, trumpet, and percussion. Sometimes, the songs gel into spellbinding soundscapes with a baroque feel, as on "Chaitius" or "Colligere." Other times, they're full of spiky challenges: chittering, fragmented vocal loops on "Voce Simul," for example, or the jarring mix of klaxon-like strings and bagpipe that starts "Everyday Is an Emergency." Holter uses her voice to similar effect, murmuring in soft, breathy tones on "Underneath the Moon," accompanied by a pulsing, almost danceable rhythm, and singing with full-throated power over a jumble of percussion on opener "Turn the Light On." It reflects what she calls the "cacophony of the mind in a melted world," but Aviary is not necessarily a refuge from what's happening in real time.
"I was trying to ruminate on empathy and love," Holter says. "I've been thinking a lot about love and what it is and sharing with people or something."
Along with the futuristic score for a dystopian movie, Holter also drew inspiration for Aviary from a tumultuous past. She cites an interest in medieval history that prompted her to read A Distant Mirror: The Calamitous 14th Century by Barbara W. Tuchman. She tried to write her own manuscripts in the manner of medieval monks. That may sound eccentric, but for Holter, it relates directly back to music. "When people used to read…they would be reading out loud. Reading was not a silent experience; it was a sonic experience," she says.
The way words sound informs much of Aviary—particularly "Les Jeux to You," where Holter's voice is as bright as the accompanying piano. "That track was a very simplistic expression of the sound of language, just singing for the joy of singing words without a strong regard for meaning," she says. "That's true throughout the record, actually, but that song is a very pure expression of that."
Though Holter insists she's not particularly literary—"I'm a slow reader, and I don't really know a lot," she says—her lyrical style is deeply influenced by her encounters with other people's writing. She used the ancient Greek drama Hippolytus as source material for her first album, 2011's Tragedy, and the title of Aviary came from a line she read in a short story by the Lebanese-American writer Etel Adnan. "I'm really into gathering and collecting stuff, sonically and also text-wise," Holter says. "I build up lots of layers and then see what happens. For me, that's the mystery of it and the fun of it, is seeing what happens. It's much more fun than writing directly from myself."
That Holter downplays her wide-ranging intellectual interests comes as no surprise to at least one person who knows her. "She's an extremely humble person, but the fact of the matter is that she's in a category all her own," says Nite Jewel's Ramona Gonzalez, who has collaborated musically with Holter and also calls her a close friend. "She's an incredible composer, she's an incredible instrumentalist and singer, and she has a sense of humor in her music."
.
00:10 / 00:58
Merch for this release:
2 x Vinyl LP, Compact Disc (CD)
Born in Wisconsin, Holter's family moved to Los Angeles when she was six. She studied composition as an undergraduate at the University of Michigan, and then with the avant-garde composer and guitarist Michael Pisaro at California Institute of the Arts. Holter backed the psych-folk singer Linda Perhacs before making Tragedy, largely by herself. She began expanding her sonic palette on her second album, 2012's Ekstasis, then took a different approach to her 2015 album Have You in My Wilderness, "trying to work within a tradition of ballads" instead of making lyrical collages from texts she had collected. Aviary represents a return to her earlier way of working, though in a more expansive way.
"This record is extremely fluid, more than any other record I've made," Holter says. "I'm kind of embracing things that I've been interested in for a long time and have been kind of exploring with Tragedy and Ekstasis, but also we took it into the studio and had musicians using their own creativity."
Gonzalez says Aviary is the fullest picture so far of Holter's abilities. "It's incredibly cohesive," Gonzalez says. "There's something about the way the instruments interact that is really potent to me, and I love soundscapes like that. That, combined with the undercurrent of the record that is in some ways sociopolitical, it feels really cutting and real."
Holter never used to think her music had a political aspect, though she has changed her mind about that. "What I've come to realize is all music is political," Holter says. "It's not like I'm inserting politics into my songs, it's just there, just like it's inherently personal. People say, 'Your music isn't personal.' Of course my music is personal. It's all in there."
All the same, Holter isn't using her music to convey overt political opinions or, she says, any other message. "Everyone's constantly on their phones, texting, emailing, you're expected to answer 50 emails every fucking day. It's so intense for people and I think everyone's really overwhelmed by all this communication," she says. "With music, for me, what's so wonderful is it's not a form of communication. It's not language. The words all turn into music and they become sound. It's not like I'm telling anyone anything."