FEATURES
Joyce Manor Grow Up
By Drew Fortune · October 07, 2016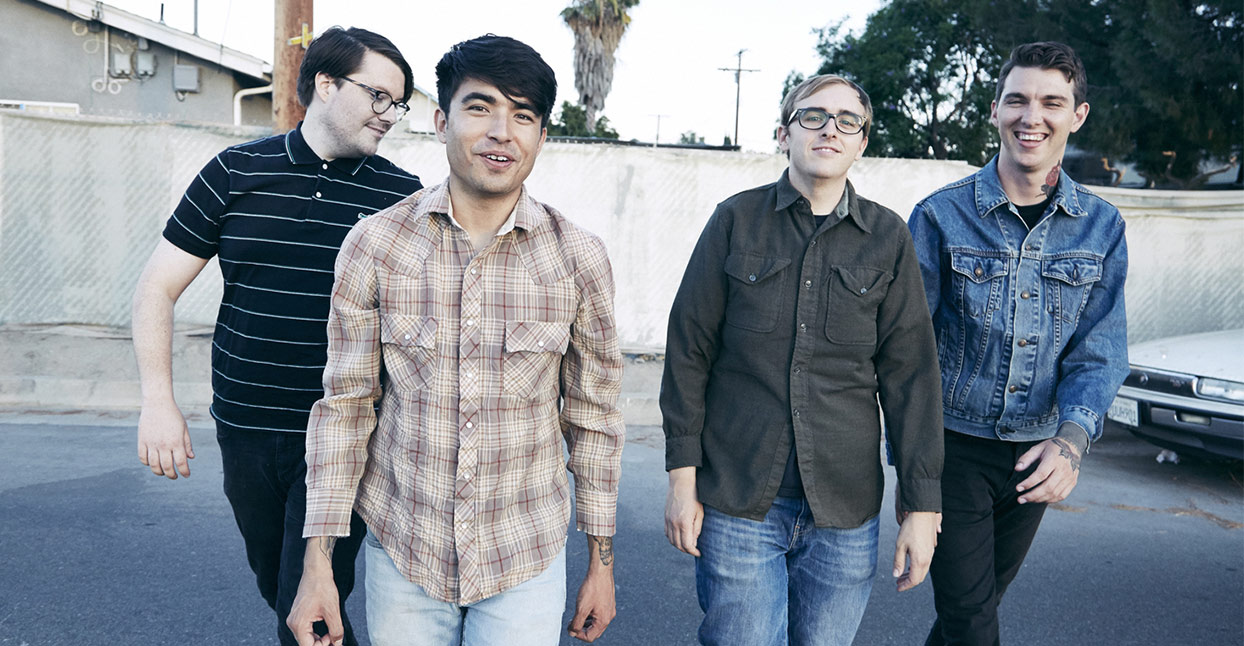 "Well, Joyce Manor is over," says guitarist and songwriter Barry Johnson, just a few weeks before the release of the pop punk outfit's fourth full-length Cody. He's speaking facetiously about the worst possible reaction to Cody, but there's a tinge of nervous hesitation in his rapid-fire verbal delivery, one that belies the youthful bark and frenetic confidence of his output. For a band that has become synonymous with blitzkrieg sonic bursts (their songs rarely tip the two-minute mark), Cody finds the band—including fellow guitarist Chase Knobbe, bassist Matt Ebert and new addition Jeff Enzer on drums—taking a moment to slow down and breathe.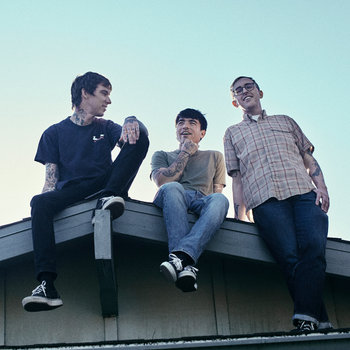 .
00:10 / 00:58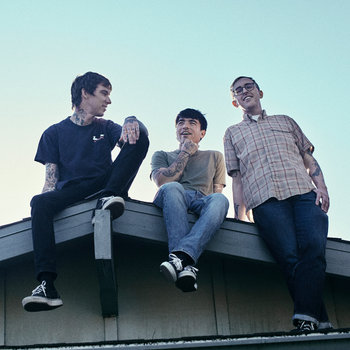 "I don't know about jaded, but I was definitely feeling old," says Johnson. "I'm 29 and, physically, I was feeling mentally too old for a lot of things." The Torrance, California native still looks like he probably gets carded, his eternally youthful, boy-next-door visage handsome in a Pete Wentz-by-way-of-Mac McCaughan kind of way. "It's better to be young and further away from death. I wasn't feeling uninspired, but definitely old." Almost 10 years earlier, the germ of Joyce Manor began when Johnson and Knobbe, two buddies with a shared love of blink-182, played their first gig as an acoustic duo. They quickly hooked youthful devotees with their heart-on-ragged-sleeve poetry and their mosh friendly live shows. In 2008, the duo rounded out the Joyce Manor, adding bass and drums. Along with Jersey brethren The Front Bottoms and Philly rockers Modern Baseball, Joyce Manor became the torch bearers for pop-punk, and also an integral part of the so-called "emo revival"—a bit of a misnomer for bands with more on their minds than dour self-reflection.
"I never sit down and consciously try and put lyrics to how I'm feeling," Johnson says. "It all comes from my subconscious. I can look at it later at understand where it all came from in my head." As a lyricist, Johnson has often played the role of suburban anarchist, singing of heated swimming pools and boardwalk arcades, raging against the mundanity of his sun-bleached, California trappings. For their 2014 Epitaph debut Never Hungover Again, the band took an evolutionary leap, enlisting producer/mixer Tony Hoffer (M83, Phoenix) to give the band a crisp makeover. While not candy-glossed, the newfound sheen heralded an unspoken longing to expand beyond their cozy niche and reach a new fanbase. If Never Hungover Again tested those waters, to overwhelmingly positive critical acclaim, Cody is the mission statement of a mature, forward-thinking Joyce Manor.
"When you play in a pop-punk band, your fans get a little older, but pretty much stay the same age," says Johnson. "I was beginning to realize that I'm quite a bit older than these people. It didn't used to be that way, but now it's a constant reminder. When you put yourself in an environment where you're dealing with a lot of young people, it makes you very aware of your own age." An unlikely mentor came in the form of Grammy-winning producer Rob Schnapf, renowned for his work with Elliott Smith, Guided by Voices and Beck's iconic debut Mellow Gold. "I'm a huge fan of his, and I kind of assumed he wouldn't want to work with us," laughs Johnson. "He's pretty particular about who he works with, and he definitely works on things that he's excited about. Brett [Gurewitz] from Epitaph threw out the idea, and I just said, 'That would be a dream.'"
After a particularly nervous lunch with Schnapf, the producer decided he liked the guys, and began to push them into the studio. Johnson was fearful that he wasn't ready, and that he wouldn't be able to shape the material in time. "We booked studio time a couple months in advance," says Johnson. "Suddenly a switch turned on in my brain, and I started writing a lot of really good stuff. " One of Schnapf's major contributions was getting the group to marinate on material, rather than blasting it out in a 10-day burst of punk aggression. Together, the band and producer began to experiment with deeper arrangements. "As far as shaping the record, I didn't really approach it in any way other than thinking about trying to get all the chord inversions and those bits of Barry and Chase to both rock and still be able to stack up and spread out," says Schnapf. "I really like Barry's words and the spirit and delivery of his vocals. Matt is basically a one-take wonder and Jeff is a really great drummer. I had a really great time making this record and feel like I made a bunch of good friends."
.
00:10 / 00:58
Given room to breathe, the 10 tracks on Cody comprise the band's strongest outing to date; at once immediate, yet also demonstrating the benefits of careful meditation. Johnson also steps outside his preferred headspace, ruminating on loss and isolation, along with fevered riffs on inane Kanye West arguments ("Fake I.D.") and nervous nights in a Portland karaoke bar ("Last You Heard Of Me.") "I was braver about putting out my first thoughts," says Johnson. "I didn't try and paint a different picture of who I am or how my brain works. I left some of the more unsightly bits in there. It's scary, and it was even scary to show my bandmates. I was worried they'd think I was losing my mind."
As for his career trajectory and the future, Johnson knows exactly where he'd like to go, without knowing exactly where that might take him. "I think that being famous would be fucking awful," says Johnson. "I don't strive to be this gigantic, monolithic force. I just strive to keep improving and finding out more about myself by making music."
—Drew Fortune