FEATURES
On "Consciousness," Joy Postell Reflects on Oppression While Offering Hope
By Max Savage Levenson · October 26, 2016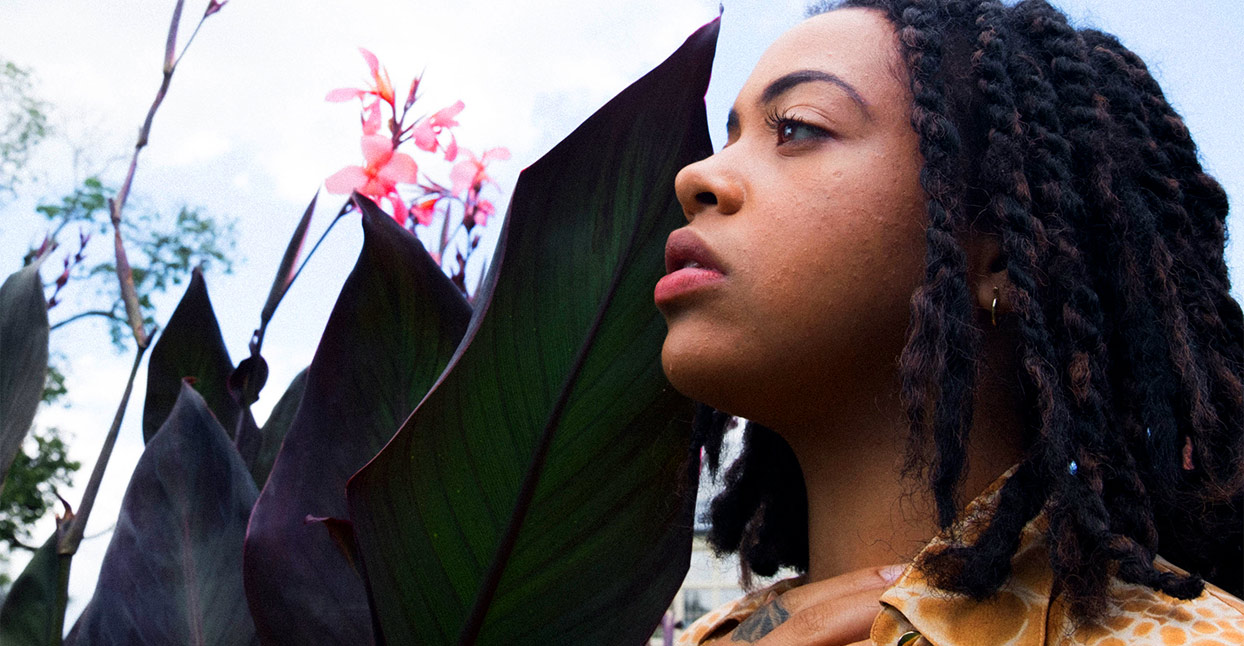 Shortly after graduating from high school in 2010, the singer and emcee Joy Postell left her home in Baltimore for the uncharted territory of Los Angeles. There, she found work in a series of medical cannabis dispensaries. "I figured that would be the flyest thing in the world," she says with a laugh. "I wanted to be a budtender." Postell's new occupation had a dual effect on the way she perceived cannabis. On the one hand, she learned about the plant's various medicinal attributes, particularly its effectiveness in combating migraines and epilepsy. "It's literally a gift from mother nature," she says. But she also saw how it could be used as a means of escape.
One of her regular patients was a talented visual artist who often brought his psychedelic paintings to the dispensary. "I knew he was struggling, but somehow, every day he would come into the shop and found that 10 dollars, 20 dollars to spend on weed," she says. Her interactions with the artist, who she saw as "perpetuating a very negative cycle," became the kernel of inspiration—and eventually the chorus—to her gripping new song, "Consciousness": "Now where is this consciousness you speak of / Is it hidden in the reefer?" she asks, delivering the words in a captivating cadence against a beat that evokes both the jaunty bounce of Timbaland and the staccato rhythm of a military march. "I'm trolling folks on that hook," Postell points out. "I feel like sometimes we think altering our mind state helps us achieve this consciousness, [but I believe] it's achieved in a sober mind." "Consciousness" isn't an anti-drug anthem, per se, but it is a song about striving for self-awareness and self-love. That message is laced through with allusions to the history of oppression facing black people in America; its strength and complexity is drawn from the agile way it blends anguish and anger with the dream of a better tomorrow.
.
00:10 / 00:58
Postell, who returned to Baltimore last spring, is nothing if not an eternal optimist. Spend 30 seconds scrolling through her Twitter feed, and it can seem like she's adopted the role of life coach for her fans and followers. "I always have hope," she says. "Your perspective can change an entire situation." Yet her optimism constantly butts heads with the topical narratives of her songs, recounting both events unfolding across the country and, specifically, in Baltimore. "I definitely write about the unfair treatment of people here…you can hear it in people's voices," she says. Last year, Postell released "Hands Up Don't Shoot," a song she recorded with guitarist Steve Francell; although it doesn't explicitly address the killing of Freddie Gray, it is dedicated to him, and its deft narrative casts an unflinching gaze towards police violence and misconduct. "In the past few years, I've seen a lot of brutality. I would hope that everyone is aware, but [songs like this] help to bring knowledge to folks who aren't hip to that perspective," Postell says. "People's lives are being taken for no reason."
"You keep rapping about the trap / cause you trapped / and that's exactly where they want you at."
"Consciousness" operates with similar intentions, but the combination of its off-kilter rhythm, courtesy of producer RC The Great with additional piano work from Cori Jacobs, make it her most piercing work to date. From its opening verse, Postell blurs the line between the real world and an imagined future. "Now, what if there weren't no n**gas / just master teachers?" she asks at the outset, taking a line from Erykah Badu's song, "Master Teacher." Later, she switches to snarling rap, channeling the lurching tone of Kendrick Lamar's "u," from To Pimp a Butterfly. It's a brilliant and jarring transition, and it reinforces the frustration blazing through lines like, "You keep rapping about the trap / cause you trapped / and that's exactly where they want you at." She says that the original lyrics for the verse—which didn't make the final cut—came to her in a dream immediately after nine people were shot dead in an A.M.E. church in Charleston, South Carolina last year. "I had a dream that I was the kid in the church in Charleston playing dead to stay alive," she says. Even though she eventually modified the lyrics, the intensity can still be felt.
By the last time the chorus arrives, it's evident that the 'reefer' Postell alludes to represents much more: it's whatever is standing between us and our dreams. That will register differently depending on your status. But the song's theme of finding your way towards inner peace, and fully understanding the implications of the past, is a message more necessary than ever.
—Max Savage Levenson