FEATURES
A Moombah Family Affair: Jon Kwest's "Soulove" Compilation is Straight From Moombahton's Big Heart
By Marcus K. Dowling · January 19, 2017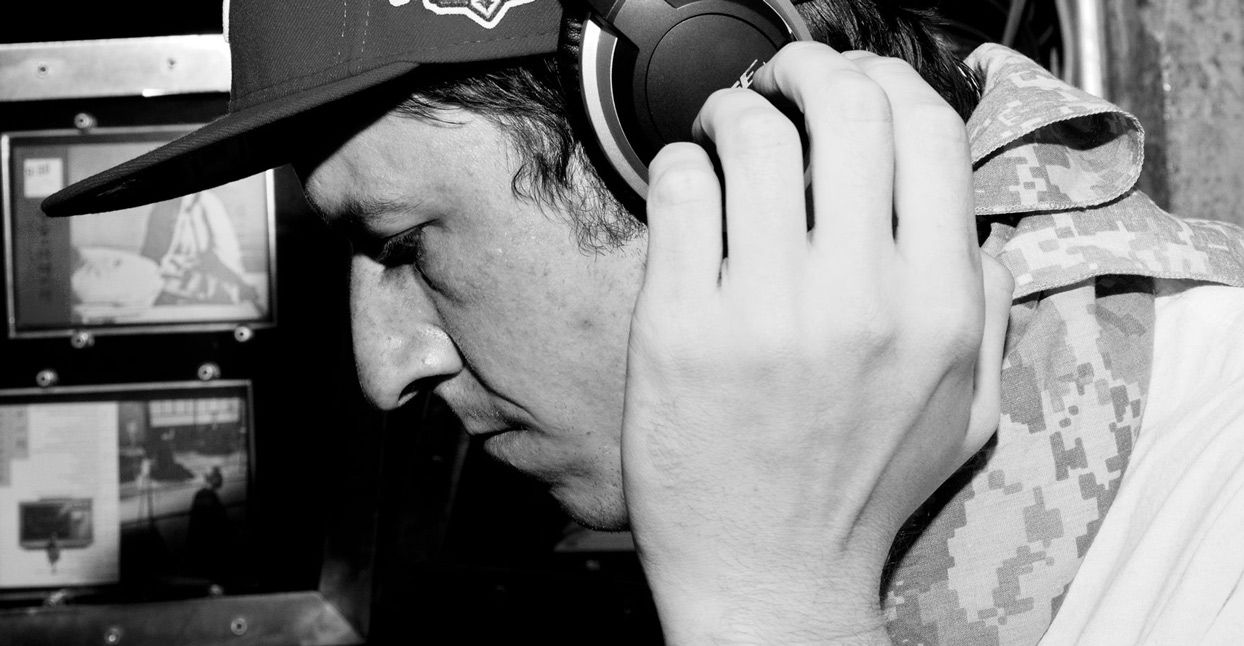 Eight years after house producer Dave Nada accidentally birthed a subgenre by playing slowed down Dutch house records to satiate a crowd of school-skipping, reggaeton-loving teenagers at an impromptu mid-afternoon basement party in Prince George's County, Maryland, moombahton finds itself having a moment of sorts. Between Justin Bieber's "Sorry," Sia's "Cheap Thrills," and Drake's "One Dance," the dembow-riddim driven sound, melded with soulful grooves occupied three of the top 11 positions on Billboard's Hot 100 Songs chart. However, when Baltimore-born, DC-based, underground-renowned Jon Kwest enlisted an impressive roster of producers to create a Donald Trump protest compilation of soulful moombahton tunes (sales directly benefit the ACLU and Planned Parenthood), something a little deeper at the core of the sound was unearthed.
Moombahton's growth was given a big boost by producers like David Heartbreak, who, as the subgenre turned just one year of age, began blending moombahton with reggae, dancehall, rap, reggaeton and classic American R&B into the moombahton variant known as moombahsoul. With less synth layers and bass drops, moombahsoul is a suave and "mature" take on moombahton that proves, even nearly a decade later, to be as potentially catchy as it is emotionally restorative. In a very candid conversation, Kwest discusses what went into compiling these tracks, what the present and future hold for the genre, and how there's so much more to learn about just what moombahton's simultaneous globalized and local community perspective can provide a world in need of a unifying call to action.
So, what initially went into the gathering of tracks for this, and did this initially start with protesting Trump as a direct influence?
I had some moombahsoul tracks sitting around, so I decided to go to the [San Francisco-based label] Sazon Libre dudes and get them to contribute some more tunes, and do, like, a throwaway comp, like I normally do. Then the Fourth Reich happened and I wanted to get involved in some way bigger than just protesting. Initially I didn't hit up anyone "big" because the time frame it had to be done within was six weeks and I know how busy people are. Usually, it takes three months to put these comps together, but once word spread, a lot of people [even "bigger" names] were more than happy to contribute.
So, jumping into the tracks here, I'm glad to see that there's someone like Boyfriend, who's from Lithuania, involved. Globalism is a) a huge part of what drove moombahton's rise, and b) very much not a part of the forthcoming American presidential regime. Thoughts?
If I'm not mistaken, it was Sazon Libre's Deejay Theory who said that we should add Boyfriend to the compilation. I was originally trying to limit this to American producers, because I didn't think people outside of the country were concerned about things happening in this country. Explaining what Planned Parenthood is to someone who is not from this country, and expecting them to get why it's important, seemed unlikely to me. But Boyfriend definitely had a sense of why all of this was important. [Phoenix, Arizona based tandem] Pickster [One] and [DJ] Melo were going to do a tune together, but Melo and Boyfriend got their edit of George Benson's "Give Me The Night" in first.
For many people, it wouldn't be a moombahton EP if the genre's chief innovator Dave Nada wasn't involved. How did you go about getting him to contribute "The Poem?"
I didn't think Dave had the time to contribute, but Christian from Sazon Libre hit him up after he played one of the label's parties in San Francisco. I was obviously glad that he could contribute. "The Poem" has that dark techno vibe.
I'm glad that this vibe is represented here because so much of moombahton is identified with pop music right now. I think people lose sight of like, how a lot of the moombahton OGs have moved past the original super-glossy sound and headed into deeper waters.
Yeah, they had that vibe for a while though. That track feels like that late night, classic, DC, U Street Music Hall Moombahton Massive vibe. It's got a spacey thing to it. I appreciate that moombahsoul just isn't all about making loops out of '70s and '80s roller skating records anymore. I mean, that's cool, and I did that a million times before, but I appreciate that the genre can do something else, too.
You contributed three tracks here. Of the trio, which is the one that speaks to you the most, and why?
I had a bunch of tunes to start with, then I narrowed it down to the three. "Cigarettes and Train Fare" has that samba-meets-jazz vibe, and "Songs In The Key of Strife" has that interlude-style new beat thing happening, but it's the "Bonus Beats" remix to "Holy Water" that really has people talking. The key to "Holy Water" is that I grew up in Baltimore, where Basement Boys' gospel house tracks were played on the radio. Everywhere else in the country though, gospel house never really transitioned past being an underground sound. I'm not a religious dude, but I love the aesthetics of gospel house. I had a vocal sample, no beats or anything, from this random 60s gospel record by Reverend W.A. Donaldson called "Baptizing Scene." I wanted to make "Holy Water" a funky homage to the energy of Baltimore's gospel house tradition, so I wanted to shouting on the record to evoke an intense feeling in the listener, and I also wanted to let the groove ride.
Speaking of production influences, I wanted to ask about what Pickster One did with Sly and The Family Stone's "Family Affair." There's a whole art to chopping samples and making breaks that I feel is so important to what makes moombahsoul such a uniquely powerful sound…
For sure, it's all about making something new out of something old. Anybody can chop a sample and make a break, but to do it well is a whole other story. Pickster killed it. There's like, four parts to it, and the parts just come and go like they're supposed to, but they shouldn't. There's a real magic to making these tracks that requires making something that should absolutely not work at all feel like it makes perfect sense.
You can't have a moombahsoul, and more specifically moombahton, conversation without mentioning pop crossover songs. As someone who's seen the growth and expansion of moombahton, what are your thoughts about the genre's current top-40 explosion?
People ask me about the pop crossover of moombahton and moombahsoul all of the time. At first, I won't tell you that it didn't make me feel a certain type of way, because it did. However, I'm also a white dude who doesn't speak any Spanish hardly and I regularly appropriate reggaeton [via being a producer known for making moombahton], so I'm really not the one to be pointing fingers at anyone, really. I mean, if pop-crossover moombahton records are what I have to listen to in the grocery store, then, I guess there are worse things I could be hearing. Now when we get to the point where Katy Perry, and well, everyone starts making this shit, then yeah, maybe I'll be a little bit more sick of it.
If I were to ask you to sum up what moombahton is ultimately all about as something that exists beyond music, and yes, as something worth creating in the wake of November 8, how would you respond?
I hope that everyone sees what's happening in the mainstream and decides to maybe scratch beneath that surface to find moombahton's dedicated base of producers who are sustaining it. Personally, I don't believe that the genre is meant to be a money grab. I mean, there's somebody making money from putting homogenized moombahsoul on the radio, but moombahton in general is not the clear path to fame and money. The sound is one that doesn't have to pander to people. It's genuine. You make this music because you want to make it, and not to get laid. Moombahton does something for you that's different than that. In my mind, nobody's really going to tack the core of this genre onto their image in order to look cool. Moombahton rose up in an era of commercial bro-step, internet hype, and trap. Now that all of that has blown over, it's comps like these that show this sound still having enough potential to hold it's own and continue being viable without any of that, and if stuff like what's on this compilation is what moombahton will be forever, I'm good with it.
—Marcus K. Dowling