FEATURES
Jon Hassell Collages the Past on His Absorbing New Record
By Michaelangelo Matos · June 08, 2018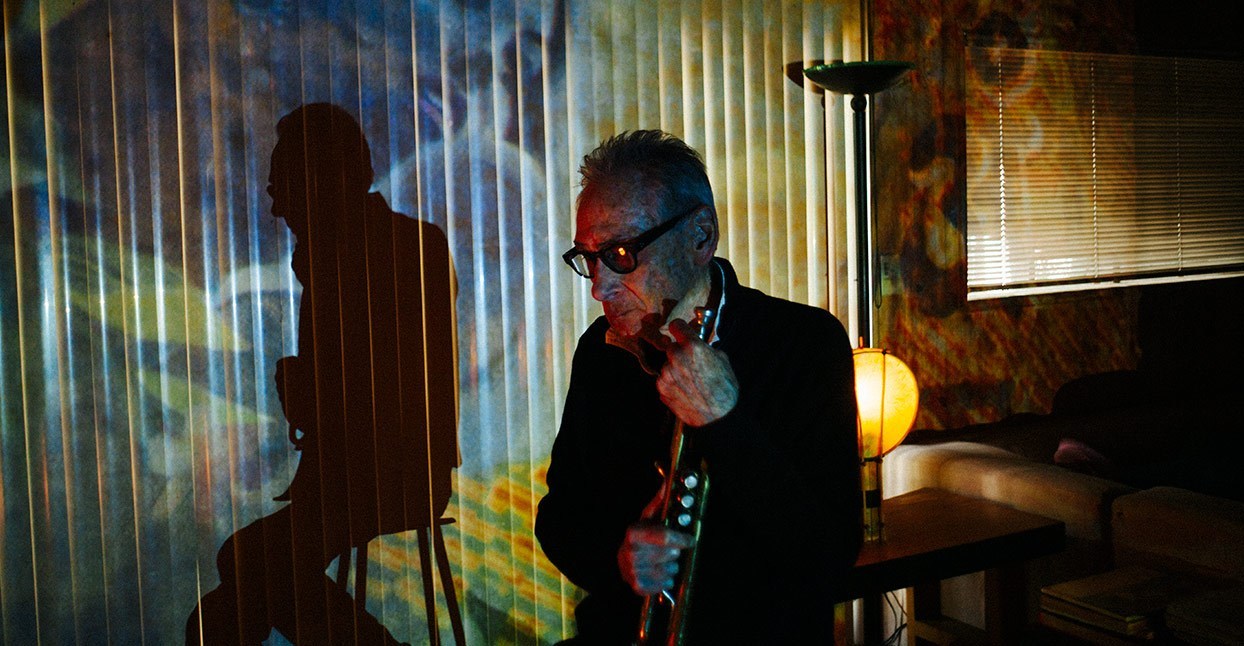 Somewhat hilariously for a guy whose music has long embraced the idea of an interconnected future, Jon Hassell's hard drives just crashed. Fine—this isn't the future he wanted.
"I bought a new computer—actually, a new old computer," Hassell says over the phone from his Los Angeles home, "and it turned out to be a vast lemon. I had already gone through transferring things—all the precious data and everything—and then I had to go through having it wiped off again and put onto another [drive]."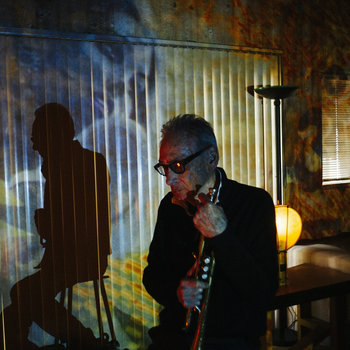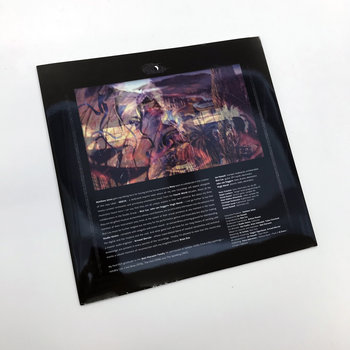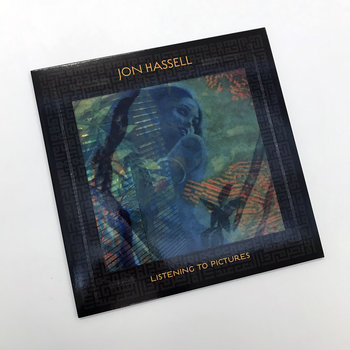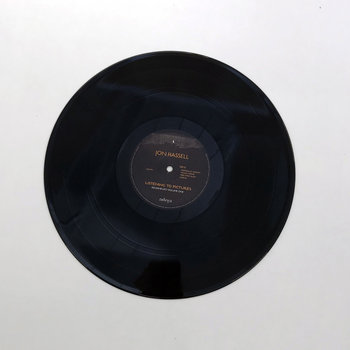 .
00:10 / 00:58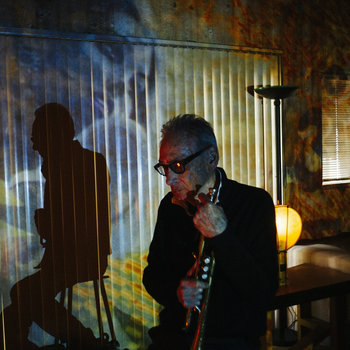 Merch for this release:
Vinyl LP, Compact Disc (CD)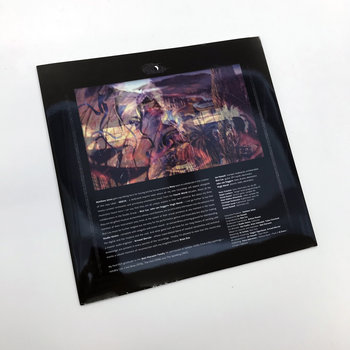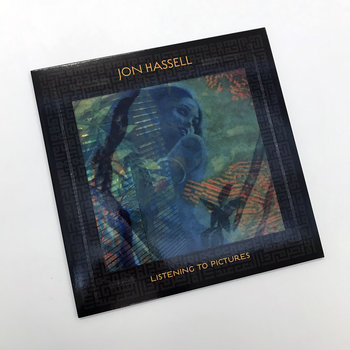 About 80 percent of what's on those drives is Hassell's own music, taken from many years of recording. Some of the songs on Listening to Pictures (Pentimento Volume One) come from those early sessions, only collaged and edited and layered and smeared and overdubbed anew.
"I'm always putting tracks from here and there and throwing them down," says Hassell. "It's always a sense of malleable music, with sampling and all the digital techniques that are there. If you have a gigantic library like I have—I could spend several lifetimes just going through variations. I can take something from 20 years ago and do something with it, and use that as a starting point—say, each component of each piece would have this come from this era of thinking; this might come from this one."
What's most charming about Listening to Pictures is that Hassell really does sound like he's going through variations on his classics—engagingly so. Built like an LP at 39 minutes (vinyl is available, of course), Pictures's relative briskness is the album's core strength—he really does seem to have skimmed the cream rather than pile it on nine years after he last released new music. Hassell has hardly been idle in that time: He's reissued a couple of his early titles from the '70s, Vernal Equinox and Earthquake Island, on Ndeya, his new imprint, as well as helped with the expansion (to three CDs) of 1990's City: Works of Fiction. The label will also release a number of other old Hassell LPs, plus previously unissued material.
Listening to Pictures (Pentimento Volume One)—the subtitle, Hassell explains on his website, means the "reappearance in a painting of earlier images, forms, or strokes that have been changed and painted over"—is pretty breezy for something so dense and hazy. It helps, no doubt, that Hassell's application of new brushstrokes on top of earlier ones has been updated a bit. "Manga Scene," says Hassell, evolved out of his having begun playing "a cool melody in concert, two or three years ago" on the trumpet. He was at first uncertain about the track itself: "As far as all the electronic stuff happening around it, I resisted it for a while. The title came later—I was thinking, what could this look like? The Japanese manga thing is not my native territory. I had to dive into that a bit and be seduced by it."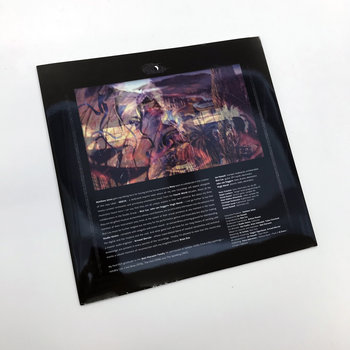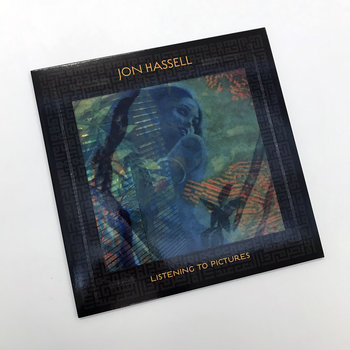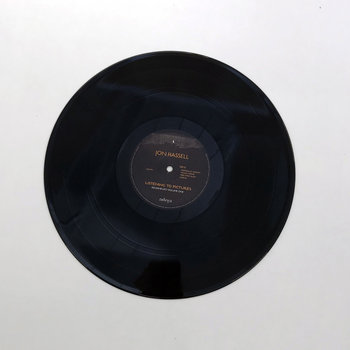 .
00:10 / 00:58
Merch for this release:
Vinyl LP, Compact Disc (CD)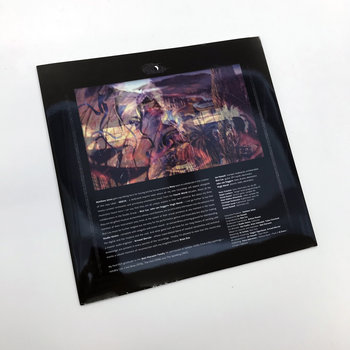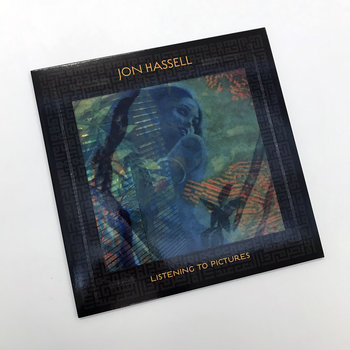 Hassell's hard drive crash didn't just nearly lose him a backlog of music. "I write a lot, and I've been working on a book," he says. "[It's about how] when the world was sort of divided into the developed north and the undeveloped south. You could call the north overdeveloped, as opposed to just simply 'developed'; you can call the south 'underdeveloped' from the point of view of the overdeveloped north. In other words, intellect overrules feeling. Because we depend so much on the abstraction of language, that's our currency. The fact that it is taken for reality, the verbal description, causes lots of problems. The whole world is in flames because somebody calls it one thing, and someone calls it another thing."
Just as with his music, the cover of Listening to Pictures, Hassell notes, is "more a collage of three or four things" than a single painting. One was a "sweetly innocently sexy pulp romance cover" the trumpeter had brought back from India after studying raga with Pandit Pran Nath. Another was the image also used on Fourth World, Vol. 1: Possible Musics, Hassell's classic 1980 collaboration with Brian Eno: "It's a satellite image of part of Africa, with the Nile curving down." And the third was a shot from his bedroom window: "There are plants outside of my window, and they merge with the flora that are in the other images."
The album's construction was made with help from Rick Cox and John von Seggern, in particular the final track, "Ndeya." The name is a hat-tip to another Hassell confrere and hero, the artist Mati Klarwein, who designed the covers of Hassell LPs Earthquake Island, Dream Theory in Malaya, Aka-Darbari-Java, and Maarifa Street—not to mention a slew of early-'70s Miles Davis classics and Santana's Abraxas. "Deià is a beautiful village on the coast of Majorca, where Mati lived and died," says Hassell. "And I had the great pleasure and honor of being there and having the best times I've ever had."