FEATURES
The Playful, "Anti Feel-Good" Soul-Pop of John Carroll Kirby
By Shannon Effinger · May 05, 2020
A contemporary soul-pop pianist and producer known for his work with Solange and Frank Ocean, John Carroll Kirby built his career on creative harmony and collaborative savvy. And yet, throughout the lead-up to his latest releases—the long-awaited solo album My Garden, and the surprise LP Conflict, written and recorded a year ago—discord is on his mind. "I listened to a lot of interviews with fighters, and most of them seem to say that the conflict is actually within yourself," he says of his inspiration for Conflict, which was inspired by a standoff with a family member. "You can put whoever you want across the ring from you, but in the end, you're going to war with yourself."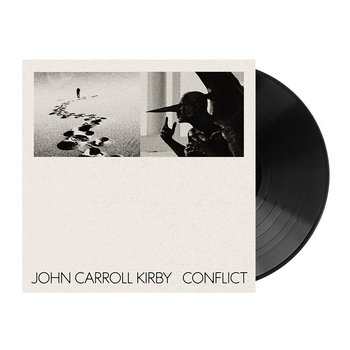 .
00:10 / 00:58
Merch for this release:
Vinyl LP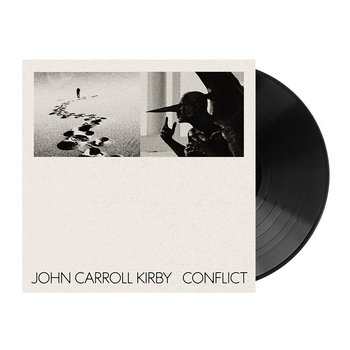 Inner turmoil lurking beneath a veneer of peace has been a constant in Kirby's life. "My dad, toward the latter part of his life, was a Satanist," he says. "He was in a horrific motorcycle accident, and he made a pact with the devil to release him from his pain. Soon thereafter he got a tattoo of Mephistopheles on his arm, and that was the beginning of the end. He would [watch] Jan and Paul Crouch and other televangelists for hours just so he could make fun of them. His cynicism came from mistrust and pain, as he had been brought up in the 'spare the rod' era of child raising. Someone noted the spiritual elements in my music recently, and asked if I'd always been spiritual, but I was raised to be quite cynical of 'feel good' ideologies. It wasn't till a few years after his death that I found the space to look welcomingly at spirituality."
During both high school and his time at the University of Southern California, Kirby was mentored by renowned bassist and educator John Clayton, under whom he studied arranging and big-band orchestration. But it was "Money" Mark Nishita, a frequent collaborator with The Beastie Boys, who inspired Kirby's transition to keyboards and synthesizers. While he couldn't play fast like some of his early heroes—namely Ahmad Jamal—Nishita taught Kirby how to still find possibilities, with a sense of humor, in spite of any limitations.
"Growing up, I was a 'pianist.' It wasn't til I heard this album called The In Sound From Way Out!, with all these instrumental jams, and I was like, 'Oh man, the keyboards on this are so good. Who is this guy?' Later I got to play in [Nishita's] band, and he's just so cool, because he's so unpretentious and irreverent. In fact, he just posted a video where he's like, 'Experiment with music! You can take a balloon and blow air in it then put it on a trumpet and squeeze it like a bagpipe, and play the trumpet with the air from the balloon.'"
.
00:10 / 00:58
Merch for this release:
Vinyl LP
After years of touring with artists like Nishita, Norah Jones, and Blood Orange, Kirby began collaborating and producing for artists like Frank Ocean, Bat For Lashes, and Solange. "Solange's process is just really special and really intuitive," he says. "Especially on the last record, When I Get Home, everything kind of just started from a jam. It would often just be like, 'Either the first idea is good, and you ride with that, or you move on.' There wasn't a ton of, 'Oh, change this chord here.' It was more, 'If we're vibing, we're vibing. If not, let's do something else.'"
On My Garden, Kirby delivers songs that straddle playfulness and introspection. Lush piano chords get tangled up in dancing flute samples and synthesizer loops on the infectious "Blueberry Beads," elsewhere, on "Wind," Kirby's bare piano acts as the song's focal point, running tenderly over a musical phrase halfway between smooth jazz and chamber music. Inspired by Ethiopian nun and pianist Tsegué-Maryam Guèbrou, the track is Kirby's attempt to represent the wind itself in song.
Though he acknowledges that his transition from producer to solo artist was an immanent progression, as the music on My Garden displays such elegance and natural ease, Kirby has little to no aspirations for superstardom—at least, not on the stage. "Quincy Jones is someone that I would strive to be," he says. "Most people know who Quincy Jones is, [as a producer], but there's not really much footage of him performing. Maybe of him conducting his band or being in the studio [as a trumpet player]. I love following him on Instagram. All he really does is shout out other people like, 'Man, let me tell you about this person,' or 'I can't believe I got to work with them. They're so amazing, so professional. They showed up every day and brought it so good.' My goal as a musician is to be like that, to be complimentary of other people. I think that's probably the most gratifying."