FEATURES
As Golden Donna and Auscultation, Joel Shanahan Explores The Far Reaches of Electronic Music
By Philip Sherburne · October 08, 2020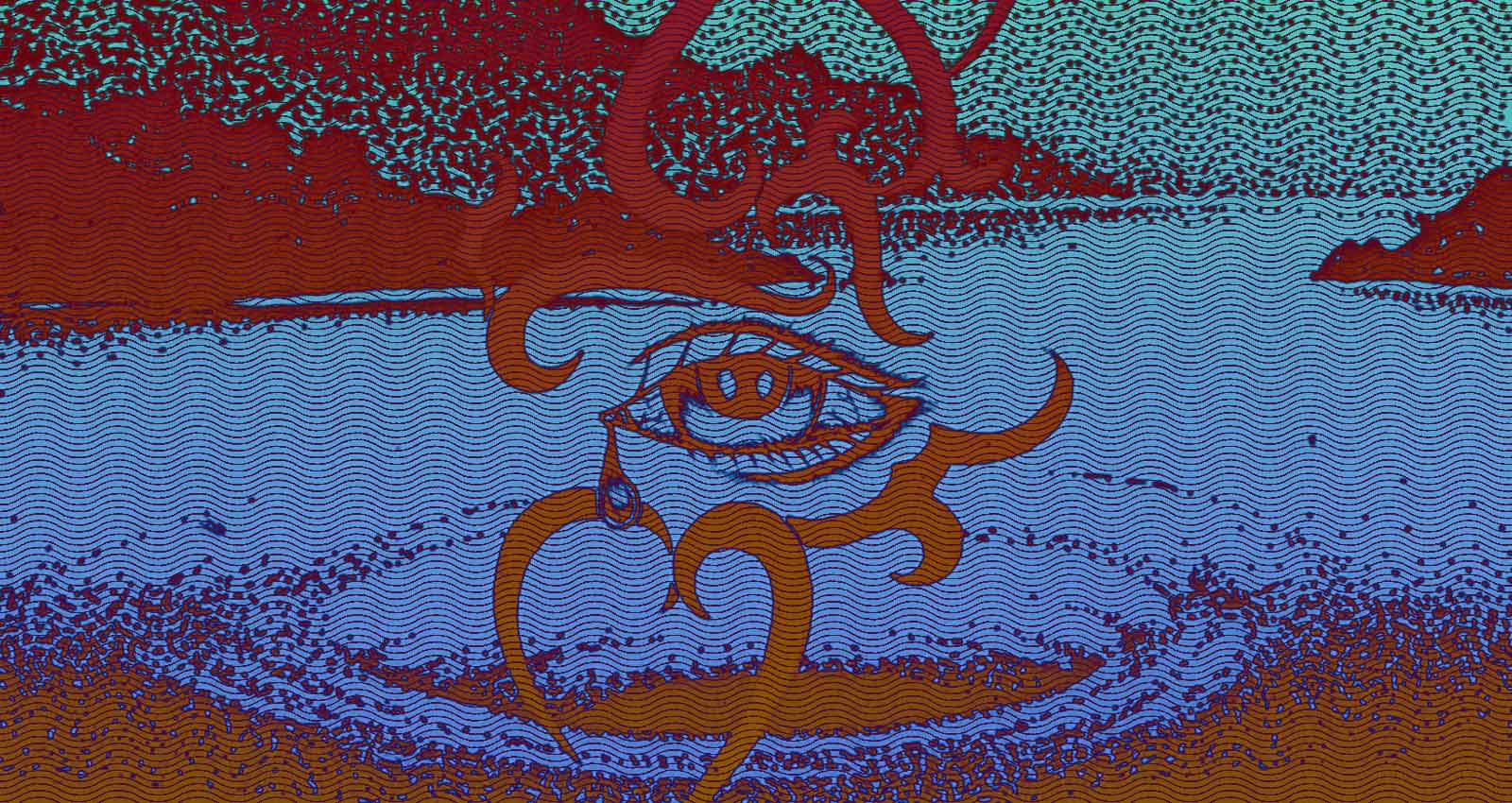 Long before the internet unleashed a torrent of recorded sound into people's homes, young Joel Shanahan had a whole world of music at his fingertips. His father, Pat Shanahan, was a well-known radio personality throughout the Midwest, and while the elder Shanahan worked late, recording commercial spots for local pizza parlors and car dealerships, Joel had the studio archives in Stevens Point, Wisconsin, all to himself. It was an oldies station, and he soaked up everything he could get his hands on, the stranger the better: Beatles bootlegs, the Electric Prunes, Iron Butterfly. "I wouldn't have been able to articulate this as a child, but I found myself drawn to anything that had sonic character," Shanahan says, speaking over Skype from his home studio in Portland, Oregon. "I was drawn to the Byrds, because they have that 12-string guitar sound. I was drawn to the psychedelic stuff because of the weird production techniques. I remember stumbling across 'Revolution No. 9' and being scared—but also being like, 'More of this, please.'"
Today, a quick glance around Shanahan's studio as he pans his laptop across the room suggests that he's still requesting, "More of this, please": Virtually every surface is covered with tapes, CDs, records, synthesizer modules, cables—all the trappings of a bona fide music obsessive. Which is what Shanahan is, both as a listener and a creator. Under a variety of aliases—chiefly Golden Donna, but also Auscultation, Purpura, and now his own name—Shanahan has spent the past eight years building up a formidable discography that runs both deep and wide. If Golden Donna's self-titled 2012 debut album for Not Not Fun sublabel 100% Silk had him pegged as an '80s nostalgic, with its ethereal disco shimmer and the sort of pitch-bent synth leads that could give Michael Mann goosebumps, the prolific musician quickly set his sights on broader horizons.
Merch for this release:
Cassette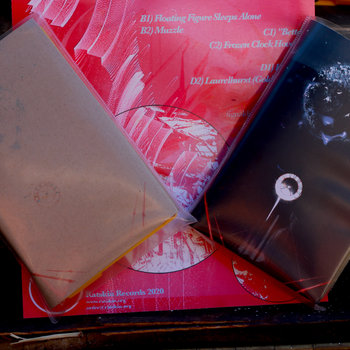 A tour of Shanahan's catalog reveals hazy ambient house, vaporous new-age funk, spring-loaded electro, soot-streaked techno, daydreamy acid, and, in recent years, fusions of all the above and more. Golden Donna's Hush and Auscultation's III, released within two months of each other this past spring, pushed beyond even those open-ended limits, offering a kind of yin-yang of his practice: The former a shape-shifting machine-music beast recorded live to tape, the latter contemplative ambient techno as physical as it is heady. In September, working under his own name for the first time, he released Frozen Clock Hovering on the Oakland experimental label Ratskin, moving into new territory yet again: velvety, pulse-driven dark ambient. As varied as his music can be, there is usually something about it that makes it unmistakably his—not a signature, perhaps, but a sensibility. "My hope," he says, "is always to create something that the listener will have to go to that album to hear. Because I don't want to just put another piece of trash out into the world."
As a teenager, he began to cast his gaze beyond the limits of the oldies station's archives. "I was drawn to any music that had synthesizer in it," he says. Growing up poor, living in a one-bedroom apartment with his dad, he didn't expect to actually get his hands on one. "I always assumed that synthesizers were just something that rich people have." But in 2008, the same year that his father died, Shanahan, then 25, moved to Madison, where he discovered a thriving underground scene notable for its inclusiveness. In basements and dive bars, punk and metal shows would alternate with experimental gigs. "You'd see Endless [aka Earjerk Records' Tony Ennis] playing in the corner of this shitty bar with a bouzouki and some jingle bells. There might be three people paying attention, but it would be the best set," he recalls. The spirit of the scene struck him: "This attitude, like, 'We're doing this for ourselves as a form of expression, not as a way to generate social capital.' I was really inspired by seeing all these artists who found different raw ways to express themselves live and didn't really give a shit if there was an audience or not."
Merch for this release:
Vinyl LP, Cassette
That same year, Shanahan bought his first synth, a Roland JX3P, off Tom Winceck, aka Emotional Joystick, a member of Justin Vernon's Volcano Choir, for $100. ("Of course that's selling now for $500, because that's the world we live in," he laughs). As he learned his way around the instrument and gradually expanded his studio, he began developing improvisatory, all-hardware live performances—the polar opposite of the laptop sets then in vogue. He also began setting up shows, booking out-of-town artists like Bobby Browser, TX Connect, and Jerome (aka Lazy Magnet), little-by-little consolidating a community out of a patchwork of punks, hipsters, old-school ravers, and new-school tech-house heads.
It was at one of those shows, in 2011, that Shanahan got his big break. Samantha Glass, Sudden Oak, and Sam Goldberg (aka Radio People, and one-half of Mist with Emeralds' John Elliott) were all on the bill. Shanahan opened—he thinks it may have been his first show as Golden Donna—and afterward Goldberg, who he had never met, asked Shanahan if he'd like to record a tape for his Pizza Night label. But the tape Shanahan turned in, an in-studio version of his live set, fell by the wayside; Goldberg was studying and overextended, and he wound down his label that year. On a whim, Shanahan sent a link to Not Not Fun. "Within 24 hours, I got an email back from Amanda [Brown] that was like, 'We love this. This would be great for Not Not Fun.' And then Britt [Brown] wrote and said, 'This would make a really interesting record.'" By 2012, Shanahan's debut album was out on vinyl.
The new few years were productive. In 2014, Shanahan released Golden Donna's second album, II, on 100% Silk, broadening his sound; "I was less concerned about making people dance and more concerned about making something that would stand on its own, and not be completely draped in nostalgia," he says. He launched a new alias, Auscultation, in order to explore computer-based methods of composition—"but not have it sound like a laptop, so you're not thinking about a glowing Apple while you're listening to the music," he insists—releasing a self-titled debut on 1080p and following up with L'étreinte Imaginaire on 100% Silk the following year. Between 2012 and 2016, Shanahan put out at least a dozen additional cassettes, 12-inches, and split EPs, as he continued to hone his voice.
Then, on December 2, 2016, came an event that would divide Shanahan's life into a before and an after.
As Shanahan stood outside the Ghost Ship warehouse in Oakland, California, where he shared the lineup with Nackt, Joey Casio, and his 100% Silk labelmate Cherushii, aka Chelsea Faith Dolan, smoke began rising from the building. The interior of the space was later described as a tinderbox of salvaged furniture, snaking extension cords, makeshift walls, and mazelike passages. Shanahan watched helplessly as flames consumed the building. Thirty-six people perished in the fire. Dolan, one of Shanahan's close friends, was among them.
In the aftermath, Shanahan says, "I didn't care if I ever made another piece of music ever again." Temporarily back in Madison after a 2015 move to Portland, he remained in the Midwest in order to be close to friends and family, grieving and deeply traumatized. "I was in a very fragile headspace," he says. "I wasn't working. I was losing my mind. I was really, really struggling with my mental health." He credits his friends with supporting him through that period—getting him out of his bedroom, inviting him to play shows, forcing him, "to participate in life." In late January, 2017, he made a full-length's worth of material in a single week. A week later, the album, Carousel Hold, was up on Bandcamp. Musically, it was prime Golden Donna, melding muscular machine rhythms with layer upon layer of contemplative synths. Only the titles—"Weight," "Hospital," "Every Waking Second"—offered any indication of what lay behind the music.
Shanahan embarked upon a remarkably productive period that carried him through the next couple of years. "I was burying myself in music, using it as a way of coping with everything," he says. "I was just constant. Not everything will get released—there's definitely things that nobody needs to hear except for me." He began posting a steady stream of releases to his Bandcamp page. Among them were Fairydust, dedicated to Cherushii; The Nerve, an outtakes collection; and a string of cassette-only releases with his friend Andrew Heuback, a visual artist. "A lot of times when I self-released music, that was also a part of how I was surviving," he says. "I didn't have fluid income. I was so damaged mentally, didn't think that I could go into work, and I'm not a rich kid. I'm not a trust-fund dude. So with these smaller private releases, it's like, 'Oh fuck, I gotta pay rent,' or 'I've gotta get groceries. I should probably do a Bandcamp release,' you know?" (Many of these releases, along with a number of live recordings and loosies, are currently available as subscriber exclusives.)
In 2018, Shanahan moved back to Portland. He stresses the role that friends like Heuback played in keeping him engaged and afloat. "When I was working on music, it was just to maintain some semblance of mental stability," he says. "It was good that Andrew pushed me to put material out into the world because at the time it was like, I don't care. Time is standing still. I don't feel like I have a future. I don't like what the future looks like. You know? I don't feel like any of the music that I'm making matters. I didn't care if I was releasing music or not. I cared about making music. Andrew helped motivate me to hang on, to keep sharing my music with people and keep participating, for lack of a better word."
Merch for this release:
Cassette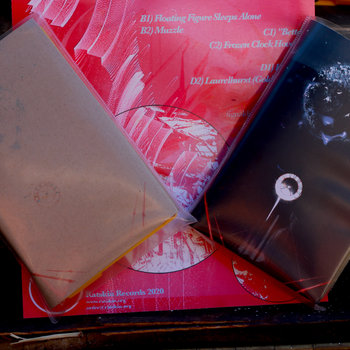 Assessing music in the wake of trauma is dangerous business. There is a risk of reducing art to the mere product of trauma. There's a risk of imposing a one-to-one relationship between the two, looking for causation when perhaps there is none. At worst, there's a risk of fetishizing the artist's emotional wounds—or, conversely, pinning a hero's badge on someone who just desperately wants to move on. In fact, one of the remarkable things about Shanahan's work from 2017 onward is how free it feels. Not necessarily unburdened: There's a darkness at play in cuts like Date Night's "Submerged" or Hush's "Without You," while Auscultation's III feels almost haunted. And then there are his titles, like "Inadequacy" and "Turn Down These Voices."  But his music never wallows. The layers in the music may feel as heavy as a weighted blanket; the rich, viscous mixdown of III lends the impression of great physical resistance, like swimming upstream. But Shanahan's music always moves—forcefully, and with grace.
Frozen Clock Hovering, Shanahan's attempt to move away from the dance floor and reconnect with his roots in experimental music, is also imbued with a sense of movement, even when that might simply mean liquid tones quivering in close proximity, their chord clusters morphing like murmurations of starlings. Chilly, industrial-tinged pieces like "Muzzle" and "'Better'" immediately distinguish the album as Shanahan's darkest work to date. The title reflects a recurring sensation he sometimes has, that time is standing still. On certain occasions in the past few years, he says, "I pretty much felt like time had stopped. Mentally, my brain was like, pause. We're pausing life. Except life doesn't pause. It just keeps going."
"I'm still struggling," Shanahan admits. "My room's a fucking mess. I should probably be taking slightly better care of myself. But, you know, I live with really good friends and spend a lot of time listening to noise and listening to music." In the past few months, he says, he has taken a break from working on music. But then, in the next breath, he mentions two more upcoming releases, both of them venturing deeper into a patient, ultra-minimalist rabbit hole of processed field recordings and layered Moogs recorded straight to his Harmon Kardon tape deck. "I wanted to get back to that," he says. "I look at the dance music scene—staying up all night, playing shows at four in the morning, I love doing it so much, but at the same time, I like playing a show at 7 p.m. sometimes, and I love experimental music and I want to play more shows where I get to have that experience with others. I love stuff like Andrew Chalk—his stuff does very little, but it does the exact right amount. That's the music I've been gravitating toward more and more once again. Everything's cyclical in life."
Despite the ominous image sparked by a title like Frozen Clock Hovering, he says, "The reality is that time doesn't stop. It keeps going." And music, he has found, is one of the things that unsticks the second hand. "Making this music? It's satisfying. Especially when the work doesn't suck. That's always a best case scenario. Sometimes when I'm not working on music, I wonder if I'm depressed and subtly torturing myself, if I'm punishing myself somehow by not working on music. Some of the most important things in life that you'll experience in your lifetime are creation and love. Those are things that make you feel alive. A lot of other things in the world maybe leave you feeling a little dead inside, but creation and love are things that nurture the soul."