FEATURES
Joan As Police Woman's Intuitive Art-Pop
By Saby Reyes-Kulkarni · February 13, 2018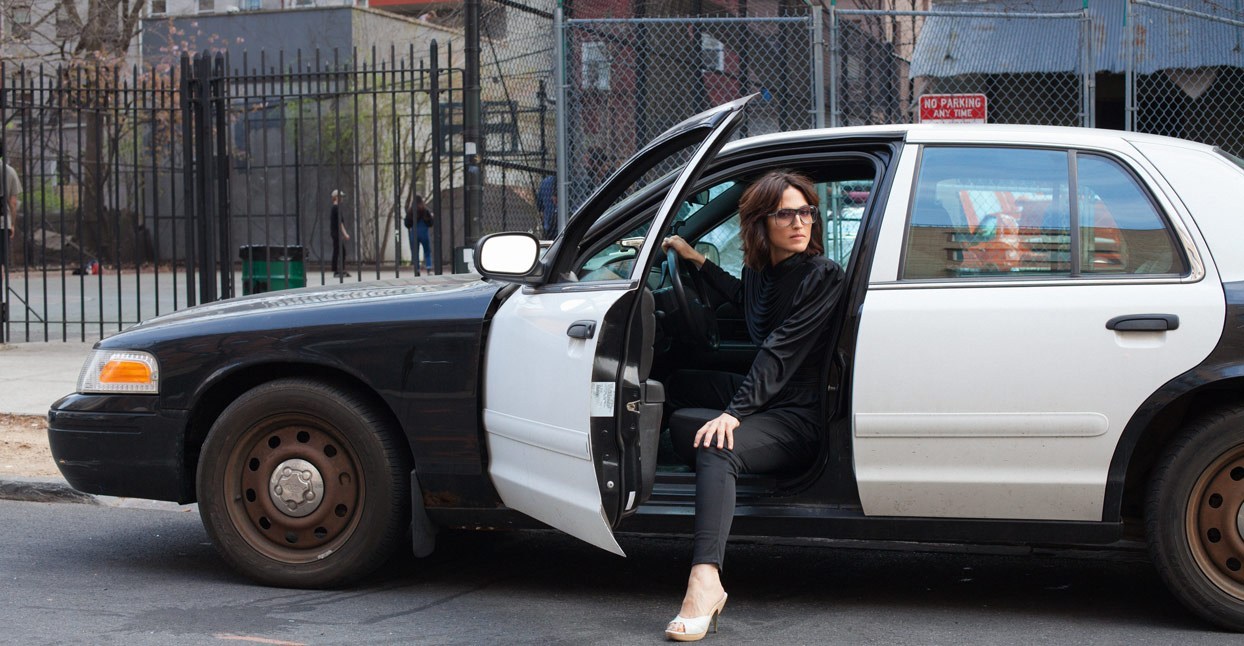 Even in its most charitable sense, the word "naive" often has a negative undertone. It's most often used to point out deficiencies in the adult defenses we need to survive this world. But Joan Wasser, who embarked on a solo career in the early '00s under the name Joan As Police Woman, casts the word in a completely different light. On her sixth full-length Damned Devotion, Wasser presents naiveté as a powerful liberating force, one that is, for her, inextricably entwined with romance and creative inspiration.
.
00:10 / 00:58
Take the first single "Warning Bell," for example, where Wasser sings, "I never see it coming / I always look the wrong way 'round / Even when the wind blows / I whisper light as a feather," over a downtempo soul-rock groove built from a spare arrangement of keyboards, piano, bass, and drums. Later, she adds that, if there were a warning bell for things she should avoid—namely, relationships that don't pan out—she wouldn't hear it, because all she hears is music, "soft and low." Still, she's "been fine with learning […] the hard way." In the bridge, she reminds herself that "a cautious heart / Is a trophy [she is] worthy of."
"I'm certain that my experiences have tempered the way that I am, but I don't feel like they've necessarily jaded me," Wasser says. "If I start to limit what I think is possible, that limits my freedom—and that's death for me. So I'm absolutely comfortable retaining some naiveté, or just living in a land of possible 'yes' all the time, rather than in any way cutting off possibilities. That's just the way my life has worked the best and what's allowed me to keep making music."
In keeping with the spirit of "Warning Bell," Wasser's career has been marked by what one might call "purposeful fumbling." Trained on violin from age eight, when she gravitated to lessons as a public school third grader in her native Connecticut—she wasn't pushed; she just enjoyed playing—Wasser eventually ended up attending the College of Fine Arts in Boston as a music student. There, she chafed against the competitive nature of classical schooling.
.
00:10 / 00:58
"I particularly liked chamber music," she recalls. "It's quite a lot like being in a band. You're playing in a small ensemble. It's very intimate, and you have to kind of breathe together to make it happen. Chamber music is really intense. But when I saw these people spend their whole lives learning to play things like the late Beethoven quartets exceedingly well, it occurred to me: 'There is no possible way that I'm going to be able to add to this repertoire that I feel has already been perfected.' I absolutely love the classical repertoire, but I didn't see having anything to contribute to it—nor did I have any interest."
Wasser says she found it "alarming" that she was "being taught to walk again when everyone else was sprinting." Nevertheless, "there was a certain confidence, whether it was buried or not, that I did have something to offer musically." With that, she started kicking around indie/underground circles, which led to stints playing violin as a member of the Dambuilders, Antony and the Johnsons, and others, as well as high-profile live and session work with artists like Rufus Wainwright and Lou Reed. When she set out on her own, she re-cast herself as a singer-songwriter playing guitar and piano—instruments that allow her the space to explore ideas unencumbered by formal understanding. Like fellow violinist/songwriter Andrew Bird, Wasser is fluent at sight-reading but prefers to avoid it.
"When I was in music school, I approached advanced theory as a math problem," she chuckles. "I never heard music as notation. I can read violin music, but it would take me hours to notate what I play on the piano, because I would have to figure it out, like I was learning some new kind of numeric system."
Which is not to say that her music is too cerebral to understand. On the contrary: imagine someone with the natural songwriting acumen of straight-up hitmakers like, say, Billy Joel and Elton John, only with an underground pedigree and an inclination towards jazzy torch songs. Throughout her career, Wasser has brought an elegant respectability to pop music while, on the other hand, bringing soulfulness and intuition to the artsier fringes of the pop spectrum, forging a seamless marriage between pop, soul, and rock. "I love challenging music," she concludes, "but with a classic song, it's something that just takes you emotionally and doesn't really allow exit."
-Saby Reyes-Kulkarni