FEATURES
Jlin's Dizzying, Detail-Oriented Take on Footwork
By Michaelangelo Matos · Photos by Danielle Alston · May 09, 2017
In 2015, the Gary, Indiana-based dance-music producer-composer Jerrilynn Patton, aka Jlin, was offered the chance to play at Montreal's MUTEK festival. She'd just released her first album, Dark Energy, for the label Planet Mu, and was beginning to dip her toe into live performance—which for dance musicians tends to be either in the form of DJing or the kinds of laptop-plus set-ups that MUTEK favors. A good, high-profile gig—easy call, right?
This one came with a hitch: "I actually agreed to play the show before I even knew how to play live, which made me learn," says Jlin over Skype from her hometown. The same thing had happened the first time she was offered the chance to play a DJ set. "I agreed to perform before I knew how to DJ," she says. "I am that type of person: I agree to something before I even really know how to do it. It forces me to do something that is outside of my comfort zone. Once I have it, I have it."
Does she ever. There aren't many more purely creative producers making electronic music right now than Jlin. She makes music in the general style of footwork, the very fast, snakingly syncopated urban Chicago style meant to accompany dancing of similarly intricate precision. Living some 30 miles away from the scene's center, Jlin approaches the music as a starting block from which she can go damn near anywhere—in her hands it's as much a portal to the imagination as a command to move.
Dark Energy wowed critics and longtime dance listeners—The Wire magazine named it best album of 2015, for starters—and the new Black Origami feels like a bold step forward even from that. The music never seems to stop flowering, and every track blossoms with vivid detail. For example, "Kyanite" is startling 3D wire fu rendered in sound; percussion seems to trace the steps of individual limbs and weapons as Chinese gongs and pipes flare across the stereo field, each one implacably right but none remotely predictable.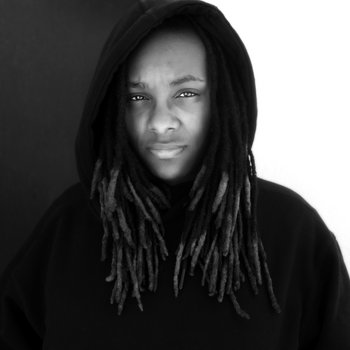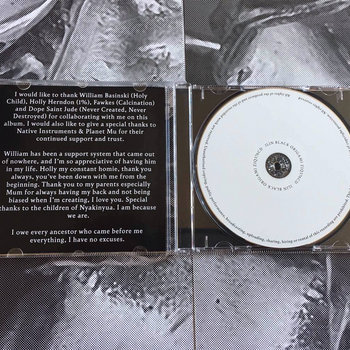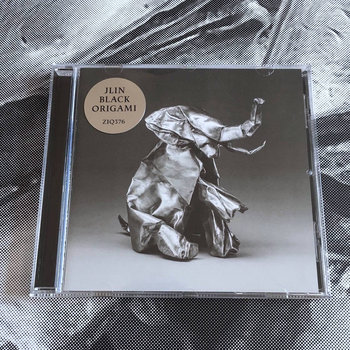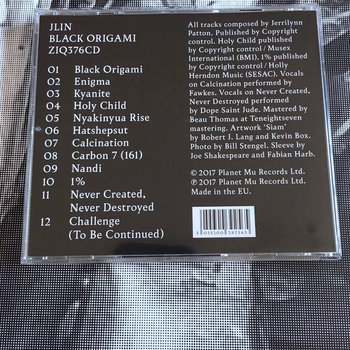 .
00:10 / 00:58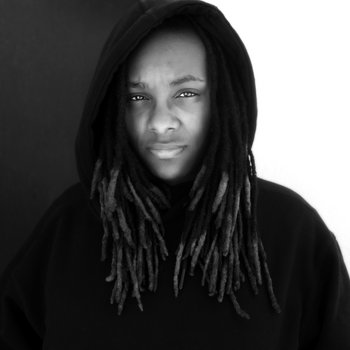 Merch for this release:
Compact Disc (CD)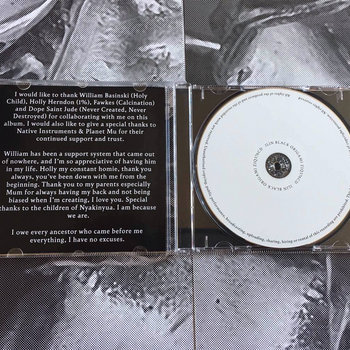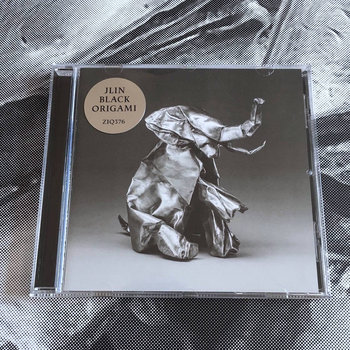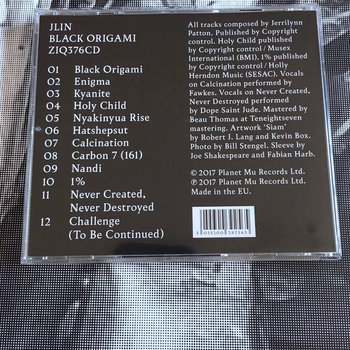 It turns out "Kyanite" was directly inspired by an action sequence in Zhang Yimou's House of Flying Daggers (2004). "They were playing this game called the Echo Game," she says. "When I watched that scene, I started 'Kyanite.' It was actually a cross between that and Memoirs of a Geisha."
Jlin also gets inspiration via lectures on YouTube. "My mother gave me a link to a lecture: Herbie Hancock talking about how math and music are one and the same, which they very much are," she says. "I think that having a kind of mathematical mind helps a lot. Everything that I make, I have sequenced it myself. I have to do everything myself. I like creating every pattern, every sequence. I enjoy that. Mathematics was my favorite subject in school. I'd neglect other subjects and just to do math. Physics as well.
"Actually," she adds, "98 percent of my production has less to do with music and more with alignment of myself as a person. Not Jlin the person who produces, but Jerrilynn, the individual."
But instinct works all kinds of ways, which is audible in Jlin's work—it feels imagined, rather than happened upon. In the heat of creation, I asked, does she find herself following her ears or her instinct?
"My ear and my intuition—more so, my intuition," she answers. "Because my intuition is what leads my ear, and that takes experience. You've got to trust yourself. That's not always easy. It's not something you get overnight. Now I can go back and listen to something and go, 'How did I even do that?' That's where the surprise comes in because I'm not looking to do that. What I create is very abstract; it's coming from a very abstract space. You're not going to fold your first piece of origami and have it come out perfect—even if you follow the instructions."
.
00:10 / 00:58
Take "Hatshepsut," named for an Egyptian queen. At the center of the track is a constantly manipulated variation of the droning buzz known colloquially in dance circles as the "Hoover sound" for its resemblance to a vacuum cleaner. The Hoover was ubiquitous in the early '90s after appearing on Dutch techno duo Human Resource's 1991 song "Dominator," but here Jlin finds a new twist, playing fast eighths before setting the entire thing loose, not to mention grafting it to a swaying rhythmic chassé quite unlike what the sound is best known for. Anyway, Jlin is hardly courting the nostalgia market: "I just liked the way it sounded at that moment," she says. "Everything for me is a matter of feel."
This approach has afforded Jlin a high level of respect from the arty dance-music sphere's upper registers. Black Origami features contributions from William Basinski ("Holy Child") and Holly Herndon ("1%"), and Jlin is collaborating as well with choreographers Avril Stormy Unger and Wayne McGregor. Designer Rick Owens included her music for his Paris Fashion Week show for the Fall/Winter 2014 season. And last December 2016, Aphex Twin played a two-hour DJ set at the Houston festival, Day for Night, that was festooned with tracks from Dark Energy. Jlin was "at home watching a documentary and my phone started to go completely berserk. I, of course, thanked him. He was telling me that he really likes my work. You know, he's a very nice guy." Nonetheless, Aphex Twin wasn't part of Jlin's early musical constellation "at all," she says.
Where she'll go next is anyone's guess, including her own. That's how Jlin likes it. Black Origami, she says, "is built around duality and versatility. It's versatile in such a way that you can't say it's this or that. I threw a lot of things in one project, I know I did; I did it very intentionally. Not only to show that I am this way, but also show that you can't define everything. We live in a society that likes to define everything, and everything cannot be defined, and that's fine."
I offer that she's clearly a perfectionist.
"I'm very detailed, not perfectionist," she corrects me. "Detail—not perfection."
—Michaelangelo Matos