FEATURES
Nashville's Jessica Lea Mayfield Makes No Apologies
By Jonathan Bernstein · September 28, 2017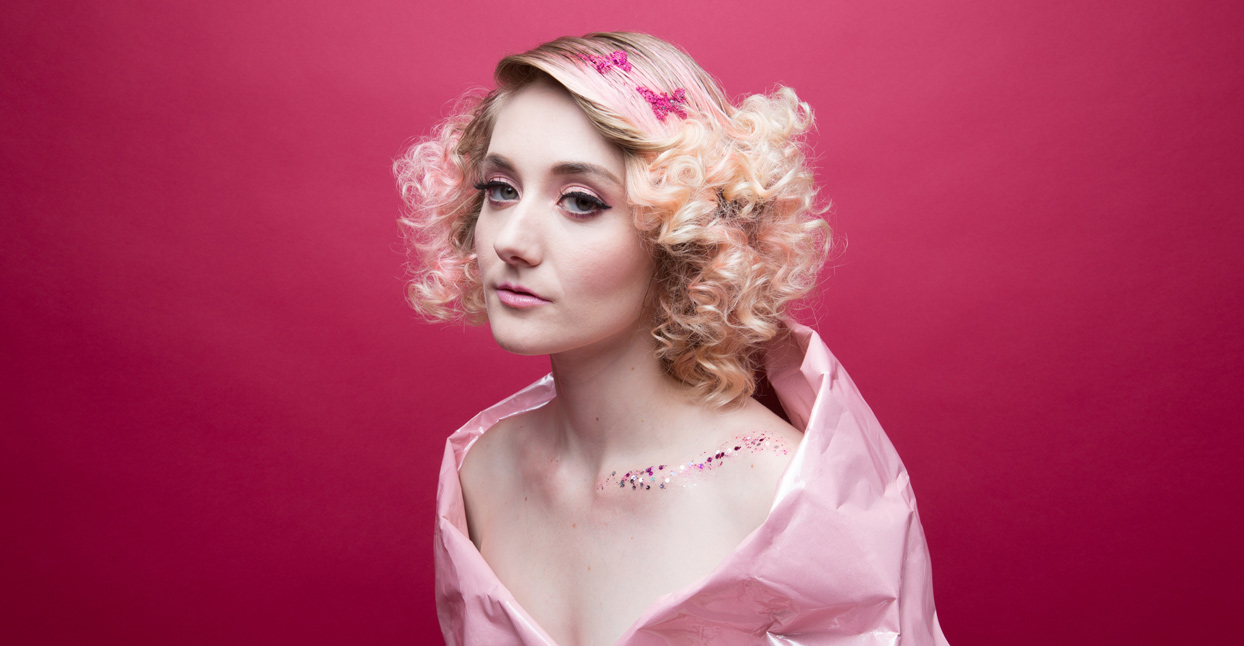 Jessica Lea Mayfield had nearly finished writing her new album when, one day last year, a chorus suddenly came to her. "I'm sorry, the sorry, the sorry is gone," she sang to herself as she wrote down the lyrics. The resulting song, "Sorry is Gone," an anthemic, "sorry, not sorry" ode to absolving oneself of stultifying self-blame, would end up becoming the title track and lead single to Mayfield's new album.
"When I finished 'Sorry is Gone,' it was like OK, this summarizes the whole album: I'm not sorry for anything anymore, this is the last apology I can make," says Mayfield. "I'm the kind of person who was constantly made to feel like I needed to apologize for myself. As a woman, you apologize for things that are other people's fault, and it's weird to realize that that's been ingrained in your mind, and it's a hard thing to move past. 'Sorry is Gone' was me saying that I'm tired of apologizing for no fucking reason at all."
Sorry is Gone marks the most penetrating collection of songs Mayfield has ever recorded, documenting a period of transition and healing as Mayfield, 28, begins to move beyond one of the most difficult periods of her entire life. In recent months, Mayfield has publicly come forward as a survivor of domestic abuse. "My silence helps no one except the person that did this to me," she said in a July Instagram post in which the singer first opened up about her story.
On her latest album, Mayfield portrays the dissolution of an abusive relationship, often in stark, unsettling detail in songs like "Soaked Through" and "WTF." But despite, or perhaps because of, the painful, personal nature of her new material, singing and writing songs about this dark period has been a therapeutic process for the singer. "You have to speak up for yourself," she says. "I had a hard time writing the album before this one [2014's Make My Head Sing…] because I wasn't able to speak about these issues clearly, I was afraid to speak. Now, if anything, it's the opposite. It's very easy for me to talk about anything and everything."
On the haunting final song of her excellent new LP, "Too Much Terrible," Mayfield gets at the power and value of telling one's own story: "Too much terrible / Best to not talk about it," she sings in the song's opening lines, "That type of thinking / Lets the world forget about it."
Whether in the angsty country-folk of her debut White Lies EP, reverb-heavy singer-songwriter noir of her first two solo records, or the shredding hard rock of her 2014 record, Mayfield's music has always dealt directly with dark subject material and heavy headspaces. "I definitely don't shy away from the hard feelings and emotions," says the Ohio native, who now lives in Nashville. "Those are the songs that help people the most."
Mayfield's soft-spoken, world-weary half-whisper has a way of blanketing anything she sings in a haunting disaffection. Even a cloying '90s country tune like "I'm in a Hurry (And Don't Know Why)," by the pop group Alabama, can be transformed into a slowcore, monotone meditation in Mayfield's hands; she covered the song for a 2013 Alabama tribute record. Mayfield, a devoted disciple of Elliott Smith (her dog is named after the late songwriter), is a performer for whom emotional intensity is always the primary goal.
Mayfield conveys that level of deep intimacy throughout Sorry is Gone, which merges the folk-roots leanings of her earlier records with the full-band, guitar-heavy grunge sound she's tended towards in recent years. The collection is littered with hopeful reflections and small revelations, moments of survival, awakening and persistence. "The human body's an amazing thing," she sings on "Maybe Whatever," "bruises heal and a mind can change."
Many of the songs, she says, are fairly direct portrayals of events and personal interactions she's had over the years. "I've had songs that are basically conversations I've had with other people, or with myself," she says. "If someone said something to me and it struck me the wrong way or the right way, then it's a way for me to go talk about it. Like, 'Yeah, I didn't like that…,' and then the next thing you know, I'm writing about it."
Such forthcoming honesty occasionally has its drawbacks, particularly during the several weeks of interviews leading up to her album release in which Mayfield has had to relive some of the darker moments of her entire life with strangers several times a day. But despite all the difficult emotional and psychological work that sharing such difficult personal information takes, Mayfield has never been more committed to sharing her story with the world. "No matter how I feel, if I'm having a day where it's really hard for me to talk about, I just have to remind myself why I'm doing this," she says. "It's not for me. Well, it is for me, in a way, but it's for people like me who are going through my situation."
Rather than merely documenting a period in Mayfield's life, Sorry is Gone is a culminating statement for a young artist who's spent half of her 28 years performing and singing songs on stages across the country. "I've been doing this since I was a teenager, and I always felt like I was being herded by cattle, like I was fighting, pushing and pulling. Now I know that I have every right to set my own boundaries," she says. "A lot of people have their own motives and it's important to do what makes you feel comfortable, what makes you feel safe, but it did take me a long time to get there. It's like now I'm the adult that the teenage me needed to talk to."
—Jonathan Bernstein