FEATURES
The Sonic Family Tree of Chicago's je'raf
By Erin Margaret Day · July 11, 2022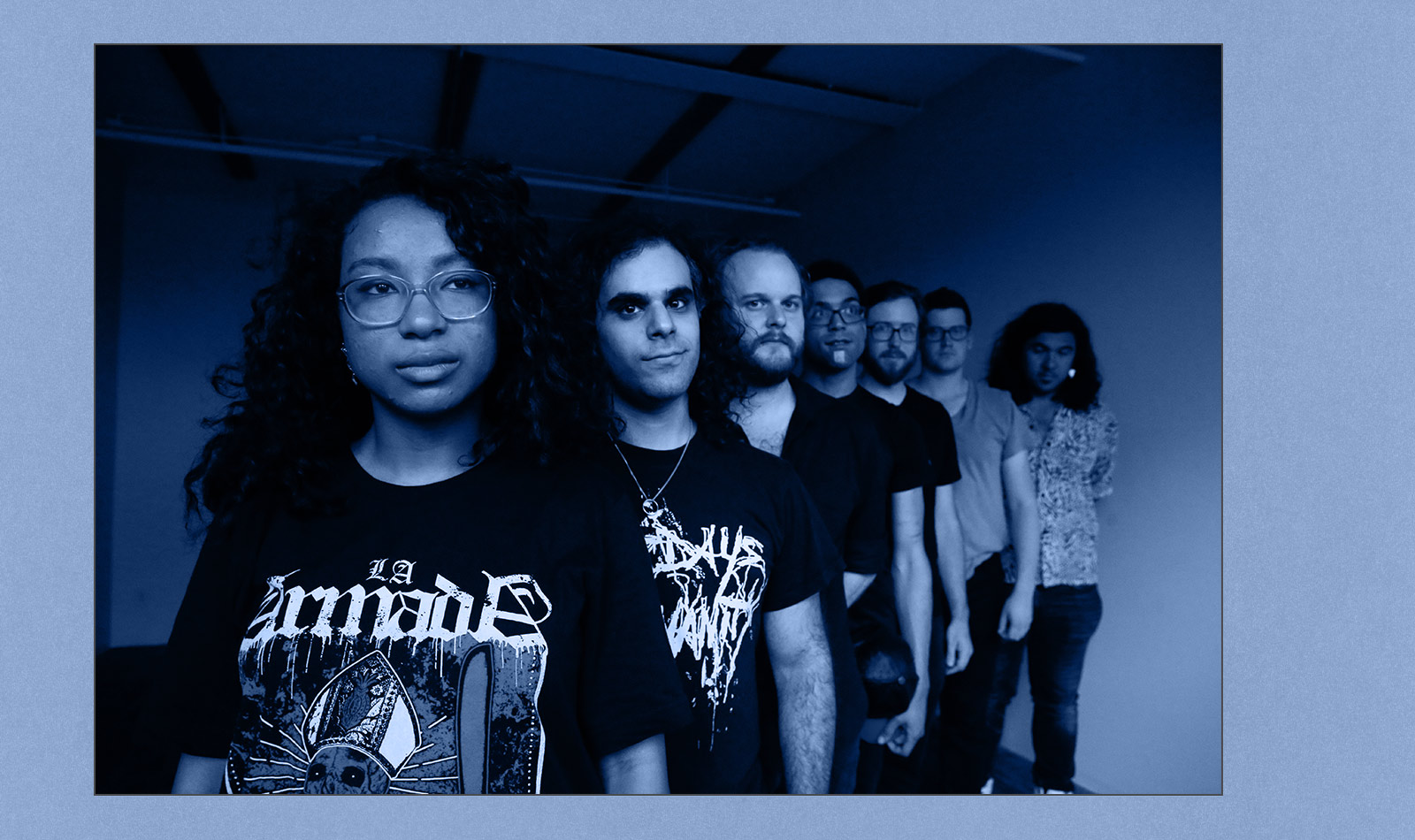 The premise of je'raf is to make the avant-garde accessible. Upon listening to their music, what is most likely to strike you is that it sounds both extremely familiar and wildly extraterrestrial. This is intentional: it's left-field music you can groove to, and it exists to make you feel grounded while spiraling far out into other possibilities. Get into it.
The seed for je'raf's sonic path were planted long ago. At some point during guitarist Ishmael Ali's formative years, while he was getting into funk and psychedelia, he heard the Funkadelic track "Promentalshitbackwashpsychosis Enema Squad (The Doo Doo Chasers)" from One Nation Under a Groove and began to consider what a band premised on this song might be like. He eventually moved to Chicago, where he began focusing on experimental, jazz, and improvised music. The idea resurfaced after some late-night hangs with like-minded spirits, all of whom longed for a "multigeneric weirdo band to pour that spirit into," Ali says, and those friends soon became bandmates. (The call-and-response in "The Ballad of the Flat Earthers" on their 2020 debut Throw Neck is an obvious homage to that Funkadelic joint.) 
Much in the way that Parliament-Funkadelic carves a groove that connects many forms of American music, je'raf brings together members with diverse backgrounds and a broad range of sonic interests: mainly funk, punk, jazz, improvisational music, hip-hop, and R&B. Stumble upon their music at random in a live setting, and it might seem as if je'raf are doing something totally untethered from music history. But je'raf instead exist as a potent synthesis of the last 30 years of Chicago's experimental independent music scene, from the '90s post-rock trajectory that birthed dubbed out funk-punk fusion bands like the Eternals to the different music scenes that have risen and faded since, like Umbrella Music and the Black and Brown Punk Show Collective.
"Bringing together elements from hip-hop—especially UK drill—P-Funk, and Frank Zappa, along with semi-theatrical skits, all filtered through improvised music sensibilities, was something I was very excited about," recalls bassist Eli Namay. "I was most excited about the prospect of using familiar cultural symbols to help folks see beyond the ideological limitations of current cultural and economic paradigms." But while everyone who was invited to participate was excited about the idea, the group's first rehearsal wasn't exactly promising. 
Vocalist Brianna Tong almost said 'no' outright, but decided to try something new, deciding that the presence of another singer in the band meant it wouldn't be too intimidating. But when she arrived, there was no other singer; Tong instead had to contend with sheet music as a person who is more intuitive in their understanding of music. (Most of the other members are formally trained in traditional music as well as improvised music.) Though Tong was nervous and felt sure they would regret inviting her, she stayed and grew with the band, becoming friends with everyone and being introduced to a whole new approach to writing, performing, and recording music. 
Drummer Bill Harris also wasn't sure the project had much of a future initially. "To be honest, the first rehearsal was strange," he says. "The entire group didn't really know each other, and everyone's musical backgrounds were completely different. I had concerns for how this group was going to work." 
Things remained awkward through their first gig, but it didn't take long for them to get acquainted and start to gel more musically. Though their diverse backgrounds presented an initial challenge, ultimately that became the real strength of the group. "Not to mention that I've come to fall in love with every single one of the people in this band and am constantly inspired by their work and creativity in je'raf and other projects," Harris says. In fact, every member of the band is quick to gush about the others; it seems that while je'raf is inspired by a lot of different sounds and approaches to music, its greatest inspiration comes from within. Beyond their sonic diversity and affection for one another, Namay insists that the reason Je'raf works as well as it does because of "shared cultural ethics among all the members: there is a militant commitment to creativity and an understanding of cultural value grounded in care for actually existing human beings rather than in the abstractions of money and the market."
According to Fletcher, je'raf have common ground when it comes to communicating ideas to one another thanks to their strong improvisational music backgrounds and their comfort with "playing and writing more tightly organized, notated music." Pairing plays an important role: Fletcher and saxophonist Wills McKenna play off each other with the brass; vocalists Tong and PT Bell get into wild improvised vocals that land differently every time they play; and the trio of Ali, Namay, and Harris are always closely connected, a direct result of the time they've spent improvising together in other contexts.
While Fletcher enjoys tighter funk bands like James Brown or Tower of Power, he admits being drawn to the Funkadelic albums where, "everything is held together with a groove, but there is a lot of improvised chaos on top of it: wailing guitars, horns, synths, vocal harmony, and long monologues full of weird sci-fi mythology." Harris takes a lot of inspiration behind the kit from Jon Theodore, who played on the first four Mars Volta albums. "I think the Mars Volta had a nice sensitivity to playing really heavy and tight grooves, but also transitioning seamlessly to noise and complete absence of time or rhythm, and coming right back to it," he says. "That's something I think a lot about with je'raf. It's also the first time I've ever heard a band play Haitian, Cuban, and Puerto Rican rhythms, but with a punk or metal aesthetic." 
The Chicago free improvised music scene is always on the cutting edge, but je'raf still manages to bring an unprecedented freshness combined with a level of accessibility that is "hard to find in the free improvised music scene, at least here in Chicago," McKenna says. But digging je'raf doesn't necessarily lead fans and friends to their improvised music gigs. Fletcher isn't sure if their music is converting anyone into a hardcore weirdo who wasn't one already, but he hopes it has cracked a door for a couple people. "I'm a firm believer in de-coupling the perception that weird music has to come with pretentiousness or inaccessibility," he affirms. 
But je'raf aren't making the avant-garde more accessible just for fun. Namay says the most valuable aspect of je'raf for him is the way their practice "seems to show the possibility of cultural activity liberated from the commodity form," through the deconstruction and rearrangement of symbols, narratives, and "even basic musical elements like the backbeat. We want to earnestly improvise within this larger strategy." He believes this points, "beyond the particular to the intertwined ecological/cosmic," but that "for us, to communicate these ideas explicitly in the music would be to reify them. We see how easy capital captures and de-fangs dissident political or cultural activity, especially those that are very thing-oriented." Instead, je'raf deconstruct, joke, improvise, and put their love for one another on full display in their performances. Namay is clear that none of this means anything outside of meaningful political, labor, and community organizing—many members of je'raf are activists—but while that is where the real power is, "culture has to be a part of it…bringing people together to feel that there are other possibilities is essential to building egalitarian power." 
Ultimately, the best way to understand je'raf is through all of the other music projects its members are involved in. Here are ten releases illustrating the many approaches to sonic novelty that culminate in the singular sound of je'raf.
---
Merch for this release:
Compact Disc (CD)
This album was recorded over the course of two days mostly live at Pallet Sound with Seth Engel (Options). Tong says the band bonded a lot during those long days: eating snacks, listening to a lot of takes, and taking band photos on the roof. All of the melodies on this record were written by Ali and Fletcher. Tong believes the lyrics she contributed are largely abstract and reflect her "being a lifestyle bottom; general dismay and confusion at living in late-stage capitalism; and literally catching a vibe off of PT or Ishmael's words." Fletcher composed the lyrics for "Black Holes as Waste Management" and "Ballad of the Flat Earthers." Certain individuals are always given a spot on the list of "lizard people" in the latter tune, principally Mark Zuckerberg and Jeff Bezos. The album was released on Amalgam, an independent music collective and label created by Bill Harris in 2015 "to help feature and release works by improvisers and experimental musicians throughout Chicago and elsewhere," he says. Since then, Amalgam has released over thirty titles and been featured in the Chicago Reader, Wire, New York Jazz Magazine, and many other publications. 
Merch for this release:
Compact Disc (CD)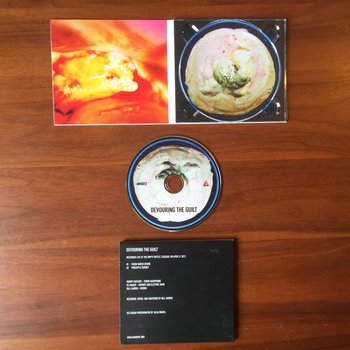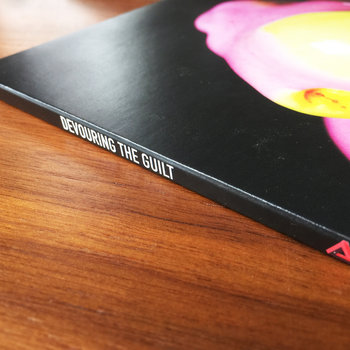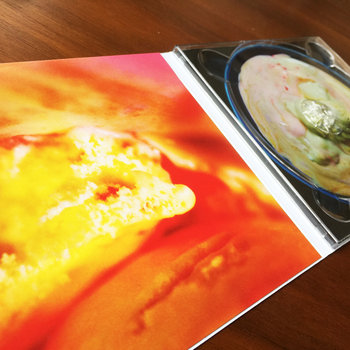 Eli Namay became tight with both Bill Harris and Gerrit Hatcher at the Sound of the City workshop, based out of Constellation Chicago. "I always particularly enjoyed talking to Gerrit about politics, because he did some organizing work with Frank Chapman and the [Chicago Police Accountability Coalition] and has a background in studying Marxist theory," Namay says. "We came up with the name Devouring the Guilt because we were making fun of the programs at New Music shows, where composers try to impose a heavy sense of meaning and importance on what they're doing." They joked that they should do this at improvised music shows, but talk about banal things that are totally unrelated to the music as if they were very important. They found the idea of pontificating about each player's favorite flavor of ice cream—really making the case in an argumentative way—particularly amusing. The idea that someone could be guilty for liking a particular flavor of ice cream inspired the name of the unit. (Their album, Prison Planet, is a jab at Alex Jones.) This session was recorded live at the Empty Bottle in the spring of 2017 and showcases incredible complexity and scope. Though improvisational music is intended for a live setting, some sessions are worth returning to and capturing for those who weren't there, so Harris has been releasing those through the Amalgam imprint.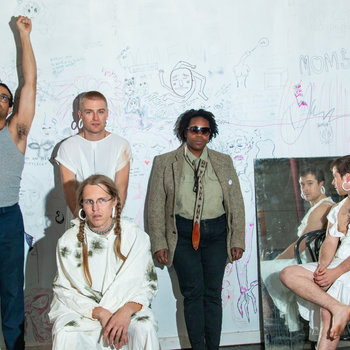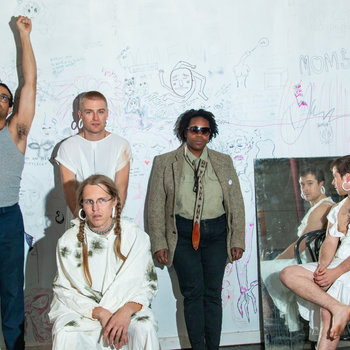 Merch for this release:
Vinyl LP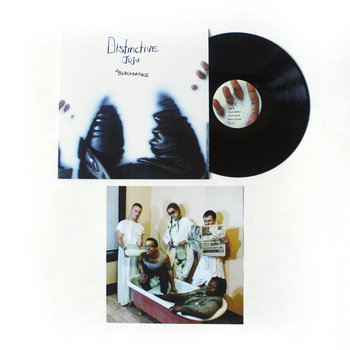 Blacker Face is the result of almost two decades of friendship and musical collaboration between PT Bell, Jolene Whatevr, and Isaac Nicholas encompassing projects such as People's Republic of Funk, World Order of Rap Domination, D8ING, and Trigger Warning. Bell cops to not being the world's greatest drummer at the time, so they invited their housemate Noah Jones, who happened to be a wildly talented percussionist, to join them. Though the project bloomed while Bell and Nicholas attended Oberlin in Ohio, they regrouped in Chicago in 2016, living together in a loft and adding Louis Clark on keys. Though the band's name has caused some controversy, it is derived from Whatevr catching wind in 2014 that Zoe Saldaña was cast as Nina Simone in the biopic Nina, a role for which the light-skinned Afro-Latina darkened her skin, wore a prosthetic nose, and donned a nappy wig. "The band is focused on giving Jo and me, we black bodies, a platform in what was—likely, still is—a disproportionately white DIY punk scene," Bell explains. "And to converse with each other about pain, racism, misogynoir, class struggle. And to converse with the audience about these issues, gauge responses, give heart to the homies, and spew venom on the chuds." 
Distinctive Juju marks the first time they released music through a label—in this case, Sooper Records. They struggled to meet outside deadlines, which became a great source of tension. Bell wrote the first drafts for the bulk of the accompaniment—over the course of many years, before their first LP Mississippi Goddam dropped—and acknowledges having been pretty dictatorial about their execution. Despite being very busy all working full-time jobs with different schedules, they tried to create the most decadent work they could: "a sax part or twelve here, a kazoo part there, hella extended percussive elements, glockenspiel, tambourine, backing vocals, little noisemakers we'd picked up at gas stations or rest stops on previous tours," Bell recalls. "We went all-out on the motherfucker, and I think it kinda broke us. I'm ever thankful that our engineer and producer Brian Fox had the patience to deal with us and that any member of the band still cares to talk to me."
Where THINK PIECE was their "Oh, fuck, Trump is president, the world's about to burn real hard" album, Bell thinks Distinctive Juju is their "Oh, fuck, the world's burnt and has been burning for awhile, and also I'm burning, oh God I'm burning" album. "Maybe that's a bit on-the-nose?" Bell wonders. "Whereas, in the refrain for 'Metalocalypse,' Jo does exclaim 'I'm burning alive.' It's kinda hard to know where to go from being so charred. But I don't know, probably we'll figure it out."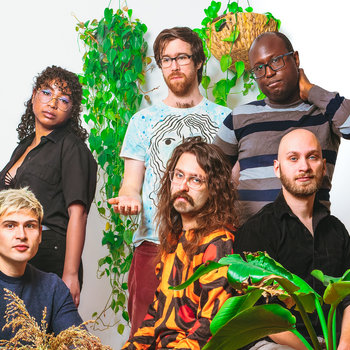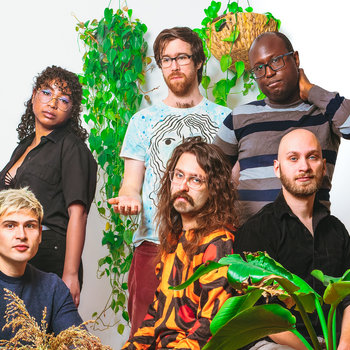 Cordoba is a jazz fusion sextet that Brianna Tong co-founded while in college. This band was her entrance into Chicago DIY music. "My lyrics are very inspired by me, and all of us, seeing just awful fucking shit happening all around us and to us in our city and in the world, and knowing that it is being caused and perpetuated and profited from by powerful people and institutions and fueled by very old and deeply entrenched systems of racial capitalism, white supremacy, patriarchy, colonialism, and imperialism," Tong says. "We got anxiety songs, we got climate change songs, we got disinvestment songs, we got fuck police songs, we got Black pain songs, et cetera. Heavy!" Though the album was written before the pandemic, everything they tackle on it has only worsened in the years since. 
Having said all of that, Cordoba specializes in music that's beautiful and comforting—even if it still ultimately makes you want to break shit. Guitarist Cam Cunningham writes a lot of the music: guitar, bass, keys, some sax, some drums, the features, and most vocal harmonies. Then the rest of the band will tweak or write some of their own parts, with Tong and Eric Novak generally writing the melodies and lyrics they sing. The exceptions here are "No Horizon" and "Out of the Loop," which Cunningham wrote entirely. Cordoba had the chance to work a lot of these songs live for a very long time before recording, and they benefited from the opportunity to feel them out and generate the best possible version before committing each one to tape. Tong and Novak collaborated on the album art. 
Bussy Kween Power Trip
Demo
Bussy Kween Power Trip was born out of Brianna Tong and Cordoba bandmate Khalyle Hagood's desire to be in a Black punk band. After Tong got into punk as a teenager, she struggled with rarely having the opportunity to see or support people of color in bands until she found the (now deceased) Black and Brown Punk Show Collective. So it's meaningful to her both to be in that kind of a band now, and to be part of a whole Black punk and alternative scene in Chicago. PT Bell was already involved in a host of projects, but the band asked them to drum and were delighted when they said yes. Since every member is also queer, the group became a queer, Black punk band committed to doing exclusively weird shit they enjoy. This includes wearing band uniforms that consist of booty shorts, shirts with a "dumb bitch juice" meme poorly ironed onto them, and knee socks. Musically, the band vacillates between sounds that are alternately fun and punishing, equally likely to diss Chicago mayors and advocate burning down cop garages as they are to make a Halloween covers EP which includes their own takes on artists ranging from My Chemical Romance to Death Grips to Cardi B's collaboration with Megan Thee Stallion.
"Khalyle had a bunch of riffs he'd written over the years and we mostly based songs off those," Tong says. "PT and I wrote our parts pretty much during practice and we all figured out the form and added, tweaked, and edited each other's parts together." Hagood has a carefully curated pedalboard and Tong uses a "very sick TC-Helicon vocal pedal [Hagood] owns, but it's just bass, drums, and vocals and we really enjoy that setup and seeing what all we can do with our instruments," she says. Bussy Kween Power Trip are currently writing lots of new songs, so that when they begin work on their debut full-length, they'll have lots of material from which to generate something truly cohesive.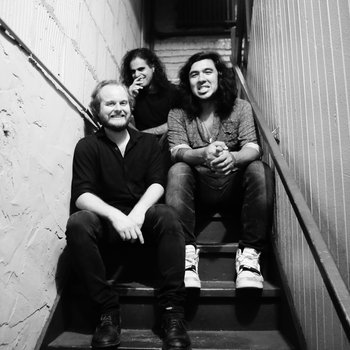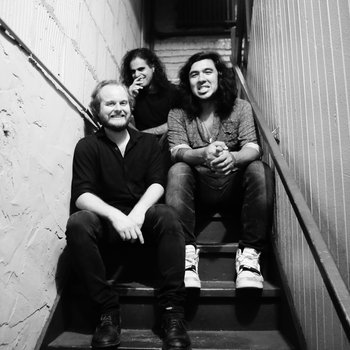 Merch for this release:
Compact Disc (CD)
Errata is a math-y, experimental trio of Ishmael Ali, Bill Harris, and Eli Namay, all of whom contribute as composing members. It's the only group in which Ali plays guitar, other than je'raf. (Ali is also a cellist.) According to Namay, the project is focused on "liminal sonic spaces, and improvising and composing within very specific parameters." They move between highly formalized composition and improvisation as a key ingredient, investigating the full spectrum between discernibility and noise, regularity and irregularity. "It's a place to explore all the esoteric sonic games we like," Namay says. For this outing, the trio mostly plays Ali's compositions, but "Composition 6" is one of Namay's, and "Shoehorn" is one Harris wrote. They all contribute to shaping everything ultimately, though. Considering how busy all of these Chicago improvised music staples are, this project has been on the sidelines for a bit, but they finally have some things in the works again.
Ishmael Ali Catalan Zghoul
Anemoi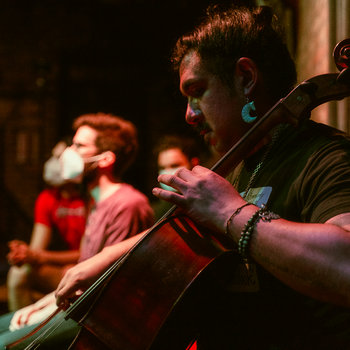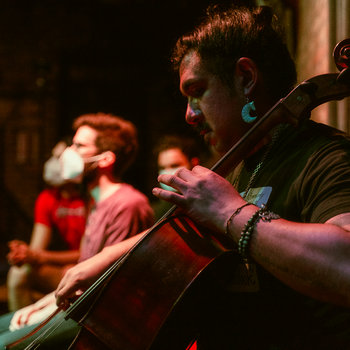 Merch for this release:
Compact Disc (CD)
Ishmael Ali started Chi Away as part of the New Music USA's Creator Development Fund in 2021. The project focuses on putting together small ensembles of players from very different musical backgrounds with divergent approaches and the goal is catharsis following the previous year in isolation. Each recording documents the first meeting of a specific quartet of improvisers during the second pandemic spring of 2021. Anemoi features Ali, Harris, and McKenna from je'raf with Chicago sound artist, designer, and composer Norman W. Long. "Melding free improvisation with synthesizers and samples was a perfect fit and I loved getting to stretch out here," McKenna says. "I like to be equal parts in your face and noisy with melodic and chill overtones, and I think I captured my playing in that regard well here."
Merch for this release:
Compact Disc (CD)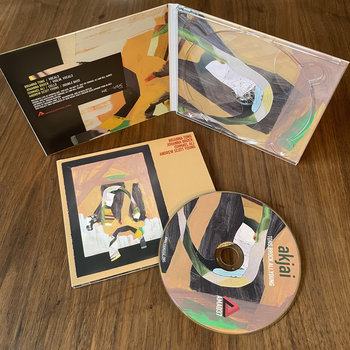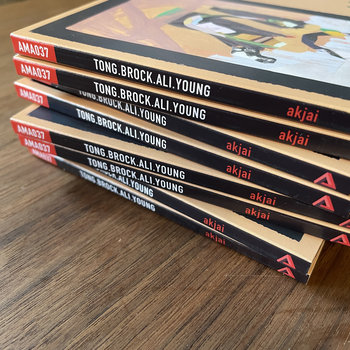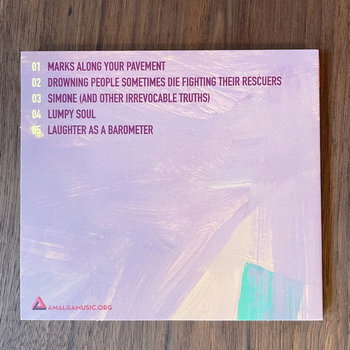 Another release from the Chi Away project, this one brings Ali together with Tong, Andrew Scott Young on double bass, and Johanna Brock on additional vocals and violin. Ali had a blast being in this quartet. "I never knew the joys of improvising with other string players until recently," he says. "We got into some nice worlds of strange timbres, textures, and orchestrations." This album was recorded in a day. Ali brought in Tong, who had never met Brock or Young. "This was really my first time recording any type of free music like this and it was incredibly fun," Tong says. She and Ali were getting deep into Octavia Butler as a result of the increasingly apocalyptic world like many others at the time, so the text is a mix of Octavia Butler's Earthseed texts from Parable of the Sower and Parable of the Talents; words from The Paris Notebooks by RA Washington (Mourning [A] BLKstar, Cleveland Tapes); and Tong's own writings from over the previous year or so at the time of recording. Tong enjoyed getting to improvise with another vocalist. "The recording is so cool to hear after," she admits. "We've played a few shows since and, of course, they have all been very different from the recording, so it's nice to have a record of one thing we created together that will never be heard again live."
Merch for this release:
Compact Disc (CD)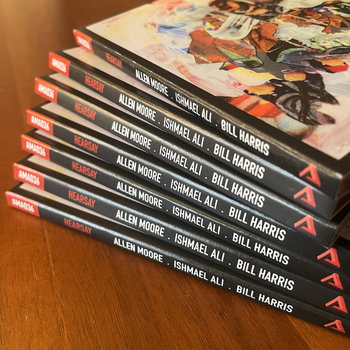 Here we have yet another improvising trio grounded by the collaboration of Ali and Harris and their ongoing search for "someone who does some crazy shit" to start a group with, Ali says. Experimental interdisciplinary artist Allen Moore manipulates sound on turntables with copies of records he hand-casts with materials like clay and various polymers so that when played, they sound like "an alien dance party," as Ali explains. After running into each other at DIY events around town, they made a plan to collaborate. "Bill and I have played so much together that we kind of have our shared language that works really well with most anyone we play with," Ali says. Engaged as a trio, they deftly navigate uncanny sonic textures, slowly evolving rhythms, and explosive awakenings. This is the final installment of the Chi Away series, all of which were recorded, mixed, and mastered by Ali and Harris at Marmalade, a studio Ali, Bell, and Harris built out themselves with Louis Clark (Blacker Face). 
Merch for this release:
Cassette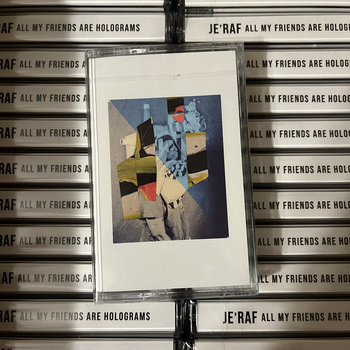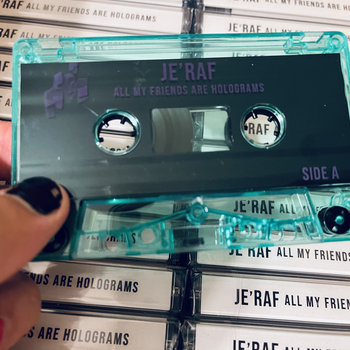 Je'raf signed to local label Don't Panic for their next outing, All My Friends Are Holograms, from which "Clean Your Dick" is the first single. Recording from late 2020 into early 2021, the band tracked everything separately, with only one or two people in the studio at a time. Thematically, it reflects the deep pandemic summer, when many members of the band were engaged in activism. About half of the songs were never played before they headed into Marmalade to record. According to Ali, having their own studio for this process enabled them to fine-tune everything and add extra textural components, like strings or prepared piano. 
"We recorded our first album in two days, live in the studio. This was a very different process, recording over the span of a few months, but I think it took us to some interesting places," trombonist Fletcher says. "There was a cool additive effect of recording things separately where we might record rhythm section parts first, then horns and vocals on top of it, then completely re-record the rhythm section parts underneath, so there is still interaction and responding to each other, just in a different way than when you're playing live. I think improvisation becomes less instinctual but maybe more thoughtful in that individual tracked context."
Bell wrote the first draft of  "Clean Your Dick" nearly two years ago, but at a rehearsal in April of this year, Namay suggested making the first verse's accompaniment less on-the-grid, giving it "fuzzy periodicity." "No backbeat, no hi-hat or tambourine on the downbeats, no pulse or tactus or whatever," Bell says. "Just these fucked-up off-beat hits that I wrote. I never would've thought to suggest that in a million years. Ish, our guitarist and spiritual core, suggested a small edit in my lyrics for 'PUA' that brought the whole fucking piece together. I don't know, everyone's enthusiasm for constant development and refinement and experimentation makes me a better musician, and I appreciate that more than I could ever expound upon." The second single "PUA" featuring Joshua Virtue is out now and the full album drops July 22nd.