FEATURES
Jennifer and Jessie Clavin of Bleached on "Welcome the Worms"
By Paula Mejia · April 01, 2016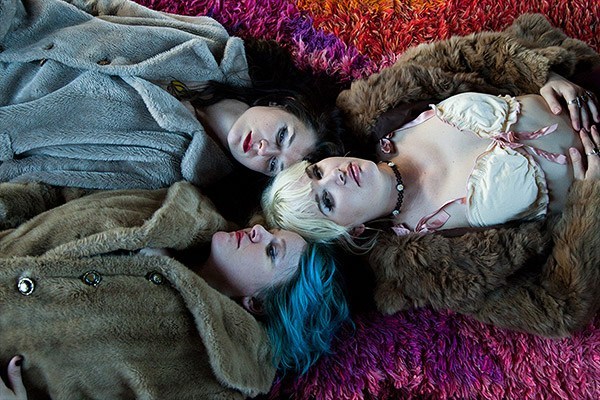 "I'll just be sitting outside and looking out to all these cacti, there are no other houses in sight. I just realize how I'm just a small little person on planet Earth, and there are bigger things in the world than what my problems are"—Jessie Clavin
LA-based trio Bleached decamped to Joshua Tree to find themselves during the creation of their sophomore effort, Welcome the Worms.  Sisters Jennifer and Jessie Clavin and bassist Micayla Grace collaborated on an album that bursts with more confidence, bigger hooks, and more catharsis than its predecessor, 2013's Ride Your Heart.
To get there, they had to "embrace the dark side of life," which means, in Bleached's case, leaning into sadness, accepting loss and embracing change as inevitable. Producer and engineer Joe Chiccarelli (Morrissey, The Strokes, Elton John) helped them discover a new sense of vulnerability in the studio. But first, they had to escape Los Angeles, the city that both bred and bruised them, and seek inspiration, like so many other artists, in the prickly desert of Joshua Tree.
Jessie and Jennifer Calvin spoke about that process, and the new album, which is out on Dead Oceans.
.
00:10 / 00:58
It sounds like a lot was going on while you were writing Welcome the Worms. What was your headspace at the time?
Jennifer: We were touring a lot on [our last album] Ride Your Heart and when that came to halt, there was a lot of time spent in L.A. We were demoing a lot, and that's when a lot of things were happening: we were trying to write through this record, and I was in a really unhealthy relationship. I was trying to understand life, and I felt like everything was sucking, and I was really depressed. There were times when I really hated myself, and times when I really loved myself, and I was losing myself altogether and partying a lot and hanging out with other people that were unhealthy too. But then I was also wanting to dig deep into what was going on with me, trying to feel vulnerable to be able to grow.
Jessie: I was realizing that for the past four years, I was not really myself. I was finally understanding that, wait, I need to work on self-happiness, because I've been really depressed for the past four years and not realizing it. I was having to work on that, and be honest to myself and true to myself, and be more open. On top of that, there are little minor things that get in your way. Like, 'Oh, I was evicted from my house today.'
It's so important to realize that the people around you can sometimes contribute to that vicious cycle.
Jennifer: It's weird, too, when you realize they're friends. Because it wasn't until this year that I understood, 'I'm actually just respecting myself by saying goodbye to this friend.' I always think I'm being a mean person, and I think, 'I have to be friends with this person!' But they're really mean, and when you have self-respect, you understand when you can't be in that situation anymore.
.
00:10 / 00:58
Did you have a moment of clarity that made you take action?
Jennifer: It's kind of just that moment when you get sick and tired of being sick and tired. And I felt that so strongly. I was in this emotionally-abusive relationship. Something would happen, and I'd think, 'This is the end.' And I'd keep going, and something else would happen. It was scary, and I was just trying to act stronger, but I was terrified inside. If it didn't end, I was going to actually go insane. I realized a couple of friends were really dragging me down, and it's the same thing. Doing it once, standing up for myself, you think, 'Oh, this is what it means to respect myself.' I'm the only person who can do that. I can't have my sister do that for me, or my mom and dad. I have to do this, and I want to be happy.
I think a lot about the relationship between sadness and great art. When we spoke a few years ago, you mentioned that writing only came naturally when "weird things" were going on in your life.
Jessie: Going through tough times makes it easier to write. And it sounds really passionate too: 'Wait, that person's really going through a hard time.' For instance, I talk about "Chemical Air" being my favorite song on the record because I saw Jen going through that moment. I feel really close to that.
There seems to be a prevalent theme about toxicity—as much in people as in the city of L.A. itself. Was escaping L.A. and spending time in Joshua Tree pivotal to your healing?
Jennifer: Yeah. I feel like going out to Joshua Tree, you escape the city, and it's a whole different experience. It's very quiet. You see the stars, there are no friends, except the people you go out with. We were all out there together to write music, so it was just me, Jessie and Micayla. We all kind of had an understanding that we were going out there for the same reason.
Jessie: We were going out there to write, but little did we realize we all were escaping our own problems at home. It's very spiritual out there, you have this feeling you don't get anywhere else. I'll just be sitting outside and looking out to all these cacti, there are no other houses in sight. I just realize how I'm just a small little person on planet Earth, and there are bigger things in the world than what my problems are. You can see past that.
—Paula Mejia
Photos by Nicole Anne Robbins