FEATURES
Jazz Pianist Jason Moran on Artistic Self-Determination
By Philip Freeman · August 01, 2017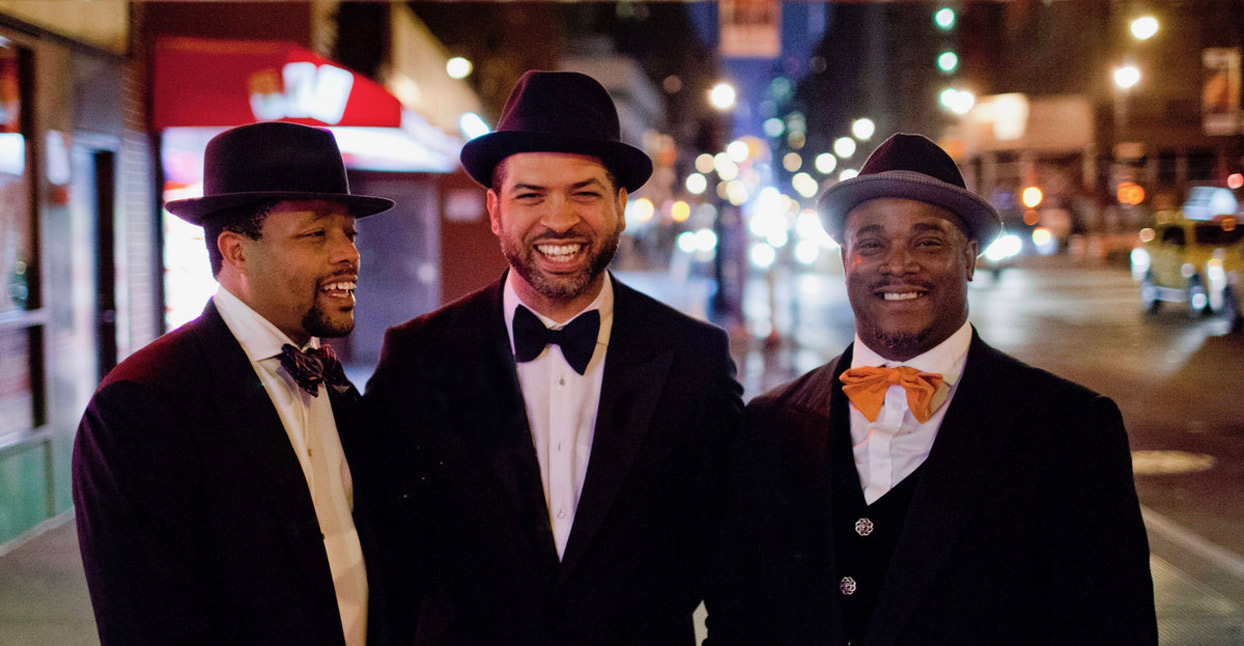 Pianist Jason Moran was signed to Blue Note Records for nearly two decades. He grew up in Houston, Texas, studied with famed jazz instrumentalist Jaki Byard in New York, and thus came into the orbit of alto saxophonist Greg Osby, who featured him in his band for several years on the albums Further Ado, Zero, Inner Circle, and New Directions, a collective session also featuring vibraphonist Stefon Harris and saxophonist Mark Shim.
Between 1999 and 2014, Moran recorded nine albums for Blue Note as a bandleader, while also joining saxophonist Charles Lloyd's quartet on ECM Records and making occasional sideman appearances with Steve Coleman, Don Byron, Von Freeman, and others for various labels. His 2002 solo album, Modernistic, included versions of James P. Johnson's "You've Got to Be Modernistic," Muhal Richard Abrams's "Time Into Space Into Time," and Afrika Bambaataa's "Planet Rock," alongside original compositions. His final Blue Note release, All Rise: A Joyful Elegy for Fats Waller, filtered Waller tunes like "Ain't Misbehavin'," "The Joint is Jumpin'," and "Jitterbug Waltz" through modern production, but a stripped-down piano-and-drums version of "Lulu's Back in Town" (a song also recorded by Thelonious Monk) seemed to draw the straightest line from past to future.
Since leaving Blue Note in 2015, Moran has launched his own Bandcamp page and released three albums. The first, The Armory Concert, documents a solo performance at the Park Avenue Armory, recorded on March 7, 2016 and released June 27 of that year. The next, Thanksgiving at the Vanguard, is the second live album by his long-running trio the Bandwagon. And the latest is BANGS, a studio session by a unique trio featuring Moran, guitarist Mary Halvorson, and cornet player Ron Miles.
.
00:10 / 00:58
Moran's Bandcamp catalogue is not available anywhere else, and at $20 a pop, the albums are priced a bit higher than many other artists' or labels' releases. But as you'll read below, Moran has strong opinions about artistic self-determination and the value of his own art.
Did you start the Bandcamp page precisely to have an outlet for The Armory Concert?
Well, I parted with Blue Note about two years ago. I had friends who had been working with Bandcamp, and was asking people what they were doing, how they were getting their music out, because I had a lot of things to do but I also wanted an outlet that would just be simple, to insert my music into a template. And Bandcamp seemed to offer both simplicity and also giving control back to the artist, which is a big deal. Giving me control over pricing, all those types of things. So just as a way of hosting my next body of work, I thought this would be a good home for it all.
So you are no longer signed to Blue Note? You fulfilled your contract with them?
Yeah, we had two contracts—I'd been with them for 18 years, so that's a lifetime [laughs]. We did a lot of great work together, too, and it kind of solidified my placement within a certain jazz canon, so I can be really thrilled and happy with the work that we did together as a team.
I saw you, Stefon Harris, and Greg Osby play together right around the time you got signed.
That's right.
And then I saw you again with Sam Rivers at the Iridium.
Yes! That was great.
How did BANGS come together? I don't think of you as someone who travels in the same musical circles as Mary Halvorson.
My wife [Alicia Hall Moran] and I heard Mary playing with Vernon Reid, Marc Ribot, and Elliott Sharp at MoMA maybe 10 or 11 years ago, and we thought she outplayed everybody [laughs]. There was such originality, really, in her entire approach to the instrument. So my wife Alicia first started working with her on some stuff that was never released, except one song that was on her record that we put out on Bandcamp, Heavy Blue. And this trio with Ron Miles is something we've been doing off and on for the past five years. But really off and on—like, once every year and a half, we'll play. And the last time we played, I said, 'We should really make this a record.' So we finally fit it into our schedules to make it.
So everybody brought in pieces, and this was material you'd been playing for a while?
Yeah, some of it was, and some of it was new.
Your trio, the Bandwagon, has been together now for 17 years—how many gigs a year do you guys play at this point?
Maybe 30, something like that. But part of our strength is that we don't tour all the time. It's in spurts. And I have so many different special projects that will sometimes spur from how the Bandwagon works. It might be something with a ballet company, it might be something for a theater piece. So we're kind of working in a lot of different ways right now, and that helps us to keep our perspective.
Every piano trio is different, but what specifically do you think is unique about the Bandwagon's collective language?
When we first started, we were trying to figure out how each other made decisions and how we could react, and finding different ways to react. And over all these years, that kind of slippery language—I call it slippery because of the way we play kind of slides into one another—I feel like that has helped us not have that 'pristine' piano trio sound. It's something that's still, I don't want to say raw, but it's definitely still got some soil attached to the vegetables, you know what I mean? It's a carrot fresh out of the ground. So you know where it's coming from. And that's something that we focused on for a long time. Although we might assume our [traditional] roles much of the time, we also know that we can leave that role at any moment, and change the direction of the song.
I think a big part of what sets you apart is the specific influences you're drawing on, like Jaki Byard, Fats Waller—that's something that sets you apart from most other players out there.
Jaki Byard and Andrew Hill and people like them, they really do kind of expect you to understand that [tradition] just by virtue of their age, but they also expect you to deal with yourself. And they're really looking for how you respond to that, meaning me, as a student of theirs. I'm not shy about giving credit to people like Fats Waller or James P. Johnson or Andrew or Muhal [Richard Abrams]—I'm not shy about that. I want people to know that these are the people that influenced me. As far as the tradition of jazz goes, you know. I feel like I'm part of that line, and I cherish that line, so I celebrate it.
.
00:10 / 00:58
I feel like it's an uncommon line at this point. There's a million Herbie Hancock/McCoy Tyner/Keith Jarrett kinda guys, but there's not as many guys working the tradition that you're working.
This becomes an issue, sometimes, for jazz education. Every teacher finds the way they want a student to learn, and I think Jaki Byard found in me a student that he could say things to and then maybe five or six or seven years later—you know, Jaki was the one who really made me think that Fats Waller was the shit. I wasn't ready to deal with that as a 19-year-old, but 15 years later I was definitely ready to think about how I could play Fats Waller's music. But Jaki instilled that relationship to the timeline.
So, I have a few practical questions. How much does the Village Vanguard charge to record a live album there?
A couple thousand. They gave me a friend rate, because we play there every year for a week during Thanksgiving; it's our annual moment, and we work really well there, so they gave me a break on the rate, but I still paid them, because I appreciate that they've maintained the room.
Most artists and labels charge between $7 and $10 for an album, but you charge $20. How did you arrive at that price point, and how is it working out for you?
You know, I think about music as, 'What do you value it at?' And that's basically it. I've often been asked this very question, and my immediate response is, look at the back of a slave that's been whipped, and ask yourself, 'How do you value your work?' That's the end for me. I could charge $50 for this, and if a person wants it, they want it. If they don't, they don't. It's totally fine. But I set it there more as a place to hold it. The way music has been sold, this thing where I should be able to stream the entire thing before I buy it, is unfair, and I think it's unfair that musicians should fall into the mode where they would do that automatically. I don't believe in that. So the way we're running it, my wife and I, for her record as well, is there are one or two songs we want people to hear, but maybe not. And they can change. I can change it—it's not set in stone. But right now, I'm sitting it there, and seeing how long I feel like I can keep it there.
Do you have any plans for a physical release of any of the material you're putting out on Bandcamp?
Yeah. I made a short run of 300 CDs for The Armory Concert. They're all gone now, so I'll have to make more of those. And then yes, I will do Thanksgiving at the Vanguard and the BANGS record, and another record that'll be out by the end of summer. But what I love about Bandcamp is that, if I have the files and I have the information, then I can just upload it quickly and it can be available. I appreciate that immediacy.
Do you have a long-term strategy? Will there be a time, you think, when you'll do something like a conventional release with an advance PR campaign, etc.? Or is it always going to be, 'Surprise—here's an album!'
Yes [laughs]. I don't have time for a PR campaign. I've got a lot of other things to do. And I make these records because I want to build up a catalogue. Look at Georgia Anne Muldrow or Jean Grae, where you can just go in and pick up their work. I wanna build up a catalogue, and it's important to me that it's not available anywhere else.
—Phil Freeman