FEATURES
Japanese Breakfast Finds Human Intimacy on "Another Planet"
By Tatiana Tenreyro · Photos by Collin Hughes · July 12, 2017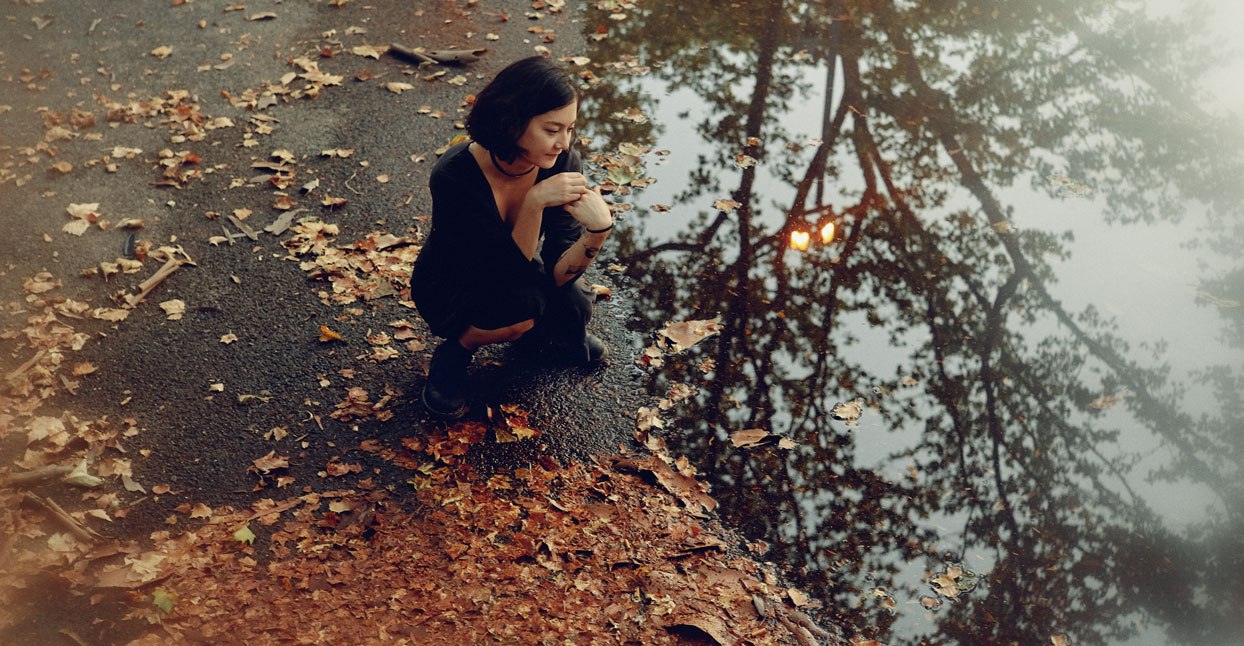 Michelle Zauner first introduced the arrival of Japanese Breakfast's sophomore LP, Soft Sounds From Another Planet, with a short, mysterious video that hinted at an intergalactic theme. Fittingly, she had initially set out to write a sci-fi concept album about a woman who, after falling in love with a robot and experiencing heartbreak, enlists in the Mars One project.
The plan only carried through to the lead single, "Machinist," but the theme of exploring the great beyond prevails throughout the album. The concept allowed Zauner to play with new elements that vastly differ from her punk roots in Little Big League; throughout the record, autotune and synthesizers create an otherworldly ambience. Even the re-worked version of a Little Big League song, "Boyish," sounds like something entirely new.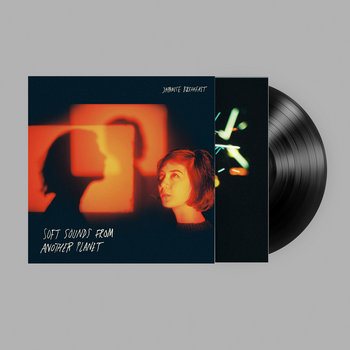 .
00:10 / 00:58
Merch for this release:
Compact Disc (CD), Vinyl LP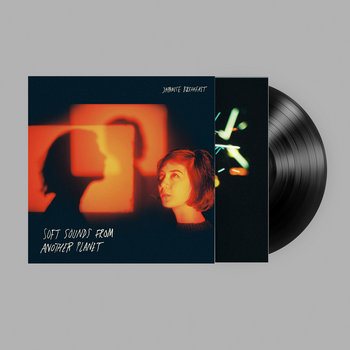 What started as a fantastic theme gradually became a metaphor for the fear of death. Zauner explores that idea in full on "Till Death," a hauntingly beautiful song that details the aftermath of losing someone dear: "Haunted dreams / Stages of grief / Repressed memories / Anger and bargaining." On her debut as Japanese Breakfast, Psychopomp, Zauner grappled with losing her mother to cancer. Now, on Soft Sounds, she reflects on the person she's become, after surviving through the pain.
We spoke to Zauner about her new album, the initial concept behind it, her songwriting, and the influence of Mount Eerie on her music.
In one of the first promo videos released for Soft Sounds From Another Planet, you hinted at an outer space concept for the album. How did that come about?
This woman reached out to me from some strange media company and said, 'We want to give you $2,000 to write and record two songs that we'll then own,' or something like that, and I just thought it was a fun project. Like, 'Hell yeah, $2,000 is so much money! I would love to do that.'
So I brought this synth line to the studio. I had some ideas, and I worked with my friend Craig Hendrix, who played guitar. He co-produced the album with me, and between the two of us, we played all the instruments on the record. He really liked [the theme], and encouraged me to keep going with this really goofy thing.
I had been really obsessed with the Mars One project for a while. I wanted to write a sci-fi musical about a woman who falls in love with a robot and realizes that she's denied, so she enlists in the Mars One project. I wanted to create this whole sci-fi musical, but then it ended up just being that song. Then that media company didn't want it, so then I worked that into the theme of the record.
Throughout Soft Sounds, you grapple with the complexities of intimacy and relationships. What inspired you to explore these topics?
I spent a lot of this year feeling really shut off and in my head. I was on the road a lot on tour, and really consumed by my work. After my mom passed away, I just became obsessed with staying busy. I was really afraid that if I stayed still, I would fall into a deep depression. I also think that when you spend a lot of time as a caretaker for someone who is dying, you start to lose touch with your own feelings, and it's hard to gather them back. A lot of the songs are about trying to work out of feeling disconnected—how to come out of that sort of temporary emotional paralysis cocoon you created to protect yourself and start connecting with people again. To love, to hurt, to feel. And a lot of the songs look back to another time, to other relationships to remember how heightened my feelings were back then.
I remember you mentioning in interviews that before marrying your husband Peter [Bradley], you had been in toxic relationships where you didn't have that support. It seems like you're also addressing that idea, especially in the title track.
It's kind of funny, because the title track started as a song that was about a very toxic partner. The partnership that I have now is so great, and was so important for my well-being and mental health. I really don't think I could have endured what I endured without having this partner. I was married for two weeks before my mom passed away. Having her there was a really special, important thing that I needed in my life. 'Till Death' is a song about… isn't it sad that you realize how wonderful love is when it's in the face of something really terrible and painful?
[My partner] has watched me go crazy, and was with me every step of the way. It's kind of funny that when you promise to love someone forever, it's 'til death. I also find it very funny spelled with two L's and it's kind of like, 'I think of life in a very different way now where sometimes it feels like we're just tilling the fields into our death.' Everything is so meaningless.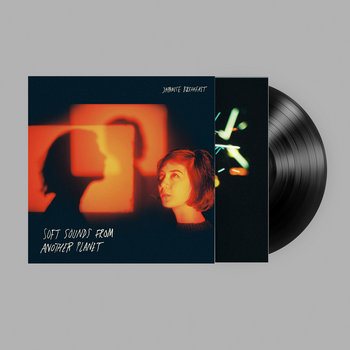 .
00:10 / 00:58
Merch for this release:
Compact Disc (CD), Vinyl LP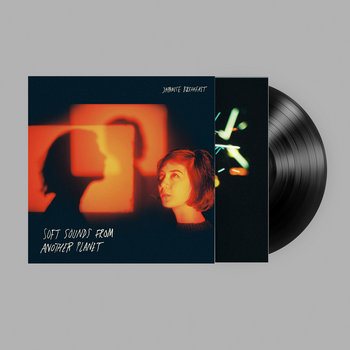 Both of your albums tackle grief, although it was more deliberate on Psychopomp. What's interesting is that Psychopomp has less of a melancholic tone despite its theme, yet this one is solemn and darker. Was that contrast deliberate?
I think it was really a natural thing. Maybe a lot of the songs started a lot more melancholy, and then working with Ned Eisenberg… maybe what I wanted to hear at the time was some really upbeat stuff, you know?
Those songs were put together months after my mom passed away, and now it's been two years, and I approach grief very differently. I approach life very differently. That's probably just the way my feelings sound now. That is how grief is too, in some ways. Right away, you feel so psychotically freaked out by that experience, and that a couple of years pass and you get a little bit quieter. A little more sullen.
It sounds like the initial concept of space and the great beyond serves as metaphor for the way you're processing sorrow in this album. Was that prevalent while thinking about what you wanted to express in your songwriting?
Yeah, absolutely. It's really hard to follow up a record [where the] narrative was blown up to be, 'This is a record about her mom dying.' And like, how do you follow up an album about grief? Because it's not like it goes anywhere, and it's not like it's not going to stay with me for the rest of my life, it's not like I don't think about it every day.
So in some ways, you're tempted to say, 'Okay, well, I wrote my grief record. I have to write about something else now.' Maybe these sci-fi concepts started as a departure, but instead quickly became entangled in this thing that will always be a part of my life, which is trying to figure out what life is after you are so close to death.
That was a new thing that I definitely became a lot more afraid of: I lost both my aunt and my mom to GI cancers and am constantly very nervous about suffering from that as well. These were preoccupations I had in my mind; I still felt I needed to explore grief. I had a lot to say. There were feelings that were very different. Like I said, the way that you feel a couple of months after someone passes away versus how you feel two years later is very different and I wanted to explore that.
With the new record, I was honestly very impressed by myself, an how resilient I felt I had to be, because I had a father who did not take his wife's death very well, and I'm an only child. I feel that's a lot of what the songs are about. That's a positive thing; it helps you be a resilient person but it's also quite sad. I feel a lot of my emotions are shut off in a way that's very unfamiliar for me and I hope to undo a little bit over time.
After writing about loss and the pain it caused in your albums, which is something so personal, how has it been for you to confront those feelings and revisit those memories?
It's very strange. I mean, a lot of this new record is about being mechanical. It's really tough to be in a new city every day, driving all day, and just working all the time, and then be doing interviews three or four times a day where people are asking you, 'So what was it like to see death?' People are very pushy about that kind of thing sometimes and yeah, you just go into autopilot in a lot of ways. Sometimes there are certain songs that I get very emotional about playing, but for the most part you have to separate yourself.
There's a way of dividing yourself into performing grief in the same way that you perform the songs about grief. You perform it in an interview. That isn't fully yourself, you know what I mean? You can put it on a little bit and then shut if off. I've talked about it so many times, but it doesn't really affect me anymore. I'm more affected by very small things that are unexpected. Like, the new Mount Eerie record [A Crow Looked At Me], that I was totally wrecked by. Sometimes if I pass a T.J. Maxx, I miss my mom a lot. Little things like that are more effective to me than talking about it.
Hearing you speak about the Mount Eerie album in previous interviews, it sounds like it played a role in helping you cope as well.
I was driving in the car [when I listened to it] and I pulled over and wept. Like, very, very hard weeping. For like an hour. It's really special because I'm also from the Pacific Northwest and Phil Elverum is very much like a hero for Pacific Northwesterners everywhere. But I grew up listening to Mount Eerie and The Microphones, and I've always felt really close to him as an artist in the way that—I don't know him personally, but you grow up with an artist and something feels like you're so close to them.
I felt like it was just the most heartbreaking story [behind the album]. I chase those sorts of feelings in my work where sometimes very, very small details are just so real. It's what makes you connect in such a big way. I try to do that in my work, to focus on these real moments that people can feel like, 'Oh my God, I remember walking hand in hand with my mom around our house, watching her get slower and slower and it was really hard.'
-Tatiana Tenreyro