FEATURES
A New York Blizzard Inspired Jansport J's Aggressive New Album
By Jesse Fairfax · January 03, 2017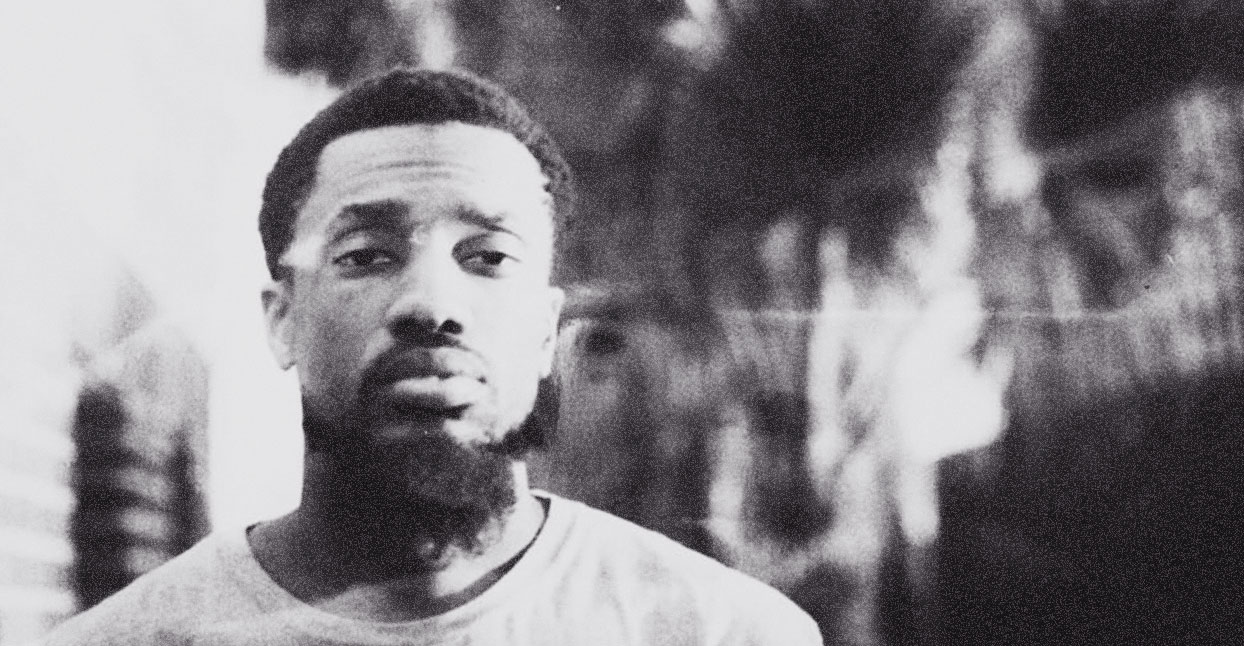 As a child growing up in Covina, California (a diverse suburb of Los Angeles), Justin Williams fell in love with the sound of Timbaland's productions. His use of thumping drums and unusual instrumentation sparked Williams' imagination. But when he started making his own beats—under the name Jansport J—Williams moved in the opposite direction, leaning toward gritty, eccentric compositions—the kind that have more in common with Madlib, J Dilla, and the Alchemist than Missy Elliott. His sound earned him a solid niche; Williams has become a staple in L.A.'s famed underground beat scene, producing for the likes of Snoop Dogg, Planet Asia, and Dom Kennedy.
Williams' new album p h a r o a h, named after his distinct facial hair and personal leadership philosophy, first started taking shape in early 2016. The producer was stuck in New York during Winter Storm Jonas, which dumped up to three feet of snow on the Mid-Atlantic and Northeastern parts of the country. "That was my first time in New York, while a blizzard was happening," Williams says. "It's crazy, because we were out there in 10-degree weather, and I'm a California kid. Everyone tried to prepare me, like, 'You're not gonna be able to deal with that weather.' But I loved it." At 27 tracks, p h a r o a h is a sprawling work, foregoing the cohesion of a regular studio album in favor of giddy stylistic detours and experiments. Nevertheless, the project feels incredibly cohesive, each snippet quickly leading to the next, making for a seamless listen.
We spoke with Williams about the importance of studying his heroes, keeping a consistent work ethic, and what Donuts meant to his class of producers.
.
00:10 / 00:58
You've laid a lot of groundwork to get to this point in your career. How did your journey begin?
It started when I was pretty young. I remember being 5 or 6 years old, playing with the See 'N' Say toy. I would try to scratch on there and make beats with my hands. It really picked up when I got Timbaland & Magoo's Welcome To Our World. I'd just heard Missy's "The Rain" for the first time, and it was unlike anything I'd ever heard before. My older sister said Timbaland did the beat. That stuck in my head.
I got Welcome To Our World around the age of 11, and I would play that every day. I used to ride around with my dad while he worked courier services on the weekend. While he did that, I would sit with my CD player listening to that album. That was my earliest seed of inspiration. I didn't know how he did it, but I wanted to be like Timbaland with the sounds and noises he made.
That's pretty interesting, considering your sound ended up being nothing like his. Who else influenced you?
I had playlists that I would separate into the music of my favorite producers. I'd get an album, and certain songs went into the Kanye West batch, others would go to Just Blaze, Swizz Beatz, or The Neptunes. That was just me categorizing sound and getting a feel for everyone's styles early on. As I started to produce on my own, the biggest influences were DJ Premier, Pete Rock, 9th Wonder, Madlib and, after I got Donuts, J Dilla. I took a little bit from everybody and molded what I do.
Speaking of Donuts, I feel like that was the album that birthed the beatmaking culture as we know it, with producers making 60- to 90-second beats from soul samples. How would you say it affected your work?
I remember always seeing Jay Dee's name in album credits. When Dilla passed, I was reading an article, and saw he was also known as Jay Dee. Then I realized that he was the dude who was on Common and Slum Village's albums. The day he died, I went to Tower Records in West Covina and got Donuts. I didn't know what to expect, and that shit blew my mind. I'd never heard an album that was nothing but instrumentals. I didn't know something like that could capture my attention for 30 to 40 minutes.
That album made me realize I could do something bigger. I could have just done beats for rappers and singers, but I think I've always wanted to do more. Dilla showed me my path to doing more. I think it was the starting point for a lot of producers of my generation. I know cats like DJ Shadow were rocking before, but I think a lot of us heard Donuts and made it our Bible.
What would you say is the difference between making something for a Jansport J album, and a beat where you might be hoping to get a placement with a specific artist?
I like to compare it to basketball. I think making beats for different artists is like being in practice, shooting jump shots. Most of the time, you're not making a beat for anyone specifically. You're just making beats, and someone will hit you up for production, then you go through what you have and see what makes sense for them. You might go and produce something for them, but most of that is creating without any kind of aim.
When I work on my albums, it's so much more fulfilling. I always start off with the desire to want to create something. I know I'm going to make beats trying to start an album, but I have to keep taking shots until something feels right. I'll make a bunch of joints, maybe 30 or 40 beats, then there's one or two that make me feel ready to start an album. With my latest album, p h a r a o h, it was the second joint, "Huh? Okay!", that was the catalyst for where I wanted to go.
.
00:10 / 00:58
p h a r o a h feels a little more aggressive than your previous work. How did you arrive at this sound?
I was out in New York for some shows promoting the last album, blackwhitegoldville. We were out there in Winter Storm Jonas. It brought me so much inspiration that I wanted to stay there and make an album. I couldn't do the full album while I was there, but that's when some of the early beats came in. There's something about cold weather, or even the changing of seasons, that brings something out of me. That's where some of the album's aggression came from. New York became more of a theme, because I took that trip and then I started listening to a lot of Eric B & Rakim and old Wu-Tang, with RZA production. That influenced everything I was making.
The album's inspiration comes from a picture of Eric B & Rakim I saw. Rakim has gold fronts, and his hat says the group's name. He's giving this death stare into the camera—that says everything to me. He doesn't feel the need to be flashy and parade himself. There's a quiet confidence, where he knows he's the shit. That confidence is something I admire. I try to have it myself; my sound is a little off-kilter compared to what a lot of other people are doing.
Do you worry that your sound isn't commercially accessible?
No, because I have a realistic idea of what I do. If anything, some of the results exceed my expectations. I always say that I'm a pessimist with an optimist's work ethic. I don't expect the greatest things to happen, but I'm always ready for opportunity. I feel it's absurd anybody listens to my shit anyways. The fact that I love doing this and people care enough to ask when it's coming out is a blessing. I'd rather build a following of people attracted to what I do than trying to cross over into something else.
What were you trying to convey with p h a r a o h?
With this album, I made a lot of personal and general statements. We're in such a weird time right now, and so many different emotions filter into my work. On every album, I do subliminal shit—whether people catch it, or just enjoy it on a surface level. I use it as inspiration to keep my brain going.
For example, with "RIP Harambe," some people will hear that and think I made a beat about the gorilla that was killed. But if you listen to the way the newscasters are talking about this monkey in the intro, they almost have more empathy for it than the black men who've been killed by police. I wanted to find clips that made Harambe sound like a person that we actually cared about, and contrast with everything else that's going on. I also make subliminal statements with my production, so that when I listen to this album three or four years from now, I know exactly what I wanted to make music about.
You've been dropping a new project almost annually. What's been the secret to your consistency?
Being given this talent isn't something I take lightly; it's a blessing from God. It's my job to work my ass off, because a lot of people want to be in my position. There are positions I want to get to, but at the same time, I have to remember there are kids who'd love to have what I have.
I always have to work on something; I can't have idle hands. My brain is always moving; as soon as blackwhitegoldville came out, I was thinking about the next thing to work on. Consistency comes from always chasing that high of working on something, because there's no greater moment than when something clicks and you realize you're working on something bigger.
— Jesse Fairfax