FEATURES
Jazz Legend James "Blood" Ulmer Walks the Line Between Melody and Improv
By Peter Margasak · October 17, 2017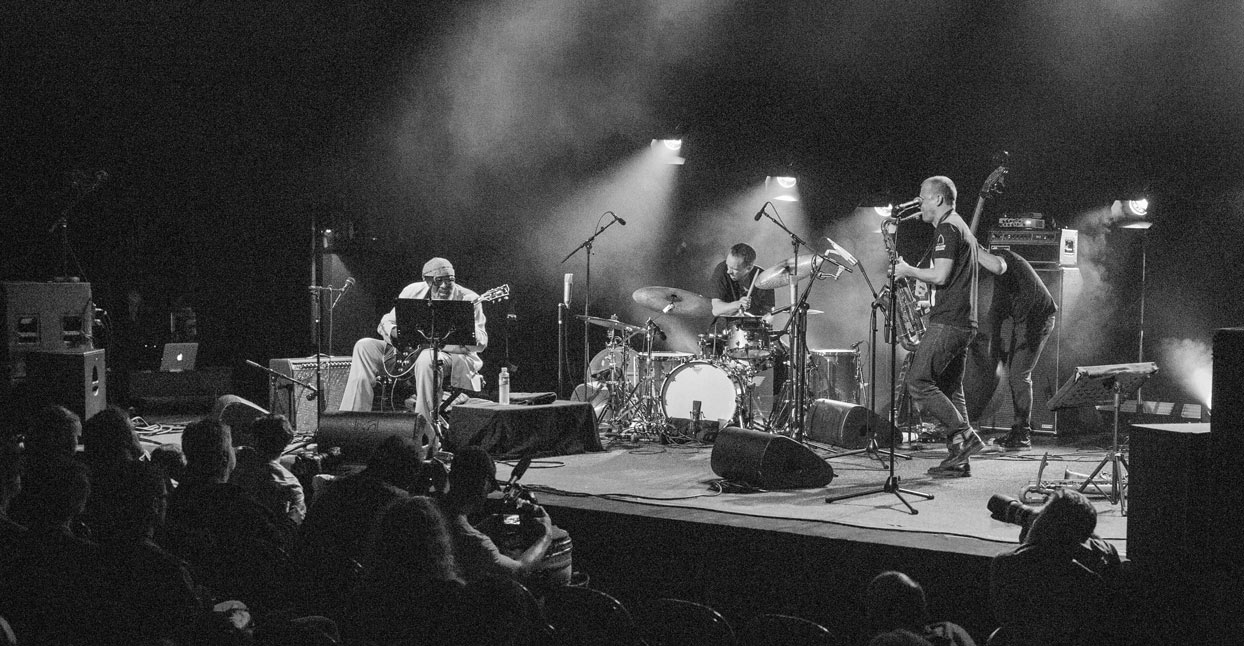 It took guitarist James "Blood" Ulmer a long time to find his voice. He grew up in South Carolina surrounded by church music, and developed his instrumental chops playing doo-wop and rock 'n' roll. He finally discovered jazz in the mid '60s, and eventually started working with organists Hank Marr and Big John Patton.
But it wasn't until he moved to New York and met the legendary alto saxophonist, composer, and bandleader Ornette Coleman in 1972 that Ulmer began to forge his sound, which remains instantly recognizable more than four decades later. Ulmer has a passion for harmolodics—the system taught by Coleman that freed musicians to play in a purely melodic manner—without the limitations imposed by strictly following chord changes.
Throughout his long career, Ulmer has developed a riveting blend of blues, funk, psychedelia, and free jazz, where succinct tunes plant indelible melodies and throbbing grooves in the ears of listeners, while allowing his collaborators to improvise freely. He's led many projects over the years, including the Blues Experience and the funk-infused Black Rock Trio. His instrumental Music Revelation Ensemble, with reedist David Murray, was a powerhouse juggernaut of fiery free jazz over rolling grooves, while his brilliant Odyssey trio with violinist Charles Burnham and drummer Warren Benbow tapped into an otherworldly kind of country hoedown.
This month, the Austrian label Trost released a live recording from the 2015 Molde International Jazz Festival in Norway called Baby Talk, a knockout pairing of Ulmer with the Scandinavian trio The Thing—featuring saxophonist Mats Gustafsson, bassist Ingebrigt Håker Flaten, and drummer Paal Nilssen-Love—whose second album, She Knows, featured a version of Ulmer's tune "Baby Talk." That album featured free jazz paragon Joe McPhee, and it was the first of numerous collaborations between the Thing and outside musicians such as reedist Ken Vandermark, singer Neneh Cherry, Sonic Youth guitarist Thurston Moore, and experimental polymath Jim O'Rourke. The album features four noteworthy Ulmer themes brimming with energy, and promise to introduce the singular improviser to a new generation of listeners.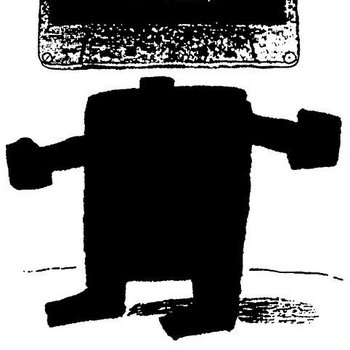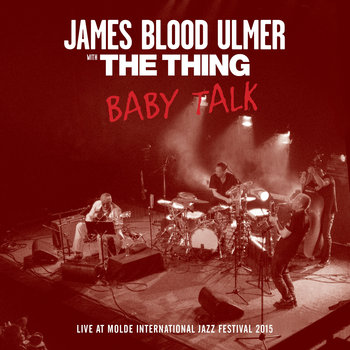 .
00:10 / 00:58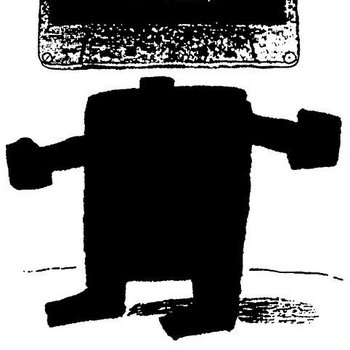 Merch for this release:
Compact Disc (CD), Vinyl LP, Cassette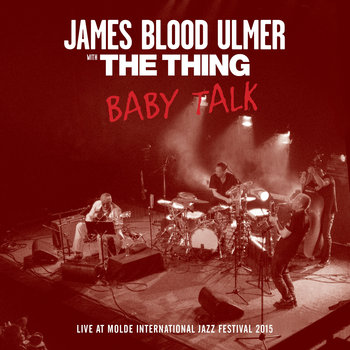 How did your collaboration begin, and how did you proceed once you first met the musicians in the Thing?
Mats and the Thing had been playing with different guys before, and they play totally free improvised music, without compositions. When he first approached me, I worried about it. You don't play music without a composition. If you have the composition, you can put it on any kind of music you want to. You play the composition, and then you can improvise. When I met them they didn't play compositions, and I told them I couldn't play without those. I like the attitude of what they do, and I thought it would be a good chance for me to express myself with them. They had the energy—they just needed the compositions. I've played my own music since I came to New York. That's why I went to New York. I ran into [Ornette] Coleman—I met his drummer, Billy Higgins, and he took me to Coleman's house and I played with the two of them. Coleman's band was the last band that I played with after I came to New York. I've been playing my music with my bands ever since. [Baby Talk] is the first concert I played with Mats and those guys. The only reason I played with [the Thing] was because we were playing my music. That's my only object for playing, to play my music. I'm still trying to figure out how to play with them—they play really different.
Where do you see this project fitting in to your musical world?
I was thinking about the Music Revelation Ensemble when I made the record with the Thing—it was another chance to take that style to another level. When I heard the Thing, it was like an extension of that. They were playing free, and I said, 'Maybe I can turn this into a Music Revelation Ensemble kind of thing.' I thought it was good, because it extended the playing of that kind of music. The white musicians are able to play what they call free improvisation instead of playing free music with compositions. These guys are the leaders in that. They're opening up that free music, and they're getting people to listen to them, without melodies. So when they got me playing with them, it's, 'Wow, let's keep on moving.' I can keep that project, play that way, and make money with them.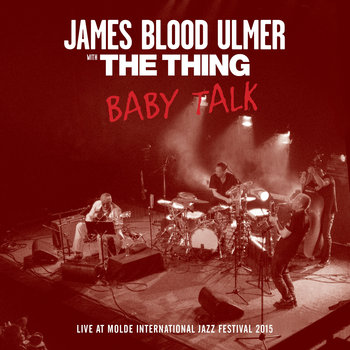 .
00:10 / 00:58
Merch for this release:
Compact Disc (CD), Vinyl LP, Cassette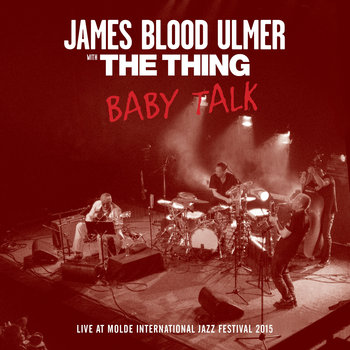 Your Odyssey band remains one of my all-time favorites, and while it sounds like you, it also sounds utterly different from your other bands. You use a different tuning in that project, right?
The tuning I use totally eliminates sounding like a piano, and that's what I'm reaching for. That's the next thing I want to do with Mats and them, is to play with that tuning. They will put it right into that original sound where there's no chords, no scales, no modulation—just getting away from that western, European piano thing. That's how I got away from Coleman. That motherfucker would rehearse me for eight hours a day, and all he did was take his horn and call out chords: 'Blood, play B flat, Blood, play E flat, go to F, F sharp, F minor, go to diminished,' go to everywhere in the world, and I would spend my days tracking whatever he said. He wore me out with that shit. He was trying to find out how the guitar went for his own music. After six months of that, I had this dream about this tuning, where I tuned all of the strings to the same note. I tuned to E, but the gauge of the strings made them sound different. I went to Coleman's room—he was sleeping—and I said, 'Wake up, listen to this.' I started playing, and he got his horn and started playing. He said, 'Give me C,' and I said, 'I ain't got no C, I ain't got no F, I ain't got no G, I ain't got none of them chords—I can't make chords because I ain't got but one note, really.' That tuning freed me. Odyssey was the first record I made with that tuning. That freed my life. I could play without following or copying anybody. It was great. I knew how to play in a regular tuning, but that tuning was freedom. Ornette loved the way my guitar sounded then. He knew I was free. We played one song on Tales of Captain Black in that tuning, it was called 'Woman Coming.'
Do you think the collaboration with the Thing can open some new doors for you?
I'm 78 years old, and I've made 50-some records. It's good to play with them, because it gives me a chance to keep that music going, even if I don't call it Music Revelation Ensemble. Mats is a very innovative guy—he plays big band, big orchestras, little groups. He does the same thing I'm doing, different projects. I enjoy playing solo, playing with the Memphis Blood Blues Band, the Odyssey Band, and the Black Rock Band. What I'm doing is not just one thing—and my idea of harmolodic, it's a person who puts that into whatever he does.
—Peter Margasak