FEATURES
Iskwé's Neon-Bright Dance-Pop Tackles Pressing Cultural Problems
By Chaka V. Grier · November 15, 2017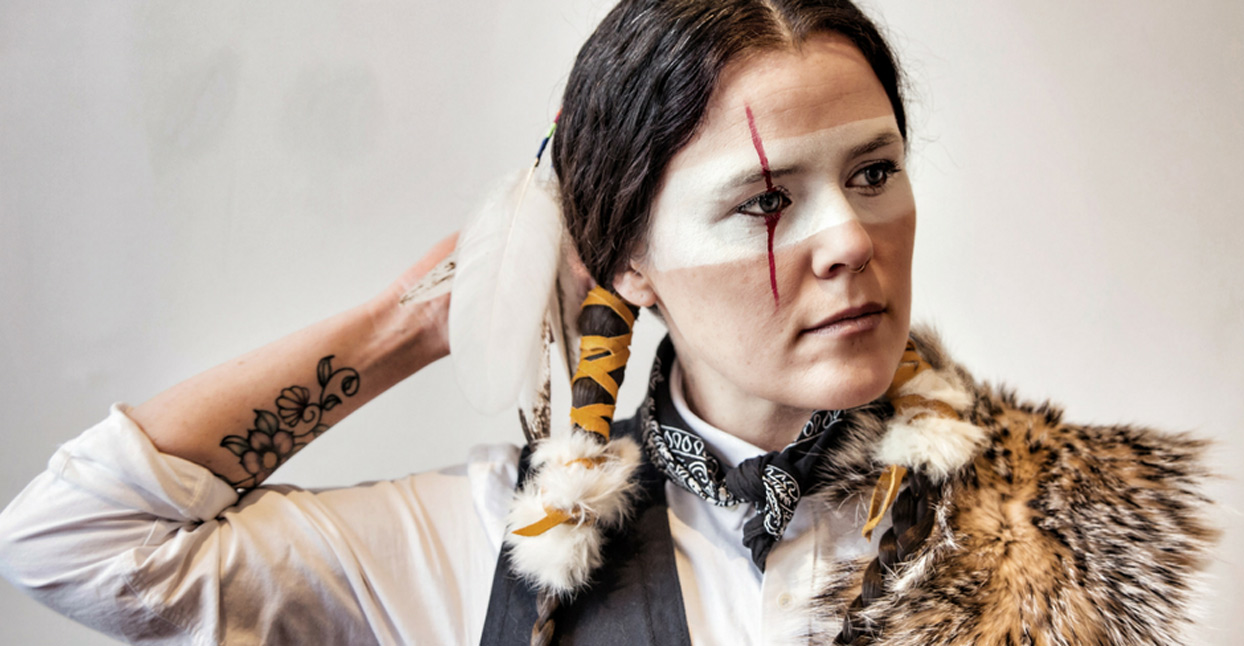 The self-titled, 2013 debut from singer-songwriter Iskwé (pronounced "iss-kway," meaning "woman" in Cree) was eight years in the making. The album took her from her native Canada to record in New York and Los Angeles, far from her family, which led to painful loneliness. The album was meant to be her summary statement, evidence of the hard work she'd put in to establish herself as a musician. And yet as she was putting together the promotional package for the record, she came to a daunting realization: the album barely reflected who she was as an artist.
"That album was heavily influenced by bands like Portishead, Massive Attack, and Tricky. But it also had external influences—like what the industry was telling me to do." Iskwé is sitting in the lobby of Toronto's Fairmont Royal York hotel as she explains this, lounging casually in overalls and a black T-shirt, a tattoo of amplified beadwork winding its way up her arm. "There are songs on there that aren't me at all, but it was important to keep them on the album, because they represent other thoughts and voices. It's a good way to show that there are different ways of being influenced: some influences are about creativity and freedom and some are not."
With the release of her sophomore album, The Fight Within, it's clear that the mistakes she made on her debut have not been repeated. The album is raw, synth-heavy, and lyrically uncompromising. It's already netting some well-deserved attention: showstopping anthem, "Nobody Knows" was featured in the Netflix series Between, and she's won the WCMA (Western Canadian Music Award) for 2017 Electronic/Dance Artist of the Year. But the struggle of the last 10 years is still a bit too fresh for Iskwé to start breathing easier.
"To receive these moments of recognition, to me, it's a reflection of all that fucking hard work that I've been doing—hustling, hustling, hustling."
Born Waseskwan Iskwew (Bluesky Woman) to a Cree/Métis mother and biological father of Irish descent (she was raised with her mother and Latvian stepfather), Iskwé grew up in Winnipeg, described as "arguably becoming Canada's most racist city." She learned at an early age that survival, safety, and access to opportunities was not guaranteed for all.
"My mom's side of the family all grew up in Winnipeg. We're a million generations. [Winnipeg] is a very racist place toward Native people. My grandfather is of the generation where the racism he experienced was so terrible that he always told me that if you can pass for something else, that's what you do," she explains. "That's how you stick it to them. And it doesn't mean that there's shame—it's a survival thing." Refusing to deny any part of herself, Iskwé choose to honor both sides in her life and music. "I have some family members who very much deny that [Cree/Métis] is our background, and I'm like, 'Well, sorry. You've got me for a family member. I'm going to make sure that everybody knows.'"
Iskwé sings with a passion and conviction that's breathtaking, but music was not her first passion. Her earliest love was ballet, a dream that ended after years of injury. Transitioning to music was a slow process. During her troubled youth, her parents sent her to live with her aunt, which is roughly when she began singing. "I made this friend who also sang and had a beautiful voice and we would sit and sing together," she says. "That was the only moment in my life I ever did that, for this one little period of time."
A few years later, as Canadian Idol was preparing to launch, Iskwé found herself again thinking about music, and decided to audition. Her partner at the time was stunned. "Do you even sing?" she recalls him asking. "I was like, 'I think so.' So I sang for him. I made him stand at one end of the house and I stood at the other so he couldn't look at me." Encouraged, she auditioned for Idol, making it through a few rounds before, as she puts it, "I got cut because I was totally unprepared for the bigger picture." Following Idol, Iskwé began writing her own songs, taking vocal lessons, teaching herself how to produce, and attending AMP Camp (Aboriginal Music Program), facilitated in with Manitoba Music and the Canada Council for the Arts. It took time but eventually, she was ready.
On The Fight Within, Iskwé returns to her influences—Portishead, Massive Attack, Tricky, Bjork, David Bowie—but, this time, on her own terms. She describes Fight's stellar closing track "Say it Sweet," as a tribute to those influences, as well as an ode to Nine Inch Nails. "When we perform it, it's super metal," she says with a bright smile.
Iskwé's political consciousness is palpable throughout the album, but it turns up fiercely on "Will I See" and "Nobody Knows," both of which unflinchingly address the hundreds of unsolved cases of murdered and missing Indigenous women. "Will I See," which she wrote in 10 minutes following a walk for Missing and Murdered Indigenous Women, and the synth-heavy "Nobody Knows," raise pain and rage to visceral levels. Both are musical manifestations of the grief cycle occurring within the Native community. "You go through sadness. Denial. Then you get to anger before you can resolve," she says.
"Nobody Knows" was also influenced by the pioneering early '90s production style of Dr. Dre, though Iskwé is not a fan. "It was ironically, and purposely, inspired by a bass line from Dr. Dre." she explains. "He's got a fairly distinct bass riff that resonates as a 'Dre beat,' so that was used as a reference, not a specific song per se."  She found the irony of pairing a song that address the violence against women with a reference to Dr. Dre reference—who has himself been accused of abuse—a powerful and important textual tool.
In many ways, the presence of Dr. Dre also signals a kind of changing of the guard. As artists like Tribe Called Red, Tanya Tagaq, and Iskwé make intense, politically-relevant music—whose message resonates as powerfully as its beats—it feels as if indigenous music is the conscious hip-hop of today. It's a sentiment that Iskwé agrees with.
"In the recent past, being an Indigenous artist sent you into a total left-field that nobody even looked at. Recently, that's not the case," she explains. "People are starting to pay attention and it's interesting to me because Louis Riel [a leader in the Métis nation], when he was hanged for treason, said that his people will sleep for a hundred years, but when they rise, it will be the artists that give them their spirits back. That's one hundred years ago. It's not to say that people haven't been doing that before us, but now people are listening in ways that they never had."
—Chaka V. Grier