FEATURES
Introducing: Jenny Besetzt
By Ally-Jane Grossan · December 19, 2016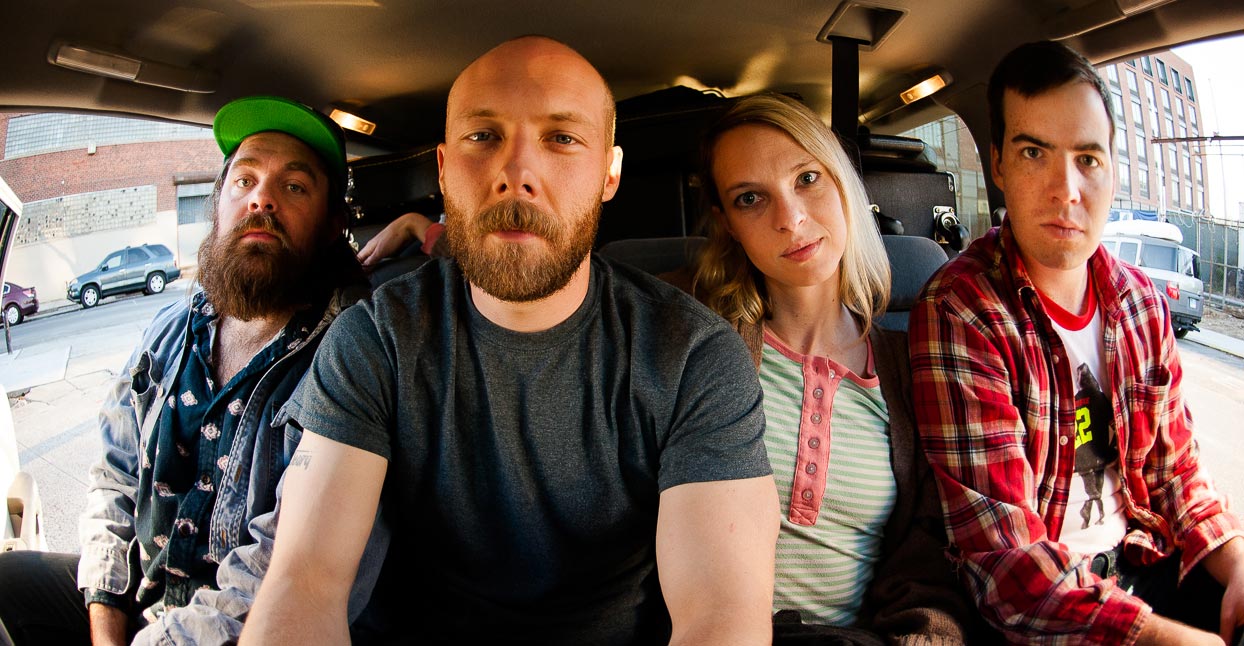 In North Carolina's research triangle of Raleigh, Durham, and Chapel Hill, where Piedmont blues and psych-leaning indie rock are popular (Merge is headquartered in Durham), Jenny Besetzt stands out. Listening to the first two tracks on their latest album Tender Madness, it's tempting to file Jenny Besetzt alongside the droves of Joy Division and Cure sound-alikes that have popped up over the past year on Bandcamp. But frontman John Wollaber will be the first to admit that his heaviest influences don't come from early post-punk. Instead, he found inspiration in the way pop songs were used to create dark moods in the soundtrack to Donnie Darko.
He's also drawn to the melancholy voice of Scott Walker, particularly on Walker's critically maligned 1984 record Climate of Hunter, of which Wollaber says, "it sounds like he just stumbled out of the '70s into a studio in the '80s that was full of really dated synths." There's a similar progression in the sound of Jenny Besetzt's latest album, Tender Madness, which landed at the number six spot on our Best 100 Albums of 2016. What starts out with dark soundscapes and wiry basslines ends up, by the end of the album, in a much lighter place, culminating in a closing trio of synth-driven pop songs that wouldn't feel out of place on an '80s teen film soundtrack.
Wollaber also had adolescent obsession with Nirvana—one almost entirely influenced by the group's live albums. The cover art of Nevermind and In Utero wouldn't fly in his religious household, so he didn't up hearing the original versions until years later. At Bandcamp we waited all fall for Jenny Beseztz to come up to New York and play a show, but it never happened. Still, we got to catch up with the band via phone last month.
You're based in Raleigh, North Carolina. If you were going to go out on any given night what kind of music would you go see? What's the scene like there right now in November of 2016?
There's a lot of psych stuff that goes on in Raleigh. There was a really great show last night with two really, really good North Carolina bands. One's called Zack Mexico. and the other one's called Acid Chaperone. It was supposed to be sort of like a freaky Halloween show. So each band got up there and played like, maybe three songs, but each set lasted 45 minutes or something like that. Those two bands in particular are really really good examples of that stuff, but there's a bunch of that in Raleigh. Just like, very, uh, very weed-inspired. Very weed-inspired, 15-minute long songs.
So how do you fit into that scene with Jenny Besetzt? Did I say that that right?
Yeah, there's an extra T on the end that everybody always forgets, but I've already sort of given up worrying about it. My own, like, little musical world sort of just exists in the woods. Personally, I get really terrified to write a song that lasts longer than five minutes. So to go out and watch that stuff and enjoy it and be captivated—sort of—is super fun for me. But yeah, we've just been doing this thing. We've been around for about five years, and over the last five years, there have been maybe two or three North Carolina bands that sort of fit in the same area we do. There's a huge population of people out here who really rootsy, Americana kind of stuff. There's a lot of that. If anything, I feel like I've been really excited to sound like the complete opposite of that.
Yeah, rootsy is not really something I would immediately associate with your sound. You're on Friends Records, a very Baltimore label, and there's kind of this Baltimore scene, but you're not from Baltimore. So how did you hook up with Friends?
The way we hooked up with those guys was through a this band Wing Dam. We sort of just started trading shows with them—they're a Friends band—and we developed a friendship with them, and they told us that Friends was doing. They wanted to do a split release between Friends Records and a small label down here that our bassist runs called DiggUp Tapes. They were going to do this split thing between, I think, Future Islands and Lonnie Walker. So we were like, 'Oh, we're like super pumped on this, we're going to give Friends a track super soon.' But it took us like six months trying to record this thing, and the emails slow to a trickle, and eventually the idea just got scrapped. But when we finished Tender Madness and we were sending it off to people, the same guy, Justin, was like, "Hey, I was at a show last night with Jimmy [who runs Friends] and he was asking what you guys are doing and if you have a new album. You should probably send it to him." So I sent it to him the next day, and…
The rest is history!
Totally random, but I guess that's the way all this stuff works.
So, you're a Future Islands fan?
Yeah, I love that band. They recently asked us, 'We're working on these new songs, we wonder if you want to go on a three-day, little beach tour with us,' and I said, 'Yeah, absolutely.' The only catch was, they wanted to try the new material out in front of smaller crowds, sort of test the waters on it, and fine-tune the songs. They set up this three-day thing—one North Carolina show, and then Virginia Beach, and I forget what the other one was—but the catch was, they had to do this under different band names, so nobody knew it was them. For each night, it was a different fake band name One of the nights, for example, we're at this tiny hut of a place called Bonzer Shack in Kittyhawk, North Carolina, on the outerbanks, and I think that's the show where they went under the name This Old House. We would show up at one of these places, we'd start unloading gear, and then someone would be like, 'Holy fuck, what is Future Islands doing here?' and then a bunch of people would show up, and it was great. It was the most fun. We love those guys.
You're simply tagged it as "experimental" as the only genre on Bandcamp. What other genres would you attach to Tender Madness?

This is something that I think about a lot. There's no like, enormous like, monolithic force behind us, you know what I mean? We run our own websites and blah blah blah. So when we're setting up a Facebook page or something, whenever it gets to a place like, 'What genre?' I always get really, really, angry and freaked out at the same time. Like, I don't know! Basically, I feel like a complete tool listing it as one thing or the other.
Most people call it shoegaze, but I feel like that's disrespectful in a way to bands that are really heavily indebted to that sound, and are really trying to make something that someone would call "authentically shoegaze," or whatever. So, I don't know. I really like jokey, stupid, terms like "goth pop," which is maybe totally serious to somebody, but I really like that term. I would hate for someone to call us a 'rock band,' so I don't know.
Post-punk certainly comes to mind, I immediately thought, "This sounds like every band I love from 1978 to 1984," but also totally new. I've heard that term thrown around. You know, "Goth is back! Darkwave is back! We're in the midst of a Darkwave revival! Blah blah blah!"
Honestly, if you had a gun to my head or something, that's probably the best term for it: Post-punk. The thing is, I love those bands, but I listen to so much beyond that. I would just hate to think that somebody imagines me listening to Joy Division and The Cure or something, and just trying to make post-punk '80s stew out of all of that stuff. That's not what I'm trying to do. Probably everybody feels that way, to some degree. I'm probably totally wrong about that. I don't know all the people on the planet, so I'm not going to make a statement like that.
What are other influences that led you to make a record like this, besides that era of… we'll call it post-punk?
So the song "Tender Madness" in particular, I can explain a lot of the decisions on here, specifically with regard to the vocals. I started listening to a lot of Scott Walker—which, if you were to listen to our first record Only, you'd be like, 'Oh, okay, yeah, I totally understand that.' It sort of surprises me with the couple of things that have been blurbed about this album so far. Someone made a Bono reference.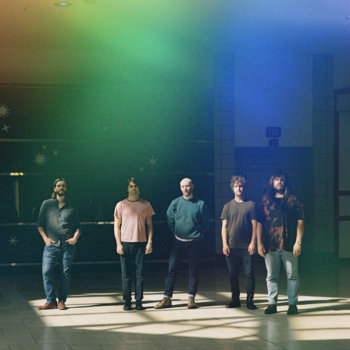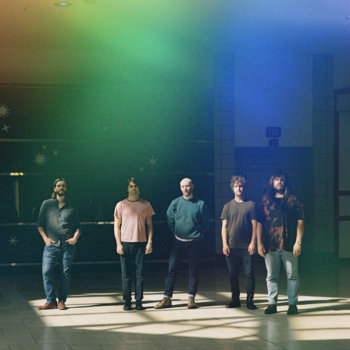 Merch for this release:
Cassette, Compact Disc (CD)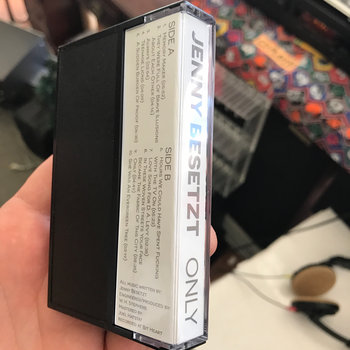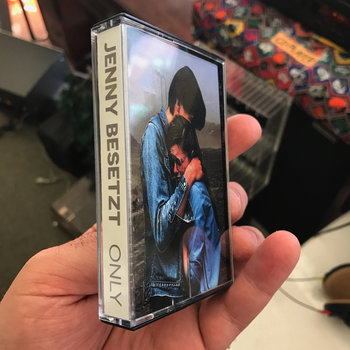 I don't hear Bono but now that you mention it, I can hear Scott Walker. Any album in particular?
Probably 4. I found that album like two years ago, and I think it became something that I've probably listened to more than anything else. Also, he made an album called Climate of Hunter that nobody, from what I read, seems to like because the instrumentation is crazy. Scott Walker made only that album in the '80s I think, and it sounds like he just stumbled out of the '70s into a studio in the '80s that was packed full of really dated synth sounds and stuff, but it is so great.
Also, on "Kanizsa Triangle," there's a little bit of ambient stuff, but that song… I started to get really into Harold Budd, who did a little bit of stuff with Brian Eno. Harold Budd, and also—and this is a random reference—the Donnie Darko soundtrack. I mean, I didn't know what Joy Division or any post-punk sort of stuff was until I was 18 and saw Donnie Darko. You can say whatever you want to about that movie but personally, I love it. The soundtrack is crazy good—all of the Echo and the Bunnymen, Joy Division, and stuff that's on there. There are these choral arrangements that happen during the scene where Donnie's in the theatre and Frank shows up and asks him if he's ever seen a portal, and then he goes to the Dirty Dancing guys' house and finds the kiddie porn and burns the house down. I think most people think that track, "Kanizsa Triangle," is keyboard, but it's actually my voice. And I don't know, like, I feel Donnie Darko and the Beach Boys are probably responsible for a lot of stuff harmony-wise.
When that school bus door opens up, and Donnie's feet hit the ground, and that Tears for Fears song drops—it blew my mind. I remember that song just from, like, '90s radio when I was a kid, but it was one of those songs I hadn't thought about in a long time, because I was too busy listening to shitty music in high school. That piano chord that goes through the montage—I thought, 'This is the best song I have ever heard.'
What kind of shitty music were you listening to in high school?
I don't know if I even want to talk about that. It's not like, good shitty, is the thing. It's not like shitty that you can laugh about that has any kind of like, sort of street cred, you know? I can't get into it. I'm sorry.
Is there a genre?
I cannot tell you. It's so bad.
A little hint?
Phish, Grateful Dead, and also, 311. It's not good bad. It's just bad bad, you know?
Okay!
You sound like the way a doctor sounds after you tell them something. I think listening to those bands is actually beneficial as a musician, because it's all based on sort of masturbatory, noodly chops, you know? Which drives me crazy at this point, but honestly it probably made me a better musician.
Because you wanted to avoid that, or because it inspired you to experiment?

I was trying to play those songs, so I was spending time in my room working out the parts. I had a really strange musical trajectory. When I was 11, I was obsessed with Kurt Cobain. Totally obsessed with him. I don't know what happened. But the stuff in the middle of my life is bad. Now I'm re-obsessed with Kurt Cobain, but all the stuff in the middle is like, fucking terrible.
Were you obsessed with him after his death or leading up to it?
I never had cable in my house until I was 11, and I was watching MTV or VH1 and I'm 90% sure it was just seeing the video for "Smells Like Teen Spirit." I was 11 years old, my parents had gotten divorced six years before, so my 11-year-old brain was trying to find anything that felt like there was some force out there that understood what I was going through. It's not pre-internet exactly, but it was pre-internet in my house, for sure. Also, I was 11, so what did I know? I see this, and I was like, 'Oh my god, this is like the best thing ever!' I had no idea what the lyrics were or what he was talking about, but it clicked instantly. My dad came to visit me, and we would always go to the mall, and he would take me to buy CDs once in a while. We didn't have very much money, so every CD choice was precious. I was spending the first few of those dollars on Nirvana CDs. I remember I really wanted to get Nevermind, but I knew that my mom would not let me bring home an album that had a penis on it, you know? It was a pretty religious household, so there's no baby penis coming home with me. So instead of getting that, I had to find another album that had "Smells Like Teen Spirit" on it. So I ended up with this live album From The Muddy Banks of the Wishkah. Then, I couldn't bring home In Utero, because of, you know, the angel or whatever with the organs [on the cover], so I just ended up with these live albums that I just played the fuck out of.
The funny thing is that like, in the span of two days, I became obsessed with this band. And then the next day my older sister was like, "You know he's dead, right?" And I was like, "What? Like, what?" And she was like, "Yeah, he died like three years ago or something." It was just this super concentrated form of heartbreak. I was like, "What am I going to do?" So I became obsessed with Kurt Cobain for a couple of years. It was sort of my m.o. in middle school to be the kid who walked around with a Kurt Cobain biography. So I'd get to class and I'd put it on my desk so everybody could know what I was about, because that's what you do when you're 12. So that's my Kurt Cobain experience. Over the past two months, I've been going through and listening to all of the albums properly, you know what I mean? Now that my mom can't tell me that I can't.
So you had only heard them as live albums on CDs until two months ago, and now you're rediscovering the Nirvana catalogue?
Honestly! Obviously, I'd hear songs on the radio and stuff, but yeah. They're really good, that Nirvana! They're going to catch on!
—Ally-Jane Grossan