FEATURES
Explorers of the Future: Futuro Transform Rock History Into Forward-Thinking Hardcore
By Judy Berman · June 22, 2016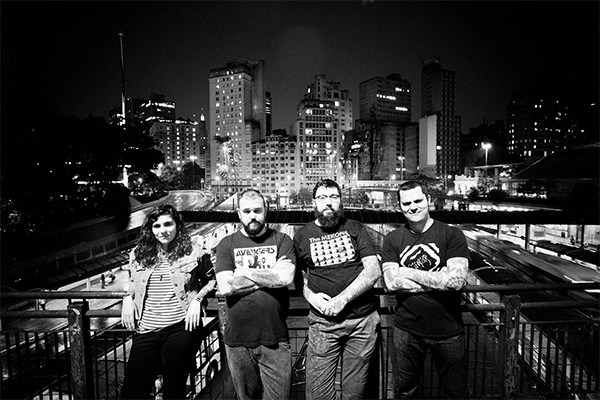 "People are still being exploited, work is still exploitative and alienating, people are still dying in wars. It's pretty much the same old capitalism. It's not that complicated at all."—Pedro Carvalho
Leave it to a band named Futuro to write a song called "History" that's actually about the limitless potential of what lies ahead. "History's running out of steam," guitarist Pedro Carvalho declares over a sped-up surf-rock riff on the track from their most recent album, Hábitos Ruins. For the first two minutes of the three-minute song, vocalist Camila Leão echoes his lyrics, her airy background wail reminiscent of X's Exene Cervenka. But as the drum beats accelerate, she seizes the lead. "Gotta start a different story/ About what happens next," Leão proclaims. Her final verse is an incitement to break free from the past: "Use the sacred scrolls as fuel/ Breathe air instead of dust/ Drop all the dead weight on our backs/ To the future…or bust!"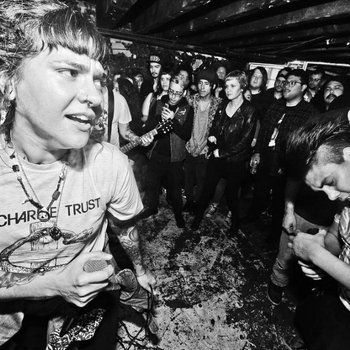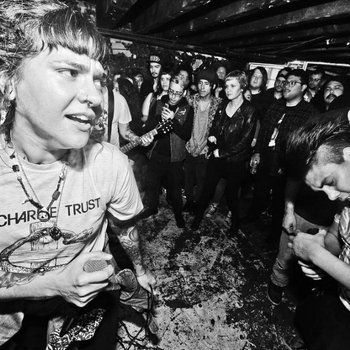 From the Brazilian hardcore/garage-punk band's home base of São Paulo, Futuro co-founder Carvalho explains that the song is meant to highlight, "how history is actually done by normal, regular, working people, but it's written by an elite." As Futuro see it, "history shouldn't even have to be written. It should be participated in by everybody."
In fact, Carvalho says he and his bandmates—bassist Flávio Lepsch, drummer Giuliano Belloni, and original singer Alexandre "Kalota" Fanucchi—chose the name Futuro, in part, because, "conservatives are obsessed with the past, while revolutionaries and progressives are obsessed with the future." He cites the Italian Marxist Amadeo Bordiga, who called revolutionaries, "explorers of the future."
But Futuro's perspective surpasses the contents of a standard-issue textbook. Their sound plays a similar trick with rock history, transforming broad and deep knowledge of the past into music that feels entirely new. Since their 2010 debut MMX, the band has infused hardcore rooted in the '80s California scene with various older styles of guitar rock—from surf and garage, to Brazilian psychedelia and the sounds of the British Invasion.
Both influences have been essential parts of Carvalho's life for decades. He gets his love for open chords, effects pedals and echo from the '60s bands he loved as a kid. Os Mutantes were a particular favorite. "I grew up listening to them because my mom had the original LPs. There's some amazing guitar sounds [on their albums] and really crazy, out-there ideas for songs," he says. "To this day, there are sounds on there that I don't even know what they are."
As a pre-teen skater in the late '80s, he read about punk in the pages of Thrasher and saw bands like Circle Jerks and Dead Kennedys on a local skateboarding TV show. His interest in American hardcore was somewhat rare in Brazil, where punk fans were more likely to embrace what Carvalho calls, "studs-and-leather bands" from the UK and Scandinavia. "American bands had a different kind of energy and vibe that was more down to earth," he says. "It wasn't like they were playing a character, they didn't dress outrageously. I didn't have a problem with [more flamboyant bands], but I could relate more to the American bands because they seemed to be more about the actual attitude and less about looks and being part of youth club or whatever."
In the mid '90s, he discovered São Paulo's nascent hardcore scene, which centered around an anarchist collective called Juventudes Libertarias. Carvalho joined the movement, made friends with like-minded politically radical young people and started playing shows with his first real band, Newspeak. He describes their sound as "a mix between old-school hardcore and that whole chaotic Ebullition Records-type thing." By the time Newspeak split in 2000, hardcore had solidified its place in the city's musical landscape. Carvalho's next band, I Shot Cyrus, drew on global hardcore influences from America to Italy to England and found an audience beyond Brazil, releasing albums internationally and touring Europe.
Eventually, Carvalho grew tired of playing so fast and cofounded B.U.S.H. with the idea of incorporating the '60s sounds he loved into the punk music he was already playing. "I had this insight that it would totally fit our early-'80s hardcore influences if we mixed [them] with garage rock and '60s British Invasion music," he says. "The Dead Kennedys were based on surf music and garage, and Minor Threat covered The Standells' 'Sometimes Good Guys Don't Wear White.'" When I Shot Cyrus parted ways, what had begun as a lighthearted side project became Carvalho's primary focus.
That newfound earnestness led the band to pick a more serious name—one that wasn't a joke, cultural reference, or liable to get them confused with Gavin Rossdale's grunge-pop act. Instead, they opted for something that was an expression of pure possibility. The final stage in Futuro's transformation came when Kalota left and Leão, who had previously joined the band to perform live Siouxsie and the Banshees covers, took his place, making her first appearance on a 2011 EP. According to Carvalho, her influence on the band's collaborative songwriting process has made Futuro more adventurous. "The way she sees the world and how it reflects on the lyrics and her vocals is very interesting," he says. "She's got this sort of pessimistic outlook that reflects on the melodies she creates and the lyrics she likes." (Leão was on tour with her other band—which is actually called The Pessimists—when Carvalho spoke to Bandcamp.)
This kind of negativity isn't necessarily at odds with Futuro's forward-thinking stance. As Carvalho sees it, "the future looks pretty bleak, especially in Brazil right now." Though their music doesn't explicitly address current events, their lyrics can be taken as both personal and political. "There are songs [on Hábitos Ruins] about sectarianism and divisions and hate among people…which is really timely because, since a few years ago, Brazil has been in a state of growing sectarianism," Carvalho says. "In a way, Brazil is becoming similar to how the US is, divided between blue and red states, between Republicans and Democrats."
Realism doesn't stop Hábitos Ruins from offering plenty of compelling visions for a world that rises above petty political divisions. The urgently paced "Mistério," for instance, addresses, "this current postmodern discourse where everything is really complicated, the world is super-complex. So you can't really change it." Carvalho is troubled by this outlook, which he believes leads people to abandon collectivist politics in favor of complacency and introspection. "People are still being exploited, work is still exploitative and alienating, people are still dying in wars. It's pretty much the same old capitalism," he says. "It's not that complicated at all."
So far, Futuro's opportunities to bring their unique sound and philosophy to the U.S. have been limited to the digital realm, but that's likely to change in the next few months. Available online and via cassette in Brazil since late 2014, Hábitos Ruins could be out on vinyl in the States as soon as July, via Dirt Cult. The band hopes to tour America in the fall, with an updated lineup featuring new drummer Cauê "Xopô" Rocha. They couldn't have picked a more appropriate time than election season to visit.
—Judy Berman