FEATURES
The Pessimistic Retrofuturism of Giorgio Murderer
By Lorena Cupcake · June 17, 2016
photo by Brandi Rinks
Giorgio Murderer is a man from the year 2078 who hails from Chimborazo Island and uses a intertemporal link to control Rob Craig's brain and limbs.
Most music is a celebration: affirmations of life and youth, glorifications of lust and sexuality, anthems to triumph and self direction. Holographic Vietnam War, the latest LP from Pelican Pow Wow Records' Giorgio Murderer, is a slap in the face, a slur, a curse on your children, and a pox upon your house.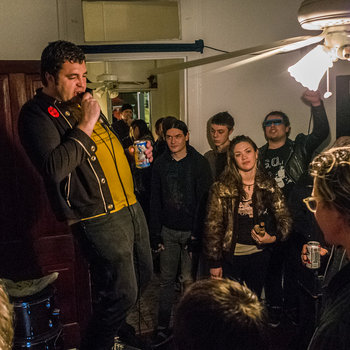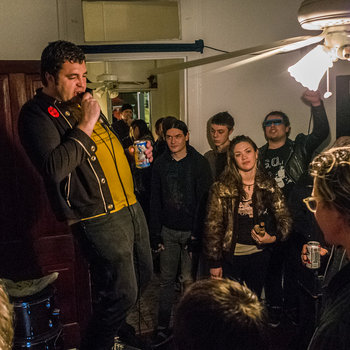 Its ominous tracks are collaged together in spare, translucent layers: 1970s drum machine beats pasted with live snare, vocals sneered over fuzzy pre-recorded backups, all of them passed back and forth between a computer and pair of cassette four-tracks. The quavering keyboards sound like they're ripped from the score of an '80s cartoon from another dimension.
That ramshackle basement sound comes through perfectly in the live setting, where Giorgio hammers three-chord garage riffs over shrill, tinny synth melodies and simple rhythms, spitting invective into a microphone and emotionally abusing audience members; but the man you see on stage isn't Giorgio Murderer—it's Rob Craig, who grew up in poverty and religious repression in Mobile, Alabama. His background is murky, full of references to drugs, bad dudes, and serious trouble. He wears t-shirts that stretch tightly across his belly, a leather jacket, and a scowl.
In our email exchange, Craig asserted that Giorgio Murderer is a separate entity—a man from the year 2078 who hails from Chimborazo Island and uses a intertemporal link to control Craig's brain and limbs in an attempt to spread disinformation and save the world. (The same is true of Craig's other band, Buck Biloxi and the Fucks; Biloxi's not a person, or a stage name. It's just a cool name for a punk band.)
"Unfortunately, I am limited to only using the instruments and recording equipment available to me in 2016, as I am unable to bring even the few pieces of gear that survive here on Chimborazo across time," Giorgio Murderer explained. "Rob generally needs to be completely isolated at his house in order to record a Giorgio Murderer song. It often happens that someone will come to the door or call on the phone, and the intertemporal link just doesn't hold up alongside all the other brain activity that begins to happen. If you live in 2016 or later and you encounter Rob Craig somewhere, try to get him high, as it will improve the fidelity of our intertemporal link."
Craig played and recorded every single instrument on Vietnam, much as he did on most of the early Buck Biloxi album Culture Demanufacturer; Holographic Vietnam War is even more of an effort in isolation. Craig's visions are compelling and complete, whether he's the auteur at the helm of a three-piece band, or barricaded in his home slurring science fiction over a KORG Rhythm-33. (Some might say that Giorgio Murderer is simply Buck Biloxi and the Fucks with synths. Some people have no sense of wonder.)
Asked to explain a track named "Theme from Bill and Ted vs Grey Goo," Craig says, "This movie begins with our heroes Bill S. Preston, Esquire and Ted 'Theodore' Logan finally having created a nebulously perfect world with the power of their rock. Hijinks ensue when nanobots, created by Station to convert carbon dioxide in Earth's atmosphere to oxygen, begin converting all carbon-based life on earth into oxygen because of a buffer overflow error. Can the Wyld Stallyns save the people of Earth and continue to be excellent to each other? Because this movie doesn't exist in your timeline, I don't mind telling you that the answer is 'No'; Bill and Ted each betray one another before dying, both alone and alongside the rest of humanity."

photo by Brandi Rinks

Giorgio Murderer's only nostalgia is pessimistic retrofuturism. This is not "pure 1977 rock 'n' roll," like every other reverb-obsessed act running on a shoestring budget and a 30-rack of watery lager may claim. This is the fatalistic soundtrack to a burned and scarred land, bitter with defeatism and deeply unsettling. On tape, Giorgio's coarse voice does double duty on vocals, sometimes summoning associations with the gunk punk Kalamazoo brothers in The Spits, who often chant their lyrics in tandem. The murk and overwhelming tone of malice has faint whispers of nasty Greek misanthropes Bazooka, and the group The Man also operates with a dystopian mind control motif. But nobody else really sounds like Giorgio Murderer.
The protagonist of Giorgio Murder's dystopian world doesn't necessarily want to be the force that visits evil upon you; Craig's songs differ in that way from the viscera-strewn forests of metal that lay across the River Acheron. His relentlessly negative lyrics don't offer direct threats, but are instead helpful reminders of hellish realities. "I'd like to think that there is some human connection that can be derived from the fact that we can all be murdered by a robot at any moment. I think that is a shared experience," Craig explained. "Perhaps that makes it more important to enjoy yourself."
—Lorena Cupcake