FEATURES
El Mató a un Policía Motorizado Brighten Argentinian Indie's Corners
By Evy Duskey · July 19, 2016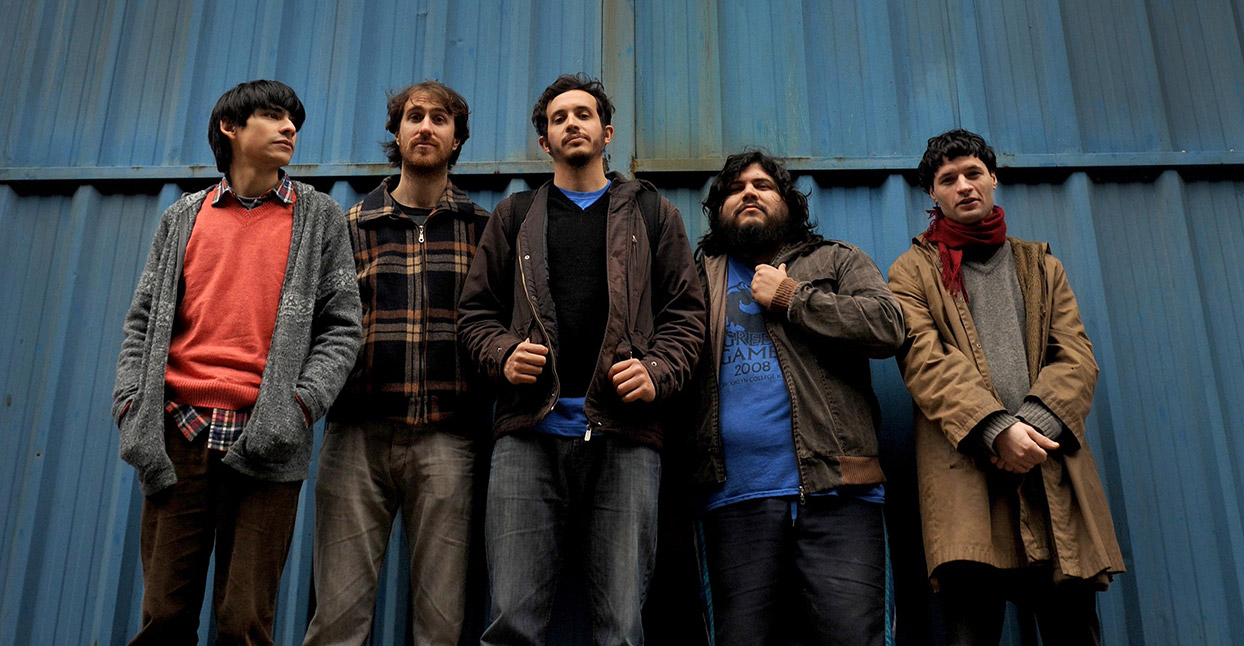 "The popular imagination thinks that living off of your music, living off of your art, is some kind of big, eternal amusement park. But it's not like that."
Santiago Motorizado may be the hardest working man in Argentine indie rock. Arranging my interview with the frontman and bassist of the long-running cult favorite group El Mató a un Policía Motorizado (think Dinosaur Jr. showing you their sensitive side) was a formidable task. Between the band's recording schedule and their preparations for a trip to the US and UK, our options were limited. We finally settled on meeting before his show at Pompeya Social Pub, in the Buenos Aires suburb of Castelar. Struggling to find a quiet corner inside the busy bar, we took to the street outside, my boyfriend awkwardly holding a tape recorder as we huddled on the chilly sidewalk to chat.
This isn't to complain, rather to illustrate just how busy Motorizado is. El Mató is known for playing live shows constantly, and everywhere—for a city dweller like myself, Castelar (a subway, bus, and train ride away) might as well be Narnia. And they have a slew of big shows coming up: July 22 & 30 at Niceto Club, one of the most popular venues in the city, Sept. 24 at La Trastienda in Montevideo, Uruguay, and Festival BUE on Oct. 14, along with  Iggy Pop and The Libertines.  
The energy to do all of this is crucial to El Mató's longevity and dedicated following. "We look forward to that moment of going out on stage every day," says Motorizado. "Me especially, because I am at my happiest on stage, playing songs with my friends."
.
00:10 / 00:58
And Motorizado has many friends, especially in the Buenos Aires music scene. As pioneers of the La Plata sound (earnest, DIY and guitar-driven) along with LAPTRA label mates Bestia Bebé, Las Ligas Menores, 107 Faunos, etc., playing with El Mató is considered a great honor and a coveted opportunity for local indie rock bands. Motorizado, widely known as one of the nicest people you'll ever meet, often plays the role of godfather to younger acts, while also offering plenty of support to his contemporaries.
But this popularity hasn't contributed to any discernible ego on the part of the band. "We always prepare for every show with the same intensity," says Motorizado. "No show is more important than any other. Of course there are exceptional cases like playing a festival with your favorite band—that's a special day" (in recent years, El Mató has played SXSW, Primavera Sound, Vive Latino in Mexico, and Indie Fest in Rio de Janeiro, among others).
While it may seem like a fantasy to get to play music with your friends for adoring fans nearly every day of your life, the truth is that, while being a musician is an immensely rewarding job, it is also a grueling one. It offers no respite from the trials of everyday life. "The popular imagination thinks that living off of your music, living off of your art, is some kind of big, eternal amusement park. But it's not like that," Motorizado reflects. "You have to understand that through all of this you have the highest highs and the lowest lows, and that it's all part of the magic of it all, of living off your music."
.
00:10 / 00:58
It's hard to imagine El Mató before their success, but Santiago recognizes that the band has grown tremendously, albeit gradually, over the last 14 years. They've released two albums and four EPs—with plenty of time to adjust for changes. "We played for small venues with just a few people, and then more and more people started showing up," he says. "There was never any big, radical change in the band. I don't really have any basis of comparison, but it always seemed to me to be a good thing."
While the dynamics of the band haven't changed, Santiago agrees that the music has grown darker in recent years, but maintains that it wasn't a conscious decision.
"The lyrics and the music go really well with that [darker] atmosphere, and it comes from a place that marked us somewhere during our lives," he says. "We never felt represented by society's prevailing values, which seem happy but are actually void and dispensable. Maybe that's where it comes from."
The band started as many indie rock bands do, a small, ragtag group of friends in high school brought together by a mutual love of music. "In school we always listened to strange music that wasn't on the radio, like Guided By Voices, Yo La Tengo, Pavement, bands that nobody knew. We felt represented by that," Santiago says. "It's what shaped our identity and unified us."
The adolescent loneliness of being an outsider is ever present in El Mató's songwriting. Their self-titled debut, one of the first albums ever recorded for the LAPTRA label, kicks off with a song about rejection. "If I invite you to play, you'll tell me no. You'll tell me no."
.
00:10 / 00:58
This friends' adolescent inspirations seeps into the overall aesthetic of the band, from the fuzzed-out early recordings to album art, flyers, and other promotional materials that Motorizado churns out on a daily basis. Instantly recognizable for their playful colors and motorcycle or football player motifs, they lend a sort of iconography to El Mató fandom, recognizable to anyone under 40 who likes rock music in Argentina.
Motorizado's fascination for the visual arts doesn't stop with design. El Mató's 2005-2008 three-EP trilogy cinematically tracks the band through birth (Navidad De Reserva), life (Un Millon de Euros) and death (Dia De Los Muertos). But that doesn't mean the band can't enjoy "pochocleras" (the Argentine word for non-artsy films), too.  El Mató almost named themselves after a line in the first film of the Die Hard franchise, but they ended up eschewing that idea for a line from a sci-fi B-movie called R.O.T.O.R.
When I ask what he'd like to do next, Santiago confesses a desire to contribute to one of his favorite mediums, rather than just watch. "I'd love to film something, like an Internet series…but I don't have any time lately," he laments. "Filming requires so much time, and I devote all my time to music. But I hope to get there, someday."
—Evy Duskey