FEATURES
International Dub Ambassadors Bring Classic Reggae to the Modern Age
By Amaya Garcia · August 01, 2016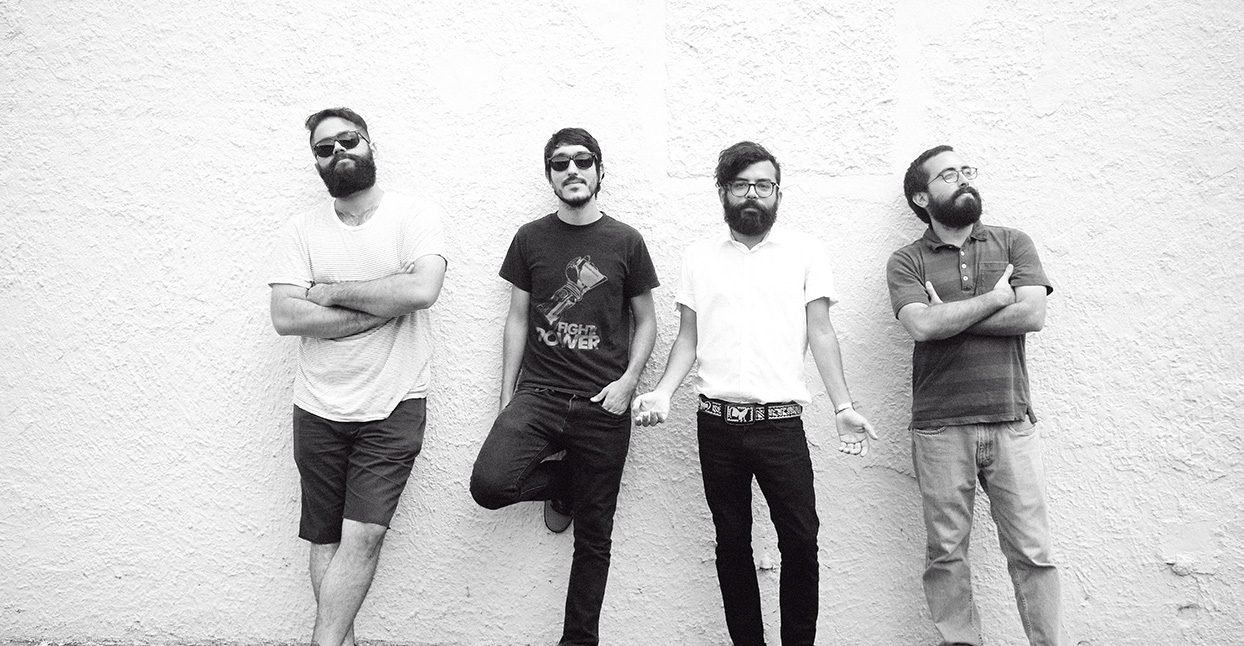 Though they're currently one of the most celebrated bands in Puerto Rico dedicated to playing strictly dub, the International Dub Ambassadors didn't exactly arrive fully formed. They began humbly in the reggae scene in the mid '00s, playing covers of the genre's classics to perfect their sound. Eventually, they began creating ska arrangements of '80s 8-bit video game music, ending up with something like The Skatalites by way of Super Mario. That project increased their following, so the quartet—Bobby Connelly, Javier Pérez, Daniel Lo Presti and Quique Torres—decided to go for broke and compose their own original music, emulating the work ethic and studio production techniques of their heroes in the Jamaican dub scene: King Tubby, Scientist, Lee "Scratch" Perry and Prince Jammy. In the process, they managed to make the sound their own, with a particular flair that comes less from imitation and more from deep respect and understanding of its origins.
With limited means of production and studio time, the band managed to create two immaculate EPs, Dub Ambassador and International Dub Ambassadors meet Gomba Jahbari. Both are a testament not only to their incredible musicianship, but to their commitment to promote and elevate dub music on the island's stages, and establish a musical conversation with neighboring Caribbean nations. They've collaborated with bands from Jamaica and the Virgin Islands, as well as dub musicians like Addis Pablo and Von Benjamin. This fall, they're releasing one of the few Puerto Rican dub plates in existence, with art inspired by the works of  British illustrator Tony McDermott, who's designed record sleeves for dub luminaries like Scientist and Sly and Robbie. We caught up with Javier, Daniel and Quique in San Juan to talk about the recording of their newest EP, International Dub Ambassadors Meet Gomba Jahbari.
.
00:10 / 00:58
As a band, you've made it your mission to record and work like the old school Jamaican dub masters. That said, your first EP, Dub Ambassador, was recorded 'backwards' in terms of the traditional process. 
Javier Pérez: How your normally record stuff is, you lay down each track separately, and when you have all the tracks going on for four minutes, you edit and produce it. We couldn't do that, because we had no time and no equipment. So we recorded live keyboards, drum and bass in a small room. So the keyboard track had the drum sound filtered in, because the mics were catching everything. Instead of laying down all the tracks and editing them out, we had to jump like 20 steps and try to record it as if we had already edited the tracks, and then put the effects on top. It was complicated to mix because of all the limitations we had. But it worked because it got us the sound and the work ethic. There weren't any vocals, but at the very last second, we decided we needed choruses and stuff. The vocals were done after all of this, on top of what we already had.
Daniel Lo Presti: As opposed to when you dub it post, when everything is already recorded, and all you have to do is move faders and take stuff away.
.
00:10 / 00:58
For International Dub Ambassadors Meet Gomba Jahbari you recorded 'the right way,' in analog. But there's this image that you guys like to evoke from the dub process, where there were at least four people manipulating the board at once. How did that work?
JP: For the dub part, we ended up consistently doing the same roles. Nicolás Linares [the sound engineer] manipulated the reverb, delays, and panning, and I was just on faders.
We just did it out of circumstance. We tried to do it with just one person, and it was impossible. It's so limiting. You need to have a certain equipment, you need very specific stuff. I don't know about Nico [who mixed the album]. He played reggae a while back, and he's been listening to that too, but I guess it was the first time Nico had dubbed analogue like that. It was the first time for all of us. That's when you can really admire the greats. You see videos of them doing it, and now you are in their seat. That's when you say 'Wow, these guys were for real. This is hard shit. This ain't easy.'
DL: What's impressive is that those guys did it alone. They could complete a couple of albums a day. They had this output, and it was so commercial that the locals bought and listened to it.
You recorded this album with Don Carmelo on vocals. He's the singer from one of the premiere reggae and dub bands in Puerto Rico, Gomba Jahbari. How did that collaboration happen?
JP: We have no singer, because none of us is a singer. Every one of us plays instruments, and that's how it's always been. When we started doing the original stuff, we weren't going to audition for a singer, so we took the approach of producers. We produce tracks so that other people can come in and lay down their stuff. That's something we saw and admired from this band called Roots Radic Band. They're like the premiere Jamaican studio band—kind of like the Jamaican version of the Wrecking Crew.
We were trying to get an all-star line up of singers, but when we called Carmelo, he loved the tracks, and he was so humble about it that we just clicked automatically. He came into the studio, heard the tracks, he felt them—he was honestly into the tracks. We've been listening to this guy our whole lives, and now he's doing something with us in an unconventional way, because the music is so different from what he does. He had the confidence in us. He started a bond. He saw himself in us, 'cause he's older than us. But he was like, 'You guys are doing the stuff that I used to do when I was your age. You're giving me stuff to work on, and inspiration'. He was inspiring us, but then we inspired him. That was crazy. And he killed it, every first take. He's a special guy.
—Amaya Garcia