FEATURES
Inner Perspectives
By Lorne Behrman · August 21, 2015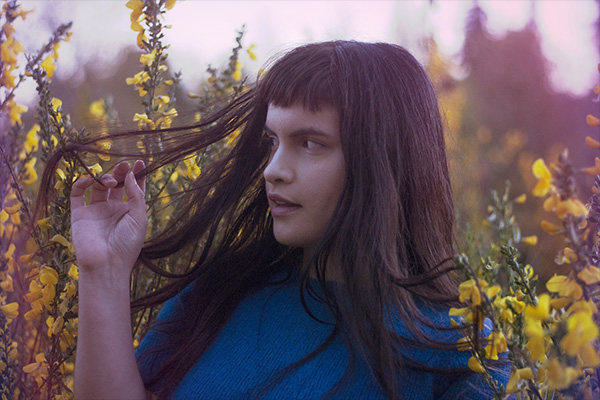 photo by Lucinda Roanoke
"I view my songs as conversations with people who I am too shy to speak with directly and openly. When singing the words, I have no fear of being vulnerable." — Briana Marela
Singer-composer-soundscaper Briana Marela was barely out of college when she entranced critics and indie pop fans with her uniquely well-honed aesthetic. Her work—a fascinating study in contrasts—pairs emotionally direct lyrics with absorbing ambience constructed from synthetic and organic instrumental sources.
When she set out to create her sophomore album, All Around Us (Jagjaguwar), the Seattle-based artist was searching for her inner compass to navigate the post-college landscape. As a result, Briana conceptualized a sonically ambitious album that, with invigorating candor, revealed herself questioning her hopes and her fears. The imaginative, lush, and boldly expressive album was produced by Sigur Rós' producer, Alex Somers, in Reykjavik, Iceland, and features strings by Amiina and percussive touches by Samuli Kosminen of múm.
"I had a vision for what I wanted to create. I had begun to write these songs in a transitory, post-college time. The general feeling of the album is facing the unknown in the best way possible," Briana reveals. "It took about a year to figure out the logistics [to record the album with Alex in Iceland], but I was glad it did because that time period really allowed for introspective vulnerability to take place."
Interestingly, Briana began as something of a confessional singer-songwriter, playing her songs on an acoustic guitar during high school. However, during her sophomore year in college, while exploring music technology, audio production and composition, she had an epiphanic moment. She realized the poignancy of lush, electronic compositions, and how that method of expression was essential to putting forth the immersive emotionality she was seeking to convey with her songs. "At that time, I realized I could create a whole new world of sound," she explains.
Working with music programming software Max, Briana's been able to develop an otherworldly creative fingerprint crafted from breathtaking, stacked vocal loops, bold overdubs, intrepid signal processing, and imaginative arrangements.
photo by Juliet Orbach "An ex-boyfriend of mine would joke that I was more of a recording artist than performing artist because I do, first and foremost, love recording," she confides. "Technology and recording help me fully realize my music; I often think about compositions while I am writing them. I think about how I want to arrange and record certain parts, layer vocals, and fill out the song with overdubs."
Another key influence on her artistry is her preoccupation with the expressive qualities of Polaroid images. "I love the unpredictable way that the photo will turn out. You know it will turn out dreamy—but how dreamy?" she says. "The vibe is mirrored in the way that my songs are very much composed and structured ahead of time. But no matter how structured and thought-out they are, it doesn't take away the music's fluidity and emotional content."
There is a mystical aura surrounding the origins of All Around Us. In 2012, while on her first tour, Briana performed at an art gallery in Providence, Rhode Island. In the audience was artist and photographer Scott Alario, who passed along Briana's music to his close friend, producer Alex Somers (Sigur Rós and Jóns). On one fateful day later that year, Briana received a message from Alex.
"I remember the day he emailed me because it was the last day of the Mayan calendar—a day that people were claiming would be the end of the world. I got the email when I was working on a drone piece with a friend for an 'end of the world' drone compilation. I read the email quickly at first and didn't think fully enough about it being real," Briana says.
Soon, the two began an in-depth dialogue that revealed the two musicians were not only kindred spirits as people, they were sympathetic artistic allies. At the time of their initial exchanges, Briana wasn't very familiar with Alex's work, but through studying his back catalog, she was able to surmise that his artistic perspective was compatible with hers.
Briana and Alex recorded and produced the album in Iceland, and though the country's breathtaking environs would seem like creative fodder for the impressionistic tracks on All Around Us, it truly was Briana and Alex's intuitive artistic connection that inspired such ambitious sonic constructs. "My friendship with Alex influenced the album," she says. "We were just two Americans alone in a room in Iceland with a musical kinship. We could have been in a room anywhere else in the world and still have made the same record."
The album's title was directly taken from a 1940s children's book Briana encountered in an Olympia, Washington bric-a-brac shop. Its green cover features a young girl and her little dog. The freedom afforded by picture books—an unscripted, youthful exploration of life—appealed to Briana while she processed her own surroundings post-graduation.
"I think what resonated most with me is that, although I am technically an adult now, I still feel overwhelmed in the same way I did as a child," she says. "I also just think it is so important to retain the part of yourself that is curious and interested in people and the world around you, and remain innocent in that way."
Though there is a spirit of naiveté running through the tracks on All Around Us, there is also a sage, knowing wisdom within Briana's no-frills approach to songwriting. "I view my songs as conversations with people that I am too shy to speak with directly and openly. When singing the words, I have no fear of being vulnerable," Briana confides. "I value clear communication with my friends and relationships, so I think that is why I am so direct in my lyrical choices. I see no point in being overly vague and poetic with words. I let the music that surrounds the lyrics give the full meaning."
photo by Lucinda Roanoke
All Around Us opens with a lone, angelic vocal that eases into a mosaic of looped harmonies, sweeping the listener away and whisking us to a netherworld of electro-pop that evokes the intimacy of the singer-songwriter genre and the striking aural dimensionality of the post-rock movement. The track "Follow It" has an inviting quality—an intentional artistic gesture. Briana explains, "I am very into the sequencing of my albums. Sequences are all about leading the listener through different emotions and being a sound guide, and I always try and keep that in mind, like in the choice of beginning with a more poppy, energetic intro and ending with a long, ambient song."
Album highlights include the declaratory "Everything Is New," the dizzying pop bliss of the album's first single, "Surrender," and the title track, which offers powerful life lessons from vocals that feel like they're beamed in from a spiritual guide from the afterlife. "Everything Is New" is a revisited track from her back catalog. It represents a turning point in Briana's artistic continuum, as it was the first track she wrote upon leaving behind her acoustic guitar origins for the fresh frontier of technological-based creativity. "It was really important to me to include it on this album, because I never had a good studio recording of it, and because I felt like it marked this important transition in my musical style and needed to be heard," she confirms. "Surrender" offers a respite from weighty matters. "There isn't really a direct message to 'Surrender,'" Briana says. "It is just meant to be a pop song about being confused in love."
The album's centerpiece is "All Around Us," which overflows with the kind of aphorisms you want to jot down and keep close in daily life. The song opens with the lyrical couplet "If you run from fear take caution/There is nowhere to hide/There is meaning in our every movement that keeps us alive." Briana expands on these words saying: "This song is very important to me. Those lines are based on a conversation with an ex-partner. He is afraid of death and thinks that maybe, since we are all going to die, that life has no real meaning. I think, on the contrary, that the meaning of life is to love each other and show it." From there, the song unfolds with glacial elegance, ponders the existence of heaven, and reminds us to hold close those we love.
"It feels good to reflect on this album," Briana admits. "It was such a hard and beautiful time, lots has changed since then, and I think I have grown as a musician and as a person and am better for it. It taught me to view the world in a bigger way—which makes me think bigger and makes me want to live up to my full potential as a creator."
Merch for this release:
Compact Disc (CD)