FEATURES
Ill Camille on Her New Album and Why the Term 'Woman MC' is a Diss
By Jesse Fairfax · May 04, 2017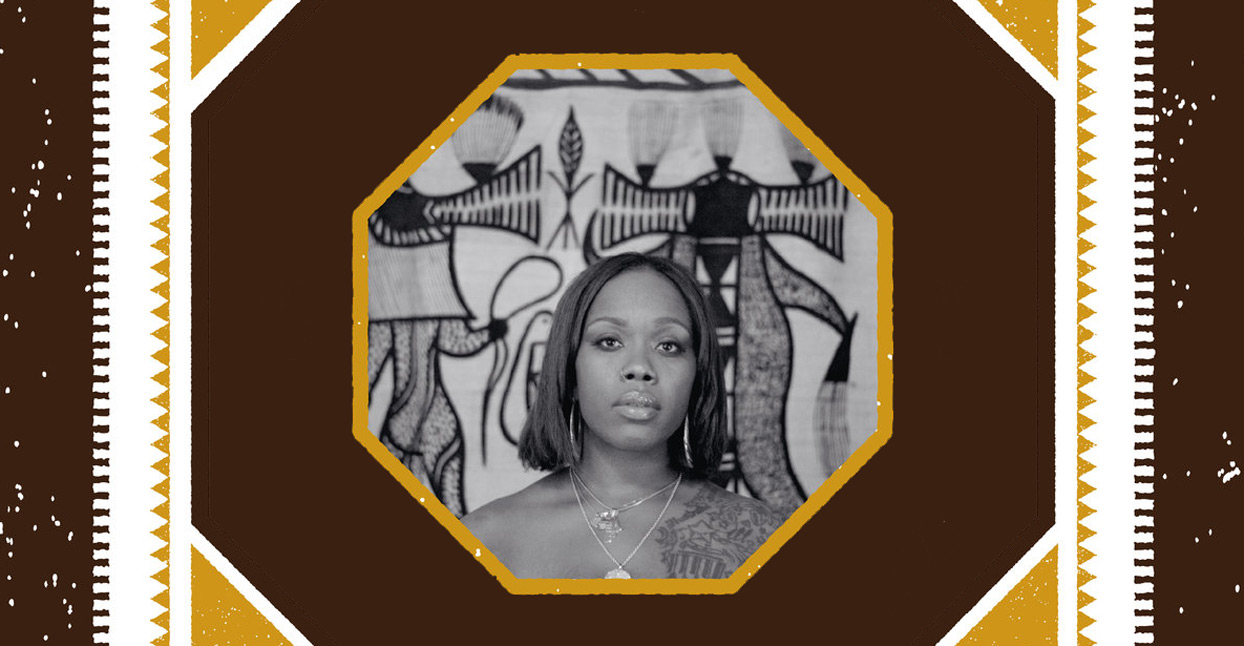 Ill Camille comes from a long line of blue-collar workers and jazz musicians, all of whom make up her essence as an MC. A product of Los Angeles' historic View Park/Leimert Park—black communities with varied income brackets—she spent her teenage years in the much quieter Inland Empire, where she met friends who influenced her rapping.
The lyricist has a laundry list of credits to her name already: she's worked closely with the likes of Terrace Martin and DJ Battlecat, and contributed background vocals to Kendrick Lamar's "Sing About Me, I'm Dying of Thirst," the cathartic centerpiece of good kid, m.A.A.d. city, his 2012 major-label debut. Yet since the release of Ill Camille's Illustrated, also from 2012, life has thrown curveballs her way.
Now five years later, Heirloom might be her strongest work to date with its 16 songs that sum up her 33 years of wins, losses, struggle, and family experiences. We spoke with the rapper about her past work, the long road to releasing Heirloom, the turmoil that contributed to her extended hiatus, and why being called a "woman MC" isn't a compliment.
With earlier work such as Illustrated, from a listener's standpoint, it felt like you had more of a point to prove as you were slowly becoming more known. What was it like for you recording of that album?
With Illustrated, I was still at a 'show and prove' point with my artistry. I wasn't all the way sure of myself as an artist and I wasn't really sure that people were going to be receptive to what I wanted to say. I love being lyrical and I was told repeatedly that people didn't have the attention span for it, so I wanted to create a balance of good songs that were strong lyrically. I'm proud of that album, but I wasn't all the way relaxed with who I was on and off of those records and I think that it showed.
As it stands, you're a top notch MC. You've also been a ghostwriter in the past for Terrace Martin in particular. With him being such a hardcore musician, what did you learn from working with him?
Writing for Terrace definitely helped me go outside the confines of being an MC. It helped me write R&B songs and tap into different melodies. I developed the capability of a songwriter and a producer; now I can hear music beyond just the lyrics. I'm making sure certain cadences fit in certain places and that musical elements are behind the words. He definitely helped me develop the mindset of creating a full record.
You just spoke to the creative process of developing different rhyming techniques. Your latest, Heirloom, sounds like you were driven towards experimenting.
Honestly, I didn't overthink anything but I challenged myself more. I would lay a vocal take, then see if I could top it just because I heard so many rhythms and sequences. It naturally came and it wasn't forced. I just wanted to see if there were other ways I could rap that I would like.
Heirloom is way more technical because I sat through every mix and every ad-lib, I helped with placing every instrument, every feature, all of the technical aspects because I learned from being around people like Terrace and Battlecat. I had to make sure sonically it was right because lyrically and creatively I'm not blocking myself anymore, that came after I laid the records down.
What exactly went into that process of making sure the album was sonically proper?
At least six records on Heirloom are two or three years old. Those served as my foundation. I went back and fine-tuned them by working on my delivery; my voice has changed a little. I'm rapping in my regular speaking voice now. I practiced playing around with my own voice and everything is coming out in a more conversational way.
Speaking of older works, 'Live It Up' was a fan favorite that came out in 2013. Why did you feel it was important to include it on Heirloom?
'Live It Up' wasn't attached to any specific album, and as an independent artist, I want to do whatever I want with my music. When I recorded that there was the perception that I just rapped over boom-bap beats [laughs], and I wanted to prove that I could rap over anything and create a good song. Everything that I was saying on that song is still how I feel, so I felt it deserved a home on Heirloom with good vibes and soul.
How did you spend the four-year hiatus between albums?
I was trying my hand at photography, shooting videos, writing bios, working a corporate job, quitting, and picking another one up. I was dealing with breaking up, getting back together again, and I lost a host of family members in the same year. First my grandmother who raised me passed, then my dad passed, and the day of his funeral my uncle passed. Between the losses and everything else, it all took a toll on the music. I wasn't thinking about rapping—not for myself or anybody else. I can't do anything half-heartedly; it was like God sat me down and told me I had to get myself together. I didn't know who I was at that time. I had to re-center myself and stop being around and so accessible and in the mix.
There seems to be a much greater mission this time around.
I don't have shit to prove anymore. I wasn't embarking on any mission to make sure people knew me; I honestly made this record because there was a need for me to heal by recording it. I needed to complete something that was started and recall certain events so that I could learn from them and learn how to push forward. This record was a collective effort so I had to make sure that everyone who was a part of it was celebrated. They helped me grow not just as an artist but as a woman. I hoped people would hear that more than anything.
Your blood family also played a big role in inspiring this album.
The whole goal in this was making sure I stayed true to who I was. On previous records I didn't know how to best represent who I was, how I felt, and what I wanted to say. Now that I know how to do that, I wanted to create something that would outlive me and outlive my family that we could all pass down and be proud of.
Talk to me about 'Spider's Jam,' in particular. It feels like this song defines the album's theme and I understand it went through a few phases of being created.
'Spider's Jam' was actually the first demo I recorded for Heirloom; it was a rough draft on my phone without a beat. My boy Rick Hughes made what was going to be the original beat right in front of me. I recorded it once and I was under the impression that I had lost the session until the end of 2015.
We found the session and I really wanted to finish it, so towards the tail end of mixing the album I brought that record and a few others that were completed to Battlecat. I always go to him at the end, I don't really bother him during the construction of my albums. He heard 'Spider's Jam' and teared up and said, 'I love everything that you're doing but this one is extra special. It summarizes what the album is about and who you are.'
He has a full percussion set at his house, so he just started playing along with the song. He asked me to record him and he remade 'Spider's Jam' right in front of me, so the final version is 100% live instrumentation. It went from a voice note, to me rapping over a sample, to developing a live composition. Georgia Anne Muldrow heard a more developed version before Battlecat got on it, then SiR, JaVonté, and Tay Walker got on it. I wanted more of a big, grand Quincy Jones-type of production where you heard different vocalists in certain places.
That is my most personal record because it's all inclusive. I'm talking about both sides of my family, my perspective as a kid, my perspective now. It threads everything together and it's why I named the album Heirloom.
While making the album, did you intentionally set out to make such personal statements or did this just occur naturally?
It was an organic process where I was driven by whatever the beats led me to talk about.
The bulk of the very personal songs like 'Renewed,' 'Few Days,' 'Slip Away,' and 'Fight On' were rapped in real time, but they were recorded some time ago and I'm still dealing with the after-effects of the things that I talk about. I think everything fell into place after those records were laid and from there I figured I might as well continue speaking my truth.
As someone who constantly preaches the importance of self-awareness, was there anything you learned about yourself as a person and/or as an artist through recording and releasing this album?
I definitely learned that I have a lot of growing to do, but I learned to celebrate the growth that's already taken place. I'm very proud of the direction that I'm going in. I'm becoming more of the woman that I've always wanted to be, but it takes bravery to exercise your right to be that. This world will set you up and make you feel like you can't be yourself. I'm proud of my bravery in accepting who I am.
You're a determined individual, and I know it was a long road to completing Heirloom. Take me through that process.
Recording costs money that I still don't have. Through the grace of God, I had people like [recent Top Dawg Entertainment signee] SiR who would let me slide in and record because not only did he know how important the record was to me, but he heard it and believed in it. Recording was initially a huge problem for me because I didn't have a consistent place to do so that would give me the quality sound that I needed to have.
I also felt the pressure of time with getting the album done. People who are more relevant than me career-wise drop records way more often. There was this misconception that I thought I was on already and too good to put out music. Actually, I didn't feel my work was developed enough to give to the world. I'm trying to make sure it's pleasing to my heart and ears and I want it to sit right with y'all, too. I was super insecure and I worked through that in doing Heirloom. I got more confident with every record.
How would you say the album has been received so far?
I was at a vegetarian restaurant earlier and Shafiq Husayn came up to me and said, 'I'm proud of you, the record is incredible.' You gotta understand, that's Shafiq from Sa-Ra despite me knowing him. I'm still looking at him like the musical genius that he is and he's genuinely excited.
So I go to the car to bring him a CD, then I turn my back to walk away and a woman working at the restaurant counter says, 'Oh my God, I'm so sorry for having a fan moment. My friend recommended your music to me, it's honor to meet you.' I'm shocked people are sharing it. It's spreading every day and it's only been out for a month.
I'm happy with how it's being received. I had no expectations, I was very nervous about releasing it. Once your album is out there in the world, you're subjected to anything and everything. I'm talking about my real life situations and my family, it's like I was being vulnerable in front of a big group of people and they're okay with that.
People are describing Heirloom as one of the best albums we've heard from a woman coming out of Los Angeles. I know you're not fond of being restricted to the 'woman MC' category.
I feel like it's a backhanded compliment. Thank you, but no thank you. Why don't you just measure it against other albums if you're going to measure it at all? I didn't put this album out to compete. Again, it was to complete something for myself and the people that love me. If you're gonna put me in the fucking competition then measure me equally on skill, production, content, and creativity. It's almost like saying I'm cute for a dark girl. What do you mean by that? The underlying sentiment is that most women can't rap or they don't rap as good as men.
Or they're not making incredible music.
Since people are saying I'm making incredible music, measure me against the ones that are making incredible music whether male or female. Give me that, I don't mind being measured against whoever everyone says is the greatest because that will make me even better. So why won't you afford me the opportunity to grow? Don't put me in a little box and expect me to thank you for that. I can't; it's underhanded and it undermines my talent.
You've worked with big mainstream names from Kendrick Lamar to Ty Dolla Sign. What do you think has kept the masses from catching on to your work?
Me. I wasn't consistent enough, I didn't believe in myself enough. I thought I would be better as an artist that was in support of other artists playing a background role. I didn't feel like hip-hop had a place for me. Your self-doubt will kill you off before anybody else does. Why would anyone put their money behind someone who won't do it for themselves? I have to take full responsibility, no matter what was having an effect on my mind at the time. At the end of the day it was me that held me back from going where I needed to go.
—Jesse Fairfax