FEATURES
Idris Ackamoor & The Pyramids Continue Their Musical Odyssey on "Shaman!"
By Dean Van Nguyen · August 06, 2020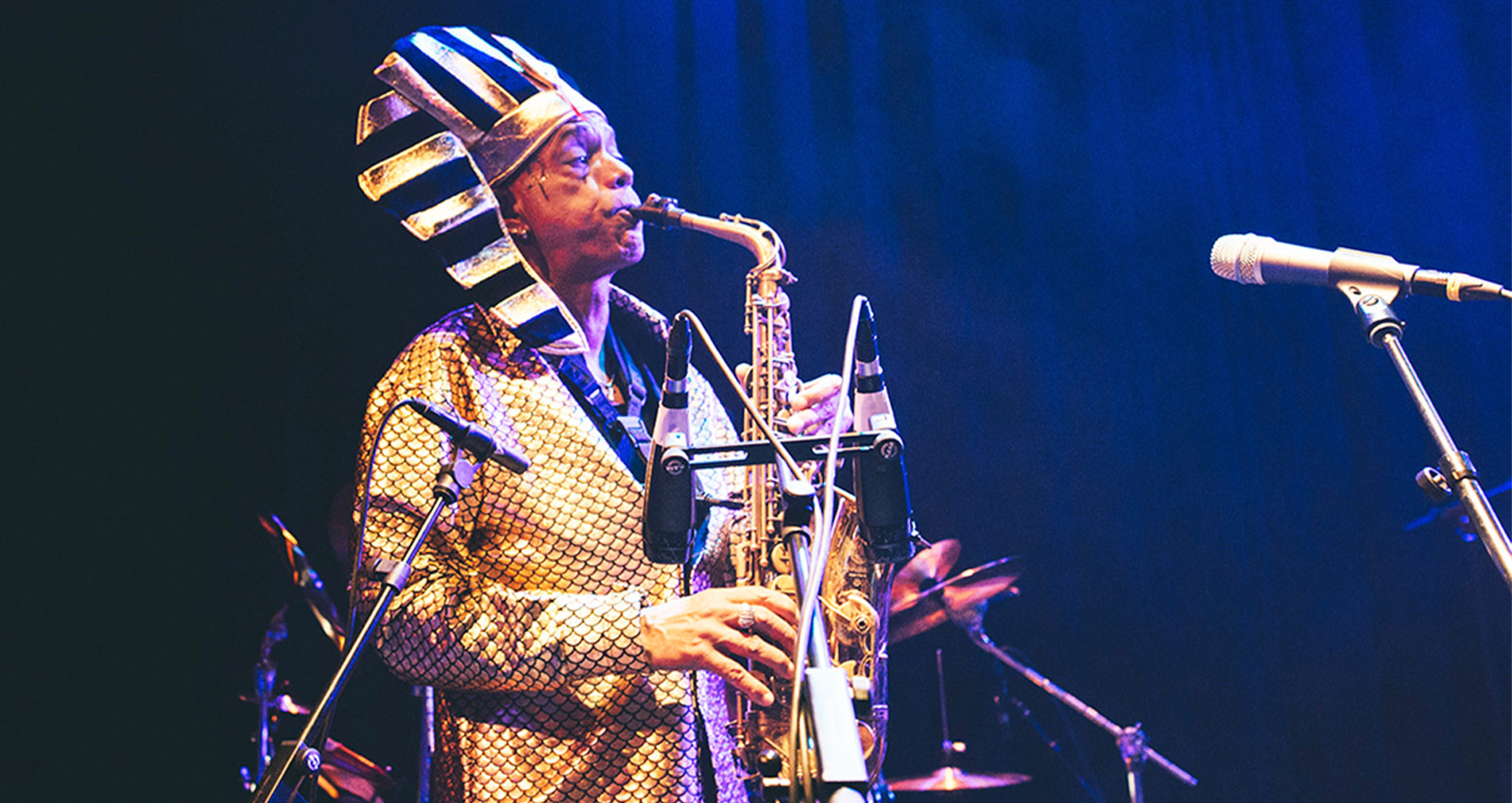 "A lot has to do with sheer dogged perseverance," says Idris Ackamoor on the endurance of the project that has defined his musical life. Ackamoor, an alto saxophonist, first met Margaux Simmons and bassist Kimathi Asante while they were students together at Antioch College, yet it was in Besançon, France in 1972 that the trio founded a group called The Pyramids. From there, they performed their first shows in Amsterdam before adding drummer Donald Robinson and embarking on a nine-month adventure across Africa. The group recorded three independent albums during the period—Lalibela in 1973, King Of Kings in 1974 and Birth / Speed / Merging in 1976.
After spending some time orbiting the Bay Area arts scene, they disbanded in 1977. Yet the legacy of the group continued to tug at Ackamoor's heels. The Pyramids reformed several times before a lasting reunion occurred a decade ago—albeit with a line-up that's constantly been in flux. Now, Ackamoor is envisioning a 50-year reunion with a lengthy guest list.
"By 2022 I want to do a large orchestra of all the past members and everybody else I performed with as The Pyramids, as well as the musicians I performed in my other groups prior to The Pyramids and with whom I'm still recording with."
"The only person that has made every show and every tour in 10 years is myself," Ackamoor says. "The consistency of my compositional vision has always been something that has played a really good part in the longevity of the band."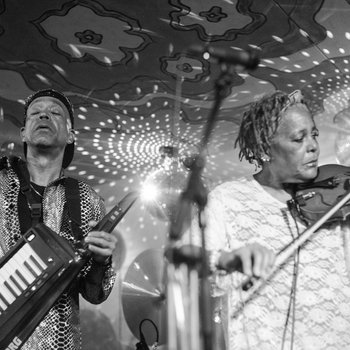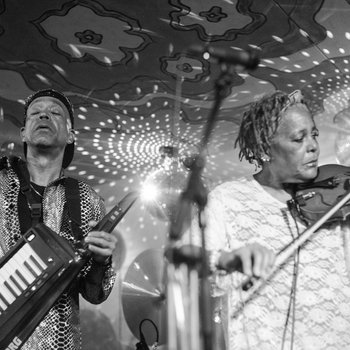 Merch for this release:
2 x Vinyl LP, Compact Disc (CD)
The latest album from the band now billed as Idris Ackamoor & The Pyramids is Shaman!, a daring suite that incorporates sub-Saharan jazz, free jazz, Afrobeat, Afro-Cuban music, spoken word, and more. As is often the case with legacy groups, various issues—including health—have led to the regular alteration of the line-up, but as far as Ackamoor is concerned, The Pyramids have an open-door policy on allowing former members to return home. Recorded in London for Strut Records, Shaman! features Pyramids co-founder Simmons on flute, longtime band member Sandra Poindexter on violin, Bobby Cobb on guitar, and three new members from Europe in Jack Yglesias, Ruben Ramon Ramos, and Gioele Pagliaccia.
The Pyramids' 2018 album An Angel Fell engaged with socially conscious and political themes such as climate change and police violence; it contains a track titled "Soliloquy to Michael Brown." Ackamoor envisioned Shaman! as a more introspective follow up. "I take the personal as political, because I believe that if you're talking about personal issues you're also talking about political issues," he says of Shaman!.
The 76-minute odyssey breaks down into four sections, each containing two tracks. The opening act is called "Fire Rites of Penance" and draws inspiration from the ceremonial firewalking used by ancient cultures to test courage, inner strength, even faith. "The idea of Shaman! is I'm telling the truth," says Ackamoor. "This is my right to penance."
Inspired by a break-up, the opener and title track represent Ackamoor's ideas on masculine vulnerability. "A lot of times we think men are supposed to be so macho," he explains. "Normally, it's thought that the man breaks the woman's heart, but a lot of times the woman breaks the man's heart. "Shaman! is really about an episode in my life where I didn't want to break up with my girlfriend, but we all sometimes go into that situation and it's all about begging for forgiveness—if I was a shaman, if it was a magician, if I could change what has happened, if I could reach down to your soul and massage your heart and get it beating again."
The second act is titled "A Glimpse of Eternity:" "To look at eternity is something that has always fascinated me," says Ackamoor. "What is forever? What does it mean? So it's my musical comment on eternity." Ackamoor initially wrote the song "When Will I See You Again?" about mass shootings in America—how at the drop of a dime, you can lose someone forever. "A hole opens in your heart when too soon a loved one parts," he sings. But his words have taken on new meaning in the months since the song's composition as COVID-19 has forced loved ones to separate without a return date in sight.
Merch for this release:
2 x Vinyl LP, Compact Disc (CD)
"It so happens that [the title] really does apply to where we are at right now. Many of us are in lockdown. When will I see my friend? When will I see my family? And then, of course, to victims in the world who have died because of this pandemic, it's like 'When will I see my loved ones again?'"
The third act, "Whose Shoulders I Stand Upon," nods to Ackamoor's greatest inspirations—including Cecil Taylor (who he studied under at Antioch College), John Coltrane, and Pharaoh Sanders—while the final section finds the musician pondering the terrible legacy of slavery. "The last act is basically about the last slave ship," he explains. "It's not necessarily verbatim. It's not like a book because the idea is that listeners can make up their own minds. You listen to it and you tell your own story from hearing the music. I'm telling you my story."
Ackamoor was born Bruce Baker in 1951. His mother was a school teacher and, as Ackamoor says, became prominently involved in one of the longest strikes in Chicago school history after double shift schooling was proposed as a way to relieve overcrowding in predominantly black schools. This would essentially mean children received half as much education.
"My mother protested that and she organized a one day stay at home for all the parents. So they did," he says. "All the kids stayed at home for a day, but because of that protest she was fired. Her firing led to this long school strike. I was maybe 10 or 11 at the time but I witnessed it, and I witnessed what she went through."
Cut to 2020, and double shift school has been put forward as a way of facilitating children returning to school in a COVID-19 world. All around him, Ackamoor, an incredibly youthful 69 years old, can't help but notice history repeating itself.
Merch for this release:
2 x Vinyl LP, Compact Disc (CD)
"I'm a child of the '60s. For me, the '60s was one of the most incredible decades of the 20th century. There was so much change," he says. "You had the assassination of Martin Luther King. You had the assassination of Robert Kennedy. You had the Democratic riots in Chicago. I grew up in Chicago—even though San Francisco has been my home for a long time, I still have a lot of the Chicagoness in my blood. Civil rights? It's funny we're revisiting civil rights now. I grew up during the whole civil rights struggle.
Ackamoor is a relentless tourer and would undoubtedly be rolling Shaman! out in venues right now had the global pandemic not halted all such plans. But he's using the time to better himself by putting in extra practice and doing more composing. He hopes that some of his old solo work will get the reissue treatment. And when the time comes to strike out once more, Ackamoor insists he is "going to be like a monster coming out, playing wise."
"My writing and my music is influenced not only by the past but by everyday happenings that are going on right now," he says. "I just composed a new composition I hope will be on my next album, and it's called "Heroes." And it's mainly for all of the people, all the emergency personnel, the nurses, the doctors, everybody who has taken their life in their own hands all over the world to help us. People who got sick, with no regard to their own personal safety."