FEATURES
Huey Briss Might Be the Next Big Rapper to Come Out of Long Beach
By Max Bell · June 20, 2018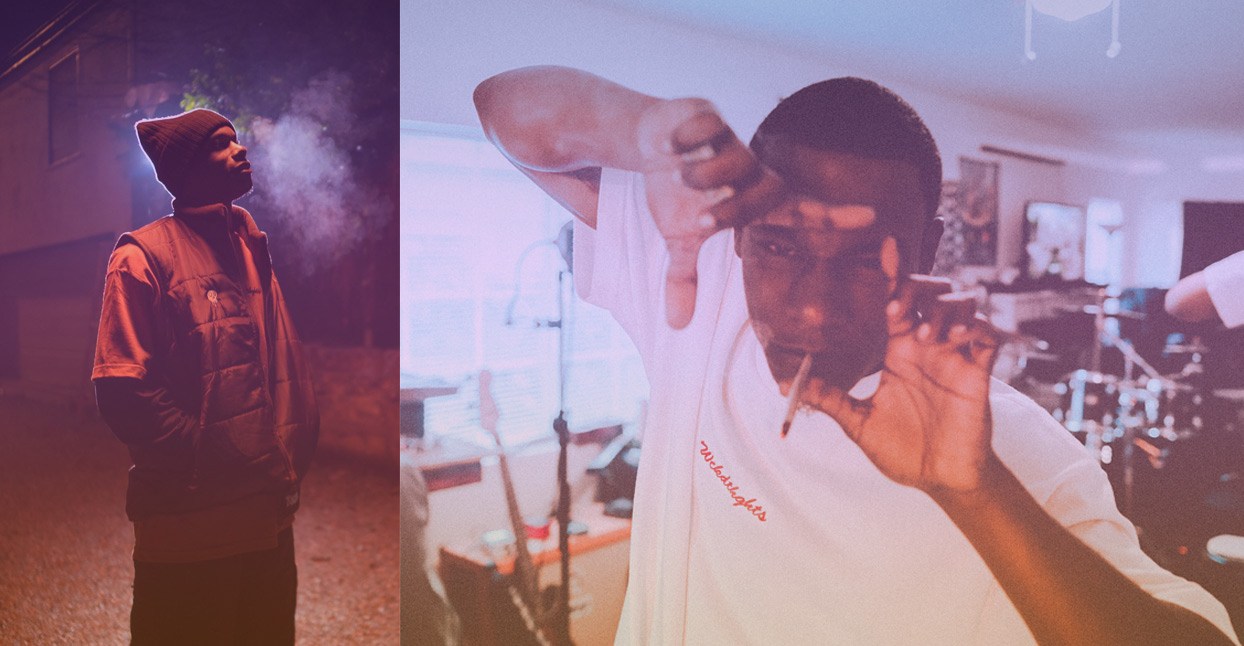 In 1993, Snoop Dogg sauntered across the roof of World Famous VIP Records while scores of fans danced in the parking lot below. Draped over the side of the building hung a black and yellow banner emblazoned with the words "Long Beach." Filmed for the "Who Am I? (What's My Name?)" music video, the scene became the implicit coronation of the city's rap monarch. Twenty-five years later, Snoop Dogg is still king.
"Snoop fucked it up for every Long Beach artist," rapper Huey Briss says of the legendary lyricist. His tone is somehow both reverent and exasperated. "He's too big."
Briss speaks while sitting on a concrete bench in Grace Park, his oversized T-shirt and sweats accentuating his slender frame. It's a small park in north Long Beach with a plastic playground and a patchy field of alternately green and browning grass, just steps from his grandmother's home, where the 25-year-old rapper remembers first hearing Snoop Dogg's G-funk interpolations of his father's Parliament Funkadelic records.
"As an artist, period, you're never going to get as big as Snoop Dogg," he continues. "He is Long Beach."
Arguing with Briss would be absurdly contrarian. Snoop Dogg's rap legacy is indelible, and his countless non-rap ventures have only fortified his eminence in pop culture. Since the end of the aughts, however, several talented and increasingly prominent rappers from or intimately tied to Long Beach have emerged. Vince Staples, Joey Fatts, Boogie, Buddy—each has, to varying degrees, found an audience well beyond the city. Following the release of Black Wax, his seven-track EP with producer Nikobeats, Briss might be Long Beach's next ascendant star.
Released in early February, Black Wax is one of the year's best projects from anyone in L.A. County. Like his above-mentioned peers, Briss does not traffic in sunny G-funk revivalism. Instead, Nikobeats's production is firmly rooted in gritty East Coast boom bap, the brittle percussion and cavernous low-end complemented by lugubrious samples. These beats pair well with Briss's sonorous, slightly gravelly voice and his grim, incisive narratives about navigating north Long Beach and the rap industry.
Lead single "Gil Scott Never Lied," which features scratching from Dilated Peoples DJ Babu (who is also Nikobeats's father), illustrates all of the above. Over a glinting, ominous beat, Briss turns his caustic wit in every direction. In one verse, he laments inequitable record contracts and living with his mother before lampooning fake thugs and image-obsessed rappers. Like every song on Black Wax, "Gil Scott Never Lied" evinces Briss's captivating, unrelenting honesty and his adamant rejection of anything that resembles pretense.
"I feel like there's a lot of people who—regardless of how ill they are—do not tell their own story. And even people who might be telling their story aren't genuine in the way they deliver it," Nikobeats says when discussing Briss's appeal. "Briss does both."
Born Bryant Lamar Looney II, Briss is the eldest of four children. Growing up, when he wasn't with his mother, he was under the care of his grandmother and his father. Briss's grandmother instilled his love of reading and writing while his father, a member of the Boulevard Mafia Crips, did his utmost to protect Briss from gang life.
"He never wanted me to [bang]. He never glorified it," Briss says. "I didn't find out until I noticed that all of his friends had the same tattoo."
Though Briss's father succeeded in deterring him from joining a gang, the Long Beach school arguably system failed him. Labeled a "social butterfly" with a "defiant attitude"—Briss claims he still possesses the progress reports—he bounced from one grade school to another. By the end of his freshman year at Jordan High School, Briss was turned off of academics entirely and dropped out.
Inspired to rap after watching a friend receive praise for his freestyles, Briss did everything from selling weed to thrifting clothes to working as a longshoreman to finance his earliest recordings. "We got awards when people didn't die that month," he says of brief stint parking trucks amidst swinging cranes. Somewhere along the way, he adopted the name Huey Briss. A play on the Greek-rooted "hubris," Briss says the name is partly ironic. "I do deal with pride, but I really don't. I'm willing to do whatever it takes to get it done."
Since releasing his 2014 debut, Ash Lightly, this self-professed tenacity hasn't wavered. More importantly, Briss hasn't squandered a single opportunity. In 2015, when Jonny Bell, the frontman of Long Beach-based rock band Crystal Antlers, offered Briss gratis studio time, Briss and his friend/fellow rapper Seafood Sam recorded 2015's RFU Volume 1. Last year, after a video of Briss freestyling got the attention of Adam Grandmaison (aka Adam22), the host of popular rap podcast/YouTube show No Jumper, Briss messaged Grandmaison on Twitter and eventually freestyled for his In the Kitchen series.
Briss's relationship with Nikobeats might be the most fruitful, though. After meeting through a mutual friend, the duo's near-instantaneous bond spawned 2017's Sidekick Files Pt. 1. On the strength and success of Black Wax, they recently opened for Evidence at the Novo, one of largest rap-friendly venues in L.A.
Briss is also rightfully proud about acquiring a manager, meeting with A&R from labels, modeling for Champion, and starting a clothing company called Briss Don't Miss. However, Briss, ever the realist, knows the roads of his forebears and peers well.
"I'm so far at the bottom it's scary. I may be trying to make it for another 10 years," he says. "But it always seems like the people who have that mentality, right when they say, 'I'm in it for the long run,' they blow up."