FEATURES
How Nature Inspired Dust Moth's Surging Hard Rock
By Zachary Goldsmith · July 26, 2016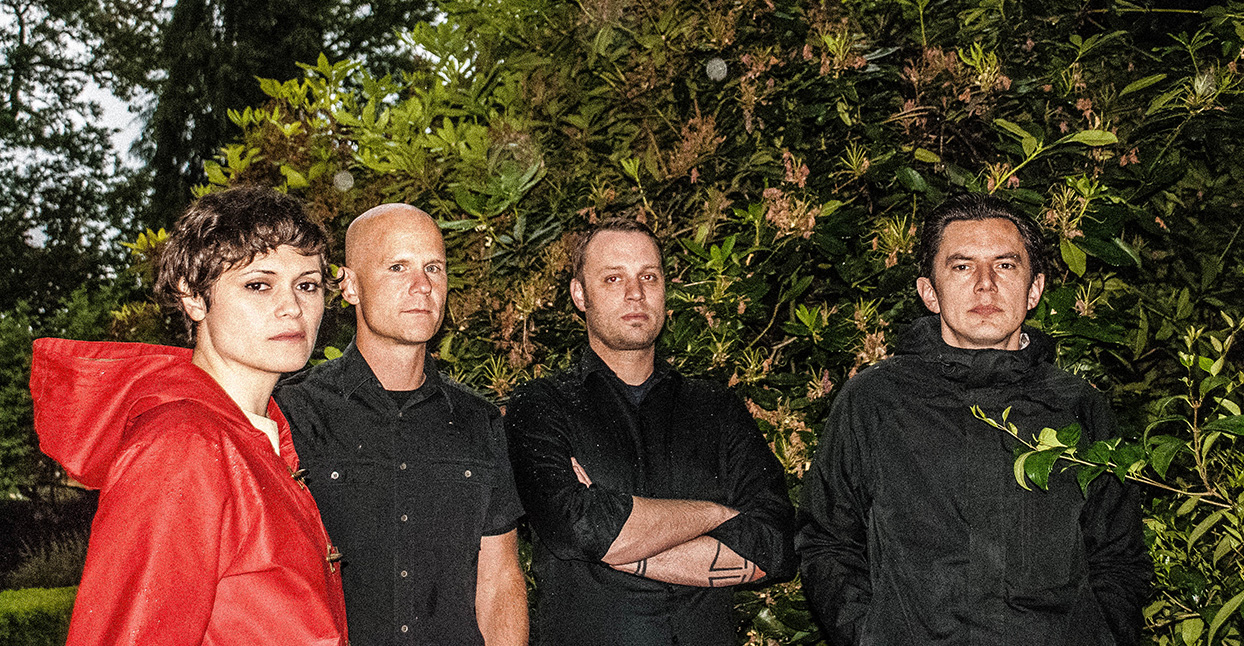 Mention the Pacific Northwest, and certain images may immediately spring to mind: a sky streaked with wispy grey clouds; a thickly-wooded forest; fog hanging gently above a lake. The music produced in the area often mirrors those landscapes in mood: think the understated emotionalism of Death Cab For Cutie or the beatific harmonies of Fleet Foxes. The Seattle band Dust Moth takes a similar tack—their music is both immediately engaging and emotionally soothing, and that is surely indebted to the landscape around them.
As guitarist Ryan Frederiksen (who also plays in These Arms Are Snakes, Narrows, and Nineironspitfire) puts it, "Our geographic isolation forces us to stay inside and spend more time fine-tuning. I think in some ways we come across as cold and foggy at first, but when you start to pick us apart, that's when you find the beauty." Take, for example, "Shelf Life": The song opens with driving drums and thick layers of synth, but, as the smoke clears, Irene Barber's voice pours down thick, and the track becomes an elegant, surging ballad with a stunning chorus.
"It would be hard not to be connected to the landscape up here," says Barber. "I'm pretty sure you can spot a grouping of evergreens or a mountain range from any given spot in Seattle." Hiking along well-worn trails—better for her visually-impaired dog—helps Barber write melodies. "They never come to me when I just sit down and try to force it," she says. "They come when I'm doing things like walking the dog. I've learned to carry my phone on walks, so I can hum them into it. Like a weirdo."
The payoff for Barber's "weirdness" can be heard throughout Scale, which balances dark lyrics with expansive, skyscraping hard rock. Tracks like "A Veil In Between," which Ryan said deals with "anxiety, and how it can have crippling effects on people," and "Lift" set churning, pitch-black guitars against Barber's high-arcing vocal melodies. The end result is a beautiful ebb and flow of storm and calm.
Where their previous EP, Dragon Mouth, often felt thin and impersonal, Scale presents a band brimming with confidence, making balanced, tautly-constructed songs. Bassist Steve Becker uses his instrument to provide harmonies and color, functioning more like a second lead. And Barber, whose voice bears a passing resemblance to both Yuki Chikudate (Asobi Seksu) and Karen O (Yeah Yeah Yeahs), unleashes a performance on Scale that is both dramatic and deeply felt.
Though they began as a sextet, Dust Moth currently operates as a four-piece; they find the scaling-down actually allowed them to focus. "Honestly, it's pretty nice," says Becker. "We didn't think, 'Hey. let's make our band smaller' or anything. But, as a byproduct of being a smaller unit, you can change the sound of things with more ease. It allows for more fluid movement in the music when there's less going on. It leaves gaps and air in the music that's hard to attain when there's a ton of instrumentation."
While Dust Moth have long been embraced by the metal community, Becker enjoys playing at the borders of generic conventions, "I personally don't think we're a true metal band," he says, "But we have certain tendencies that absolutely have metal leanings. I think it's awesome that we're stretching genres." Frederiksen thinks the band has a closer kinship with bands like Sigur Ros, saying, "I think we have moments of heaviness, but it's only heavy in comparison to other elements in the song."
That balance between power and melodic hook is what makes Scale so remarkable: it's an album full of dark, driving songs that gently burrow their way into your brain. "I'm shocked when people sing along," Barber says. "I almost don't know what to do with it. 'You know the words? I'm embarrassed!' And at the same time I'm so incredibly happy to be connecting. Imagine, someone singing along to our songs in the car! That melts my heart."
—Zachary Goldsmith