FEATURES
Horsebeach Updates the Singular Melancholy of Manchester
By Jamie Milton · December 22, 2016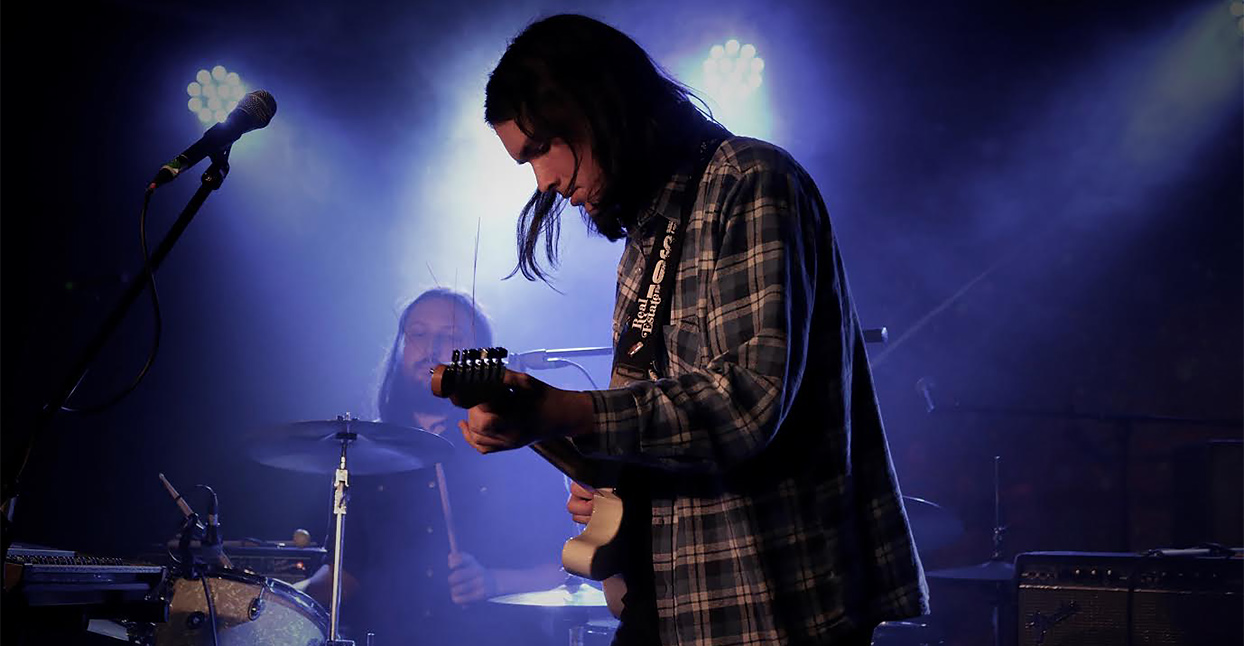 Pick apart the celebrated scenes stemming from Manchester, England, and you'll find a certain darkness lurking beneath all of them. Some of the touchpoints are obvious: the dystopian gloom of Joy Division, every word Morrissey's put to paper. But even through the fog of Madchester's ecstasy-fueled release, there was a sense that it existed partly because there was a need to escape from drudgery.
As Horsebeach, Ryan Kennedy makes a similar kind of comfortingly familiar, jangly music as his American peers like Real Estate and Beach Fossils—but his first two albums are hardly lazy-day beach highway road trips. Kennedy sings of loss, longing, and desire against a backdrop of reverb-drenched guitars. Throughout both records, escapism is coated in a greyish melancholy undertone—the kind that can only be found in Manchester.
Kennedy has a long history with the city. For years, he's worked at celebrated record store Piccadilly Records—which is where the desire to start Horsebeach began.
.
00:10 / 00:58
How did working in Piccadilly Records, being surrounded by all this music, make you want to become a musician yourself?
It allowed me to watch how other bands were able to do it themselves, just to get the knowledge of how the process works—the idea of distribution, how labels put stuff out. My job over there was to go through all the new releases each week and do a little review. So I was reading about how each one was made, and I began to understand how to put a record out. The process seemed a bit scary, but it turned out not to be. And you've also got a place to push your stuff. I could tell customers to listen to my band. I did that for a little while, and then I realized I was probably annoying people. Loads of other bands come into the shop and put promo CDs at the front of each shelf. I always made sure my stuff wasn't in the 'Best of the Week' section, because that looks a bit sketchy.
You can get away with a little bit of self-promotion, I'm sure.
The thing is, the bosses wouldn't go for it if they didn't like it. And they have quite often told me when they don't like something. When I first started out, I gave them this really crappy CD full of stuff I'd recorded very poorly. They were like, 'We're not gonna put it in the shop'.
You recorded straight to tape, at the start. Was that out of necessity, or a desire to create a specific aesthetic?
The tape thing was just about the sound. On something like Logic, you can cheat by recording guitar and looping it. With a tape, you have to record from beginning to end. It forced me into recording properly, making it more authentic.
The music scans as jangly beach pop, but there does seem to be a dark undercurrent there, too. Is that the sound of Manchester, in a way?
It wasn't a conscious decision. I very much wanted to create that kind of East Coast, USA sound. I grew up listening to a lot of The Smiths, though—music that was a lot darker in nature. There's a bit of that underneath, definitely. People connect it to the whole Manc miserabilism. It is always raining and it is always dark and grey. Maybe that's come through. But I never set out to have that sound—it's just there. When I was making the first album, I was surrounded by grey buildings. Wherever you looked, it was surrounding you at all times. I find it easier to write songs with a hint of gloominess in there. When everything's major key and 'Life is great', I find that difficult. Maybe that says something about me.
.
00:10 / 00:58
Is it right that when you first started making music in your dorm, and you wouldn't record vocals because someone might be listening in?
On one side, I could physically hear my neighbor moving in his chair, and on the other, I could hear someone having a discussion with their mate. The one thing I never want people to hear is me trying to write a song. 80% of what comes out is wrong until it's finished. When I've got my headphones on and I'm recording vocals, all I hear is the vocals out of context. So I was super self-conscious about that. When I was trying to write like that, it all sounded like Beach Fossils. I was mumbling into a microphone trying to make sure people couldn't hear, and I'd add loads of reverb and delay.
If there's a direct thread between these records, it seems to be the longing for someone else. Is that fictional, or does it stem from real relationships?
For the first album, there's a song called 'Even,' which is fictional. It's just a story. I find it easier to write about love and longing. Love's a really beautiful thing, but it can also be fleeting. That conflict of feelings is quite easy to put into a song. But a lot of them are personal and about things that have happened in the past. The second album is more about what happened since the first one: Going on tour, moving away, friends going through that kind of thing. And the third album is all about me. A lot of stuff's happened.
For the third record, are you going to be a bit more adventurous with the title?!
I was thinking of just doing III—or 'IIII', just to confuse people. But no, it's going to be called Beauty and Sadness. It's split into two parts. The A-side is 'Beauty' and the B-side is 'Sadness'. Our manager says it's a break-up album, but that's only because I broke up with my partner when I started writing it. It's a sadder album, a more personal album. It was all happening for a reason. There's the sadness of everything happening, but I was learning to live on my own for the first time. I was figuring out that it's actually ok.
.
00:10 / 00:58
You played with Mac DeMarco recently. Did you end up hanging out with him?
That was great. We played Albert Hall. I'm always concerned about meeting people I hold in such high regard, in case they're horrible, but I knew Mac was supposed to be a really nice guy. We were all sitting in the dressing room, and their guitarist came over in his briefs and started doing yoga. He was casually chatting to us while bending over backwards. There's this karaoke bar called Charlie's that every visiting band tends to play. I don't know why—it must be renowned for something. Mac came into the dressing room and said, 'We're all gonna head to Charlie's!' So we went along and ended up spending the night singing and slow-dancing with him, chatting for ages about various synths and recording processes. And I've never seen anyone deal as well as he does with fans. He has so much time for everybody. One fan followed us to the karaoke bar, and he was super intense. We were sat outside having a cigarette and this guy came over, leant in and put his hand on the wall. He was saying, 'I don't think you know how much your music means to me.' And Mac replied, 'You just need to be real about it. You just need to be cool.' Really calm and collected. He was super chill.
What karaoke song did you sing?
It might have been 'Careless Whisper' by George Michael, actually. Possibly. That's a good karaoke song. I wish I could remember more, though. I remember slow-dancing with someone's mum who'd turned up, though.
—Jamie Milton