FEATURES
Rescued From Obscurity, The Heshoo Beshoo Group's Debut is a South African Jazz Classic
By Jesse Locke · October 19, 2020
The cover photo of Armitage Road, the sole album by South Africa's Heshoo Beshoo Group, tells a powerful story. Inspired by The Beatles' Abbey Road, which had been released one year earlier in 1969, the cover shows the jazz quintet crossing an unpaved street in Orlando, a township of Soweto. Guitarist Cyril Magubane, stricken with polio from the waist down since childhood, sits in his wheelchair. Without overtly mentioning Apartheid—and thus risking censorship—the image criticizes the prevailing social conditions, particularly when juxtaposed with the neatly painted crosswalk under the feet of the Fab Four.
According to recollections from Heshoo Beshoo bassist Ernest Mothle on the South African jazz site Electric Jive, he first joined guitarist Magubane in a one-off backing band for famed pianist Abdullah Ibrahim (formerly known as Dollar Brand). The chemistry between the musicians was so natural that Mothle remembers crying on stage. Wanting to keep the band going, he and Magubane linked up with brothers Henry and Stanley Sithole, on alto and tenor sax, respectively. Rounding out the quintet with drummer Nelson Magwaza, they named themselves Heshoo Beshoo, which roughly translates as, "moving forward by force."
During a series of performances in Johannesburg, the group captured the attention of producer John Norwell, whose father sat on the board at EMI. This chance meeting led to them recording an album that would be presented exactly the way they wanted it to be. That kind of major label support from EMI imprint Little Giant, followed by a re-release from Columbia in France, was a rare opportunity for South African jazz musicians in the late 1960's.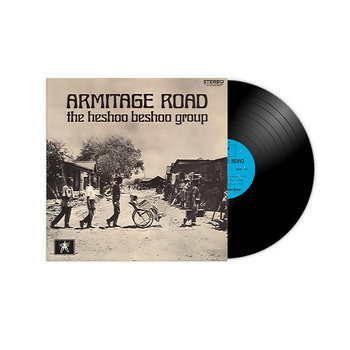 .
00:10 / 00:58
Merch for this release:
Compact Disc (CD), Vinyl LP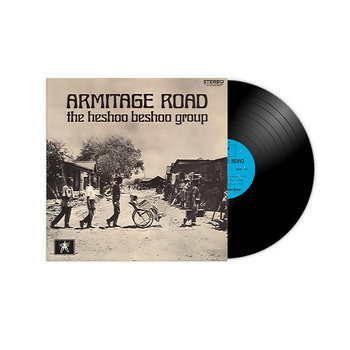 "It was very difficult to get into the studio at that time," says Rafs Mayet, a music journalist and photographer from Durban who was working at the time of Heshoo Beshoo. "Record companies didn't seek out or promote many artists, so it was a big thing to make an album. The ones that came out usually had beauty queens sitting in the park on the cover. It didn't really relate to the serious jazz music being played."
The sound of Armitage Road is just as striking as its cover, combining American hard bop with danceable South African grooves. Guitarist Magubane handled lead songwriting duties, drawing on the influence of Wes Montgomery with his rhythmically plucked strings, while the horns trade off twirling solos. In the final moments of "Emakhaya" ("back home in the bush") the guitar and two saxes lock into beautiful harmony, sounding completely at ease in their tuneful propulsion.
Mayet says many people heard about Heshoo Beshoo, but copies of the album only found their way into the hands of serious collectors. Following the band's dissolution, the Sithole brothers and drummer Magwaza were asked by guitarist Adolphus "Bunny" Luthuli to join his new group The Drive, who went on to win the influential Alco Best Band Competition in 1971. They would become a massively popular soul-jazz act, recording albums for RCA throughout the decade. Tragically, both Luthuli and Henry Sithole were killed in a car accident in 1977.
Nearly 50 years after its recording, Armitage Road made its way to Eric Warner, owner of the Toronto label We Are Busy Bodies, who has also worked in concert promotion and A&R. He first heard Heshoo Beshoo on the Strut Records compilation series Next Stop Soweto and began a global sleuthing mission to learn more. Warner's label may be best known for reissues of Canadian alt-rock groups like Limblifter, but he has branched out immensely in 2020 with the dungeon synth of Nocturnal Effigy, fellow South African jazz artist Winston Mankunku Ngozi, and much more to come.
"We Are Busy Bodies has always been about exposing people to new music," says Warner. "I've released many genres, but until now, I hadn't released a jazz album. It may turn some heads to ask how this Canadian guy went through the efforts to figure all of these things out, but it's led to all other kinds of exciting releases. For me, the end goals are just promoting music I love, giving artists another generation of fans, and being fair and equitable."
After spending a year contacting the original parent labels and their subsidiaries through his existing relationships, Warner also sought out rights organizations and affiliated arts charities. Sadly, none of the band's members are alive to see the reissue, but an escrow fund has been set up for their families, where they'll receive 50% of album sale profits on top of mechanical royalties.
"I always go by the books, and never want to be perceived as that guy who's appropriating culture," says Warner. "I love discovering music and sharing it with audiences, be it for a few hundred, thousand, or more people. To me it's all about transparency and doing due diligence that royalties go to the right source—the families and heirs affiliated with Heshoo Beshoo."