FEATURES
Hank Wood & the Hammerheads Combine Punk's Fury with Soul's Groove
By Fred Pessaro · Photos by Angela Owens · November 15, 2018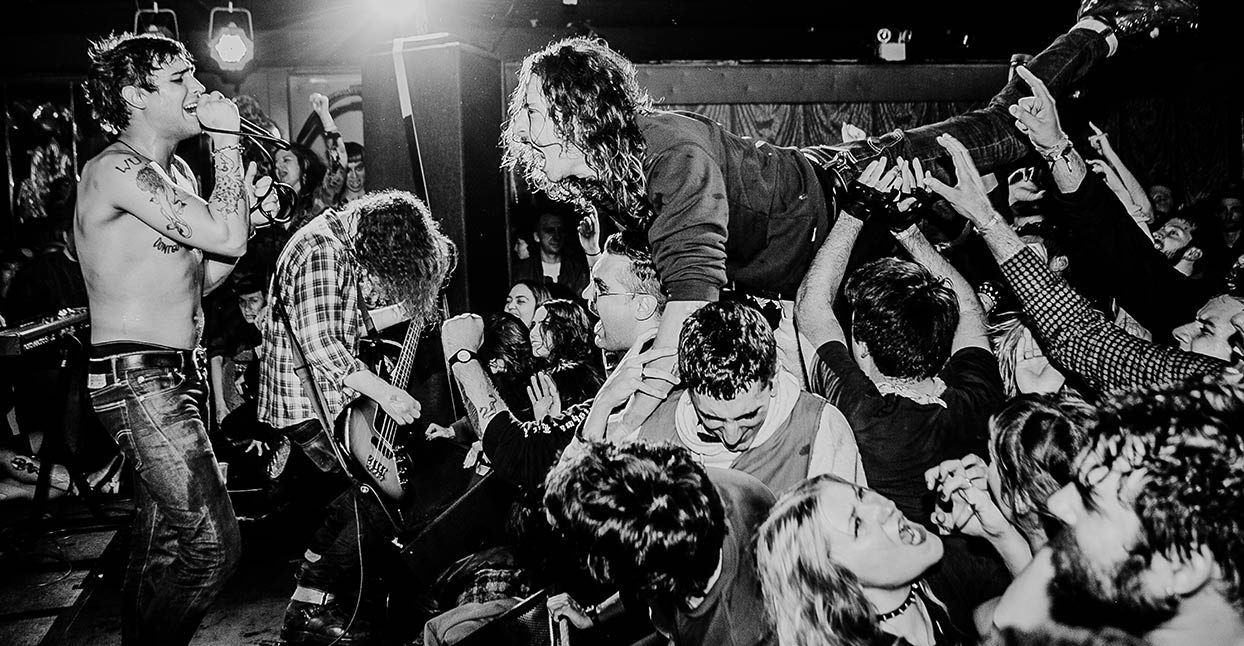 Henry Wood, frontman for the New York punk band Hank Wood & the Hammerheads, is sitting in the apartment of his band's guitarist, Logan Montana, smoking a cigarette and talking about his favorite releases from the legendary NYC salsa label, Fania. "Hector Lavoe, Willie Colon…that was a crazy time in NYC," he says. "I also really love '70s funk and soul—that was the great part about music back then, everyone played with everyone," he says. "Jazz, funk, soul, salsa—whatever it was." To an outsider, the conversation might seem peculiar—two members of the New York's most adored garage punk band waxing poetic on the breadth and merits of James Brown's discography. But to Montana and Wood, a pair of kids who grew up in Manhattan, it's a testament to the musical melting pot that is New York City, and the effect that musical cross-pollination had on their band.
Hank Wood & the Hammerheads have been together for more than eight years—longer than any of its individual members' prior bands, and longer than most of their peers in the NYC punk scene. The quartet cut their teeth alongside a cluster of bands who owed a debt to raw punk and D-beat, but their own music had little to do with that sound. Though it's undeniably fast and abrasive, The Hammerheads mix snarling garage rock with Latin-style percussion and a deep, swerving R&B groove. But the key to their cohesion has less to do with musical kinship than good old-fashioned friendship, the kind that blossomed as early as in elementary school.
Henry Wood grew up surrounded by music. His father played drums in punk bands (including Richard Hell and the Voidoids), and his stepdad was a famous avant-garde jazz saxophonist named Rob Brown. Wood learned how to play drums early, and occasionally sat in with his stepfather and other avant greats, like William Parker and Hamid Drake. Logan Montana was born in Long Island, but spent much of his childhood in Chelsea on 17th Street, where the actor Wallace Shawn was his neighbor. His father was a chef at Café Loup, the classic French bistro that existed for over 41 years near Union Square. Montana's mother was a flight attendant, and eventually became instrumental in charitable organizations like the AIDS Walk and Act Up.
Wood and Montana met in grade school; though they shared a mutual friend, it took them a few years to become close. A mutual love of punk and skateboarding helped bridge that gap, and eventually, they began jamming together. But it was a last-minute cancellation at a Crazy Spirit gig that led to the creation of The Hammerheads, thrown together essentially to fill the open spot on the bill. They recruited drummer Max Quinn, a friend and former bandmate of Montana's. "Logan and I were sort of a package deal," Quinn says. "We were already doing things with Long Pigs [Quinn's band at the time —ed.] and we had played together before, so between Logan and Henry, and Logan and I, it was sort of an obvious fit." The group initially envisioned themselves as a surf band, but "our ineptitude at playing that sort of music made us play something totally different," Quinn confesses. The result was a mash-up of the Sonics, the Spits, the Mummies, and the blues, delivered with raw punk attitude.
The band's success came, at first, from the wild nature of their gigs. Early appearances by the Hammerheads were packed to the gills with friends; stage-diving was commonplace, and general nihilistic punk mayhem was encouraged, treating the audience to a show that was equal parts fun and dangerous. Word spread quickly, and the group's reputation for live mayhem lead to more and more gigs; eventually, an offer from Toxic State Records arrived after a house show in New Brunswick, NJ.
After an admittedly quick-and-dirty 7" for Toxic State, the band recorded their debut LP Go Home! with Jeremy Opitz during a flurry of recording activity (Opitz was also recording LPs for Crazy Spirit and the Dawn of Humans, and completed all three projects in less than 72 hours). Go Home! increased the band's visibility, aided by the fact that it was released in rapid succession with the Crazy Spirit and Dawn of Humans LPs, allowing all three bands to piggyback on one another's success.
.
00:10 / 00:58
Their second album—cheekily titled Stay Home!!—followed in 2014. A departure from their debut, on Stay Home!! the band toyed with song structures and reinvented their songwriting process, but the results left them unsatisfied. "I was writing these bigger keyboard parts and they just didn't translate," Wood admits. "I'm proud of a lot of the stuff on that record, but I feel like we might have got overly heady." After the album's release, Montana took some time off to focus on his other band, Cheena, who were about to release their debut album on the Brooklyn label Sacred Bones. 
The decision proved fortuitous; working with producer and engineer Ben Greenberg on the Cheena LP helped Montana understand the different ways to use the studio. Montana left the Cheena sessions convinced Greenberg could get the Hammerheads back on track, so when the time came to return to the studio, they did so with Greenberg in tow. "It felt way more natural," says Wood. "Greenberg understood us and what we were going for, presenting strong ideas that we could use along the way."
The result was the group's self-titled LP, released in March. The album feels like a kind of rebirth for the band, taking the lessons learned from the second LP and reapplying them with a new style and a new sound. "I started to write more on the piano," says Wood. "I'd bring it to practice and pair it with something that Logan had already did. On Stay Home!!, we experimented a lot with time signatures and new ideas. I feel like we learned how to apply some of those ideas better on the new record." Hank Wood & the Hammerheads distilled the band's strongest ideas into a cohesive, ripping, blues-punk whole, with Greenberg providing guidance and assistance. "He really understood where we were trying to go," Montana says, "so sometimes he could say the things I knew, but maybe didn't know how to express to the other guys."
Fresh, fun, and boiling over with punk attitude and energy, the band maintains a sense of urgency through the album's duration, moving in new directions while offering small winks to longtime fans. "You Wanna Die" feels like a Go Home! outtake punched up with complex blues guitar bends; "It's Lonely in this World All Alone" leans on cavernous blues leads, while Kevin Manion's funk-influenced bassline drives the track forward, and organ work from Forrest Looker adds an overall depth and sense of fun. And while their new maturity as songwriters is evident, the album's urgency feels like a young band frothing at the mouth, hell-bent on proving themselves. 
And while the group is a deliberately lean and DIY operation—no publicists, agents, or managers—that hasn't impeded their progress. To date, the Hammerheads have toured Japan and Australia, the entire United States several times over, headlined festivals, and even toured with indie darlings like Sheer Mag and Black Lips. "I'm happy with the way that the band has grown," says Wood. "It's 100% because of the music and word of mouth. We've played shows with our friends in virtually every city that we tour, and the crowds keep growing. It's all you can really ask for, and it feels right and organic."
Back in Logan's apartment in Brooklyn, Wood is still discussing the everlasting influence of James Brown—not only on the Hammerheads, but punk in general. Considering Wood's live-wire stage presence, it's clear the Godfather of Soul's influence doesn't stop at the recording booth. "I've definitely caught Henry practicing James Brown moves a few times in the mirror," laughs Logan. It just goes to show that sometimes keeping it punk really means keeping it funky.