FEATURES
Guts Club's Dark, Violent Country Fantasy
By Luke Ottenhof · July 27, 2018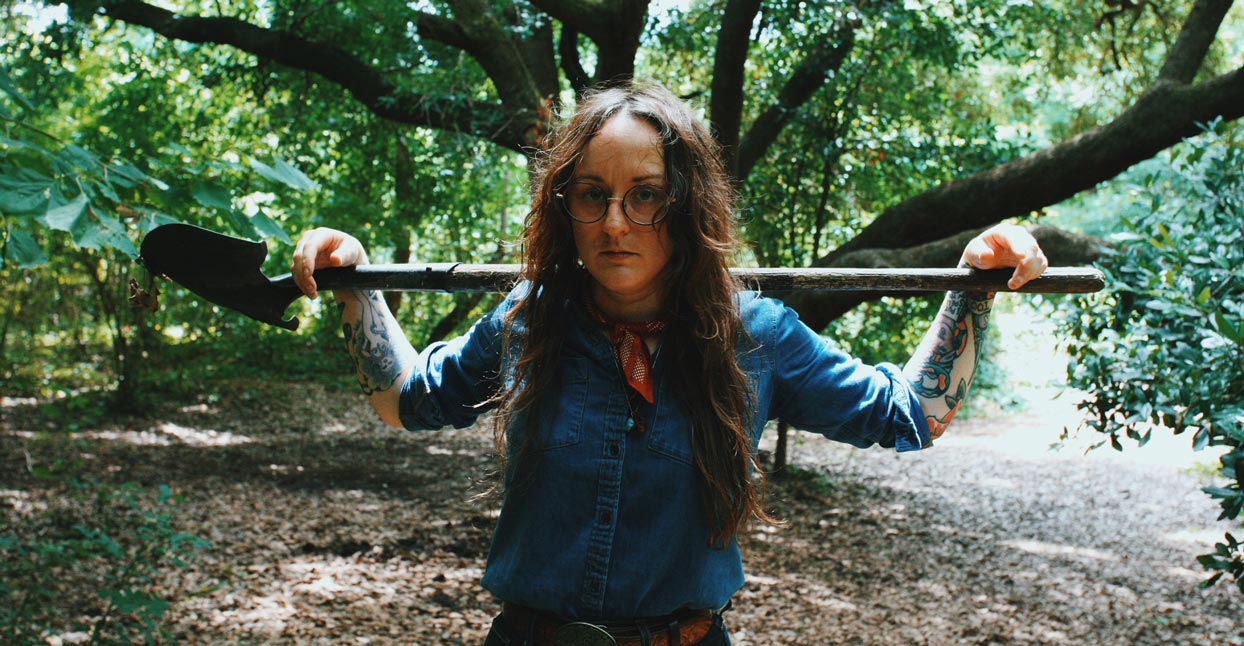 Lindsey Baker grew up in Altoona, Pennsylvania. Altoona is an old railroad town that, to hear Baker tell it, is now "just a big strip mall." When she moved away to attend art school in New York, her intention was to focus on visual art. But when she left New York, she left as Guts Club, her sparse country-noir band.
.
00:10 / 00:58
Merch for this release:
Cassette

"Guts Club was supposed to be an art project," Baker laughs over the phone from New Orleans. She began writing songs to accompany videos she made for classes, but the songs soon became her primary focus. With Guts Club, she incorporates her visual inclinations with lyrically vivid, spare but traditionalist country stompers.
Trench Foot is Baker's third Guts Club record, but it's the first "fully electric" LP, a deviation from Guts Club's usual acoustics. "I feel like I'm on a thing now that I'm happy about, like a path," she says. Baker recruited three local musicians into Guts Club to make Trench Foot, which they recorded in producer Andy Plovnick's house in New Orleans.
The switch to electric is central not just to the record, but to Baker personally—the change directly addresses the optics of acoustic versus electric performers. Baker articulates acoustic performance as characterized by "smallness." "I'm just playing for you guys while you talk about your beers," she says drily. "I feel like there's less respect for an acoustic guitar. There's less command over a room."
Baker notes that this dynamic also fluctuates along gender lines. "I've seen dudes go up there and strum some stuff and people shut up. I know maybe [my] lyrics are kind of difficult, but y'all shut up for that guy." The shift to electric is, at least partially, a deliberate reclamation of that authority. "If they're not gonna make space for me, they'll get out of the way when they need to."
.
00:10 / 00:58
Merch for this release:
Cassette
Trench Foot's mud-caked arrangements range from the plucky, bluesy smolder of "Skin Dryer" to the garage Johnny Cash shuffle of "Pansy From The Hills," which rounds itself out with a fireside group sing-along. Baker feels that her interpretation of country music doesn't necessarily fit with modern iterations of the genre. "It feels like I'm writing a country song based on these elements of country music that I think are the elements of country music, but they're identifiers that probably aren't as obvious to other people," she explains. She names Gene Clark, Townes Van Zandt, and Waylon Jennings as influences, but she sighs, "The thing is, those are all men. I wanna take things from those sounds and repurpose them in a way that makes sense to me, and something that isn't just bowing down to these dudes."
Baker's writing on Trench Foot is buoyed by the cutting, less forgiving aesthetics of her electric arrangements. As on past releases like 2016's Shit Bug, Baker's lyrics are filled with violent tableaus. "Skin Dryer" centers on a murderous figure who hangs their victim's skin on the wall, while a swimmer is struck by a barge in "Mustard Tears," their "rippling muscles shredded and tossed" by "a butcher on the river."
The acts of violence described are an imagined embodiment of power. "There's always this fantasy of violence that pops up, and I wanna say that it comes from my father," she says. "He was an arm wrestler [and] bodybuilder. We'd catch him on the beach arm wrestling people and getting in fights."
But Baker is quick to joke that if she were faced with violence, her reality might be less aggressive than she imagines it. "In my mind, I'm like, 'I would just break their face, this is how I'd do it.' I don't think I would ever actually do that. I'd probably run away, or I'd sit there pissed off at myself for not doing anything. It's a fantasy. If I were to actually do these things, I would be one of the abusers. I would be a violent person. Violence is an easy thing, especially for dudes and folks that come out of a world that is very violent."
The record, then, indulges that fantasy as a means of quenching it. "I do wanna be that person that people don't mess with, but also if I was that person, I would be a scumbag." In fact, Baker laughs that she might never be the toughest one in a room: "I take my glasses off at shows in case somebody flails their arm at me." What Baker articulates on Trench Foot isn't necessarily a desire to commit violence, but rather to possess the capability to do so as self-defense.