FEATURES
First Wave Gurrlcore From Berlin
By Amy Benfer · October 14, 2016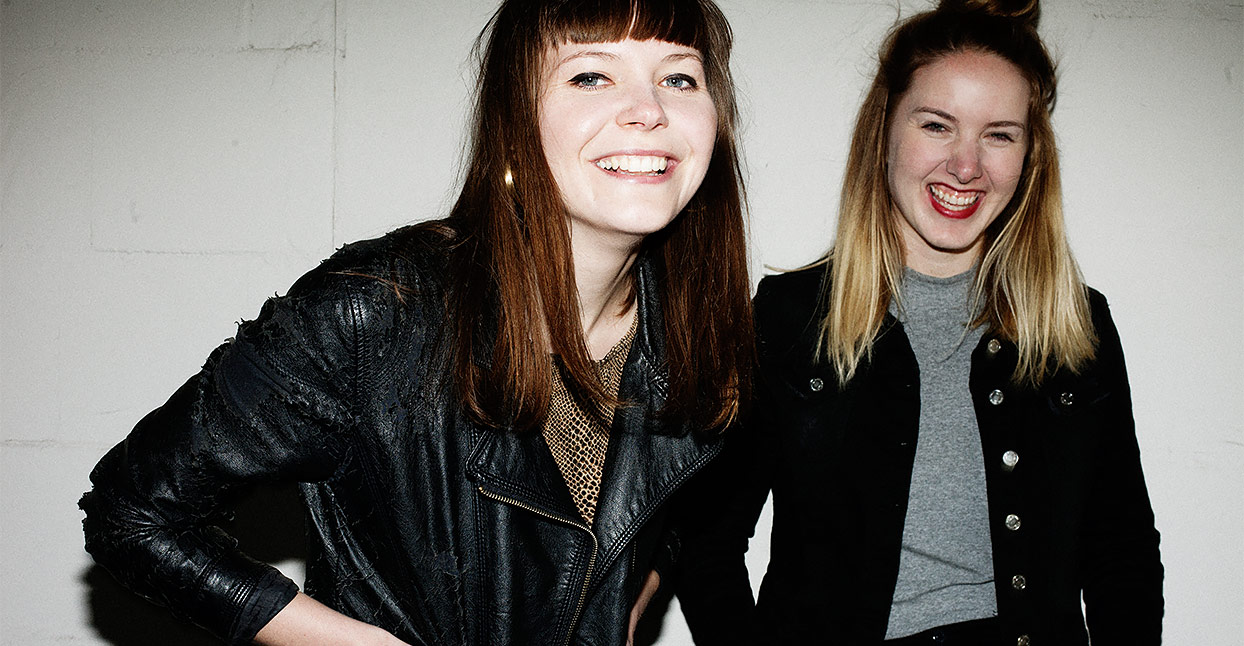 Gurr, the Berlin-based duo of Andreya Casablanca and Laura Lee, were looking for a new way to describe the music on their first full-length LP, In My Head, so they held a contest on social media. The band has a devoted fanbase—nicknamed GurrScouts—who, according to Casablanca and Lee, have been incredibly supportive of the band over the past four years. Some of them have traveled two and a half hours to shows, and have helped the band out with videos. So enlisting them for assistance made the right kind of sense. The results did not disappoint. Submissions included: "Gurrage," "Riot Gurrs," "political pigeon punk," "File under: Bigger than Fleetwood Mac" and "Techno" (the band does not play techno).
"We really liked pigeon punk," says Lee, sitting outside a darkened späti in Berlin's Neukölln district. We met on Mauerfall, a national holiday celebrating German reunification, and realized too late that every bar, cafe, and venue in the city was closed. "It was a tough decision" she says. The winner (and proud recipient of a signed edition of "Piggy vinyl, Record Player Protection Thingy, Poster and Pick") was "First Wave Gurrlcore." "First wave Gurrlcore was cool," says Casablanca, "because it responded to what we have been going through with music journalists—being branded as the 'new Riot Grrl scene.' But we were like, 'No, we're first wave of our own stuff.'"
They may be their own first wave, but fans of Bratmobile, the Raincoats and Sleater-Kinney will find plenty to love in Gurr. And for a band only now releasing their first full-length, they have received the kind of attention that bands with much longer discographies would envy: An early single "Metropole" was included on the soundtrack for the film Desire Will Set You Free, directed by Yony Leyser (which also featured cameos by Berlin legends Nina Hagen, Peaches, and Einstürzende Neubauten's Blixa Bargeld). They have toured with the Coathangers, Bleached, Jimmy Eat World, and Best Coast, with whom they share a left-coast surf-rock vibe. "It was a really big deal," Lee says. "We were like, 'Fave band ever!"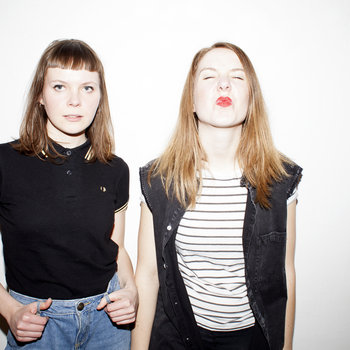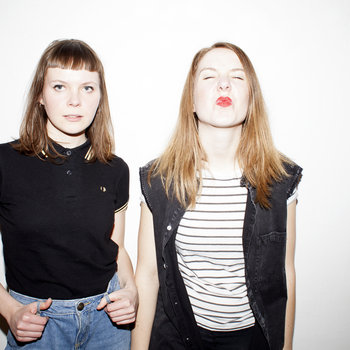 Merch for this release:
Vinyl LP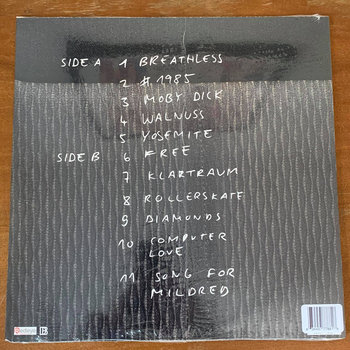 The day we met, they had just returned from the Reeperbahn festival (where they were named one of the Top Ten New Bands by Musik Express). They've also received plenty of attention in the United States: American feminist magazine Bitch noticed their first EP and Stereogum debuted the videos for their first two singles "Moby Dick" and  "Walnuts" (which has an English and German version; the video depicts a road trip ending at Berlin's 8 mm Bar, where Casablanca bartends and the two DJ on Friday nights). And that morning they had just received word that they had been accepted to SXSW. All of which is very exciting indeed for a German band with a self-confessed love affair with American music. "We're going to SXSW," says Casablanca. "We are so happy to go to this country that inspired us so much. And Stereogum featured our videos! We're so happy we're being heard."
The ascent happened quickly. The group's first show was in Lee's friend's living room, but not long after, they were playing at S036, a legendary Kreuzberg punk club. ("It was epic," says Casablanca. "I think we played four songs.") Their fourth show was opening for Peaches at SlutWalk. "She was the final act," Casablanca recalls, "and there was this tiny backstage. We were like, 'OMG it's Peaches!'"
"Some artists just want to release an album," says Lee. "They use all their money, they never play live, then look for a label, then look for shows." But Gurr flipped that trajectory on its head. They recorded a bunch of demos on cassette, then sent them out to venues. Soon after, they both went to college in the United States: Casablanca to the University of California Santa Cruz; Lee to the University of Pennsylvania. "We got to see all this music we loved firsthand," Lee says.
While in the States, they released a a cassette through Drug Party Tapes as well as a co-release with Seaside, California's Burnt Palms (who had contacted them on Twitter). "That was our early start. But it was all kinda like, spattered," Casablanca says. "We really didn't think about what was next. But when we got back to Berlin, we were like, 'Let's do this.'"
They followed their first EP with, in Lee's words, "excessive touring"—six months—and the used the money to fund the their first LP, which was recorded at Kosmic World at Berlin's Funkhaus, a recording complex housed in the former headquarters of GDR radio. The studio engineer used all analog equipment and strictly recorded to tape, with no digital effects—but the band snuck in a few digital effects of their own. "He may have really hated it, but we wanted it," Casablanca says. That spirit of rebellion comes naturally: before joining Gurr, Casablanca was in a punk band, and the first Gurr EP is brimming with riotous garage rock. But, befitting a band who had to invent a genre tag to describe their music, their sound isn't quite so easily pinned down.
"We really like pop music, too," Lee says. "The first two singles on the new album ["Moby Dick" and "Walnuts"/"Walnuss"] are a little bit more mellow and have more guitar riffs and are a bit post-punk."
Their music may be a genre of its own, but as a band, they carry on some of the feminist principles established by the first wave of punk girls. They were delighted when Peaches invited them to play Vice's 10th Anniversary Party in Berlin. "She said, 'Dudes, there are only men in this segment. I have this band Gurr, I'm going to put them on the bill,'" says Lee. "I like that she pays attention to this." At one of their own shows, Lee was approached by a girl who was being pushed by a guy in the audience. When the girl complained, he told her, "You're at a punk show! You should expect these things to happen!" After that, says Casablanca, "We started telling the audience, 'If it's too tight for you, [girls] come to the front. This is a safe space for you.'" Recently, they went on tour with the Norwegian indie band Kakkmaddafakka and were thrilled to see the front rows filled with young teenage girls. "It was so cool, because usually we play venues where everyone is over 18," Casablanca says. "And here was this young, girly audience—you know, teenage girls who get their first pocket money and buy scarves at H&M to wear to shows."
The band also pays close attention to their lyrics, including lyric sheets and entertaining anecdotes with both their physical and digital releases (that's how fans know that Velvet was inspired by a trip to Nico's grave just outside of Berlin; "The Tragedy of S.T." is an ode to a hungover morning spent looking up Shania Twain's Wikipedia page; "Joseph Gordon Levitt" describes an afternoon volleyball game waylaid by a trip to the movies and "Super Tired" recalls an evening involving vomit, a French dude, and the Berlin Ringbahn.) With that in mind, we asked them to annotate a few of the songs off their new album.
"Moby Dick"
Merch for this release:
Vinyl LP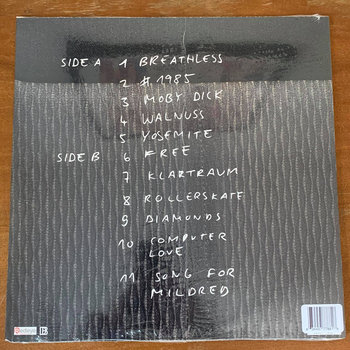 Casablanca: It was finished really close to the end of the album. And I was staying in [Laura's] living room. And I heard this riff, and we weren't sure if it was going to be on the album.
Lee: This riff was just a recording on my phone. When our label heard it, it was so light and sunny and they were like, 'This is our feel-good summer song!' And Andreya wrote the darkest lyrics to it—it's actually really sad.
Casablanca: A lot of crazy things happened here with refugees—a lot of violence against people who were just seeking a new home. In my Masters' studies, I had this project where I wanted to talk about my own ignorance about these things, because I'm always reading about it and talking about it with my friends, but never really taking action. I'm so into pop culture and reading about what's going on on Jezebel. But there's this line, Moby Dick isn't white anymore. It's self-reflective: I should care about what's going on in front of my own house.
"Walnuts/Walnuss"
Merch for this release:
Vinyl LP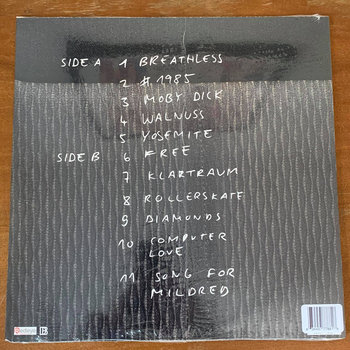 Casablanca: When I started writing songs, I always wanted to write in English, because all the songs I listened to were in English. German sounded foreign to me—or uncool or something. I just continued, and I got into the groove.
Lee: We had this song "Walnuts," and the melody was there, because it came with the English version. Then we just put German lyrics to that melody, and the German suddenly just sounded good to us. We had to come to it from the other side.
Casablanca: I couldn't write the German lyrics. Laura wrote those.
Lee: It's describing the same thing from a different point of view, but the general mood and feeling is the same. Andreya writes: 'The sound is gone of when I fell in love.' There's this feeling of being alienated from when you first fell in love.
"#1985"
Merch for this release:
Vinyl LP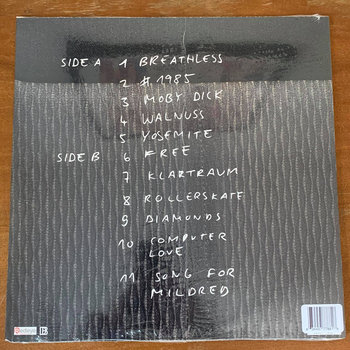 Casablanca: It's about a 30-year-old guy that can't go home at night because he's always at the bar. He's still living the life of a 16-year-old. It's very sad. It's drawn from a real person we know. Who uses a lot of embarrassing hashtags.
Lee: That's why it's called hashtag 1985.
Both: You know who you are!
"Klartraum"
Merch for this release:
Vinyl LP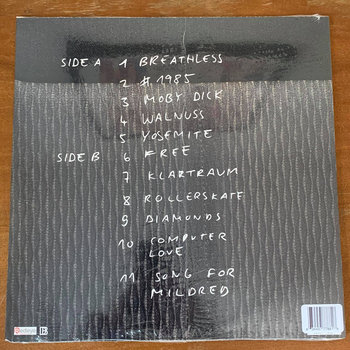 Lee: Our music is pop music-y in the way that it's usually about everyday experiences, or is really relatable. It's harder to express yourself so simply in German.
Casablanca: Like this song. It's just: 'In my head/I feel so bad/Because I didn't go to bed.' It's cool to just repeat that line.
Lee: There's no need to always do heavy lyrics.
"Computer Love"
Merch for this release:
Vinyl LP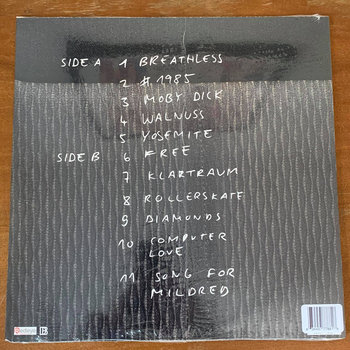 Lee: The song itself is so '60s, then we just pair it with this guy falling in love with his computer.
Casablanca: But less in this romantic way. It's more kind of obsessional.
"Song For Mildred"
Merch for this release:
Vinyl LP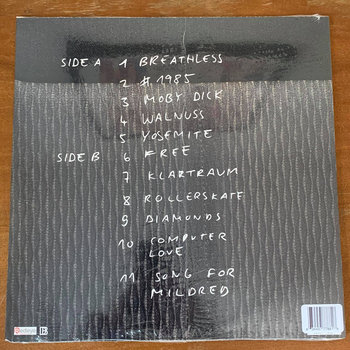 Casablanca: It's about the Robert Altman movie, Three Women. I paired it with the vibe of the Sonic Youth song "Malibu Gas Station" and my own experience when I was in Malibu Beach. These three feelings come together. It takes the character Mildred from Three Women. In the movie, it's two friends, and one woman says she's Mildred, although she was introduced as someone else. It's super freaky. It becomes really violent.
Lee: It's like a scary feeling when a friend is copying you and becoming you.
Casablanca: And everyone around you is like, 'That's Mildred!' And you're like, 'No, I'm Mildred!' And then she wants to kill you.
—Amy Benfer