FEATURES
"Gumba Fire" Looks Back at the "Bubblegum" Side of '80s African Music
By Dean Van Nguyen · March 12, 2018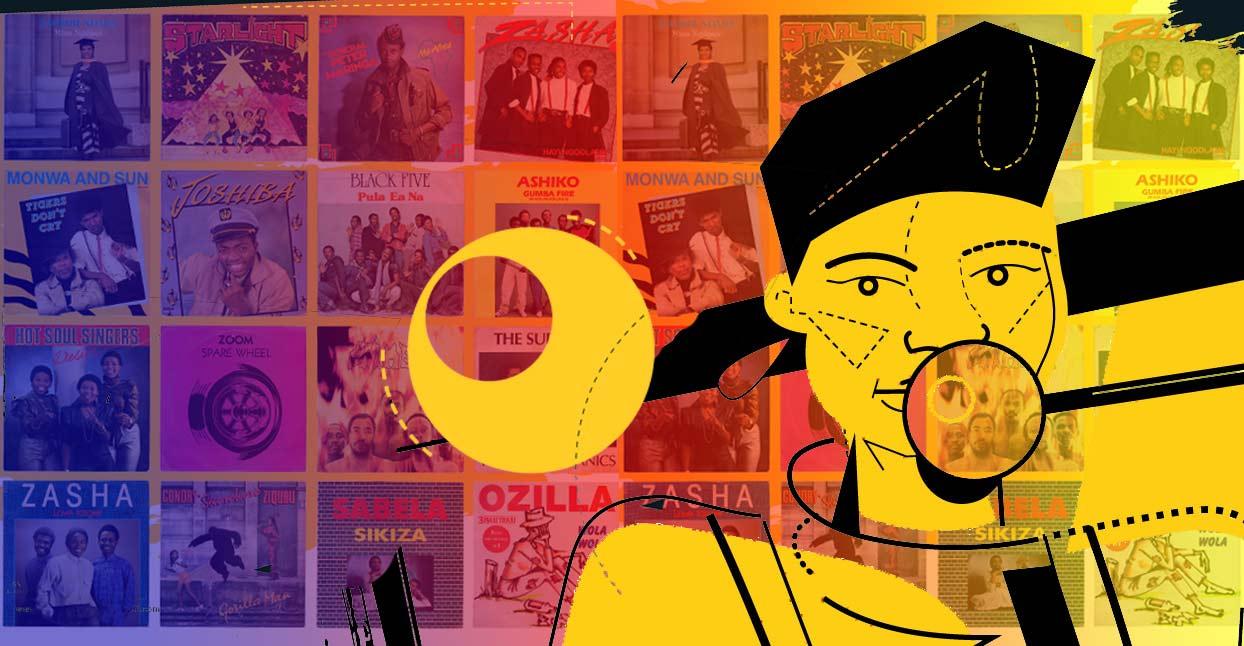 In the 1980s, South Africa was an international byword for injustice. The brutal apartheid-era segregation and discrimination implemented by a white minority onto the black majority meant the nation was viewed globally as a hotbed of racism and human rights violations. Trade embargoes were implemented; in the U.S., college campus protests flared up regularly. Yet within South Africa's borders, the country's music industry was creating a rich pop sound with a flavor that seemed to defy the ugliness happening outside the studio walls.
The new compilation Gumba Fire: Bubblegum Soul & Synth-Boogie in 1980s South Africa—assembled by South African music chronicler DJ Okapi and Soundway Records head Miles Cleret—captures that vibrant era. Popping drum machines, rhythmic synths, glowing vocals, catchy melodies, and lyrics in local languages were all key elements of this modern wave of pop music. Above the beats, the artists sang about the turbulent political climate with fearlessness and clarity.
"In the music that came out of the '80s, artists assumed a very vital role in South African society as educators and as political leaders," says Okapi, speaking over the phone from Johannesburg. "Even music itself became one of the very few areas where apartheid could be confronted or opposed. The music industry is one of the few places where black and white people were working together in the studio, or performing together as equals. I think in that sense, all these political factors just gave the music of that era a real sophistication and relevance and vibrancy that hasn't, in my opinion, really been matched in the post-apartheid era."
Okapi, a white South African, has long been dedicated to the preservation of old records that risked disappearing into time and being forgotten forever. (He's actually fresh off his work on the compilation Pantsula!—The Rise Of Electronic Dance Music In South Africa, 1988–90). Growing up in '90s Cape Town, Okapi bumped popular American music from a young age. As a student, he started crate-digging, discovering old local nuggets that he'd incorporate into his DJ sets. In 2010, Okapi moved to Johannesburg where he did a masters dissertation for which he interviewed 1980s artists to learn about the links between music and politics.
.
00:10 / 00:58
Merch for this release:
Vinyl
"I realized that this music wasn't really being preserved in any kind of way. Information about the music was not really shared, it wasn't really available," he says. "A lot of music that at one stage was very popular in South Africa and coming from a vital and important time in South Africa's history, a lot of that soundtrack was at risk of just disappearing. So I started taking a keen interest in that stuff, buying whatever records I could find. I set up my blog, AfroSynth, around that time, which would have about 2009 or so. Just taking an interest in cataloging and recording information and sharing music where possible."
The idea for the compilation germinated when Okapi was approached by Miles Cleret. A DJ and producer, Cleret founded Soundway in 2002, and has spent the last decade and a half putting out quality reissues with a particular focus on African music that has fallen through cracks in time. The pair soon met up in South Africa, spending a week vibing out and listening to old music. Okapi played some his favorite records, but he knew from previous reissuing experiences on his own label AfroSynth (which grew out of his blog) that a lot of these tracks were tied to labels particularly difficult to access. Soundway, though, gave Okapi extra clout, opening up the doors to catalogs that had previously been inaccessible.
Gumba Fire draws from an era in South African music when domestic artists began outselling international stars. The word "bubblegum" was affixed to the word by the local media. It was intended to be derogatory, implying that these songs were disposable, sugary, and would lose their sweetness quickly. Rather than drawing from all bubblegum records of that era, Okapi instead aimed for a specific strand.
"At that time, the music was becoming a lot more electronic using drum machines and synthesizer and stuff like that, and less full bands," he explains. Since the compilation favored the work of traditional bands that made music with that sugary flavor, Okapi and Cleret came up with the term "bubblegum soul."
"So we just thought, 'It's bubblegum, but it's soulful bubblegum, so let's call it bubblegum soul.' I don't think anybody has necessary used a term like bubblegum soul to describe this kind of music before."
Sadly, many of the artists featured on the compilation have passed away, while others have long left the music industry. "There was a major shift in South African society in general, including the music, in the '90s when the music of the '80s was left behind and people started looking more to the future and to more electronics, specifically house music," Okapi explains. "Unfortunately, those musicians that still survive today have largely been forgotten. They're not necessarily famous people in South African."
There are exceptions. Condry Ziqubu—whose gorgeous boogie number "She's Impossible" is included on this compilation—was so famous back in the day that his celebrity lives on. Stimela, whose track "Mind Games" is also included on the compilation, were arguably the biggest band in South Africa during the era. They played on Paul Simon's mega-selling, South African-influenced 1986 record Graceland, and have continued to release new records right up to the 2010s.
Okapi has worked closely with Ntombi Ndaba, featured on Gumba Fire with the track "Do You Trust Amajita?" Described by Okapi as his "favorite singer but unrecognized today and back then," Ndaba quit music in the '90s and disappeared. Okapi's long-term attempts to track her down eventually took him to the small town where Ndaba grew up, where he resorted to knocking door-to-door.
"To be able to play a part in bringing her back or get her music out there is quite satisfying for me," he says. "My main goal at the moment with my label and the work that I do is really to try to give back to this generation of artists from back then. Given various factors, including the political situation at the time, including the global music industry and music industry itself, most of these artists really were exploited and those who survived today are not by any means living in any kind of luxury. Most are just really scraping by."
To this end, Okapi recognizes the importance of ensuring royalties from compilations filter down to the artists themselves—something that is not always the case, despite the huge proliferation of African records being reissued on American and European labels. Cleret and Soundway have a reputation for being proactive in trying to get money moving to the right places, though decades-old contracts and other complexities sometimes arise.
"It really is a tricky thing," says Okapi. "In my limited experience, it's really about being honest and having good relationships with the artists or with the labels and trying to make sure that eventually money does change hands and goes to the right hands."
Gumba Fire offers a whole different kind of currency, too: the reinforcement of a group of artists' legacies. Their styles are ready to be showcased outside of The Rainbow Nation and, in doing so, will act as a reminder of the hardships that once happened within. For Okapi, that's important.
"There's obviously a real risk of this music disappearing, so it is about preserving a little time capsule of this bizarre time in South Africa's history where, despite all the circumstances, this amazing music was this beacon of hope for people. We've tried to really showcase what, in my opinion, are the most complex and the deepest pop music from that period of time in South Africa."
-Dean Van Nguyen