FEATURES
George Chen's Cynic Cave was a Secret Home for Bay Area Comedy
By Nick Flanagan · August 21, 2017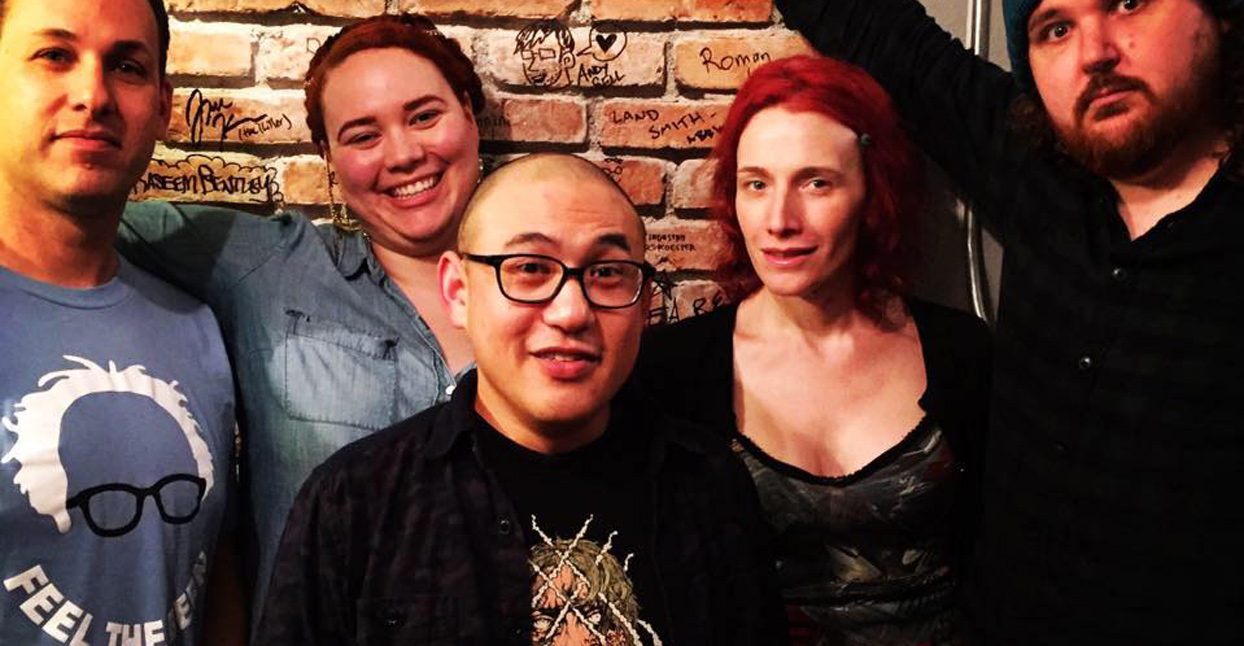 In some stand-up circles, the idea that comedy is "punk" is currently popular. Open mics in L.A. are two minutes long, the average length of an '80s hardcore song. And sure, there's certainly a comparison to be made between DIY comedy shows that take place in houses or alleys, to punk and indie shows that take place wherever space can be found. Some comedians, like musicians, have a burning need to perform whether or not there's a traditional venue, though DIY musical venues have more of a sense that they sustain a community rather than a profession.
Sometimes, though, the two subcultures intersect in truth. One such instance was Cynic Cave Comedy, a basement-turned-comedy venue in the basement of Lost Weekend Video, in the Mission District of San Francisco. From 2012 to 2016, it was a vibrant stop for stand-up comics, all due to producers (and comics) George Chen and Kevin O'Shea.
.
00:10 / 00:58
Merch for this release:
Cassette
According to Chen, the video store—which started after the dissolution of Jawbreaker by band associates Christy Colcord, Dave Hawkins, and Adam Pfahler—was initially greeted by some Mission denizens as a sign of the neighborhood's changing atmosphere. Through Chen's visits to the store and his position as a local musician with a nascent interest in stand-up comedy, he was invited to produce in their newly-created basement venue.
"They had always hired musicians over the years," says Chen, "and I would stop in even though I didn't regularly check videos out, as I lived in Oakland. Around the summer of 2012, Hannah Lew, who worked in the store and played in the band Grass Widow, and is now in Cold Beat, got in touch about doing comedy in the store." This coincided with comedian and Lost Weekend customer Kevin O'Shea's dreams for the space.
"I started going to Lost Weekend when I moved to the Mission in 2010, previously having been a Le Video guy on the west side of town," says O'Shea. "I was excited that they were turning their basement into a theater. I went there opening night. They were showing Stop Making Sense on a loop and I slow-danced with my then-girlfriend to 'This Must Be The Place.' At the time their plan was to only show movies, [but] every time I came in I would bug them about comedy. I heard that George, who I had met at a few shows and open mics, was also talking to them about a stand-up show. We joined forces, and the rest is history."
"I think comedians were interested in having another space in the Mission; there was already The Dark Room down the street, and the bigger alternative show in town was The Business," adds Chen. "I think that it was welcome, and we tried to pay comics after the door deal, which didn't always happen in the scene. There was a very dominant bringer show scene in S.F. that I didn't participate in when I started, and I think Lost Weekend helped to change that."
Comedian Jesse Elias saw Lost Weekend as a sanctuary of sorts and the basement as "breathtaking." He continues, "It was like every indie local underground secret club creative space you ever dreamed of. It was Wayne and Garth's basement. It was the skateboard hideout from [Teenage Mutant] Ninja Turtles. It was ours! I could do whatever I wanted in that space. It was glorious."
After people had to be turned away on opening (given the small capacity), Cynic Cave Saturdays quickly grew beyond weekends, says Chen. "Once we had programming five to six days a week, the space became pretty well-known, but even at its height, plenty of people would walk by and have no idea there was comedy down there."
Chen found producing the former rather simple: "I had been putting on shows since college, some of which I did with university funding, but a lot more of the 'Let's rent out the YWCA and use guitar amps for vocals' variety. I also put on all-ages shows with a group called Club Sandwich in the mid-late 2000s at a variety of venues in S.F. and the East Bay. The template was greatly simplified going from music to comedy—there were no sound checks or gear to haul, except for the occasional PA, and there was little chance of noise complaints. Money was also simpler, no one was on tour and comics were shockingly grateful to be paid at all. Now I can see why."
O'Shea was pleased by the response. "After a while, we were able to get enough of a following to book the headliners we wanted. That was amazing to me; it always seemed so intimidating, especially when you're asking someone to drive hundreds of miles to headline a basement of 40 people for a couple hundred bucks, but I think only one person ever turned us down."
Chen recalls a "secret" residency from Natasha Leggero: "She did four nights just working out new material. She actually came through and did a similar secret show right before recording her album at Bimbo's and brought her dog which sat in the back confused about where her voice was coming from."
After almost four years, in an all-too-familiar tale, Lost Weekend was forced to leave its location on Valencia Street, eventually becoming part of the Alamo Drafthouse cinema, with no basement where shows could be had. Chen saw it as somewhat inevitable.
"Some older Mission residents might have seen Lost Weekend as a kind of intrusion when they opened in the late '90s, but as an employer and a community hub I think it really was fighting against the succeeding waves of gentrification. They would say that a lot of the store clientele got priced out of the city and moved to Oakland. It was ironic that one of the attempts to save the store still involved physical media sales, when 1-2-3-4 Go! Records moved in as a permanent pop-up store. All I know is if the rents didn't keep going up it would have been easier to stay put."
The waning days were some of the venue's most glorious—O'Shea remembers challenging the space's capacity with Guy Branum's Talk Show The Game Show, and a separate incident where Bob "Bobcat" Goldthwait decimated a heckler who was angry the space wouldn't let him bring a baby.
In the end, Chen looks back at the venue with nostalgia and realism: "The life cycle of many comedy spaces seems to be about four to five years. Those that have lasted longer are outliers. I am definitely indebted to the space as a place where I developed as a comic and formed a lot of my relationships in comedy. I'm trying not to be overly nostalgic about the space, which had very low ceilings and a kind of forbidden vibe that made the shows feel like you were getting away with something. We were!"
—Nick Flanagan