FEATURES
How Gato Preto Use Post-Apocalyptic Sci-Fi Narratives to Explore the African Diaspora
By Amaya Garcia · April 21, 2017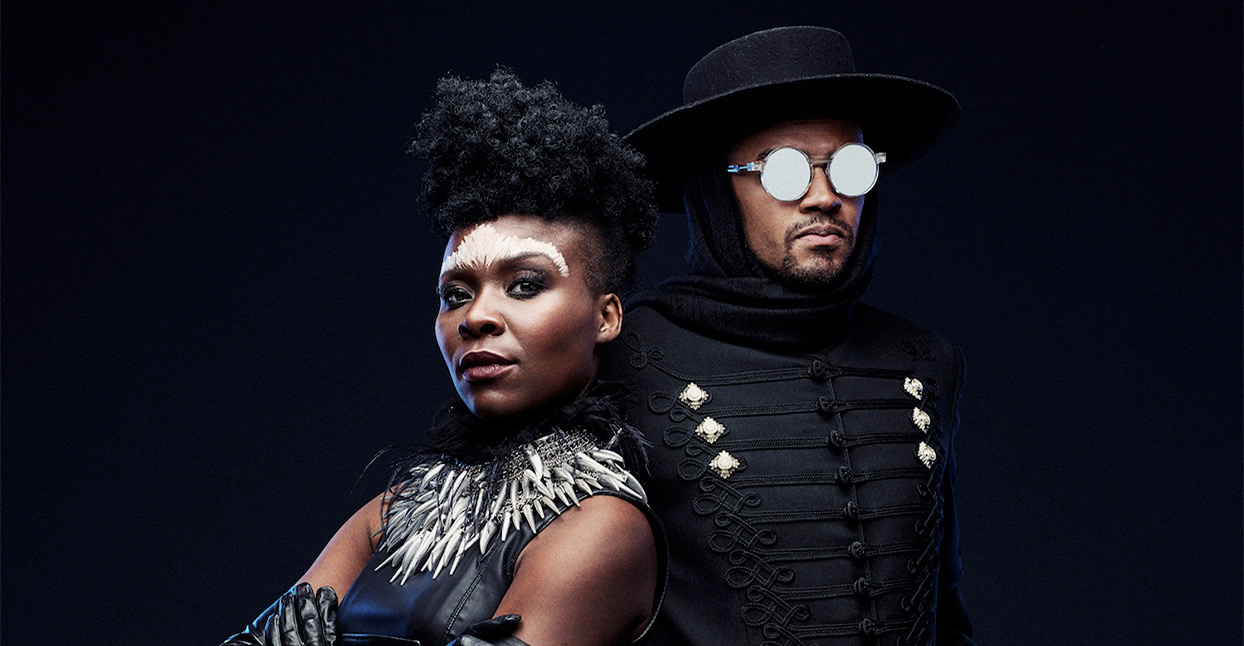 To watch the video for Gato Preto's "Barulho" is to be haunted by the images of band members Gata Misteriosa and Lee Bass transforming from war prisoners into futuristic superheroes, clad in leather, silver and mirror, glow-in-the-dark sunglasses. Their mission: to use their self-described "super ghetto mobile" to save humanity from a villain who wants to control the world's grooves.
It's the kind of fantastic, post-apocalyptic sci-fi narrative that has been the backbone of Gato Preto's style and music since the femcee and the producer united in 2012 in their hometown of Düsseldorf. But to hear them explain it, stumbling into their aesthetic was less a specific vision and more of a happy accident. Mixing Afro-Futurism, steampunk, goth-punk, and tribal culture, Gato Preto first sought out to create a different artistic world for themselves, one where they could perform their borderless, African electronic bass without reducing or trivializing their heritage (Lee is Ghanian-German and Gata is Mozambique-Portuguese) while also appealing to a wider, pan-African audience. As lifelong sci-fi fans, they realized the power of African visibility in science fiction narratives and its ability to address real world issues of power, race, and culture. It wasn't long before the pair gave both their visual aesthetic and their music a political edge.
Merch for this release:
Vinyl LP, Compact Disc (CD)
"We don't want to stereotype Africans, but we also don't want to hide our Africanness," Gata Misteriosa explains over Skype, a few days before the release of their debut album, Tempo. "On the cover of the album, we use more black in our clothing because we do come from outer space. But we've integrated a lot of neutral African fabrics in our wardrobe as well. My personal dream is that we're superheroes, coming from another time, and we're gonna help people raise awareness about [social] problems. Because we're coming from the future, we know what happens later, so we have better information —with our music, our art, our 'superpowers,' we can help. [When we got] the 'super ghetto mobile,' we started to think about these stories. It's so ridiculous, but it's so exciting to think about it in this other way."
Merch for this release:
Vinyl LP, Compact Disc (CD)
The mythology is crystallized on Tempo, a 12-track epic depicting Gata and Lee as time travelers from outer space, bridging the past, present, and future of the African diaspora through sound. Beautifully mixing Angolan kuduro, Senegalese percussion, Mozambique chants, Ghanian highlife, South African township grooves and Brazilian favela funk, the duo not only want listeners to revel in the booty-shaking power of their music, they also want them to travel through Gata and Lee's personal history of erasure, colonial oppression, acceptance and a bright future. In that sense, Tempo is the soundtrack to both the revolution and the party that follows.
Album openers, "A luta continua" and "Moçambique" are testament to Gata and Lee's ambitions as both futuristic storytellers and global bass heads, highlighting the aftermath of colonialism through the history of Mozambique, Gata's home. "A luta continua," which roughly translates to "the struggle continues" begins with soundbites of African revolutionary and former Mozambique president Samora Machel's speech of the same name, which is a call for the country's' citizens not to fall back into the traps of colonial indoctrination. "Moçambique," which follows, is a hard bass track that samples traditional chanting.
"It's a very personal song because I love Mozambique. It's my land, but my parents had to leave everything behind and it was a dramatic time for my family. It still is," Gata says. "This is what a lot of families are living, not just in Mozambique. This is my personal song, but it could very well be about somebody else from another land. People need to open their minds, [gain] knowledge, know what's going wrong with our country. We need to talk about liberty of speech, we have to try and find some solutions [to our problems]. It's a wake-up call for my people."
Merch for this release:
Vinyl LP, Compact Disc (CD)
Following a semi-linear narrative, on Tempo Gata and Lee weave together the heavy, historical commentary in tracks like "A luta continua" and "Moçambique," with dance floor bangers like "Dia D," which features the highlife guitars of Ghanaian V. Themba, and "Pirão," an infectious, kuduro-heavy jam that talks about the intersections between traditional African culture and the rediscovery and reinterpretation of those traditions by a new, young diaspora. All of these tracks feel like alarm bells, albeit sounded for different purposes. "Dia D," for example, is a celebration of African contributions to worldwide pop and electronic music in the last decade.
The duo also set their eye on creating unity across the African diaspora by aligning themselves with the struggle of Afro-descendents around the world. "Poliçia," for example, discusses police brutality against Black people. "This is one of the most difficult songs on the album," Gata explains. "I decided to do the track because I have a feeling that we're still seen as slaves. There's still this pursuit against us, and I don't get it. I don't get why, in the 21st century, we're still [having to talk about] why Black lives matter. […] It brings rage out of my heart, and the only thing I can do is to use my voice as an artist."
The album ends with "Take A Stand," a collaboration between Gato Preto, Lee's zouk bass group Crooked Bois, and Kenyan singer Janice Iche. The song highlights the richness of African cultures and functions as a call for Africans and Afro-Europeans to take ownership of their future. By putting their African roots front and center, they hope to both help their people regain proudness in their culture, their identities and their in-betweenness. "When you grow up in a world where people judge you by the color of your skin, it's very hard to find your identity," Lee explains. "Even my dad denied his African side for a long period when he came to Germany. When I was 25, I went to Ghana for the first time, and it showed me my roots. Don't get me wrong, my mother is German and I love Germany, but when you get asked, 'Where are you from?' and the answer 'Germany' within [my own country] isn't enough, I gotta question if it's the country I identify with. Luckily, things have changed for the better in the past 10 years."
Wrapping these narratives in an Afro-Futuristic aesthetic is not something new—artists like Lee Scratch Perry, Sun Ra, George Clinton, Parliament Funkadelic, and the Wu-Tang Clan have been doing so for years, and all of them were inspirations for Gato Preto. But with Tempo, Gato Preto have added a new page to the history of the movement. While Gata will tell you that the main purpose of their music is booty-shaking, their ideas about the malleability of time, the importance of knowledge, cultural preservation and collaboration reinforce their belief that the future is, evidently, where it's at.
"Tempo [which means "time" in Portuguese] is sometimes very relative," she says. "Even if 200 years have passed, we still have slavery in the world. I love the word tempo because you can't stop it—you can't stop time. It goes on, it rushes, it's a constant. Also, after five years, we finally have our record, and we've met so many people. So 'Tempo' is also memories and good experiences. It's everything."
—Amaya Garcia