FEATURES
Gabber Modus Operandi Galvanize Indonesian Folk Into Feverish Footwork
By Josh Feola · August 12, 2019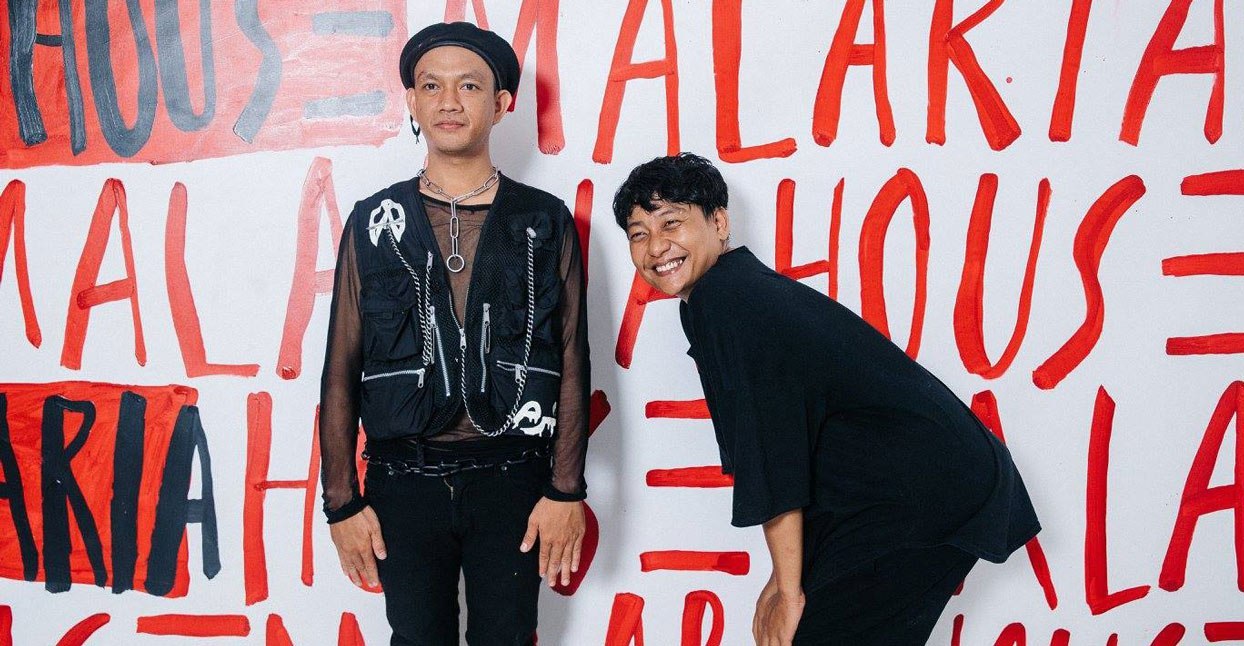 If one were to drop in to any random point across the 31 minutes of Indonesian duo Gabber Modus Operandi's almost absurdly dense new album HOXXXYA, it'd be difficult to pinpoint what exactly is happening with the sound. Some melodic and rhythmic elements of the production reflect local influences like a grimy mirror. Album closer "Sangkakala III," for example, is built around a tinny melody derived from a type of Indonesian trumpet called a slompret, while the preceding track, "Padang Galaxxx," brings to mind the trance-inducing, repetitious vocal kecak performance style that originated in the band's native Bali. Most of the album registers north of 180 BPM, vouching for the band name's shoutout to Gabber and their stated affinity for Chicago footwork pioneer DJ Rashad.
Mostly, Gabber Modus Operandi's visceral, hostile productions register on more extreme ends of the genre spectrum. The band got their start in 2018 when producer Kasimyn (or Kas) began DJing punk gigs in Denpasar, Bali's capital, mercilessly blasting all of his selections at 200 BPM while the band's other pillar, Ican Harem, screamed and danced along to the music at a feverish clip. Before moving to Bali, Harem lived for several years in the graffiti-covered art enclave of Jogjakarta, where he was an active member of the experimental music and performance scene that would eventually coalesce into the Jogja Noise Bombing label. Before that, he played in a "black metal karaoke boy band" called Cangkang Serigala. Kas sang in a punk band called United by Haircuts in the Indonesian capital of Jakarta before moving to Denpasar, linking up with Harem at DIY punk and noise gigs across Bali.
The duo pivoted to what might tentatively be called dance music as a result of their mutual interest in dangdut, a folk music and dance originating in the 1970s "that somehow does more bizarre things than so-called underground [music]," says Kas. "Our key influence is definitely traditional music surrounding us." Examples of traditional sounds include the rituals associated with Calon Arang, a witch from 12th century Balinese folklore who practiced black magic; Barongan, a form of acrobatic trance-dance from Balinese mythology; and the gamelan which blasted daily from the local community center next to the band's Denpasar studio.
Gabber Modus Operandi are far weirder than the sum of its parts, though, and merely listing individual influences ultimately fails to capture the band's singular gestalt. While they say they've grown increasingly comfortable composing in gamelan scales like pelog and slendro and are able to point at a coherent pedigree of influence from their involvement in Bali's metal, punk, and noise scenes, their project arrives at a place distant from any of its ostensible points of origin. "Most of it is digging through our identity as millennial Indonesians in transition to digital culture," says Kas, adding that they perform in homemade costumes and draw just as much inspiration from established genres like dangdut or black metal as they do from alay, a lowbrow pop-cultural phenomenon native to the internet area. "We always put our attitude between sacred and banal, and celebrate 4G internet access," Kas explains.
The duo has clearly arrived at a unique sound on HOXXXYA—which follows a 2018 debut put out by seminal Indonesian netlabel Yes No Wave Music—but they lack local peers attempting to bridge the dynamic energy of experimental noise with the dance music world. Kas says they still play primarily noise and punk shows in Bali, alongside acts like psych band Rollfast at intimate events curated by platforms such as the DIY experimental music festival CHAOS NON Musica. In terms of dance music, however, Bali is best known for psytrance raves and derivative "Ibiza party wannabes," according to Kas. Gabber Modus Operandi are all but alone in bringing their brand of sonic chaos to Bali clubs. "We are jealous of kids in Africa that have singeli or Shangaan or gqom, or amazing new stuff from China and Taipei that break from the centralized shit of what to dance to, and enjoy what they have."
Nonetheless, Gabber Modus Operandi make a strong case for the strange shapes a future Bali club culture might take on HOXXXYA. And they seem resolutely committed to keeping their dial set squarely on the static between stations, never veering too hard in any one stylistic or geographically bounded direction. "The beauty of [making our music] is the limitation, either the references or the execution that make us us," Kas says. "We can stop anywhere when it's too Western or too Eastern, we are in the middle of it… In the end, in really simple terms, we just want to make the music that feels like home."