FEATURES
The Story of Freestyle Fellowship's "To Whom It May Concern"
By Blake Gillespie · November 17, 2021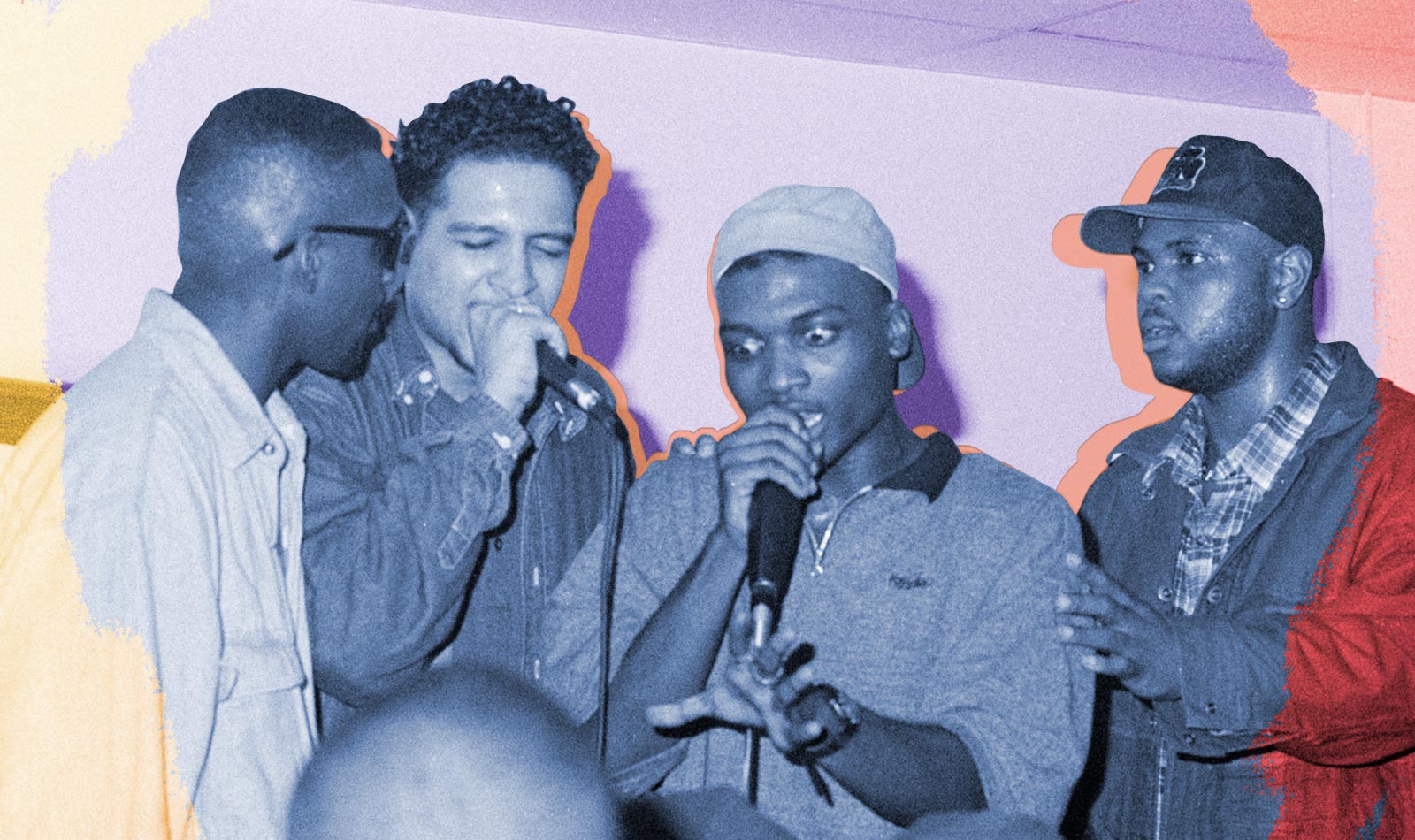 The first thing you hear when you press play on Freestyle Fellowship's classic 1991 debut To Whom It May Concern is a manifesto delivered by Myka 9, as his groupmates chant "We are the Freestyle Fellowship" behind him. First, he says "peace be with you" in Arabic; then, he declares his group, "the shining focal point in a multi-faceted gem of urban contemporary artists." For the next 51 minutes, you're entering their world. It's a world in which rules are broken and standards are exceeded. From the beginning, The Freestyle Fellowship sought to dominate not just the underground, but the mainstream as well. As that album-opening manifesto puts it: We came here tonight to blow up. Strictly blow up.
This is the story of To Whom It May Concern, the rap album that laid the foundation for underground hip-hop in 1991. At the time it was recorded, Los Angeles was at a breaking point. There was growing, justified national outrage over the videotaped assault on Rodney King by Los Angeles police officers. Jeffrey Dahmer had just been arrested, his refrigerator full of the dismembered body parts of Black victims. East Coast rapper Tim Dog had released "Fuck Compton," and Dr. Dre had just left N.W.A. to strike out on his own.
And on Thursday nights, local MCs were testing their skills at an open mic night held in a health food market called The Good Life Cafe at the intersection of Crenshaw Blvd & Exposition Blvd. The night would produce some of the city's most influential artists, and would be documented in a 2008 film by Ava DuVernay called This Is The Life. The home team at The Good Life was always, indisputably, The Freestyle Fellowship.
This is the story of how they made their game-changing debut.
Merch for this release:
Compact Disc (CD), 7" Vinyl, 2 x Vinyl LP, Cassette
Myka 9 and Aceyalone first met at a bus stop in Los Angeles in the early 1980s. Two young boys who'd just missed the bus to school encounter one another, only to find that they have something in common.
Myka 9: I met Aceyalone during the busing thing. He was in the fifth grade and I was in the sixth grade. He missed his bus and I missed my bus, too. I would entertain the kids by making up different raps every day on the back of the bus, because it was almost an hour ride. I found out later that Acey was doing the same thing. So when we crossed paths, it was like, 'Yeah, I heard about you rapping on the other bus.'
Cut Chemist (of Jurassic 5): One of the coolest stories [Jurassic 5 member] Charli 2na has is that he moved out here from Chicago in the mid-'80s—like, '85. One of the first things he'd seen that represented hip-hop in L.A. was a guy on Hollywood Boulevard, taking out MCs. And it turns out that it was Myka 9. I don't even remember people battling in '85, but it was that serious to Myka.
Myka 9: Later, when I was in high school, I heard about [Aceyalone] having a rap group called the MC Aces. I wanted to get in their crew, but I had to battle somebody to get in. I think he was called like Diamond D or something—not the East Coast Diamond D. So I served him, and I got in the group. It was me, Teaspoon Iodine, and Acey E, as he used to call himself at the time. I called myself Microphone Mike. We spent a lot of time rapping, writing, recording. We didn't have equipment, so we'd beat on bathroom walls, laundry machines, washers and dryers—anything we could beat on. We had these drills to refine our freestyle skills. One was that you had to keep the beat and rhyme at the same time. You had to keep the same pattern and the same subject matter, all while freestyling. I was able to hone my battle skills early. We did some recordings as MC Aces with a small record label out of the Crenshaw Swap Meet called Target Records.
J-Sumbi: When I showed up to The Good Life, it was blossoming—like, no seats left in the house. There were people standing outside. If you wanted to be on the list, you had to come crazy early. People started to develop ideas [about which artists] were the 'marquee' people. It was becoming Mike. It was becoming Acey. It was becoming P.E.A.C.E. My beats started getting into that lineup because I was producing for Ganja K. Because of that, [Myka, Aceyalone, and P.E.A.C.E.] started coming to my house.
Myka 9: Sumbi had a vision for this compilation where he would capture the talent at The Good Life. He would record everything and press up tapes. Each member had to kick in $100 or something, and I know I didn't have my share when it came time.
J-Sumbi: I laid it out: 'This is how much it costs to get tapes pressed at Rainbow Records in Santa Monica. I know how to record. I have my own 4-track. And I have this job doing music marketing. I just need you guys's talents to perform on this.'
Mathmattiks, producer on To Whom It May Concern: Before we discovered The Good Life, I was making beats at my mom and dad's house. [Myka 9 and Aceyalone] heard some of the beats, and so I hooked up [with them]. I was introduced to the Good Life and J-Sumbi. Next thing you know, I was over at J-Sumbi's house, 4-track recorder, dropping tracks, playing them at the Good Life, handing out beat tapes at the Good Life.
Merch for this release:
Compact Disc (CD), 7" Vinyl, 2 x Vinyl LP, Cassette
In September of 1991, artists would regularly go to J-Sumbi's apartment to record. He and his musical partner DJ Mellow D, with help from Mathmattiks, members of the group, and The Mighty O-Roc, produced the tracks that would become To Whom It May Concern.
Self Jupiter: Sumbi used to get us all individually to record. Mathmattiks and O-Roc were making custom beats for everybody. So, I didn't have the same beats that Acey had—they custom fit us. There was a mind behind everything.
Myka 9: I wouldn't say there was a sense of competition. Sumbi probably only wanted one person to come [to the apartment] at a time so there wasn't too many distractions.
J-Sumbi: Every time we would record something, I'd be like 'Holy shit!' That was happening every other day.
---
Gradually, track by track, the album came together. The group was hearing each other's individual songs and gaining an awareness of their power as a unit.
Myka 9: Ace's 'My Fantasy' was just relentless rhyming and patterning. Just super dopeness. That's the Project Blowed and Good Life style.
Mathmattik: To hear [Ace rapping] over my track was like I was handing my track over to a platinum-selling artist. They were that dope. They had such magic. I felt like it wasn't real. His voice, his style—everything was perfect. It kinda blew me away.
Self-Jupiter: ['Jupiter's Journey'] was my first rap. That was like my introspection. That had curveballs. I had the slow-flow hit. But I had some jewels in that.
Myka 9: I came spiritual and visionary with '7th Seal,' and then I came with political commentary and stylistically jazzy with '5 O-Clock Follies.'
Mike Nardone, host of the show We Came From Beyond on KXLU 88.9: ['7th Seal'] and '5 O-Clock Follies' were so different and unique to me—they were just, 'Whoa, what the fuck?'
Self Jupiter: Everybody got a part to play. P.E.A.C.E. was not so much a writer, more of a freestyler. At that time, he was at his peak—just the best ever. It was basically just confidence. All rap is confidence. Imagination and confidence. He'd say, 'I can breakdance,' and I'd say, 'You've never breakdanced in your life,'  and this fool would do a windmill. Confidence was at 1000 percent. No one had that. No one that I knew.
Merch for this release:
Compact Disc (CD), 7" Vinyl, 2 x Vinyl LP, Cassette
One of the last pieces of the puzzle was a group track called "We Will Not Tolerate," which combined the spoken word of The Last Poets with a Run DMC sample purposely chopped into 6/8 time. Hard-hitting and political, the track called out LAPD Chief of Police Daryl Gates, racially-motivated hate crimes, and Jeffrey Dahmer.
Cut Chemist: Using all the voices at once and then really flipping it fast—that was the Cold Crush template. The pauses and the rhythms they were creating was the new part—their addition to the group vocal that Cold Crush invented back in the day.
Myka 9: I wanted to do something that was a unison chop. Because we hadn't did that yet. We were hearing about Jeffrey Dahmer and all of that, right? So we were coming with that Black revolutionary awareness mentality—screaming on the things we won't tolerate. Those young squeaky voices. Those kids was on to something.
J-Sumbi: Daryl Gates was notorious at the time. There were billboards he put up that said, 'Community resources against hoodlums.' They essentially said 'War on Black dudes.' Daryl Gates. Evil. In our hip-hop community, he was public enemy number one.
Myka 9: We grew up with police brutality. The Rodney King and the verdict—we did [the song] in the time leading up to all that, and it was almost prophetic.
J-Sumbi: It's almost 'The more things change, the more they stay the same.' The same struggle my mom went through—my mom was in L.A. for the first L.A. riot. It never stopped, you know. Our families tell us that. We had that griot tradition of stories being passed down from generation to generation. Everybody was talking about how the cops was trying to kills us. We're killing each other. We were all influenced by Boogie Down Productions, KRS-One, Public Enemy, but we always had an L.A. spin on it.
---
With newly finished cassettes in hand, the group signed up to play The Good Life. The legend goes that they performed one after the other that night—essentially performing the whole album one member at a time. After they finished, they announced tapes for sale outside.
J-Sumbi: Other people would go up and do 60 bars over an instrumental. We came in and we had hooks and songs that had beginnings and middles and ends. We came off that stage, and people were like, 'Those were the dudes.' That's why everybody said the Fellowship was the epicenter of The Good Life. It was ours. We owned it after that night.
Merch for this release:
Compact Disc (CD), 7" Vinyl, 2 x Vinyl LP, Cassette
With no distribution deal or label, the group would venture around L.A., finding people on the street who looked like they listened to hip-hop and playing the tape for them.
Brian "B+" Cross, photographer: I remember going to the Crenshaw Swap Meet, which was at the corner of MLK and Crenshaw. There was a spot there where you could buy cassettes. I don't remember who told me about the tape, but I bought it and I just had my mind completely melted on the way home in the car. I still have the cassette.
Nardone: I'd become friends with some Good Life people. Somehow I'd told Acey, I'd be at this club and he came through and gave me two copies of the album. I played ['7th Seal'] on the show because it was one of the few that was clean.
Cross: It never left my car. I'm that annoying homie that won't let you get out of the car without hearing this new shit. I'll proselytize to everybody. I remember playing that shit to [DJ] Muggs. I remember having an argument with DJ Quik, and he was like, 'I just don't dig music where one minute you're walking down the street, and the next minute you're in outer space.' But I know fucking Snoop got it. Snoop talked about him and Warren G listening to Fellowship. It was really a moment. They struck fear.
J-Sumbi: A record deal is a chump's game. It's to the favor of the record label, and not to the favor of the artist. My plan was to take that money from the tapes and then press vinyl.
Cut Chemist: I definitely said 'I want to put out an independent record' based on them putting that out. I thought it took a lot of industry muscle to create a piece of wax. These guys just did it, and they put it in a clothing store on Melrose. So fuck it. It's doable. So with the first Jurassic 5 12-inch, 'Unified Revolution,' I did exactly that. It was '94 and they directly inspired me to press up my own wax. They are not the first to do it, but they are the first ones directly in my circle who did it. It freed us. We don't have to wait for somebody to bankroll us. We can just go into Rainbow and say, 'I wanna press up 500 copies.' I didn't know I could do that until they came out with that record.
Mathmattiks: When the buzz started from To Whom It May Concern and I was being told the album made it to other countries, I was like 'What? No way. The stuff we did in an apartment, somebody in Germany is listening to this?'
Cross: I remember A Tribe Called Quest came to L.A. with Leaders of the New School to do 'Scenario' on Arsenio Hall. They are all up at the Mondrian Hotel. I had the entire Freestyle Fellowship in the back of my car. We went up to the hotel room with them. Me and Kilu ended up playing instrumental joints off cassette while they went around the room [in a cypher]. It was Busta, Charlie Brown, Dinco D, Fellowship. Snoop came at one point. I remember Busta's head was melting. [Freestyle Fellowship] were just operating on a different level. There was a level of vocabulary. There was concepts and ideas. Myk was bringing a musicality that wasn't there yet
Cut Chemist: We did a show at Club Lingerie in Hollywood. The headliners were Disposable Heroes of Hiphoprisy—Michael Franti, his industrial group—Unity Committee, and Freestyle Fellowship. We were the opener. The closer was Fellowship. The Fellowship shit was improvised jazz. All five of them were there. I remember asking them after the show how long it took them to rehearse—it seemed so detailed and meticulously intricate. They were like, 'It was all freestyle, we didn't rehearse anything.' Island [Records] was in the house because Disposable Heroes was on 4th & Broadway. I'm not sure if Island was courting Fellowship by then, or if that's what got them on their radar, but they were in the house, and the next thing I know, Fellowship is talking to Island.
Self Jupiter: We were in a diner and Dr. Dre comes in. We start talking to him, and he's telling us that '7th Seal' is his favorite song.
Myka 9: Dr. Dre and them wanted us to go with Death Row. At that time, everybody's young, you know? Dre wanted to just put out the remix on To Whom It May Concern. So did Kim Buie [of Island Records] for that matter. At that time, she was more interested in getting that remixed and sonically better. In hindsight, it might have been a really, really good idea, but we were more interested in moving ahead.
Cut Chemist: There were rumors that we heard back then that Dre wanted to remix the record. It was like, 'Oh my god, if Dre gets his hands on this record, it's game over.' It never happened, but I always remembered that.
J-Sumbi: Kim Buie invited us to their offices. I worked right down the street at New Marketing on Sunset, but I had to go pick everybody up and get them to the meeting. We go into Island, and they have us in this big boardroom with a long table and a view. She's barefoot and looking bohemian. They offered us a deal right there.
Myka 9: At the time, a lot of people were going to the Good Life looking for talent. John Singleton—rest in peace—wanted to manage us at one point.
J-Sumbi: The Fellowship is like the Wu-Tang. It's a compilation. We're not one group. We are five different groups who got together like Voltron for this record.
Self Jupiter: We just wanted that throne. That might've been our downfall as we entered the mainstream. We could have obviously did some stuff with J Dilla, who was working with The Pharcyde and J-Swift. We just didn't let the foot off the gas, is the thing. If we had opened the door to other producers and not been so self-absorbed as to not mess with other cats…But you know how it is.
Cross: The Pharcyde were fucking amazing. But if you were in L.A. in that period, it would be The Fellowship and then The Pharcyde. Not the other way around, ever. But The Pharcyde were the ones who got the commercial success. Weirdly, we all thought the music industry was this fair and just system that would reward those with the most innovation.
Merch for this release:
Compact Disc (CD), 7" Vinyl, 2 x Vinyl LP, Cassette
The Fellowship released Innercity Griots in April 1993, without J-Sumbi. Before they could tour to promote the album, Self Jupiter was arrested. The label did not post bail and The Fellowship decided not to tour without him. The momentum stalled, the group was dropped from 4th & Broadway, and Aceyalone and Myka 9 got deals at Capitol Records. A third studio album, Temptation, was released in 2001, followed by The Promise in 2011. Each member produced significant solo output and formed side groups, but mainstream interest never returned. The Freestyle Fellowship remained legends of the underground.
J-Sumbi: I was a stockbroker in the early '00s. In my garage, I had this big batch of To Whom It May Concern CDs leftover from selling them through Sandbox [Automatic] and Fat Beats. I just wanted to get rid of them. It was 150 to 200 CDs just lying around. I drive up to Amoeba. I came up with a hand cart like a UPS worker and said, 'I need to get rid of these.' They were like 'Is it a whole bunch of stuff?' 'Nope. It's all one record.' They opened the boxes, and I could see the recognition. They ran to the manager in the back and convinced him to buy all of them.
Cut Chemist: My song 'Lesson 6: The Lecture' is a direct love letter to them and that record. I was trying to match what they were doing vocally and musically. I wanted to make an impact that was beyond what a DJ song could be. I wanted it to be a head scratcher. I didn't want everybody to get it, because it's not for everybody. That's what I love about the title. It's not for everybody—it's to whom it may concern. If it hits you in your heart, then you're the one that we concern.
Mathmattiks: Jupiter told me that I was the first producer to pioneer that slow style of West Coast jazzy music. He was like, 'You've inspired other producers in L.A. that I've worked with who have given you credit for that style.' I had no idea.
Cross: Ten years later I'm working with Mos Def on the cover of Black on Both Sides and he starts telling me about all the cassettes that he has from the West Coast underground, and that this photoshoot I'd done in Rap Pages in '96 [with the Fellowship] is what he wants to do for the record. He didn't even realize it was my photograph. For cats like him, it was hugely important.
Myka 9: I was watching a Nardwuar interview with Denzel Curry and he breaks out the Freestyle Fellowship album, and [Curry] just geeked out. I've seen Nardwuar do it a few times, where he breaks out the record and dudes just go off. It's crazy and I love it.
Cut Chemist: They invented so many genres before they could even be called genres. Planted so many seeds—with all their stuff, not just To Whom It May Concern.
Myka 9: We made a promise. We would never fall the fuck off, we promise. We were holding it to ourselves that we were never gonna stop. We've been doing that since we were kids. I'm like 52 years old now [laughs]. Still rapping.