FEATURES
Video Games Are Cool, But Floex Wants to Play Floorball
By Adam Badí Donoval · November 18, 2016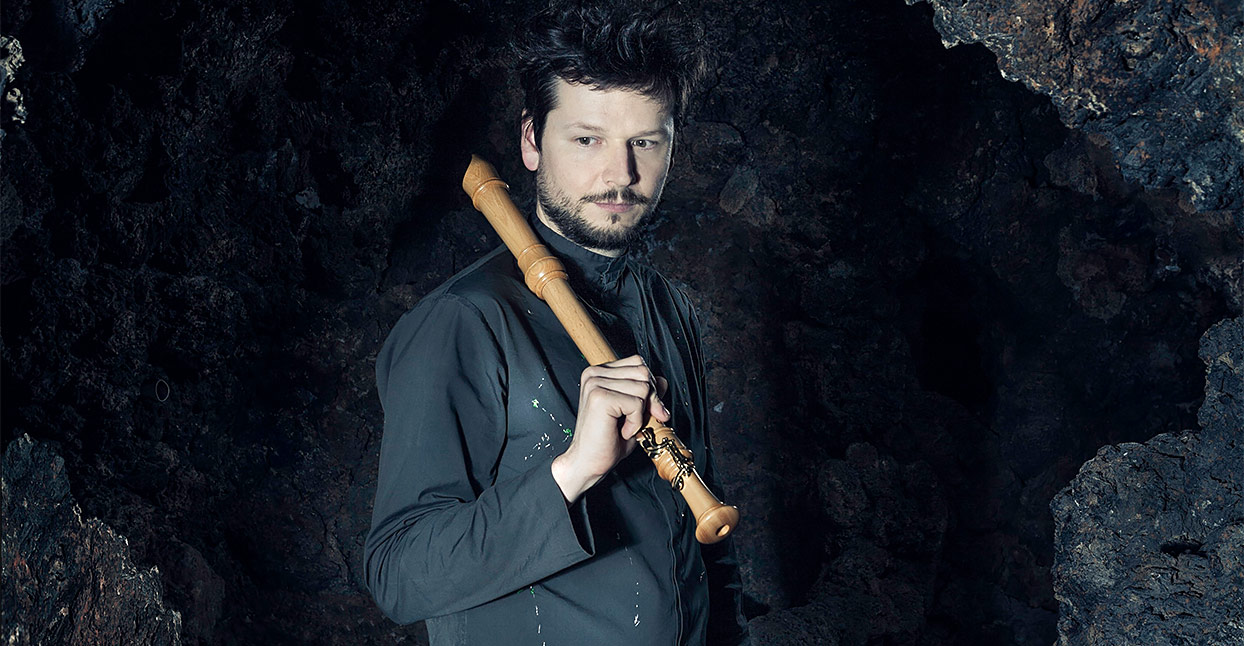 Tomáš Dvořák—better known as Floex—is a Czech clarinetist, composer and producer, known for making music for a variety of media. While he's released a bulk of full-length albums and EPs over the past 15 years, he's also created several soundtracks for movies, theatre productions and video games. It's his soundtracks for successful indie adventure/puzzle games Samorost 2 and 3, and Machinarium, which contain his best work yet. These soundtracks are gorgeous and as adventurous as the games themselves, which have most recently received praise from the likes of The Washington Post or PC Gamer. While Machinarium is an industrial game that required vintage electronic music, the Samorost series is built around adventurous exploration, and posed a different kind of challenge to Floex.
For Samorost 3, his latest work, Dvořák composed an atmospheric soundtrack of light electronic grooves that bring his classical background to the fore. It's not unusual that a single track will express different moods and incorporate various instruments. For instance, on opening track "Samorost 3 Main Theme", organic textures and clarinet melodies are replaced by epic orchestral strings, which then in turn complement techno-resembling grooves. For Samorost 3, Floex crafted a soundtrack as explorative and ambitious as the game itself.
Dvořák spoke to us about the process of scoring Samorost 3 and his plans for the future.
.
00:10 / 00:58
Are you interested in video games in general, or is it more of a musical interest?  
I wouldn't say it's my main focus, however, it is a really exciting media field. Especially in recent years, with the emergence of the indie scene, it's become a spectacular playground for wonderful ideas. I've been doing some form of creative stuff all my life. Despite making mostly music, I actually studied New Media at the Prague Academy Of Visual Arts. So generally media, especially interactive media, are my point of interest.
Do you play any games?
I play games only very occasionally. Of course, the main reason is my lack of time. I often sit in front of my computer all day, locked in the studio, so I try to avoid similar activities when I'm free. I'd rather go out to, for example, play floorball. Instead of playing a computer game I'm interested in, I rather check out some YouTube footage, just to find out what the concept and feel of [the] game is.
You've worked on normal LPs and EPs, but also on music for movies, theatre, as well as video games. How did these projects differ?
They are all different, they stress different aspects of music. Making my own music is really self explorative. In a way, with every song, I try to answer the question, 'Who am I?.' I focus on emotions which are most familiar to me. Often, the result is more focused on music and its qualities, and it's more intense in general. With media work, you have to be very mindful of the space the music is talking to, not to overwhelm the image. It's really important to find the right emotion and the right atmosphere for the scene, rather than creating a strong piece, chord progression or motive. There is also a different connection with each medium. Movies are linear, games are more interactive, theatre is more alive. All of them bring different perspectives.
What do you find most interesting about video game soundtracking in general?
On the one hand, it gives you more freedom to work with the image, because both elements are not so closely tied together. But on the other hand, it often means developing interesting strategies in regards to how the music is "triggered," how it is going to evolve or how it's interacting with the user. Admittedly, the main reason I'm doing game soundtracks is the world of Amanita Design (a game developing company). I've actually never worked on another game soundtrack.
.
00:10 / 00:58
Your Samorost 3 soundtrack has gained a lot of recognition, as has the game. What were some of the inspirations for the score musically? How long was it in the works for?
The biggest inspiration is the game itself. I just love the world the guys created; it's very inspiring and unique. The Samorost universe is very organic, but also very surreal, sometimes almost psychedelic. So for me, it was really interesting to explore these more natural aspects of musical production, especially in comparison with Machinarium, which was more vintage electronic. Often, I found myself doing crazy experiments without the computer, just trying to create strange sounds or unusual musical instruments. Samorost 3 was a really big project; I've never worked on such a big project before. It took me almost three years to finish it. It is a piece of my life.
From what I understand, you were very involved in other aspects of making the video game as well. Do you think that's helpful when you are making the music itself?
You are right. The other parts of the game development were really a great deal of work. I think I spent more than half the time doing something that wasn't directly musical composition—sound design, musical dramaturgy, sound implementation, debugging. Would it be better if I just made music? Hard to say. I like to learn new things. In this particular case, I told myself that I really want to get better at sound mixing and generally engineering. I've completely rebuilt my studio and spent lots of time just trying to make things right sound-wise. As a result, I think this soundtrack is really an audiophile experience. I guess it's not something that everyone appreciates, but I believe in the quality of my music in general and I think this is a big step forward. On the other side, what I missed a bit was a better workflow. With Machinarium I just worked on musical tracks day after day. I could just dive into the world and live there for a while without any disturbance.
Your score made use of elements of electronic music, but also a lot of organic instruments and sound design. Where would individual pieces begin?
I really don't have any particular way that I always follow when composing. It could start with an inspiring sound, harmony, or motive. I usually make sketches, short ideas, which take a small amount of time to make, but give me the opportunity to decide if they are worth developing into a song. Sometimes I make ten (or even more) sketches before deciding on the final song. If the music is rhythmical, I often like to start with a loop or some other background track. Something that gives some amount of emotional context, but also a big freedom to develop other elements.
Is your clarinetist background helpful when writing music?
Maybe being a pianist would be more practical for a composer. I guess my background makes me think more in melodies, more contrapuntally. Clarinet is a more unusual instrument as well, and using it in my music gives it a more of a unique feel. It is an instrument you can find more or less in my whole discography. However, the way I work with it is changing.
You also released a Samorost 3 Pre-Remixes EP before the actual unveiling of the soundtrack and the game earlier this year. Could you tell me a bit about that release?
I think the original inspiration for realizing this project came from the really long development of the soundtrack itself. I already wanted to share some music with people. So I got this idea: it could be fun to release remixes before the real tracks, not in the usual order. I asked a bunch of my musical mates, and also a few people I didn't know, but liked their music, if they are in. All were interested and I think the project worked really well.
.
00:10 / 00:58
After working on such a big project, do you feel the need to change your musical output? Are you taking a break from video game soundtracking?
I think the break comes naturally. I am really looking forward to diving into my own musical projects. Actually, it is already happening. I've got another unfinished album. It is a collaborative album with London-based pianist Tom Hodge and the Czech Radio Symphonic Orchestra. This is my current project. Besides that, I recently went to New York, where I worked on a theatre piece with dancer Tami Stronach. Together with guys from Initi Interactive, we have developed a new kind of musical instrument based on light. It is very exciting and we want to continue to develop it more.
—Adam Badí Donoval