FEATURES
The Multi-Hued, Fractured Sound Art of Fire-Toolz
By Sam Goldner · August 24, 2018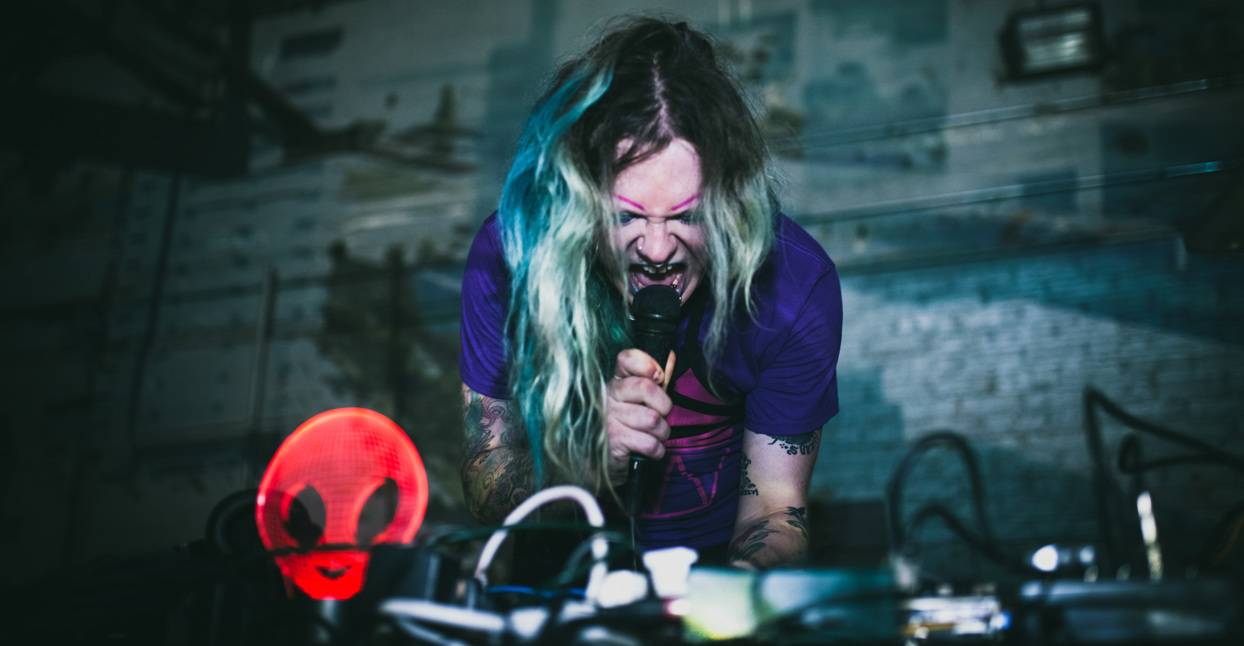 Scrolling through Angel Marcloid's many music–related web pages is like walking through the gates of heaven, only to find out that you'll be spending the afterlife in a '90s chat room. On her Tumblr, brightly rendered AIM icons bubble up against jagged, disintegrating text characters and rainbow-toned 3D environments. It all might seem nauseating if it didn't also feel so strangely close to home.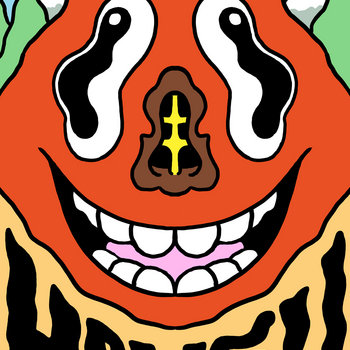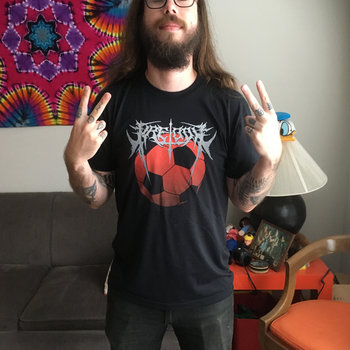 .
00:10 / 00:58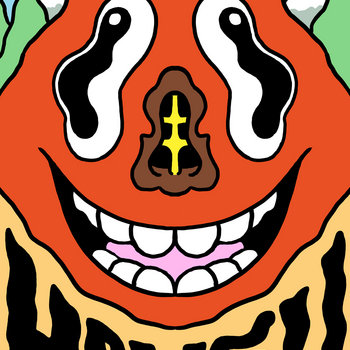 Merch for this release:
Vinyl LP, Compact Disc (CD), T-Shirt/Apparel
"I've been attracted to bright colors and whimsical, fun, flamboyant aesthetics for as long as I can remember," says Marcloid, who records fractured experimental electronic music as Fire-Toolz (and several other monikers). "I was lucky enough to have a computer and Internet access when I was growing up, and I loved to make graphics and websites." Her music conjures up the emotional coziness of wrapping yourself up in bed and diving into online rabbit holes—it's the aural embodiment of a bizarrely personalized Recommended Videos tab, where the relaxing sound of the ocean can easily follow old screamo videos you used to watch in high school. But her heavily plugged-in aesthetics also tap into something deeper than just early-Internet nostalgia. "Seeing vivid colors forces me into the present moment, and I feel a strong presence or energy of some kind when witnessing them. [As a child,] I was interested in women's clothing and makeup for as long as I can remember, and would often complain to my family and peers about how stupid it was that men were supposed to wear such boring clothing and hairstyles."
As a transfeminine experimental artist raised in Baltimore and currently living in Chicago, Marcloid's journey toward finding her voice has been one of many twists and turns. One of her first musical obsessions as a child came from a special edition of MTV's Headbangers Ball, which opened her elementary-school mind to death metal and initiated a lifelong love of prog and metalcore. "Morbid Angel and Obituary changed my world," she says while discussing her very first band—a "Candlebox meets Dream Theater" prog duo that incorporated complex time signatures and compositions even though Marcloid was only eight years old at the time. Eventually, she began to veer away from playing in emo and metalcore bands, and started short-circuiting guitars to create ear-splitting harsh noise, all while worshipping at the altar of Prurient.
Marcloid has found much more acceptance in the experimental community than she did in the world of hardcore ("Punk shows scare my trans ass right back to my bedroom," she says. "I went to see Drive Like Jehu on their reunion tour, and everyone in that room stared at me like I was at a hockey game or something.") And since she's settled into Chicago's underground scene, Marcloid has let her splintering musical interests run wild. She's released slowed-down vaporwave masterpieces as MindSpring Memories, bizarro lo-fi collages as Path To Lobster Believers, and still juggles numerous other solo projects in addition to operating her own pay-what-you-want net label Swamp Circle. But as Fire-Toolz, Marcloid has brought all of her various guises together into one chaotic yet unified vision.
Over the course of a Fire-Toolz track, calming New Age vistas suddenly descend into cathartic black metal screeching, and brain-melting electronic distortions give way to up-close recordings of her cats meowing. (She has three, by the way—Breakfast, Porcelina, and Süki, each of whom she proudly has a tattoo of. When asked about them, she gives a personality description for each that would put most horoscopes to shame. An excerpt: "Süki is Porcelina's protector and manager, and he silently prays for Breakfast's happiness, even though she fucking hates his face"). For her latest record, Skinless X-1, Marcloid manages to channel the prog inspirations of her youth into a digital and spiritual purge, incorporating lore from late-period Rush albums, Greek mythology, and a red soccer ball that's held deep symbolism for Marcloid since childhood (the soccer ball appeared to her in a dream one night, then mysteriously showed up in her backyard a few days later—as if it were a physical manifestation of her own inner consciousness). Skinless X-1 may be bursting with all the distortion, chaos, and screaming that comes par for the course with a Fire-Toolz album, but for Marcloid, it represents a peaceful release. "Even though much of the album is the opposite of still and silent, what I attempted to channel was a uniquely personalized manifestation of those elements."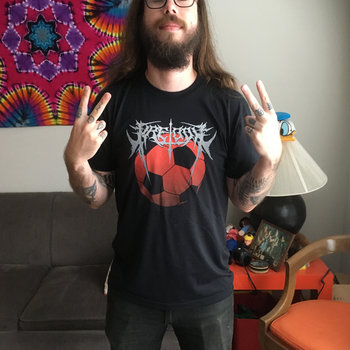 .
00:10 / 00:58
Merch for this release:
Vinyl LP, Compact Disc (CD), T-Shirt/Apparel
Though Marcloid's music might seem scattered in its vision, what's striking about it is the way it creates an incredibly human portrait of just how many different things a single person can be. "Sure, my body and my gender identity and my community is always threatened, but my actual true self is completely indestructible," she says. "Oppression doesn't apply to it; it can't exist in the same dimension." This same attitude of unified consciousness applies to all of Fire-Toolz, where between all the zig-zagging breakcore beats, the cheesed-out jazz-fusion guitars, and the throttling black metal shrieks, there's a liberating sense of expression that binds everything together. "I like so many different kinds of music, so it's the total opposite of nonsensical to mash them all up. It's my essence in musical form."