FEATURES
Ffrancis' Misia Furtak and Piotr Kaliński Have Learned to Love Change
By Laura Studarus · June 08, 2018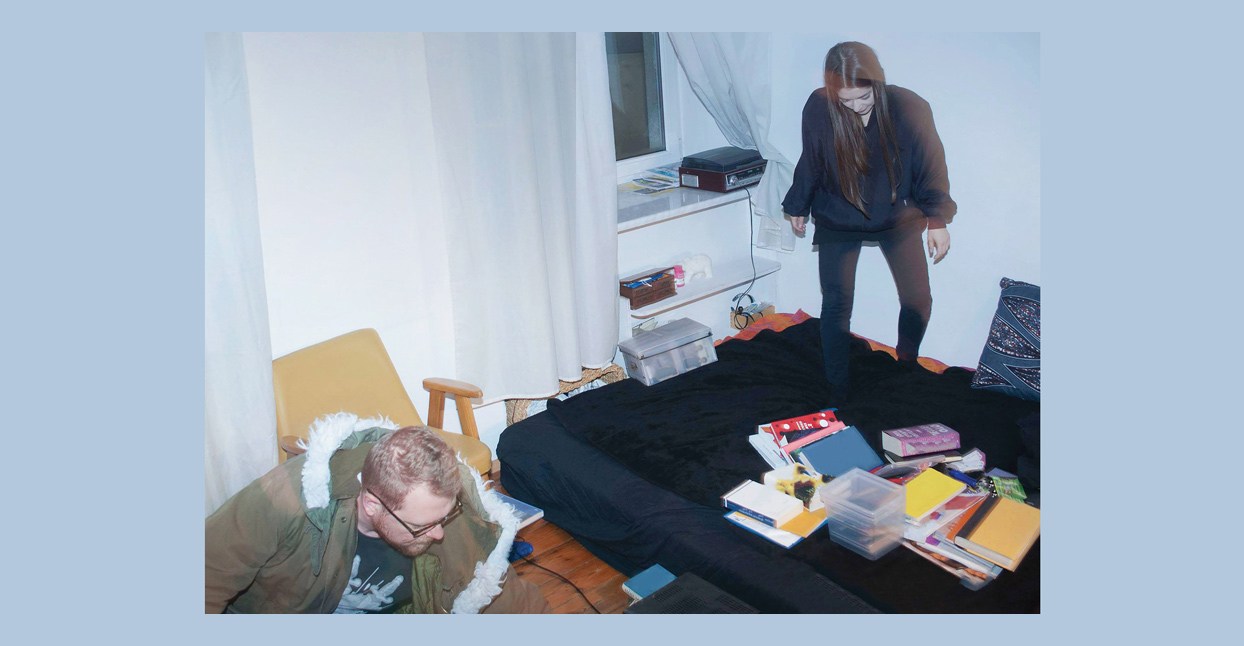 Polish duo Ffrancis—comprised of Misia Furtak (vocals/bass) and Piotr Kaliński (programming)—share the kind of friendship where they've seen each other in pretty much every unflattering emotional state. (Aware they're on the record, both members playfully refuse to provide specifics.) It's a dynamic that plays out across their debut album Off the Grid, a collection of songs that integrates Furtak's rock sensibilities with the escapism of Kaliński's Baltic pop/house/dub ambient project Hatti Vatti. But even so, they can't agree on how they met.
Merch for this release:
Vinyl LP
Furtak—who also makes solo music under her name and as Misia Ff, and sings in the rock band Très.b—thinks it's when she was hosting a popular Warsaw radio program. A fan of Kaliński's many projects (he also fronts punk outfit Gówno, and the experimental-leaning Nanook of the North), she invited him on the show. But Kaliński claims the first introduction was way before that, when Furtak volunteered to help move his gear at OFF Festival 2012, an experimental music festival in Poland which both members have played multiple times.
"All my colleagues left me on stage with a huge Vox amplifier," Kaliński recalls. "This is super heavy! I think they left with their own amps. Oh, shit, I need to take it by myself. I remember there was a girl—"
"—I just appeared!" Furtak laughs, finishing the story. "We carried an amp together, and a while later we formed a band together."
It wasn't for another two years that Ffrancis was formed; both musicians have so many projects going that scheduling was a bit of a challenge. Inspired by their 2014 collaboration on the track "NADWAŻKOŚĆ," from Kaliński's HV/Noon project, they began recording when time allowed. Furtak initially suggested they concentrate more on electronic instrumentation, uninterested in creating simply another version of her solo work, which until then had veered toward bass-heavy rock. However, the plan changed when Kalińsk sent Furtak recordings from a trip to Iceland, where he camped out at a friend's studio in central Reykjavik.
"I found [my host's] grandfather's organ, [which he] was playing in the church. You push it with your foot," says Kalińsk. "It's really old, like 250 years old. So, I recorded with it."
Those samples, which appear on the reverb-laced Off the Grid opener "Zazdrość," opened the door for Kaliński and Furtak, who realized they needed to expand their original mandate. Off the Grid is a web of electronic programming, guitar, and Furtak's commanding basslines and powerful alto vocals. "What If A Lightning Struck You?" hinges on a dusting of percussion, an industrial drone, and layers of guitars that drop in over the chorus as Furtak coos the titular phrase. But with a wealth of options, the pair had to aggressively self-edit, often cutting anywhere between 20 to 40 layers from each track. "It was too much mess," Kaliński says. "Too many options."
Interested in further separating the band from her solo work, Furtak also made it a point to change up the subjects of her Polish and English language lyrics. ("If the song starts in a language, to me I stick with it," she says, revealing that there was no grand plan for the album's almost perfect lingual division.) In the past, no matter what band she was writing for, all the lyrics had been about her inability to move on from tricky romantic, work, and life situations—a narrative position and worldview she found limiting. To force herself out of the theme, she asked herself a simple question, "What if I allow myself to fail?"
Merch for this release:
Vinyl LP
"'Lekarstwo' is one of these songs with a different angle on the same topic," she says, mentioning the minor-key guitar anthem. "It has that line in it, 'I'm going in circles.' But I'm saying it's perfectly fine to crash. That crashing is a breakthrough from the circle. Yes, it's the same recurring topic. But because I'm different, it's about something different."
Furtak and Kaliński are interested in pushing Ffrancis' evolution further. Given the layered nature of the album, they're still figuring out how to play it live without the aid of samples. And while Furtak isn't ready to mythologize their partnership (Furtak likens it to knocking over dominos—two working musicians in the same scene are likely to meet, even if you don't know how the chain of events started), she admits the process has opened her up creatively and personally. Writing songs and singing about moving on has helped her view life as less of a good/bad binary.
Merch for this release:
Vinyl LP
"It's easier to get older because you understand it's good for you," she says pragmatically. "You're not the little child anymore who thinks that all the bad things are bad and you don't want to see them. The bad guys are bad and you want to be with the good guys because they win in the Westerns. That's not what life looks like as at all. You learn to be familiar and OK with all the gray zones. You learn that life is not about black and white but everything in between."