FEATURES
Ferrari Garden's Electronic Music Cross-Pollinates New-Age Energy With Literary Prowess
By Michael Rancic · April 07, 2020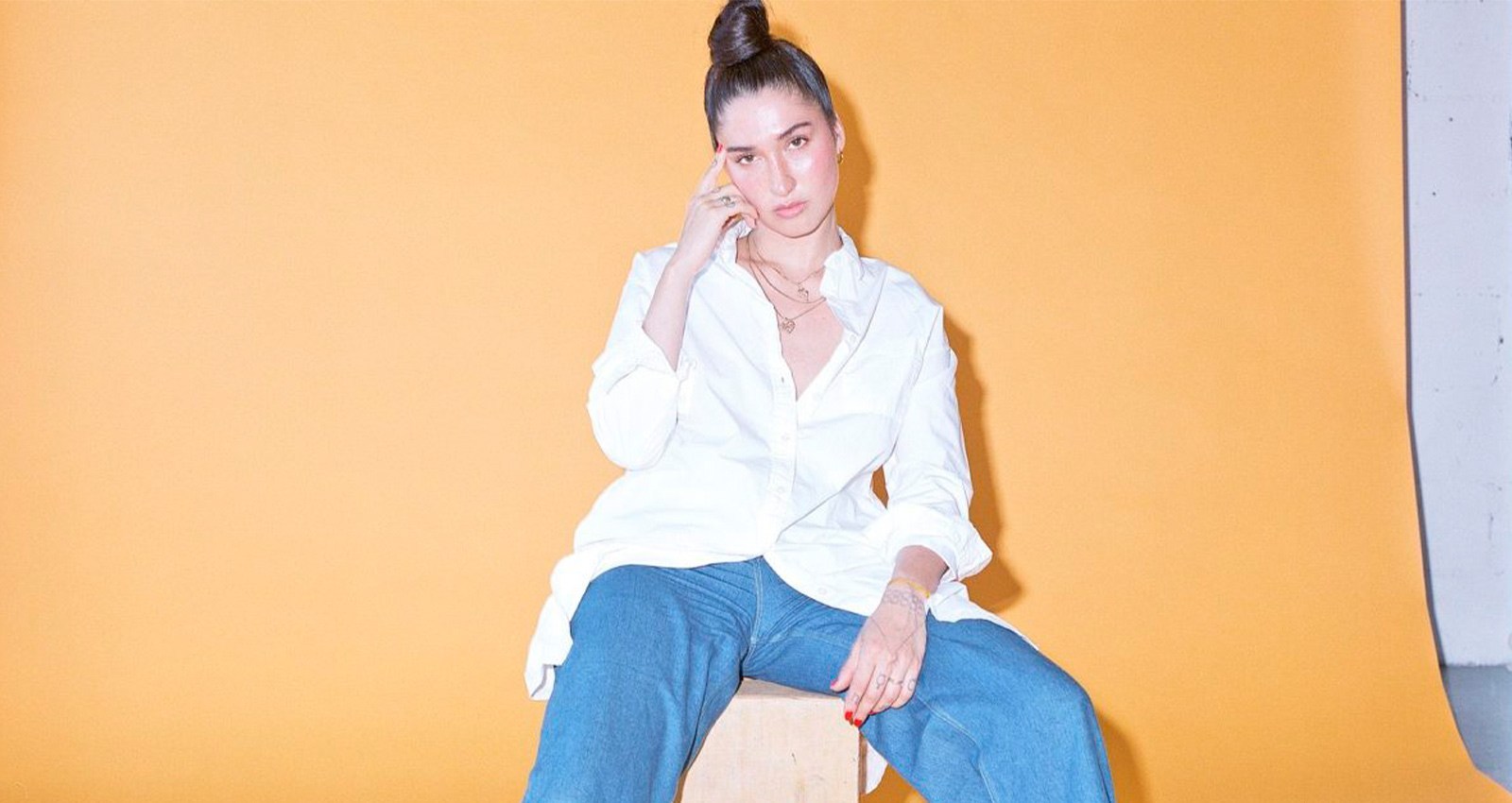 "Okay, we're going to get a little New Age-y," Sophia Ruby Katz excitedly warns over the phone from New York City. "Personally, the closest way for me to connect with the spirit, or the divine, or the universe or God or whatever you want to call it, is through singing. I think this is true for anyone who has the ability to open their mouth and make a sound."
.
00:10 / 00:58
It's a sentiment reflected in the opening minutes of "Longest Slow Dance," the first song on her new EP of the same name. It begins with stabs of static, foreboding bass, and machine-like rhythms that sound inspired by early industrial music or EBM: a dark, distant first impression. The heavy atmosphere builds until the introduction of Katz's voice, which cuts through all of the hostility and doom with a florid and wordless vocal. The backing instrumentation follows her lead, the bass line warming up to funk, while the oppressive percussion lifts and becomes more supportive. It's a purposeful change in dynamics that speaks to Katz's perspective about the power of the human voice and its role in her songwriting as Ferrari Garden.
When she talks about these songs, Katz carefully recounts the words of songwriter Beverly Glenn Copeland (with whom she shares a live bandmate in multi-instrumentalist Nick Dourado). "We were talking about how neither of us have ever really sat down to write," she says. "He describes it as a process of fine-tuning yourself, almost like a radio, so that you can receive clear transmissions. Whether it's lyrics for a song or poetry, it feels like it comes from the ether and I don't have a lot to do with it at all."
Oftentimes when musicians describe their processes this way, it comes off as passive—as if there's no work involved in getting to the point when the song arrives in their mind. But the operative words in Katz's anecdote are "fine-tuning," which, in her case, involves a rigorous amount of work that touches every aspect of her life. "I have very little instrumental skill, but if I'm centered internally, I make better work, and I'm better able to tune into whatever is out there and become a good or accurate translator," she says, "so that means eating well and meditating and doing yoga and taking time alone in nature."
Before she'd made a name for herself as a singer and musician, Katz traveled in alt-lit circles; in 2015, at the age of 21, she published her first book The Title Of This Book Is An Inside Joke, via Metatron Press. Katz says she's been singing and writing as far back as she can remember, and that there's little difference in the way she approaches writing poetry or writing lyrics meant to be sung. In the case of her music, she says she lets the words dictate everything that follows. "I just try to honor the lyrics by getting as close to finishing them as possible and then listening for the music that would come with them," she says.
.
00:10 / 00:58
"Currency" is written from the perspective of a man, and focuses on men's expectations on women in heteronormative relationships. She says that pushy perspective is what drove the song's upbeat, hooky sound. "I was writing the lyrics and then came the drum beat, and it was very forward—so the power dynamics brought along the intensity of the beat and the driving pace of the song," she explains.
Writing music this way gives Katz a sense of liberation. She's not afraid to manipulate and modulate her voice both naturally or digitally, stretching and challenging herself in ways that make each song feel bold. The instrumentation throughout Longest Slow Dance has a '70s New York vibe to it, as if it's on the cusp of R&B-driven disco and the loose playfulness of mutant-wave. It shares a warm, inviting quality of her more experimental electronic work as Shifra Rifka, where she demonstrated a real gift for exploring the subtleties of tone, color, and texture.
For Katz, this awareness she has about the importance of certain regimens in her life and how they influence her creativity came out of a period of self-discovery, driven in part through the use of psychedelics. She says they're great for "conjuring a sense of wonder" but don't help her work in the long term, whereas with yoga, breath work, and the other tools at her disposal, there's no come down.
"People don't have to meditate," she clarifies, explaining that what works for her, might not work for others. "There's no reason to be doing it because you feel like you should be doing it. You ought to do it if you feel like you need to do it. I'm in a place where I feel like I need my practices to not just make my art but to survive. I can't survive without this."