FEATURES
Femi and Made Kuti Explore Their Family's "Legacy" on Their New Double Album
By Megan Iacobini de Fazio · February 11, 2021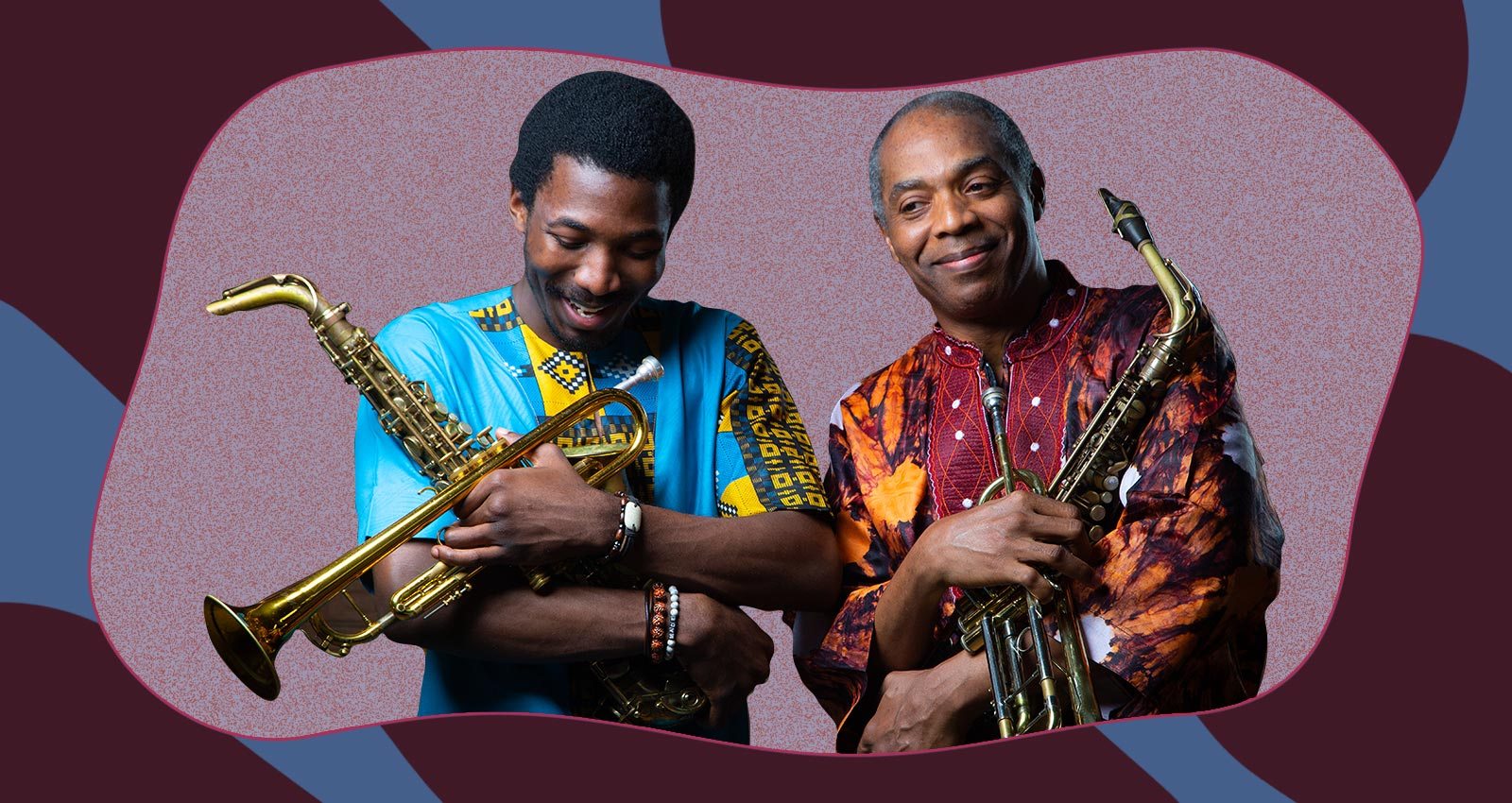 When talking to Femi and Made Kuti, the two words that come up most often are "integrity" and "love." The father and son duo are speaking over Zoom from their compound near Lagos to promote Legacy+, their newly released double album that includes Femi's Stop the Hate and Made's For(e)ward.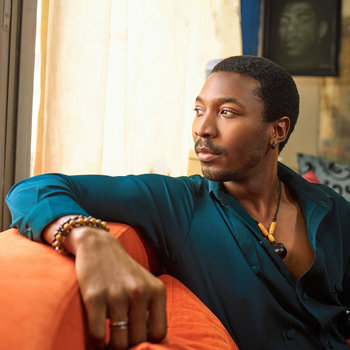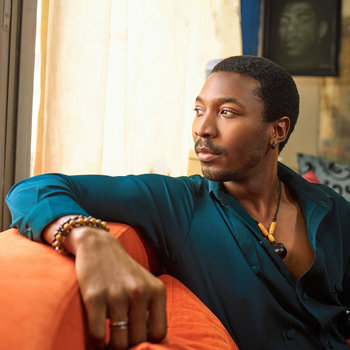 Merch for this release:
2 x Vinyl LP, Compact Disc (CD)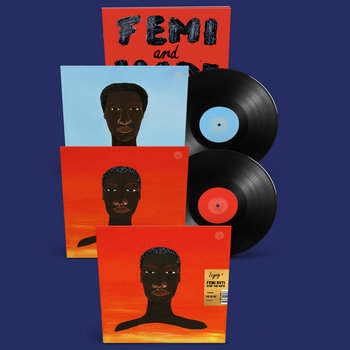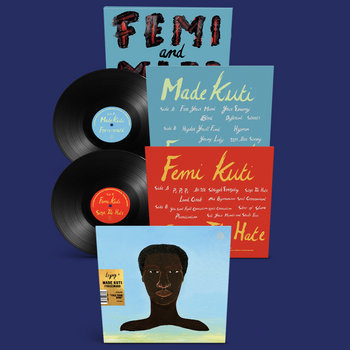 This is 25-year-old Made's first album, and 58-year-old Femi's 11th. "To release this album together… I could not have wished for more. If people feel the bonding it might inspire them as well. I think it shows love," says Femi. But Legacy+, as the name suggest, reaches far beyond father and son. It links generations of Kuti musicians—seven of them, says Femi, "and counting"—and upholds and expands upon the legacy of the most famous of them all, Afrobeat pioneer and political activist Fela Anikulapo Kuti.
As Fela's oldest son (Fela's youngest son, Seun Kuti, is also a successful musician), Femi has in many ways walked in his father's footsteps, starting out his musical career in Fela's band Egypt '80, and even briefly becoming frontman after Fela was arrested and jailed on trumped-up charges just before the start of a U.S. tour in 1984. In 1986, Femi left to create his own band, Positive Force, incorporating his own modern instrumental and rhythmic elements to the heady Afrobeat mix of funk, jazz, and highlife.
Femi's half of Legacy+, Stop the Hate, doesn't drift far from his style of Afrobeat. His 10 short, fiery tracks are replete with trademark saxophone interjections, mesmerizing horn riffs, and deep funk basslines, over which he fiercely denounces Nigeria's corrupt ruling classes ("Na Bigmanism Spoil Government" and "You Can't Fight Corruption with Corruption"), greedy foreign corporations ("Land Grab" and "Privatisation"), and the world's treatment of refugees ("Stop the Hate"). "I make sweet music with a very bitter message," says Femi, "it's the way I really work."
Merch for this release:
2 x Vinyl LP, Compact Disc (CD)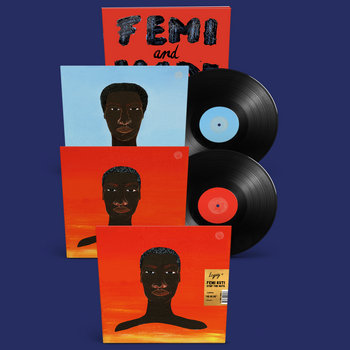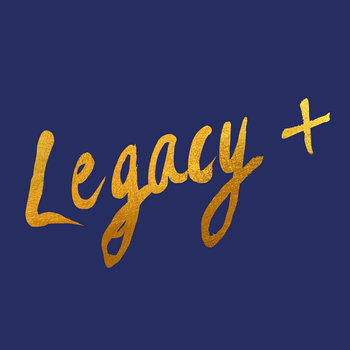 But while he owes a lot to his father both in terms of music and political activism, he has been shrewd in distancing himself from certain aspects of Fela's legacy, from his misogynistic views to his promiscuous, chaotic lifestyle. Fela, who died in 1997, was a famously complicated character, and "an unconventional father," says Femi, who refused to teach him how to play music, and transmitted little in terms of fatherly love.
Femi's relationship with his own children couldn't be more different. "Despite the obstacles I've had, I've managed to give my children a good life, and I will always fight for them," he says. He and Made are affectionate with each other during the interview, laughing at each other's jokes, and playfully accusing one another of copying (Femi's last song on the album is called "Set Your Minds and Souls Free," while Made's opener is "Free Your Mind"). "It is my greatest joy for my son to be where he is at right now, so I am a very proud father," says Femi.
Made grew up watching his father perform night after night at the Shrine, the reincarnation of Fela Kuti's original Afrika Shrine, that was burned down during a deadly government raid in 1977. "What really struck me was my dad's integrity, he didn't care so much how many people were at the Shrine, or how ill or tired he was, he'd just go out and dance. Because people just want to be touched in that moment, they want their problems to be solved by the music. They want to feel inspired. So seeing that, at some point, I asked my dad 'Can I play the trumpet? And the sax?'." Unlike his father before him, Femi taught his son how to play, and supported him in his choice to attend Trinity Laban Conservatoire in London, where Fela had studied half a century earlier.
Made plays every single instrument on his debut album, an idiosyncratic departure from the more classic styles of his father and grandfather, blending Afrobeat's polyrhythms with more experimental sounds. It's wilder, tumbling into unexpected, expansive moments of unrestrained jazz, accompanied by Made's personal ruminations.
Although musically he ventures into new territories, Made upholds the Kuti legacy of political and social activism, albeit in a more subjective way. "Music has really always been a tool to express how I feel. I've never known another way. It's a very direct representation of my exposure as a child to music that was not necessarily political, but it was about reality. Everything my dad sang about, I could relate to."
Choosing to sing about the world around them, for both Femi and Made, is about integrity: "Are you playing music because you truly want to play music and could spend hours practicing, or are you just playing to make money? If you go the way we go, or the way my father went, it's about integrity," says Femi.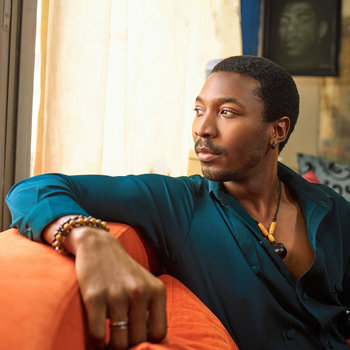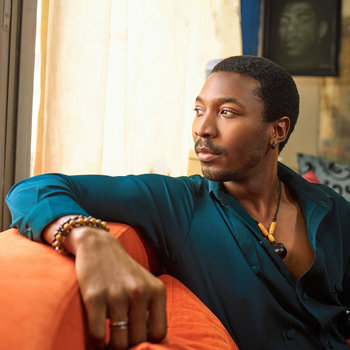 Merch for this release:
2 x Vinyl LP, Compact Disc (CD)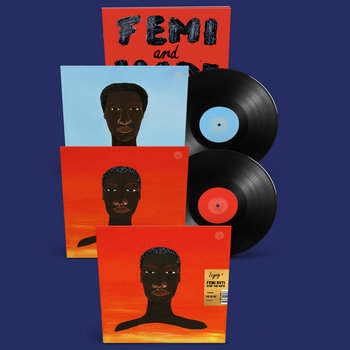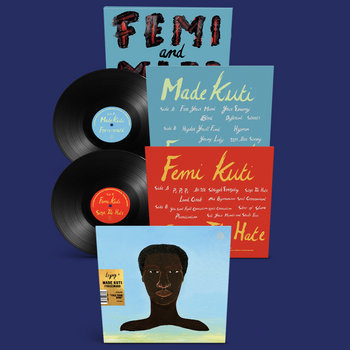 For(e)ward opens with the rattling percussions and rousing trumpet of "Free Your Mind" before moving onto "Your Enemy," which condemns police brutality in Nigeria, but also argues that the problem is broader: "It was about knowing that the police force as brutal as they are [is] a reflection of the system, as terrible and corrupt as it is," says Made. The album was recorded before the End SARS protests, which called for the disbanding of the Special Anti-Robbery Squad (SARS), renowned for its abuses, and ultimately succeeded. But Made thinks little will change, just like little has changed since Fela was fiercely denouncing the corruption, ineptitude, and abuses of the Nigerian government in the 1970s and '80s.
On the song "Different Streets," following a stirring alto sax solo, Made takes issue with those who call his grandfather a prophet, and laments Nigeria's unchanging state of affairs: "We must now understand just how scary it is that we are facing the same problems from the '70s," he sings softly over a sparse Afrobeat rhythm.
"Fela wasn't prophesying anything, everything he saw and felt was current, and it hasn't changed. In many ways Nigeria is worse now. We were late as a people in understanding the message, and in supporting Fela," says Made, upset at the seeming hypocrisy of many of those who now honor Fela. "Fela passed away alone, and when the army raided his house the people were not at his side, he was alone. He was always confident the people would come and fight for him, in most cases they never did. And now people want to call him a prophet, and that upsets me," says Made.
Merch for this release:
2 x Vinyl LP, Compact Disc (CD)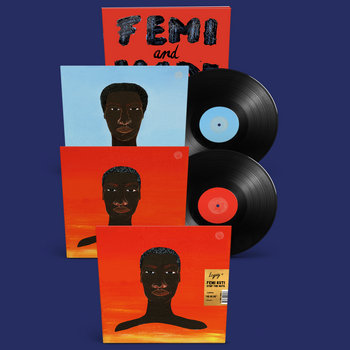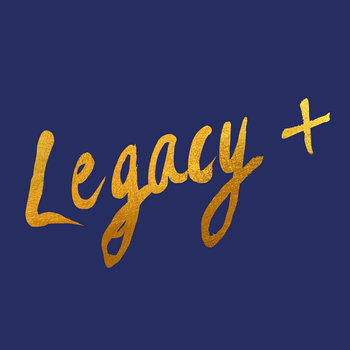 Despite the "bitter messages," the album isn't despairing, it is ultimately a work of hope. Hope that in time, Nigeria's colonial leftovers—from Christianity ("It is colonization that brought this dogmatic idea that men are superior to women, through religion especially," says Femi), to so-called Western education ("The system seems rigged to keep us uninformed," according to Made), and individualism ("It's contrary to our culture, it's not who we are," says Made)—will crumble, and Nigeria will finally reckon with its problems.
Both albums, with songs like "Young Boy / Young Girl" and "We Are Strong," call for unity and place high hopes in Nigeria's idealistic youth. "We are very critical, but I think we are very optimistic," says Femi. "You have to really believe," adds Made, "Otherwise, what's the point?"