FEATURES
Fear of Men Are Braver Than You Think
By Stephen M. Deusner · June 21, 2016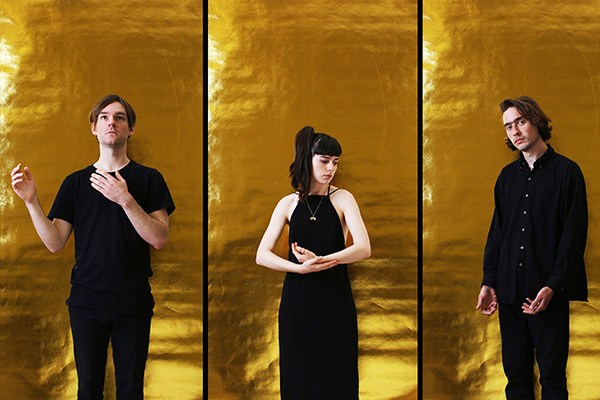 photo by Rosie Carr & Daniel Falvey
"There's a first draft, and then maybe there are 100 more or maybe there are only 5, depending on what comes to me. I wouldn't write a song without having something I want to say."—Jess Weiss
It sounds like the set-up for a horror movie: the members of the brainy Brighton electropop outfit Fear of Men loaded all their gear onto a bus, traveled deep into the English countryside, and arrived at a deserted farm in the middle of nowhere. They set up their guitars, amps, synths, and microphones around some odd machinery in a remote building. Long nights ensued, with guitarist Daniel Falvey and drummer Michael Miles tinkered with their instruments to devise new sounds while singer/lyricist Jessica Weiss went off on her own to mold her most personal thoughts into tight melodies and fluid hooks.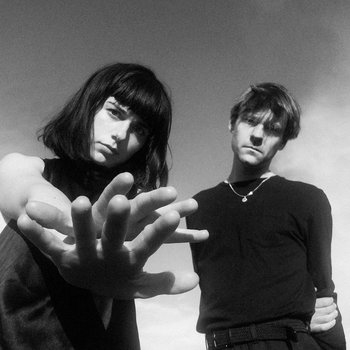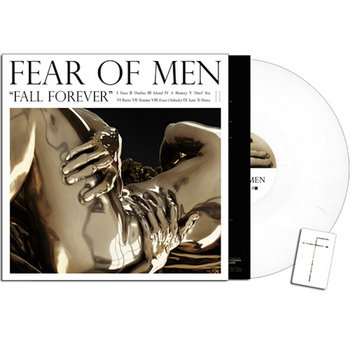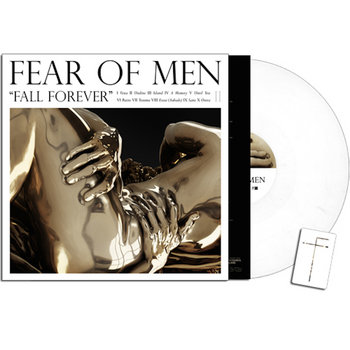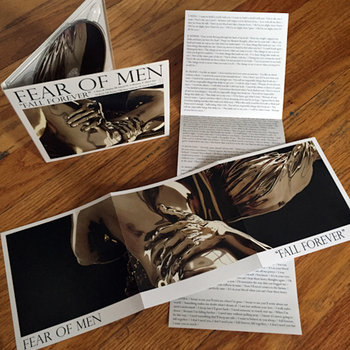 .
00:10 / 00:58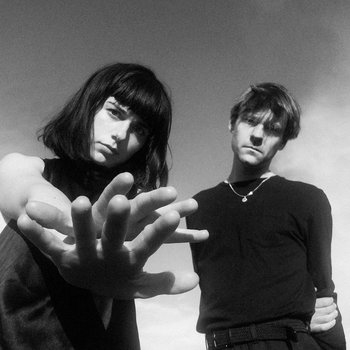 Merch for this release:
Vinyl LP, Compact Disc (CD)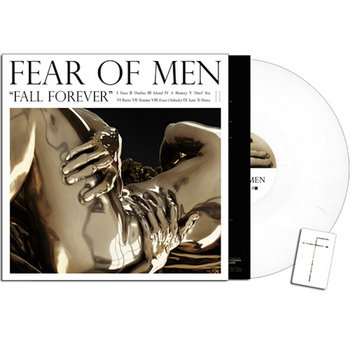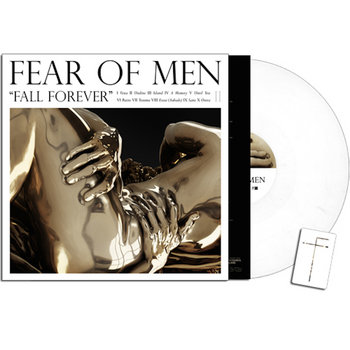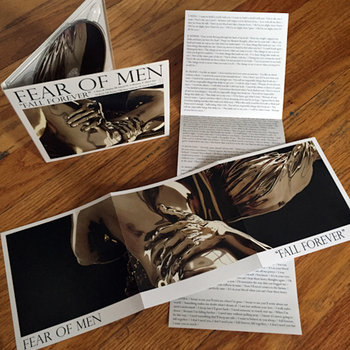 The atmosphere grew increasingly ominous as bits and pieces of the farm's history fell into place. The structure they were using as a makeshift practice space had once been a slaughterhouse, which explained all that machinery. They learned that a man hung himself in one of the nearby barns. Was that his ghost messing with the sound, filtering through the keyboards, raising hairs on the backs of necks? "Whenever I had to go to the barn or in between the buildings," Falvey admits, "I was always running."
"Dan's a scaredy cat, but I was fine," Weiss laughs.
Fortunately, no avenging spectres were raised, no demons unleashed, no lives lost, and no serial killers dispatched by a final girl. Nevertheless, the resulting album, Fall Forever, does convey a sense of low-simmer horror—emotional dread, rather than blood-and-guts. Ingenious and often counterintuitive in their arrangements and orchestrations, these songs constantly negotiate between independence and reliance, strength and vulnerability, optimism and despair, being your own person and belonging to someone else romantically. It may not be the stuff of slasher flicks, but there is something like horror in the insolubility of those stark contradictions.
photo by Clementine Blue
As a songwriter, Weiss is exacting, precise, obsessive. Actually penning lyrics is only the first and arguably the easiest step. Next she edits and rewrites until she is certain the songs convey exactly what she wants them to convey. "There's a first draft," she explains, "and then maybe there are 100 more or maybe there are only 5, depending on what comes to me. I wouldn't write a song without having something I want to say."
On the band's first studio album, 2014's Loom, Weiss wrote through a scrim of metaphor, coding her lyrics to put herself at a protective remove from her audience. On Fall Forever, however, she abandoned that strategy in favor of statements that are at times nakedly direct, disorientingly straightforward: "I had a very different year when I was writing this album. It was all very intense highs and intense lows, and all these different things happening in my life meant there was more to express. There were definitely some things that I wanted to put into songs. I wanted to take more risks and step out of the shadows."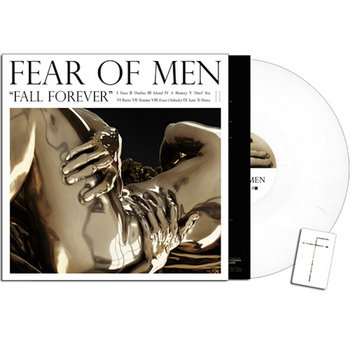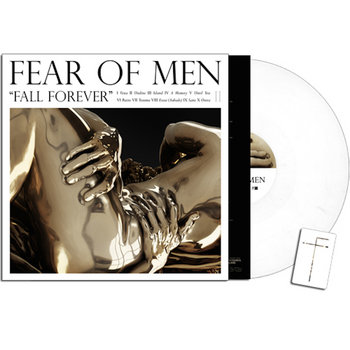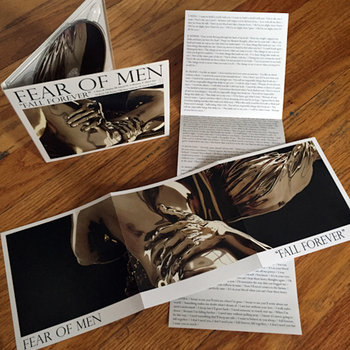 .
00:10 / 00:58
Merch for this release:
Vinyl LP, Compact Disc (CD)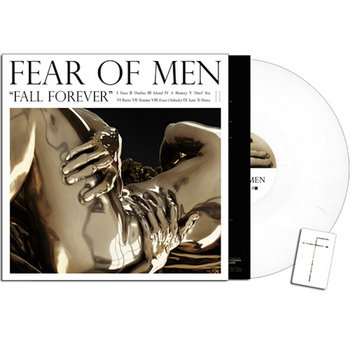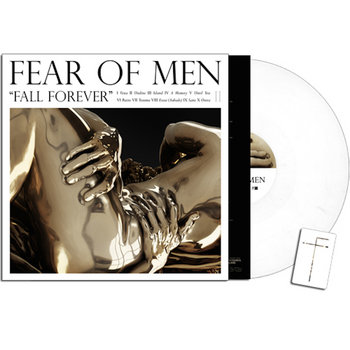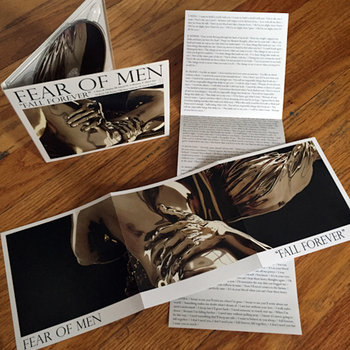 On the standout "Ruins," a deeply unsettling love song, Weiss's lyrics sound reassuring, even joyous as she declares her devotion to a lover sleeping beside her—on paper, at least. "When I think of you my whole life falls into place," she sings, wearily and warily. "I could open up to you." The music tells another story altogether. An insistent snare intrudes into her brain like rattling bones, while Falvey's liquid guitar sustains a minor-key chord that all but screams, The calls are coming from inside the house! "Ruins" sounds spectral, cavernous, even haunted, with each instrument contributing to a feeling that's closer to anxiety than contentment.
Other tracks are fuller, denser, less foreboding but equally conflicted, showcasing both Weiss's new lyrical fortitude and Falvey's imaginative arrangements. Fall Forever sounds like a synthpop record, but there are actually few keyboards on here at all. Most of the sounds were achieved through the inventive manipulation of guitar, which lends every sound on the record an uncanny quality. "Even when we went into the studio, I was still trying to find this guitar sound," Falvey recalls. "People might say it has kind of a My Bloody Valentine sound, but what I didn't want was that reverb and that mushiness. I saw so much strength in Jess's lyrics, and I wanted to replicate that with the guitars and drums and have them hit harder than what we'd done before."
photo by Eleanor Hardwick
It's one thing to do that in a studio, another thing to do it onstage. Fear of Men knew they had to be able to replicate those sounds in a live setting in order to achieve what Falvey describes as the "confrontational aspect of our live performances." But who are they confronting? These songs are missives to the audience, certainly, but they are more often than not directed inward, which lends their shows a sense of ritual and catharsis. In other words, performing these songs keeps those fears alive, if only to exorcize them night after night after night.
Fall Forever is an album about embracing those horrors as a source of strength and wisdom. Writing these songs, says Weiss, "was very exciting at the time, but subsequently it feels very scary to actually sing them to people. There were moments on the record when I was telling myself what I needed to hear—that I don't need someone around me, that I fear nothing. When you're singing that in a public space, they can become little self-fulfilling prophecies."
—Stephen Deusner