FEATURES
Meet Fax Gang, the Discord Server-Turned Music Collective Built Around "Bitcrushing"
By Mano Sundaresan · February 23, 2021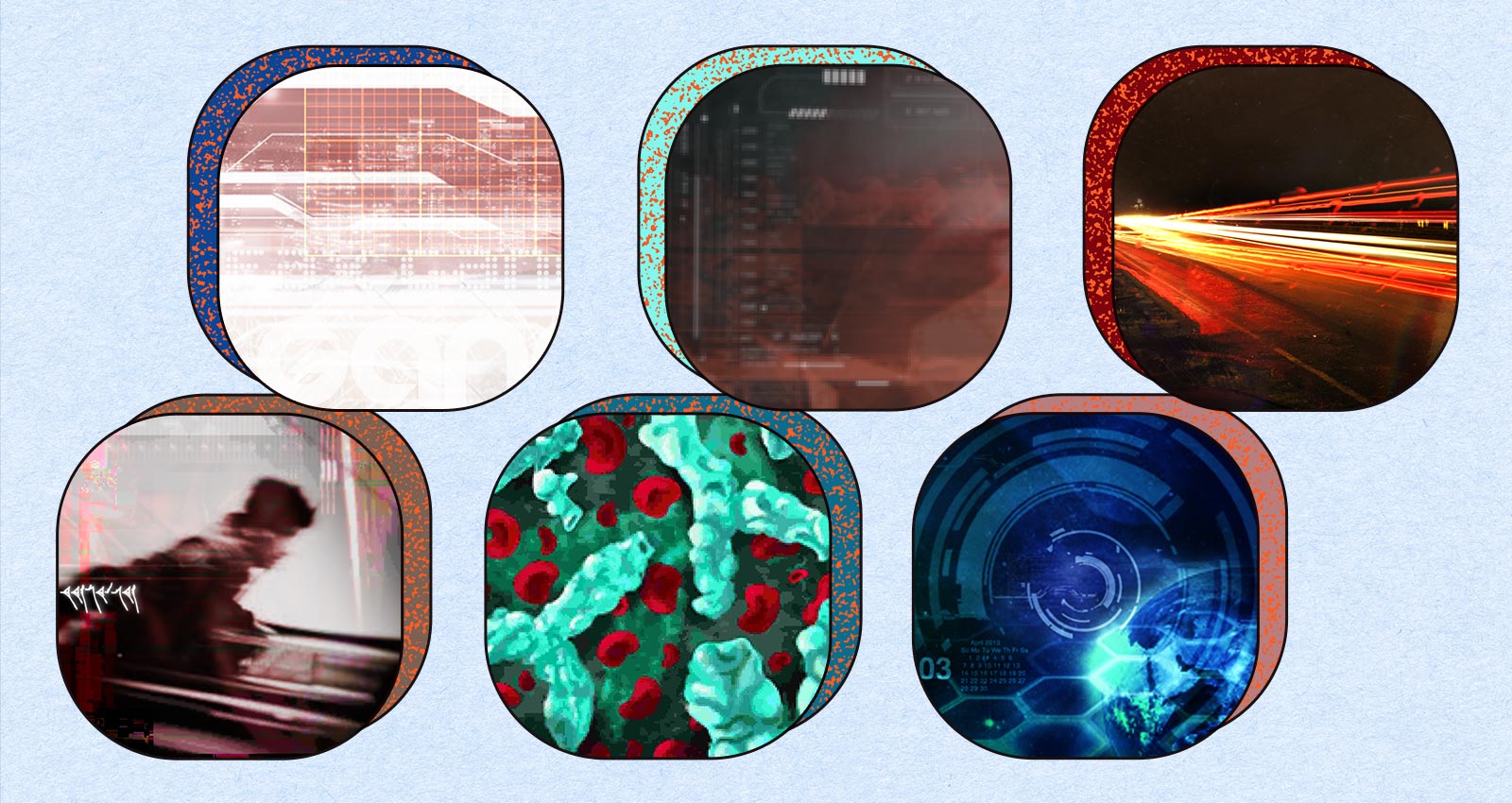 The fax machine is an endangered species. Once ruling office spaces with an iron fist, it was quickly killed off by the internet in the '90s. As devices go, it's a dinosaur: just 11 years older than the telephone and over a hundred years older than the internet. Alexander Bain is credited with inventing the first model in 1843, and Frederick Bakewell's version debuted in 1851 at Britain's Great Exhibition, alongside such inventions as primitive X-rays and weather-forecasting leeches. Back then, it was a curiosity—a far cry from the workhorses of the following century—but it could do what it was advertised to do: scan and transmit messages between people.
Merch for this release:
Cassette, Compact Disc (CD)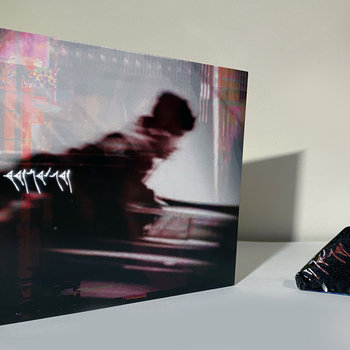 The five members of Fax Gang have never used a fax machine in their lives. Ranging in age from 17 to 21, they chose the name partly to evoke a feeling of nostalgia, and partly because of its stickiness. "We settled on 'fax' because it sounded pretty cool and also sounds like the word 'facts,'" vocalist PK Shellboy says.
But the unseen past still weaves itself into Fax Gang's music. On "Soaked," from their 2020 EP FxG3000, producer maknaeslayer blends dial-up tones with a fuzzy synth pattern. He and the group's three other producers—Blacklight, NAIOKI, and GLACIERbaby—achieved this soupy effect by sending all their beats and PK's vocals through a bitcrusher, a tool that reduces the sample rate of different frequencies without flattening the mix (like a simple mp3 conversion would).
Bitcrushing is all over both FxG3000 and Fax Gang's debut album Aethernet, which was released at the top of 2021, but it never gets stale. On every track, they seem to unearth new possibilities within the sound by painting it across a wide range of drum patterns, synthesizers, vocals, and samples. "It creates a lot of harmonic dissonance that wouldn't otherwise be present," says GLACIERbaby. "It has sort of a broken, distant, murky feel to it," adds NAIOKI. These songs can sound like Fax Gang is kneading an ancient ball of data into new forms.
Fax Gang's membership spans five countries and four continents. PK, NAIOKI, and maknaeslayer met online in late 2018, early 2019 through the music forum RateYourMusic. "[We] actually met through the similar taste tab of RateYourMusic," PK says. "There were two users that had very high similar taste bars and I sent them a random DM saying, 'Hey wanna join this Discord server I made?'" From there, they became online friends; later, they added Blacklight to the server.
Like many artistic endeavors, Fax Gang began as a half-joke. PK Shellboy, who's from Manila, asked his server if anyone would want to produce for the very first Filipino cloud rap collective. NAIOKI, maknaeslayer, and Blacklight signed on. So did GLACIERbaby, who Blacklight enlisted from another Discord music community. They exchanged drafts of songs in Discord, and PK says their early cuts were "semi-ironic," drawing heavily from the sound of Swedish rap group Drain Gang.
It wasn't until Fax Gang stumbled into bitcrushing that they unlocked their sound and began to take themselves more seriously. Inspired by a popular bitcrushed mixtape by the collective Reptilian Club Boyz, they dove headfirst into the technique. "It just kinda gave us something more original, really," says maknaeslayer. Unlike that Reptilian Club Boyz mix, in which a fan applied the effect to pre-existing songs, Fax Gang bakes bitcrushing into their music. "There's certain samples and certain synths that sound better with bitcrusher than others, and if you don't have it from the start you're not gonna know," says maknaeslayer.
The effect can be otherworldly. When you turn on FxG3000, you're sucked into "Breathe 2 (In/Out)," which wraps ghostly samples around footwork drums before spreading out into a shimmering J-Pop tune. Later, on "Jeopardy," PK's coos suspend themselves over rap hi-hats, later dissolving into a soaring instrumental passage that closes the track out. For how chaotic it can be, this music invites you into its embrace like a sunken couch.
Merch for this release:
Cassette, Compact Disc (CD)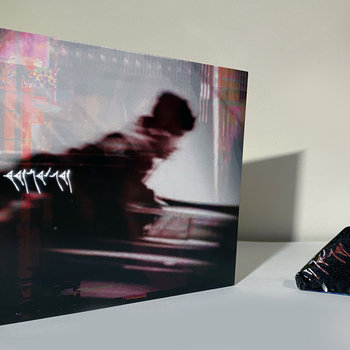 After it dropped in spring 2020, FxG3000 became a modest hit in internet music circles. "I got friends in other Discord servers to listen to it, and a lot of people actually liked it and started spreading it themselves," says PK. What seemed to resonate was the sheer majesty of the work. ("I could die to this," reads the most popular comment on the YouTube upload.) It debuted high on the RYM charts, and, by year's end, was the fifth most popular EP of 2020 on the site, a notch above Animal Collective.
On RateYourMusic and elsewhere on the internet, Fax Gang is often pegged as cloud rap or shoegaze, but they pull from a treasure trove of influences, from Burial and Friendzone to outsider house and UK garage. What ties Fax Gang's music together is less a commitment to genre than to the soul of the old internet, fueled in part by their technical approach. "We're trying to build soundscapes and experiences that are really tailored to the bitcrushed sound and writing with that in mind," says PK Shellboy.
Writing for a Fax Gang record means knowing that your words will melt to mush. PK's voice is so processed and pulverized that you usually can't make out what he's saying. Still, he puts great care into his writing, and describes his lyrics as a sort of hidden gem. On Aethernet's "Implosion," he builds out an extended metaphor comparing his writer's block to bleeding out of his fingers. In the second verse, he starts to see an afterlife. He stares up at heaven's gates; he sees "distortion, pixels, artifacts."
An older digital world pulses through the veins of Fax Gang's debut LP, specifically in the way these beats seem to suffer from digital rot. The song "Reality/Dreams" sounds like it could have come bursting from a Gameboy SP's cruddy speakers with its chiptune melody and dusty drums. AOL's "You've got mail!" notification cuts through "Extant" for an instant. This album couldn't have possibly been lifted from a previous era, but it still has the feel of an artifact.
"Kids my age, we're used to a sanitized, corporate version of the internet," maknaeslayer says. He and the rest of the group yearn for an online world that some of them caught a glimpse of, but others didn't at all. "I was on so many different forums as a kid, and I already had so many online friends, and that was in 2009," says GLACIERbaby. "If you were participating in that at the time, you got to watch it sort of amalgamate to where it is at the moment."
Still, the Discord underground from which Fax Gang emerged represents a new kind of freedom. "You have lots of different outlets that are bubbling right beneath the surface but aren't quite accessible immediately," PK says. It might not be the old internet, and it's certainly nothing close to a fax machine, but it's strikingly familiar.