FEATURES
Family Atlantica's Profound Party Jams
By Richard Gehr · April 27, 2016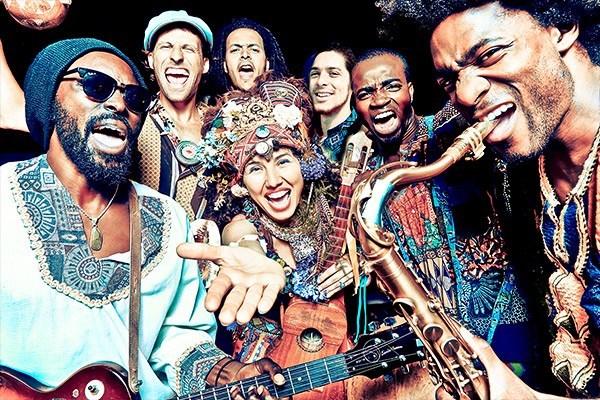 "I tell the audience, 'I'm not YouTube. I don't want you to look at me. I want us to do it together.'"—Luzmira Zerpa
On their second album, Cosmic Unity, Family Atlantica offer a literal interpretation of the all-encompassing shorthand "world music." The London collective delivers a brassy, beat-heavy, Afrofuturistic blend of rhythms from North and South Africa, America, and the Caribbean. Go deeper, and you'll find a global metaphor binding together the group's founding trio—London-born bandleader/percussionist Jack Yglesias, Venezuelan singer Luzmira Zerpa, and the couple's longtime rhythm accomplice, Ghanaian-Nigerian drummer Kwame "Natural Power" Crentsil. The group's respective backgrounds mirror the Triangular Trade routes that connected Europe, Africa, and the Americas during the dark days of the transatlantic slave trade, and that detail adds a layer of historical subtext to Family Atlantica's music. Conscious of that fact, the band uses their music not only to entertain, but also to heal their audience.
Yglesias, Zerpa, and Crentsil (whose father was Fela Kuti's lead percussionist in Africa '70), form the core of an expanding musical family that hails from London's rich, multicultural music community. The three Jamaican brothers Ahmad, Kareem, and Yussef Dayes—who perform as United Vibrations—play on Cosmic Unity, as do another dozen or so friends from the Dalston nightclub, Passing Clouds, where much of Unity was recorded during late-night off hours.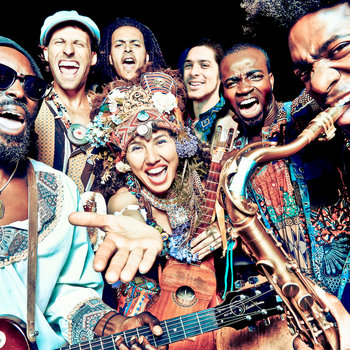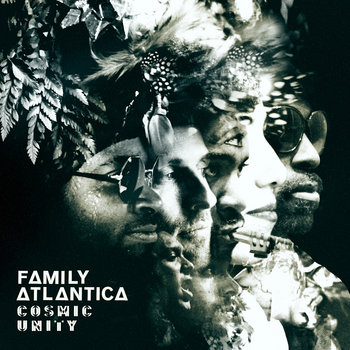 .
00:10 / 00:58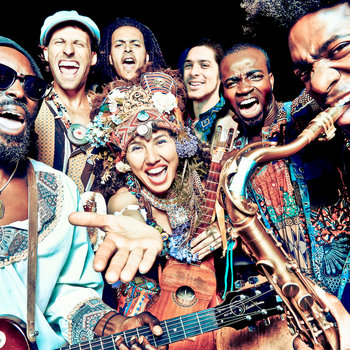 Merch for this release:
Vinyl LP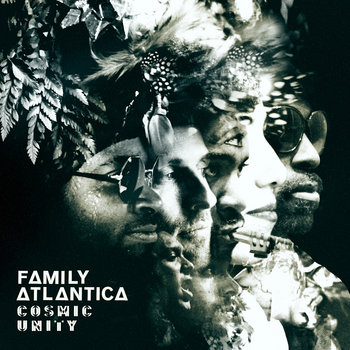 As an exuberant Luzmira Zerpa tells me, via Skype from the East London kitchen she shares with Yglesias and their young trilingual son, Jaia, "When people say we play fusion music, I say 'No! Not fusion!' The point is that our music is an expression of an old history in present times." Family Atlantica, Yglesias adds, is about, "mixing and meshing a vortex of authentic Atlantic styles, and then spinning them out into outer space."
Family Atlantica is the more "organic" counterpart to the Heliocentrics, the Afrofuturist jazz-funk ensemble for whom Yglesias has drummed and arranged for the past decade. The son of a Basque father and South African mother, Yglesias also performs with the DJ/producer Will Holland, better known as Quantic. He met Zerpa while directing a drum circle in an underground performance space. Several years later, the couple discovered Crentsil's djembe vibrations during an otherwise lackluster music festival. As the trio jammed that day, Yglesias recalls, "Everyone was like, 'What's the name of your band?'"
It took four years for Family Atlantica to record its 2014 debut, a labor of love that took the band back to Sanare, Zerpa's hometown in northern Venezuela. "She grew up in an amazing area close to a magic mountain where a lot of these Afro-Venezuelan rhythms are played in a syncretic religious way, similar to Cuban Santería," says Yglesias. "It's a deep, earthy, magical place—very shamanic."
That shamanic spirit carries over to Cosmic Unity. The album contains tracks rooted in tamunangue and other lesser-known Afro-Venezuelan rhythms. There are Bahian beats from Brazil, as well as the occasional harmonica solo. Highlife tenor saxophonist Orlando Julius, who joined the Heliocentrics on 2014's Jaiyede Afro, appears on "Efik," which Yglesias calls "a nice mixture of deep African ritual energy mixed with psychedelic futuristic vision." Another guest, alto saxophonist Marshall Allen (of the Sun Ra Arkestra), lends his cosmic squeal to the jubilant title track.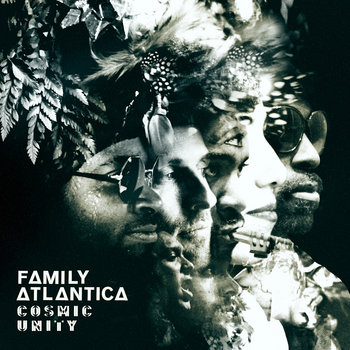 .
00:10 / 00:58
Merch for this release:
Vinyl LP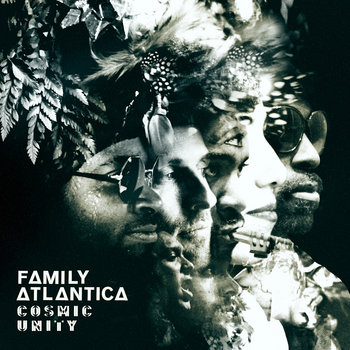 Family Atlantica is most potent, however, when Luzmira Zerpa slips into high priestess mode to breathe new life into the Venezuelan folk songs she heard and sang growing up. "La Puerta," which follows an interlude suggesting that shamanic power can expedite anything except a visa, may be the first song to advocate opening both the hyperspatial doors of perception as well as the doors of immigration. Zerpa treats "Puerta" as a ritualistic, improvisatory, and healing collaboration with her listeners. "I tell the audience, 'I'm not YouTube. I don't want you to look at me. I want us to do it together.'" Back home, where she lived before moving to London to "be close to Africa," musicians and audience were one and the same.
In "La Humanidad," Zerpa relays a song she learned from the radio while dressing for school early one morning. "It says that 'all in life is a lie, and the only thing real is death,'" says Zerpa, who has confronted serpents and jaguars during her own shamanic adventures. "I was only eight or nine, but the truth of that verse hit me. You put your life in perspective and you understand what is really important when you are at the point of death." Yglesias wrote a lush strings-and-horns arrangement for the track during an extended trip to Brazil, and his steel pan drums add a Caribbean dimension to the music both here and throughout Cosmic Unity.
Family Atlantica is already performing music for their next album—"It's the aesthetic that Duke Ellington and Fela had," Yglesias says, "always moving forward"—and Luzmira Zerpa is convinced that everything is proceeding according to plan. After all, she explains, "There must be a more profound reason that I leave the coconut trees and the Caribbean Sea to be in London."
—Richard Gehr