FEATURES
On "Coffin Birth," Extremity Perfect "Dumb Death Metal"
By Sarah Kitteringham · July 19, 2018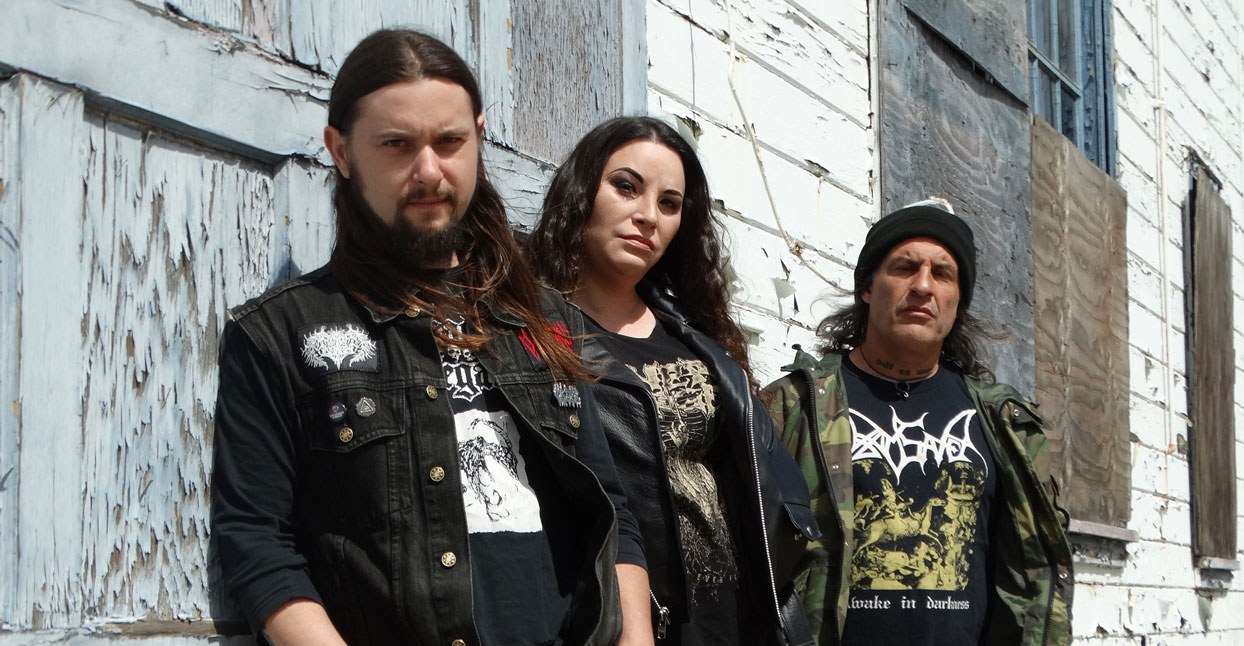 While metal is undeniably physical music, that doesn't stop some bands from instilling their work with a heady intellectualism. Take black metal acts Agalloch and Ludicra, experimental thrashers Vhol, and cavernous death metal band Vastum, for example. All of them American extreme metal bands, and all of them use their lyrics to explore dense themes, like environmentalism, existential longing, psychology, and eroticism.
By contrast, the "supergroup" Extremity, which is composed of current and former members of the aforementioned bands, is intentionally the opposite: big, "dumb" death metal with a splatter horror fixation.
Listen to Coffin Birth in full exclusively at Bandcamp Daily: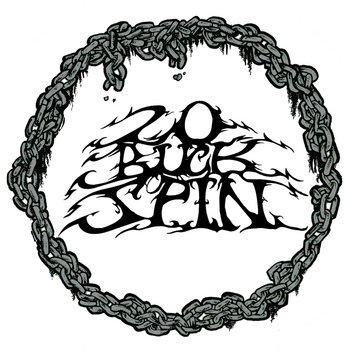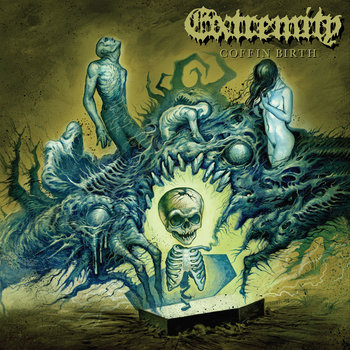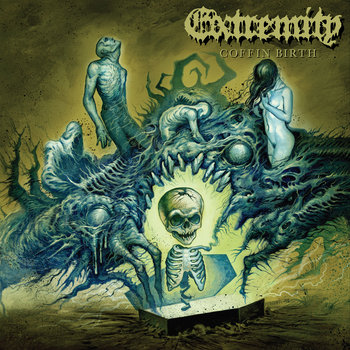 .
00:10 / 00:58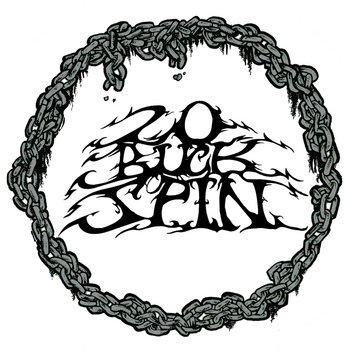 Merch for this release:
Vinyl LP, Compact Disc (CD), Cassette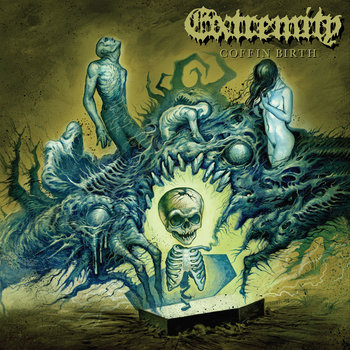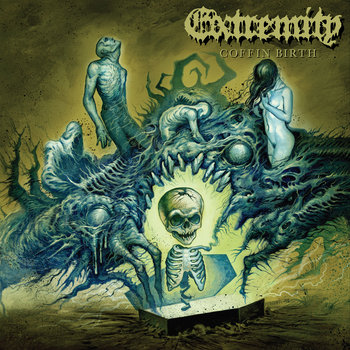 "With Extremity, me and Shelby [Lermo (Vastum, ex-Apocryphon)] were both like, 'Let's do this death metal band. I just want to do this no-frills, knuckle-dragging, riff-heavy band, I don't care about it being technically proficient or even well played,'" says drummer Aesop Dekker (Vhol, Worm Ouroboros, ex-Agalloch, ex-Ludicra).
"It's really about riffs."
On their debut full-length Coffin Birth, Extremity spew forth a moldy variation of the genre, merging the rasping-corpse subtlety of Finnish death metal with the signature Florida pummel. The follow-up to their 2017 debut Extremely Fucking Dead, Coffin Birth is far more melodic and otherworldly, easily calling to mind the work of Impaled.
The storyline behind the record is ghastly.
"I tried to challenge myself writing a whole album that takes place inside a coffin," explains Lermo. He cites films like Dead Alive/Braindead, Evil Dead, and Re-Animator—"stuff that's so intense and over-the-top that it's humorous"—as points of reference. "It spun out from the idea of a dying baby inside of a coffin," he says. "It started with the dead baby, then went to the mother, then went to the father, then went back to the dead baby."
But as Dekker explains, there's more to the story than that. "It's revealed that the father of the baby is an alien," Dekker says. "He shows up halfway through the record, and he's played by Antti Boman of [Finnish death metal act] Demilich with his amazing voice. So it is a concept record, but we didn't want it to be some bloated, Pink Floyd thing."
Conveniently released at a time when old-school death metal is enjoying a renaissance, Coffin Birth is rooted in the sound of the past, but it's hardly a direct facsimile, owing in part to the fact that the band took a long time to develop their sound.
"For the last seven or eight years, there was a lot of false starts," Dekker explains. "We wrote an album, scrapped it, wrote another one, scrapped it… Shelby called me while I was on tour and said that [bassist Erika Osterhout (Necrosic, Scolex)] and [guitarist Marissa Martinez-Hoadley (Cretin, ex-Repulsion, ex-Exhumed)] were talking about starting a project, and we were just going to absorb them into our thing."
An accomplished guitarist for the grindcore act Cretin, Martinez-Hoadley came out as transgender in a widely-praised interview with Decibel magazine. "I always did music to hang out with friends, and not to do anything outside of that," she says. "Any of the advocacy I did, was in part, self-preservation. I didn't want to give up my band, so I knew I had to come out to the metal scene, and when I came out, I felt the need to say… 'Hey, don't kill me.' And in that, and realizing that people are paying attention, it was like, 'Well, I want to make sure that anyone else that is out or wants to come out is also safe.'"
Martinez-Hoadley's beefy, shredding guitar skills are notable; aside from her work in Cretin, she was invited to perform with grindcore legends Repulsion when they reformed. With the release of 2014's Stranger, Cretin went on hiatus, leaving  Martinez-Hoadley with some extra time on her hands.
Shelby and Aesop had already written Extremely Fucking Dead, so the quartet recorded it, immediately booking studio time for a follow-up. (Osterhout relocated after the EP; Shelby recorded all of the bass parts on Coffin Birth.)
"For [Extremely Fucking Dead], Shelby wrote all of that. I wrote like one riff," Martinez-Hoadley laughs. By contrast, Coffin Birth is the work of a band.
"It sounds a lot more dynamic. It wasn't just one guitar player writing riffs, but this whole contributing factor changed the mood," explains Martinez-Hoadley. "I feel like, with Cretin, Cretin is very bright, and you could almost see the smiles on our faces while you're listening to the album. Extremity gets that room to delve in there, but maybe I'm contributing a bit more of that upbeat feeling because that's the way I write."
But for all of the album's expanded scope and Martinez-Hoadley's added sonic brightness, the band never gets too far from their initial game plan. "It's definitely conscious that Extremity is just dumb death metal," she says. "There's no message beyond that."